This page is part of © FOTW Flags Of The World website
Kitchener, Ontario (Canada)
Waterloo Region
Last modified: 2020-06-13 by rob raeside
Keywords: kitchener | ontario | beaver | crown |
Links: FOTW homepage | search | disclaimer and copyright | write us | mirrors

---
City Hall flag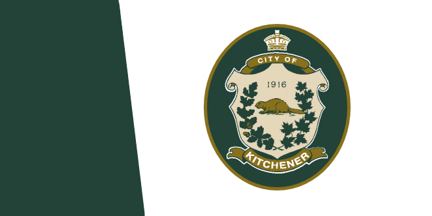 1:2 image by Eugene Ipavec
Source: Canadian City Flags, Raven 18
General use flag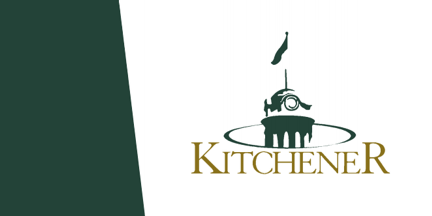 1:2 image by Eugene Ipavec
Source: Canadian City Flags, Raven 18
---
See also:
---
Kitchener
The City of Kitchener is in Southern Ontario, Canada. Located approximately 100 km west of Toronto, Kitchener is the seat of the Regional Municipality of Waterloo. It was the Town of Berlin from 1854 until 1912 and the City of Berlin from 1912 until 1916.
From the History of Kitchener:
In 1784, the land on which the City of Kitchener would be established was part of a large tract of more than 240,000 hectares of land, set aside by the British Crown as a grant to the Six Nations Indians for their loyalty to the Crown during the American War of Independence. Between 1796 and 1798, the Six Nations Indians led by Joseph Brant, sold off 38,000 hectares of land to Colonel Richard Beasley, a United Empire Loyalist. While located far inland and isolated from centres of commerce, the land owned by Beasley appealed to a particular group of Pennsylvania German Mennonite farmers.
Fuelled by the fear that their religious freedoms and exemption from military service under British rule would not be guaranteed following the American Revolutionary War, Pennsylvania German Mennonites began to search for new areas of settlement. In the 1790s Mennonites responded to advertisements for Upper Canada promising inexpensive land and the guarantee of freedom of worship and beliefs. It is reported that a small group of Mennonites, members of the Betzner and Sherk families, learned of Richard Beasley's tract of land, and by the end of 1800 the first permanent non-native settlement was established in what is now the City of Kitchener.
Soon afterward, a group of Mennonites pooled resources to purchase all of the unsold land from Beasley, forming the German Company Tract and dividing the lands into 128 farms of 181 hectares and 32 farms of 1.2 hectares each for distribution. At the time of the pioneer settlement, Kitchener was a land abundant with dense bush, swamps and sand hills. Streams found throughout the area would become very important in supplying the power for saw and grist mills, in what was still however a farm based economy.
From www.city.kitchener.on.ca/pdf/logo_guidelines_03.pdf:
There are two official City of Kitchener flags. The flag featuring the crest can only be used at City Hall. This is also the only flag to be flown at City Hall in addition to the Canadian and Provincial flags. The flag bearing the logo can be used at any City facility or any City sponsored event as needed. The logo flag is available in two different dimensions to accommodate different sized flagpoles (36 x 72 and 72 x 144).
Ned Smith, 1 August 2005
In May 2014 city council amended this regulation to allow community groups to fly their flags. This came about after the council originally refused to fly the rainbow flag during the World Pride celebrations in Toronto.
("Kitchener flip flops on flag policy", Waterloo Region Record, May 27, 2014)
miltb, 23 August 2014
---
Text and image(s) from Canadian City Flags, Raven 18 (2011), courtesy of the North American Vexillological Association, which retains copyright. Image(s) by permission of Eugene Ipavec.

The City Hall flag of the City of Kitchener has a white field with a dark green segment at the hoist in the form of a trapezoid. On a field of 2 by 4 units, the top of the trapezoid is 1 unit; the base, 1.3 units. The arms of the city, without supporters, appear in a dark green oval edged in golden yellow in the centre of the white fly section. The oval is about 1.5 units high and 1.3 units wide. The shield's shape is somewhat elaborate, with scrolls on both sides at the top and a point at the top centre. The sides of the shield are also pointed in the mid-section, aligned with the scrolled ends above. The field of the shield is beige. In its centre is a small beaver in golden yellow, facing the hoist, surrounded by an open wreath composed of oak leaves on the left and maple leaves on the right, all in dark green. Above the beaver is 1916 in small green numerals. Above the shield is a golden yellow ribbon with CITY OF in white sans-serif letters. Above that ribbon is a royal crown in golden yellow, with white details. Below the shield is another heraldic ribbon, also golden yellow, with KITCHENER in white in sans-serif letters. The outside edges of ribbons and shield, but not the crown, are very narrowly edged in white.
John M. Purcell, Canadian City Flags, Raven 18, 2011

The beaver (Castor canadensis) and maple leaves are symbols traditionally associated with Canada. The oak leaves, from the tree sacred to the German people, allude to the city's original name, Berlin, and its large German-Canadian population. The royal crown symbolizes the monarchy. The date, 1916, is the year that the name of the city was changed from Berlin to Kitchener, owing to anti-German sentiment in Canada during World War I. It honoured the British field marshal, Lord Kitchener, who had won fame at Khartoum in the Sudan.
John M. Purcell, Canadian City Flags, Raven 18, 2011

The city hall flag was introduced by city personnel.
John M. Purcell, Canadian City Flags, Raven 18, 2011

The city hall flag was designed by City personnel. The coat of arms was designed by W. H. Schmalz, mayor of what was then Berlin, Ontario, in 1912.
John M. Purcell, Canadian City Flags, Raven 18, 2011

The city flag must be used at City Hall. Kitchener also has a corporate logo flag, identical to the city flag, with the oval and coat of arms replaced by the city's logo: the top of a round clock tower surmounted by a plain flag, and an oval outline circling its base, all in dark green. The tower top is centred above, and rests on, KITCHENER, in golden-yellow serif letters, with the "K" and "R" somewhat larger than the rest. The clock tower is a city landmark now in Victoria Park, but formerly located atop the original city hall. This flag was introduced in 2000 at the same time as the new city flag, but only the city flag may be used for "official purposes".
John M. Purcell, Canadian City Flags, Raven 18, 2011
---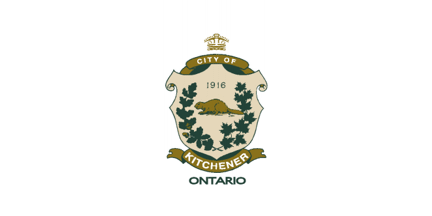 1:2 image by Eugene Ipavec
Source: Canadian City Flags, Raven 18
Kitchener's former flag, used as early as 1970, has a white field with the coat of arms in the centre. Below the heraldic ribbon in small black letters is ONTARIO, changed in 1916 from the original CANADA of the 1912 version because another Kitchener existed in British Columbia. The original shield had BERLIN instead of KITCHENER, and "1912" instead of "1916". In very small black letters, CANADA was centred below the heraldic ribbon. The arms are "assumed" rather than granted formally by a heraldic authority.
John M. Purcell, Canadian City Flags, Raven 18, 2011