This page is part of © FOTW Flags Of The World website
Owen Sound, Ontario (Canada)
Grey County
Last modified: 2022-02-26 by rob raeside
Keywords: owen sound | ontario | pioneer | native american | horn | wheat sheaf | gear wheel | anchor | tree |
Links: FOTW homepage | search | disclaimer and copyright | write us | mirrors

---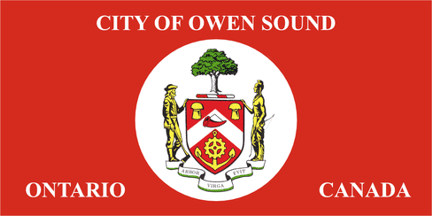 image by Masao Okazaki, 7 February 2022
based on photo located by Dave Fowler, 6 February 2022
---
See also:
---
The city of Owen Sound (21,341 inhabitants in 2016; 2,427 ha) is located at the mouths of the Pottawatomi and Sydenham Rivers on an inlet of Georgian Bay.

Located in the upper Great Lakes, the region of Owen Sound was first surveyed in 1815 by William Fitzwilliam Owen and Lieutenant Henry W. Bayfield. The area was named 'Owen's Sound' in honour of Admiral Edward Owen (William Fitzwilliam's older brother).
Originally known as Sydenham, the area was first settled by First Nations people, and then colonized in 1841 by Charles Rankin. The city gained its current name in 1851 and was incorporated in 1857.

Throughout much of its history, Owen Sound was a major port known by such names as the 'Chicago of the North', 'Corkscrew City', and 'Little Liverpool'. The notoriety of taverns, booze, and a brothel led to a rowdy reputation for the City.
Its proximity to Georgian Bay gave it access to the upper Great Lakes, while major rail lines easily moved cargo across the land.
Being both the gateway to cottage country and within the heart of Ontario's agricultural region, farming and tourism remain integral parts of the local economy.

https://www.owensound.ca/en/living/history.aspx
City website
From about 1830 until the end of the American Civil War, escaped slaves made their way across the Canada-U.S. border through the Underground Railroad, a secret route that led to freedom (there was no actual railroad involved). Many were headed for the Village of Sydenham (Owen Sound), the last "terminal" of the railroad, and settled here, finding work and raising families.
With the arrival of the earliest settlers such as Richard Ringo and John "Daddy" Hall, the City's first town crier, Black people have worked hard to make a place for themselves where they could live and raise their children in freedom and peace.

In honour of these settlers, a commemorative cairn in Harrison Park was unveiled on July 31, 2004 at the annual Emancipation festival and picnic. The picnic has been held every year since 1862, always on the first weekend in August, marking the anniversary of the British Emancipation Act of August 1, 1834. It is believed to be the longest-running Emancipation event in North America.

https://www.owensoundtourism.ca/en/arts-and-culture/Black-History.aspx
City website
Ivan Sache, 12 February 2022
---
City flag is red, with a white disc. City arms are in the disc. Inscription is "City of Owen Sound" across top, "Ontario" at lower hoist and "Canada" at lower fly.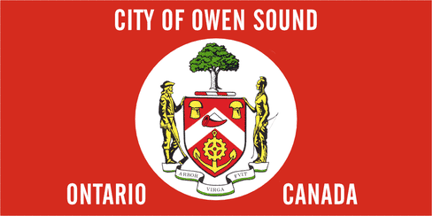 image by Masao Okazaki, 7 February 2022
based on photo located by Dave Fowler, 6 February 2022

A different font was used in the older picture, dated pre-1972.
Dave Fowler, 6 February 2022

---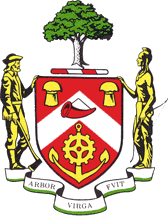 image located by Dave Fowler, 6 February 2022
At the top of the shield on a red background (signifying courage) are two golden sheaves of wheat that represent the agricultural economy of both the early settlers and the present day. At the bottom of the shield is a geared wheel to show the industrial nature of the community. It is placed over an anchor to suggest our marine economy and also the fact that our location as a city was first charted by Captain, later Admiral William Fitzwilliam Owen. The spokes of the wheel form a quatrefoil which could be interpreted as a four bladed propeller. The place of importance on the shield is reserved for the horn, which according to local history was blown by John Telfer, our first citizen, to attract the attention of Charles Rankin, the government surveyor, who was in the bush near the site of our present city hall when Telfer arrived. The shield is supported on the right by a pioneer who, dressed in the costume of the early 1800's, rests an axe near his feet. The axe was chosen to signify the labour in clearing the site for homesteads. The Indian wears the headdress of the earliest known tribe in the valley. Because of the custom of tying their hair in a lock at the crown of the head Champlain and the French explorers called these people "cheveus releves" or high hairs. He carries a bow to indicate a hunting economy. The ribbon ears the Latin motto "arbor virga fuit" which means the tree follows the twig or more correctly "as the twig is bent so grows the tree"
Darrell Neuman, 28 January 2008
The City of Owen Sound has had two versions of our coat of arms.

- 1920 design

The first design, created in 1920, includes a pioneer and a member of the First Nations resting beneath a tree. The Latin motto was 'arbor virga fuit' which translates to 'as the twig is bent so grows the tree.'

- 1967 design

The new design, approved in 1967, remains the existing coat of arms today. Designed by local resident, W.A.E. Parrott, this image is inspired by the original coat of arms and contains many of the same items, including the pioneer, the First Nations member, the tree, and the Latin motto.
Other items that hold significance in the coat of arms include:

* The pioneer, dressed in traditional 1800s attire and holding an axe, signifies the land clearing for their cabins and fields;
* The First Nations person, wearing a headdress of the earliest known inhabitants in the region; the tradition of tying their hair on the top of their head led Champlain and other French explorers to refer to them as 'cheveux releves' or 'high hairs'; and the bow he carries signifies his hunting economy;
* The shield on a red background represents courage;
* The golden wheat sheaves represent agriculture, which helped establish the community;
* The geared wheel and anchor represent the marine relationship and association with the Great Lakes; and
* The prominence of the horn is based on local history that suggests our first citizen, John Telfer, blew the horn to attract the attention of the government surveyor, Charles Rankin, near the site of the current City Hall, to indicate this was a desirable location for a new community.

https://www.owensound.ca/en/living/coat-of-arms.asp
City website
Ivan Sache, 12 February 2022
---

image located by Dave Fowler, 6 February 2022
Badge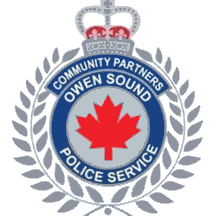 image located by Dave Fowler, 6 February 2022
---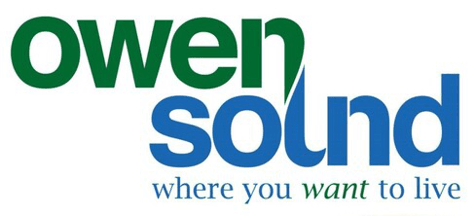 image located by Dave Fowler, 6 February 2022