This page is part of © FOTW Flags Of The World website
Brookmerland Comprehensive Municipality (Germany)
Samtgemeinde Brookmerland, Landkreis Aurich, Ostfriesland, Niedersachsen
Last modified: 2020-07-28 by

klaus-michael schneider
Keywords: brookmerland | leezdorf | marienhafe | wirdum | east frisia | eagle(golden) | beakers(2) | anchor | mullet | bulrush | lion(white) | crozier | hammer |
Links: FOTW homepage | search | disclaimer and copyright | write us | mirrors

---
| | | | |
| --- | --- | --- | --- |
| 3:5 image by Klaus-Michael Schneider, 28 July 2020 | 3:5 image by Klaus-Michael Schneider, 21 Sep 2009 |   |   |
See also:
---
Brookmerland Comprehensive Municipality
Brookmerland consists of Marienhafe market town and the municipalities of Leezdorf, Osteel, Rechtsupweg, Upgant-Schott and Wirdum. The former southern part of Brookmerland, the home of the tom-Brook kin, was separated apart during the incorporation to France. The northern part was administered by Norden, the southern part, today more or less Südbrookmerland municipality, by Aurich. Later on Prussia kept the new boundaries.
Brookmerland Flag
It is a blue over yellow over blue horizontal triband with centred arms (see left image above) or without arms (see right image above).
Source: Information was given by Mr.Ziegler on 15 September 2009 in the town hall, located in the municipality of Marienhafe. According to him there existed no flag with coat of arms (in 2009). He confirmed by phone call on 28 July 2020 that inbetween there exists also a flag with centred arms.
Klaus-Michael Schneider, 21 Sep 2009 / 28 July 2020
Brookmerland Coat of Arms
Shield Azure an eagle Or tongued Gules, in chief three coronets Or on his head and the tops of both wings, in base two 6-point mullets Or.
Meaning:
The flag colours are those from the coat of arms of the comprehensive municipality, showing the golden eagle of the tom-Brook kin in a blue field. The family arms displayed the eagle in a red shield. Two spur-wheels (mullets) are taken from the arms of the Idzinga kin. The family was predominant in the city of Norden until the 15th century. Spur-wheels end the tinctures blue and yellow are also referring to the former Norden County.
Source: German WIKIPEDIA
Klaus-Michael Schneider, 21 Sep 2009 / 28 July 2020
---
Municipalities without proper Flags
The following municipalities have no proper flags: Rechtsupweg and Upgant-Schott. According to Mr.Ziegler from the municipal administration the single municipalities have no flags of their own. He gave this information on 15 September 2009 in the town hall and confirmed it on 28 July 2020 by phone. Some municipalities displayed below however use proper flags unofficially.
Klaus-Michael Schneider, 28 July 2020.
---
Leezdorf Municipality
Leezdorf Flag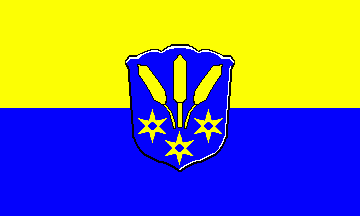 3:5

image by Klaus-Michael Schneider, 19 July 2017

It is a yellow over blue bicolour with centred arms.
Source: this online catalogue
Klaus-Michael Schneider, 19 July 2017
Leezdorf Coat of Arms
Shield Azure, above three bulrushes Or in chevron reversed (German blazon says: in fan), beneath three 6-point mullets Or ordered 2:1.
Meaning:
The bulrushes are alluding to the local marshes. The mullets are stressing that the municipality belongs to the Norderland, i.e. the region around Norden city.
Source: German WIKIPEDIA
Klaus-Michael Schneider, 19 July 2017
---
Marienhafe Market Town
Marienhafe Town Flag
3:5

image by Klaus-Michael Schneider, 29 Dec 2013

It is a red over yellow over red horizontal triband. The coat of arms is in the centre of the flag.
Source: this online catalogue
Klaus-Michael Schneider, 29 Dec 2013
Marienhafe Coat of Arms
The shield is divided per fess into red over gold (= yellow). Above is a golden (= yellow) demi-eagle issuant with coronets of the same colour above his head and wings. Below is a red anchor between two upside down beakers of the same colour.
Meaning:
Marienhafe had been the centre of the Brookmerland and was seat of a provost and his court. The egle is taken from the arms of the tom-Brook kin, former rulers of the Brookmerland, who were sporadically also ruling Eastern Frisia. Since 1396, the brotherhood of famous pirate Klaus Störtebeker, an enemy of Hamburg, used Marienhafe as a naval base and a hideaway supported by the local chieftain. The beakers are alluding to Störtebeker, while the anchor is representing shipping.
Source: Stadler 1970, p.58
Klaus-Michael Schneider, 29 Dec 2013
---
Osteel Municipality
Osteel Flag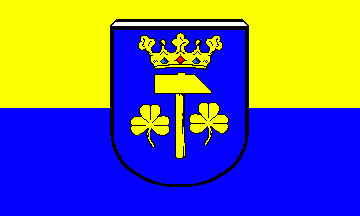 3:5

image by Klaus-Michael Schneider, 28 July 2020

It is a yellow over blue bicolour with centred arms.
Source: this online catalogue
Klaus-Michael Schneider, 28 July 2020
Osteel Coat of Arms
Shield Azure a hammer Or in pale under a crest coronet of the same and flanked by two trefoils of the same.
Meaning:
Hammer and coronet are reminding on David Fabricius, whose father had been a smith. The trefoils are representing agriculture.
Source: German WIKIPEDIA
Klaus-Michael Schneider, 28 July 2020
---
Wirdum Municipality
Wirdum Flag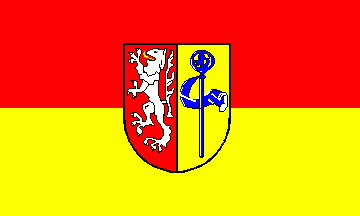 3:5

image by Klaus-Michael Schneider, 19 July 2017

It is a red over yellow bicolour with centred arms.
Source: this online catalogue
Klaus-Michael Schneider, 19 July 2017
Wirdum Coat of Arms
Shield parted per pale; at dexter Gules a lion rampant Argent, armed and tongued Or; at sinister Or an abbott's crozier Azure in pale with a fixed humeral veil (Latin: velum) of the same.
Meaning:
The lion is taken from the arms of the chieftains of the Beninga kin. Crozier and veil are representing the former Premonstratensian Monastery of Aland. The colours blue and yellow had been those of former Norden County.
Source: German WIKIPEDIA
Klaus-Michael Schneider, 19 July 2017
---
back to Aurich cities and municipalities click here