This page is part of © FOTW Flags Of The World website
Bugsier (BRBA) (German Shipping Company)
Bugsier-, Reederei- und Bergungs-Aktiengesellschaf
Last modified: 2013-04-04 by peter hans van den muijzenberg
Keywords: brba | vbfg | bugsier | bugsier reederei bergung | vereinigte bugsier fracht | vereinigte bugsir dampf | leichter ges hh |
Links: FOTW homepage | search | disclaimer and copyright | write us | mirrors

---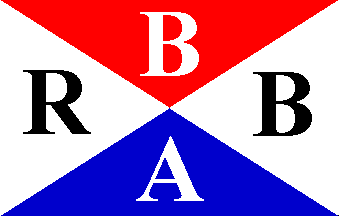 image by Jorge Candeias, 2 Feb 1999 See also:
---
Bugsier-, Reederei- und Bergungs-Aktiengesellschaft
Quartered per saltire, top triangle red, bottom blue, hoist and fly white. On each triangle, one of the companies initials (BRBA), in white on the top and bottom triangles and black on the white ones.
Santiago Dotor, 10 May 2005

Bugsier-Reederei-und Bergungs A.G. began 1866 as Vereinigte Bugsier & Frachtschiffahrt Ges. using a similar flag but with letters "VBFG" replacing the "BRBA" being white on the red quarters and black on the white quarters. The name changed in 1919. Whether the letters on the white are blue or black is very confusing. The company website, together with non German sources, show them as black. Whilst normally I would expect the company portrayal to be correct, the flag letters in the Josef Nüsse's webpage are definitely blue and this is supported by all other German sources.
Neale Rosanoski, 3 Jan 2003
---
Vereinigte Bugsier & Frachtschiffahrt Ges.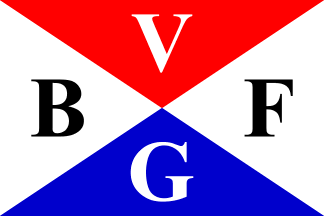 image by Jorge Candeias, 17 Jan 2005

German sources, including that on the Josef Nüsse site, show the black letters as blue but the company itself on its website shows black like the non German sources. They were formed in 1886 as Vereinigte Bugsier & Frachtschiffahrt Ges. with a similar flag but with the letters "VBFG" in place of the "BRBA". The name was changed to Bugsier-Reederei-und Bergungs A.G. in 1919 and then in 1988 to the current Bugsier Reederei und Bergungs GmbH which operates only a tug company.
Neale Rosanoski, 13 Oct 2004

It's No. 465 in the on-line 1912 Lloyds Flags & Funnels, as 'Vereinigte Bugsir- & Frachtschiffahrt-Gesellschaft, Hamburg' i.e. the United Towage and Goods Shipping Company. Some information on this company can be found here (in German):
The essence (under the 'Lloyd Sydney' heading): the firm was founded on 6 January 1866 by a group of Hamburg shipping operators and renamed several times before becoming, on 1 May 1919, the "Bugsier-, Reederei-und Bergungs AG which was to become famous world-wide. For many years the towage firm was also active in maritime transport.
Note: 'Bugsir' is old spelling for 'Bugsier'.
Jan Mertens, 26 Dec 2004

In 1926 the Schuchmann family overtook the biggest part of the shares of Bugsier. Bugsier gained 80% of TS Transport & Service from HAPAG-Lloyd in 1994. In 2002 in Brmerhaven a daughter company was established as Bugsier Mooring Service, having the same houseflag as the mother company.
Klaus-Michael Schneider, 13 May 2012
---
Vereinigte Bugsir Dampfschiff Gesellschaft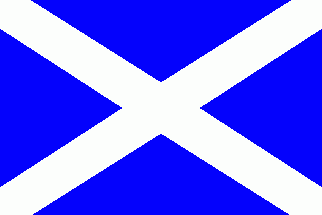 image by Klaus-Michael Schneider, 13 May 2012

The company was established on 6 January 1866 by a group of Hamburgian shipowners. The flag was blue divided by a white saltire.
Source: "Gratis Beilage zu Deicken und Behrmann's Neuen Monatsheften Neue Ausgabe Sommer 1897"
Klaus-Michael Schneider, 13 May 2012
---
Leichter Gesellschaft zu Hamburg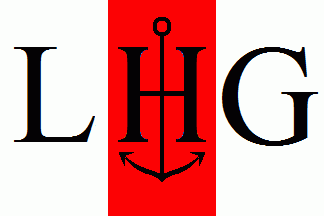 image by ,

The flag was vertically divided into white - red - white. There were black capitals in each stripe "L" (hoist), "G" (fly) and "H" superimposing a black, upright anchor (centre). The company merged with Vereinigte Bugsir Dampfschiff Gesellschaft in 1898 and the new company was named Vereinigte Bugsir- und Frachtschiffahrt ,the predecessor of Bugsier-, Reederei- und Bergungsgesellschaft mbH & Co. KG.
Source: "Gratis Beilage zu Deicken und Behrmann's Neuen Monatsheften Neue Ausgabe Sommer 1897"
Klaus-Michael Schneider, 13 May 2012

According to their website 25 May 2007 Bugsier were formed 6 January1866. 1866 also given by "Hamburg Tugs" formed as Vereinigte Bugsier Dampfschiffsgesellschaft by B. Wencke of Hamburg. 1898 was the date when Vereinigte Bugsir Dampfschiffsgesellschaft and Leichter Gesellschaft zu Hamburg amalgamated to form Vereinigte Bugsier und Frachtschiffahrts Gesellschaft which was renamed 1 May 1919 as Bugsier-Reederei-u. Bergungs A.G.
Neale Rosanoski, 14 May 2012
---