This page is part of © FOTW Flags Of The World website
Finnish Motor Boat Association pennants
Last modified: 2021-08-25 by

christopher oehler
Keywords: finnish motor boat association pennants | motor boat pennants | boat pennants | heraldic partitions |
Links: FOTW homepage | search | disclaimer and copyright | write us | mirrors

---

by Željko Heimer
Source: Album des pavillons (2000)
---
See also:
---
Finnish Motor Boat Association pennants
An article from the nr. 23/1996 issue of Nordisk Flaggkontakt pp. 29-30 describes pennants of the Finnish Motor Boat Association (

SMVL

/

FMBF

). The article is titled "Finlands Motorbåtsförbunds Klubbvimplar" i.e. 'Finnish Motor Boat Association Club Pennants'. The article is unsigned, which probably means it was prepared by then editor of Nordisk Flaggkontakt, Jan Henrik Munksgaard, drawings by Oddlaug Fidjestøl (according to booklet impressum). We have the article in the FOTW bibliography as [nfk96d]. The article refers to the 1991 book Veneilijän Lippukirja / Båtförarens Flaggbok issued by Suomen Veneilyliitto / Finlands Båtförbund that we have in our bibliography as [f9i98].

The drawings show 7 versions of division of SMVL/FMBF pennants. These are all broad pennants 220 units wide at hoist, 185 units at fly, with indentation at fly of 80 units and overall length of 360 units. In the canton, 120 units in diameter is the SMVL/FMBF circular emblem (yellow bordered white disk with blue cross throughout cotized blue with the Finnish yellow lion standing on a sabre and raising the sword over its head; like the emblem at owner's pennants of yachts), centered 85 units from the top and 90 units from the hoist.

The emblem is shown in rather good quality at the article ablut Suomen Veneilyliitto at Finnish Wikipedia and a small one at http://www.veneilyliitto.fi/ (Finnish web sites are notoriously only written in Finnish :) so maybe I missed something important – I wish they would at least provide Swedish if not English :/ ).

The construction sheet shows pattern how the pennant is divided and the 7 possibilities. However, it seems to me that these are just patterns how the pennant may look like and that any particular member club (?) may model its pennant following these patterns, probably choosing its colours. However, this is only my speculation.

In addition to those patterns, four versions of FMBF officials' pennants are shown, also I speculate that the colours may be white with blue stars, and the FMBF emblem in the same position as in the previous pennants. The pennant with three stars along the bottom edge is that of a chairman, two stars of vice-chairman, one star for association board member and without stars for a chairman of a committee, a work-group leader and a secretary.

On a side note, somewhat similar pennats, although not exactly the same are shown at http://fi.wikipedia.org/wiki/P%C3%A4tevyysviiri but some help on Finnish would be needed here as well :) . An almost identical 3-star pennat, but with six-pointed stars is shown at http://fi.wikipedia.org/wiki/Tiedosto:Puheenjohtaja.png. And how it may look in use, see http://fi.wikipedia.org/wiki/Tiedosto:Viiristo.png.

There seems to be also a number of Finnish yach clubs emblems to be seen on Finnish wikipedia that we should note on FOTW, basically, we only have the pattern of the Finnish yacht ensigns and yacht officers' flags, but we do not have many of those emblems that go into their cantons.
Željko Heimer, 4 March 2010
---
The different pennants
So, I go with these colour scheme. The captions are provided the same in both soruces, but as far as I could tell, they describ the heraldic divisions in Finnish and Swedish. Neither provides any caption for the all white flag (which they both show).
Patterns
an all white pennant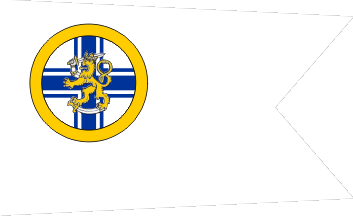 by Željko Heimer, 9 March 2010

Parted per fess/Katkoinen/Delat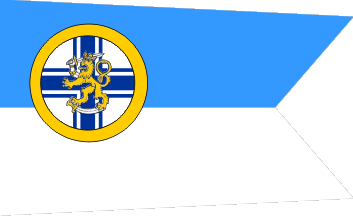 by Željko Heimer, 9 March 2010

Chief/Lakio/Ginstam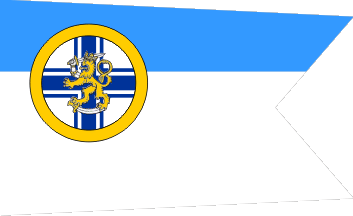 by Željko Heimer, 9 March 2010

Fess/Hirsi/Bjälke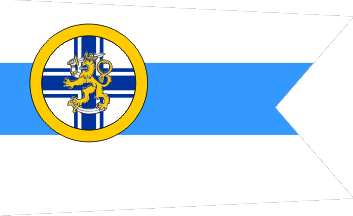 by Željko Heimer, 9 March 2010

Base/Tyviö/Stam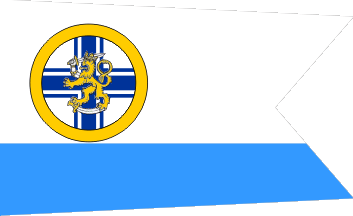 by Željko Heimer, 9 March 2010

Parted per fess twice/Kahdesti katkoinen/Två gånger delat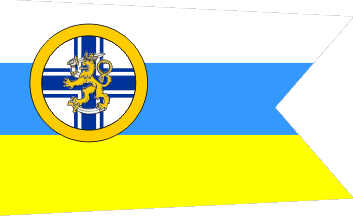 by Željko Heimer, 9 March 2010

Post/Pieli/Post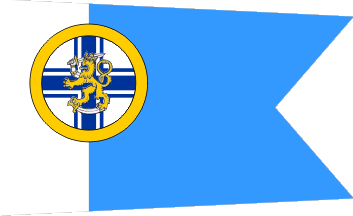 by Željko Heimer, 9 March 2010

---
Pennants for officials
Chairman/Puheenjohtaja/Ordförande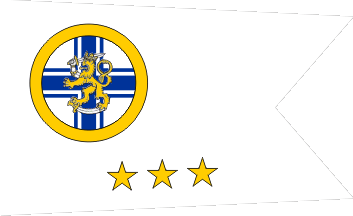 by Željko Heimer, 9 March 2010

Chairman/Puheenjohtaja/Ordförande, six-pointed variant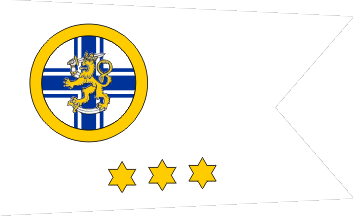 by Željko Heimer, 9 March 2010

Vice Chairman/Varapuheenjohtaja/Viceordförande, Board Member/Littohallituksen jäsen/Förbundsstyrelsemedlem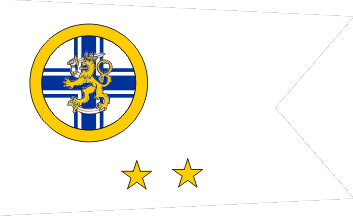 by Željko Heimer, 9 March 2010

Committee Chairman/Toimikunnan puheenjohtaja/Kommittéordförande, Works Leader/Toiminnanjohtaja/Verksamhetsledare, Secretary/Sihteeri/Sekreterare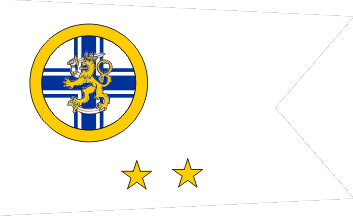 by Željko Heimer, 9 March 2010
---