This page is part of © FOTW Flags Of The World website
Swastikas in Finland
Last modified: 2021-08-25 by

christopher oehler
Keywords: finland | swastika | cross of freedom |
Links: FOTW homepage | search | disclaimer and copyright | write us | mirrors

---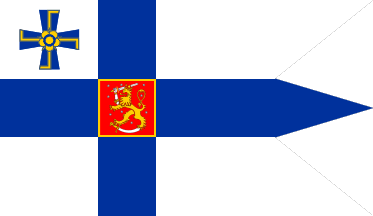 by Željko Heimer
Proportions: 11:19
Source: Album des pavillons (2000)
---
See also:
External Links:
---
The "Finnish" Swastika
In Finnish history the swastika appears as a part of "tursaansydän", an ancient symbol of luck and protection.
Source: Wikipedia: Tursaansydän
Jussi Hattara, 21 August 2007
---
Cross of Freedom
The Cross of Libery, a Finnish order, was founded in 1918. A renowned artist Akseli Gallen-Kallela1 was commissioned by General C.G. Mannerheim to design the Order's insignia. The insignia is a Cross pattée overlayed by a short armed swastika.
Source: Wikipedia: Order of the Cross of Liberty
Jussi Hattara, 21 August 2007
1 Known to vexillologists for its role in the design of the first Karelian flags - António Martins-Tuválkin, 21 August 2007.
---
The Cross of Freedom is the oldest order in Finland and the President is its Grand Master. The cross can be described as a yellow swastika on blue cross pattée, in the center a yellow heraldic rose.
The basic design of the Cross of Liberty, the George Cross (croix pattée aux bords rectilignes) seems to have been a natural choice. Its beautiful, symbolical plain shape, connected well to ancient Finnish symbols, and the same type of cross was also used in the two other Finnish Orders for Merit, the Finnish White Rose (1919) and the Finnish Lion (1942).

The final shape of the Cross of Liberty came to consist of two crosses, one superimposed on the other, the lower cross symbolising victory, and above it the straight swastika symbolising sun's rays.
Source: Vapaudenristin ritarikunta - Isänmaan puolesta (The Order of the Cross of Liberty - For Fatherland, published by the Order, printed in Porvoo, Finland 1997) - from chapter "English summary" on page 248
Ossi Raivio, 24 October 1998, 26 October 1998
---
President's Flag
Carr, in Flags of the World, 1961 [car61], p. 266, writes about the President's Flag:
The President's Flag is like the naval ensign, but bears in the first quarter what is best described as an heraldic "cross-pattée", in blue, charged with a yellow "fylfot" or swastika-shaped cross, The Cross of Freedom - Finland's most distinguished order.
Jarig Bakker, 18 August 2007
---
Use by the Finnish Air Force
The swastika of the Finnish Airforce was adopted when Swedish Count Eric von Rosen donated the first aeroplane to the Finnish government, adorned with his personal good luck symbol blue swastika.
Source: Wikipedia: Eric von Rosen
Jussi Hattara, 21 August 2007
---
The Finnish Air Force squadron flag was approved on November 8, 1957, more than a decade after the end of World War II.
Miles Li, 17 August 2007
---
The design appears in pre-World War II flag books and roundel charts, so the 1957 adoption restored the old design that pre-dated Hitler's rise to power. It took a decade for resentment to die, I suspect, before they could go back to their traditional emblem.
Bill Dunning, 17 April 2007
---
Finnish Scouts
During the International Congress of Vexillology meeting in Stockholm two Finnish members appeared in scout's uniform, which prominently featured a swastika. There was a squabble, during which the Finns said that they were not "Nazis", but were unable to explain the significance of the swastika's. Mr. Laurli died some years ago. He was a respected vexillologist, who took the wisest course by removing the swastika. We owe it to him to explain in full what this matter is about: ignorance. I mean: we respect swastika's on houseflags (Iceland, USA, India), after establishing that it had nothing to do with the Nazis, while we fail to fully explore the significance of the swastika in the Finnish context.
Jarig Bakker, 18 August 2007
---
In the dispute referred to by Jarig the decoration was a scout medal, again the highest ranking one in Finland, if I understand correctly, which one of the three bore.
Jan Oskar Engine, 20 August 2007
---