This page is part of © FOTW Flags Of The World website
Community of Portuguese-Speaking Countries
Comunidade dos Países de Língua Portuguesa, CPLP
Last modified: 2023-06-03 by

zachary harden
Keywords: cplp | community of portuguese-speaking countries | comunidade dos países de língua portuguesa | logo | international organization | border | waves: 7 | waves: 8 | disc (blue) |
Links: FOTW homepage | search | disclaimer and copyright | write us | mirrors

---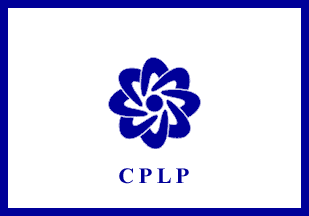 image by Francisco Grigoric and Sammy Kanadi, 01 Nov 2006
---
See also:Other sites:
---
Membership and status
As far as I know, there are three official multicontinental entities based on cultural ties: Commonwealth, Francophonie and Lusophonia.
Pierre Gay, 03 Dec 1998
CPLP was created in 1996 as a strictly political-diplomatic organization with the promotion of the Portuguese language as its only cultural goal. Founding members were all the lusophonous countries (Portugal, Brazil, Angola, Mozambique, Cape Verde, Guinea-Bissau and São Tome e Príncipe) and East Timor as an observer.
Jorge Candeias, 03 Dec 1998
East Timor is now a full member and no longer an observer, increasing the number of member states to 8. This has direct vexilological consequences, because the logo has now eight "fingers" instead of seven.
Jorge Candeias, 29 Jan 2005
CPLP was indeed formed while Macau was still under portuguese administration. And that's why it was not in the list of members: CPLP is an association of independent nations, and that was never the case for that territory.
Jorge Candeias, 21 Mar 2004
The statutes of the CPLP say that «Besides the founding members, any State can become a member of CPLP provided it uses Portuguese as an official language and accepts without reservations the organization's statutes» (art. 6, par. 1). So, since Portuguese is one official languages of the PRC, being one of the official languages of one of its constitutent territories, China could become a member of CPLP, which would create an interesting situation, to say the least.
The same could be said about Spain, because the decision of weather Galician is a full fledged language on its own or a variation of portuguese is largely political. If Spain wanted to get in, it would simply have to start calling Galician "Portuguese" and apply (and the tricky part: convince the member-states to support unanimously their application).
And something similar could be said about other states where Portuguese is not official, but is widely spoken, even as first language, due to large immigrant populations or regional influence, such as Andorra and Luxembourg or, in Latin America, Paraguay, Uruguay or Venezuela. If any of these states decides to make Portuguese one of their official languages, they could also apply for membership in the CPLP.
If Cabinda becomes independent, or Madeira… So, in fact, the possibilities for future changes in the logo, and consequently in the flag, are less remote than I thought.
Jorge Candeias, 19 Mar 2004
The cultural aspects of the CPLP have suffered some major developements, particularly in what concerns the defense and developement of our common language, including the creation of IILP (Instituto Internacional da Língua Portuguesa, International Institute of Portuguese Language) in 2001. Despite being so young, this institute has been partly responsible for major advances in linguistic cooperation, particularly a beginning of unblocking of an orthographic agreement for the language, that was paralyzed since its signing in the early 90s.
Diplomatically, the CPLP has been actively involved in every major crisis of its weaker member-states, particularly Guinea-Bissau, São Tomé e Príncipe and East Timor, with a role that has been universally considered very constructive, although sometimes insufficient. Partly as a consequence, the Equatorial Guinea has manifested its will to join the organization, but that isn't possible with the current statutes, which led to speculations in the press about the possibilities of changes in the statutes.
Jorge Candeias, 29 Jan 2005
---
Description of the flag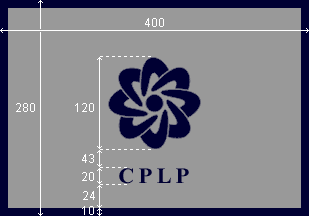 image by Francisco Grigoric, Sammy Kanadi and António Martins, 01 Nov 2006

I wrote to the CPLP webmaster regarding their flag and got a reply. Here it is (my translation):
Dear Sir,

Contrarily to what some sources may tell you, the correct version of the flag is the one that has the blue border. So, in a flag with 2×1,40 m, the border has 5 cm, the characters "CPLP" have 10 cm of height and the logo has 60cm of diameter. The characters are 12 cm away from the logo and 21,5 cm away from the bottom border.

Concerning the meaning of the logo, contrarilily to what is commonly believed, it has a meaning: Having the circle as the geometric base, it was decided to divide it in seven equal parts, the same as the number of countries of the CPLP. It was used an element on the shape of a wave, representing the sea, that before the common language, was the element that first united those countries. In the centre of this structure a circle concentric to the structure, represents the union element nowadays — the language.

Yours truly,

Executive Chairmanship of the Commonwealth of Portuguese-Speaking Countries
João Madureira, 15 August 1998

The fact that the number of "fingers" [waves] equals the number of members creates a problem: with each change in membership, the logo has to be changed. Now, these days all portuguese-speaking countries are members. But they can leave the organization. And, what is much more unlikely, other members might join in if. This is to say that the choice of such a mutable emblem was not very bright, in my humble opinion.
Jorge Candeias, 19 Mar 2004

There's always the US solution (stripes) — keep the number the same.
Nathan Lamm, 19 Mar 2004
---
Former flag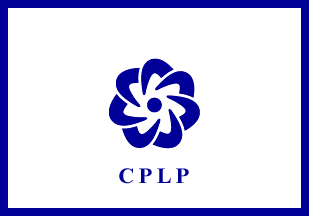 image by Sammy Kanadi, 2003

Seven members: all the lusophonous countries (Portugal, Brazil, Angola, Mozambique, Cape Verde, Guinea-Bissau and São Tome e Príncipe) and East Timor as an observer.
Jorge Candeias, 03 Dec 1998
---
Variations of the flag
Wide border and large logo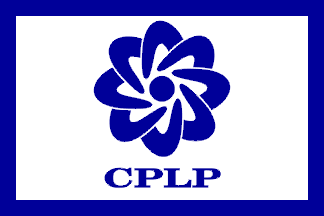 image by Francisco Grigoric, 01 Nov 2006

While the exact specifications of the CPLP flag are those shown above, not all flags are made to these specifications. This variant was made from observed flags.
António Martins-Tuvalkin, 24 Aug 2000

The Album [pay00] provides official CMYK shade as 100-95-20-0 (with Pantone approximation 2755c, that is also a bit purpleish). The emblem is somewhat bigger then in the image from the reported official patern.
Željko Heimer, 05 Dec 2003

Since Album [pay00] provides official colours, it would be reasonable to assume that this was based on official info too, and that would probably also include the image. Of course, there may be a number of other influences in the game — from illustrator's error to the fact that we deal with two "contradictory" offical sources — this last would not surprise me at all.
Željko Heimer, 05 Dec 2003

Me neither. It happens all the time. There are two other possibilities that cannot be excluded, though: today's specs differing from what was used a few years ago, and people in different offices not talking to eachother and coming up with different numbers, each on its own. It would be interesting to know the source for the Album [pay00].
Jorge Candeias, 06 Dec 2003
No border and large logo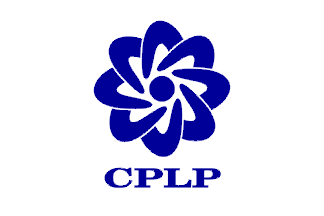 image by Francisco Grigoric, 01 Nov 2006

Recently the CPLP has been on the news quite frequently, mainly due to the civil war that is going on in Guinea-Bissau. These unfortunate happenings gave rise, as usual, to some flag-sightings on TV, including a surprise: a CPLP flag without border.

The picture I made before was made from a black and white photo, and I made some educated guesses on colours to make it. The flag in the photo has a border very clearly visible. But now on TV, I saw a flag with no border, though the rest is exactly as I depicted it: dimensions and colours.

I saw this arrangement before on the Expo'98 webpages, but I thought it was a(nother) mistake. Obviously it wasn't, but now I wander: wich is the correct flag? Was the bordered flag an early version of the definitive borderless flag? Why did they make a bad flag even worse by removing the only original feature it had?
Jorge Candeias, 23 Jul 1998

In today's newspaper Correio da Manhã, there is another photo of a CPLP event with the CPLP flag visible and… it has a border! So it seems they are using the flag with and without the border at the same time. I wonder if there is some protocolar difference in it's use, but I sincerely doubt it. Here I tend to agree with António when he says (in our private conversations) that it must be due to carelessness.
Jorge Candeias, 04 Aug 1998

The CPLP site shows a very small picture with the flag, where it seems to have no border.
Jorge Candeias, 09 Dec 2003
Fringe and full name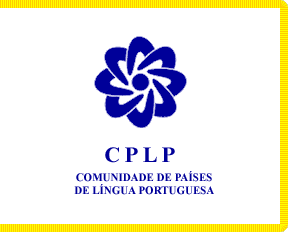 image by Francisco Grigoric and António Martins, 01 Nov 2006

Yet another "version" of the flag appeared yesterday on the news: white with the logo and acronym, plus the words "COMUNIDADE DE PAÍSES "¶" DE LÍNGUA PORTUGUESA" below in two rows and no border. Instead it had a yellow fringe! This was a part of those flag-art graphical designs that have become common in recent years, but had a distinctive photo-look. Another flag in use?!
Jorge Candeias, 21 Aug 1998
---