This page is part of © FOTW Flags Of The World website
Hezbollah (Lebanon)
حزب الله, Party of God
Last modified: 2022-03-12 by ian macdonald
Keywords: hizbullah | hezbollah | lebanon | party of god | firearm: assault rifle | gun | globe | text: arabic (green) | text: arabic (red) | text: arabic (white) | text: arabic (yellow) |
Links: FOTW homepage | search | disclaimer and copyright | write us | mirrors

---
Unofficial Flag
Official Flag

image by António Martins-Tuválkin | 2:3



image by Marc Pasquin | 2:3


---
See also:
---
Introduction
Hezbollah ("Party of God") is a Lebanese Shia group. Though sometimes mistaken for Palestinians – most of whom belong to the Sunni sect of Islam – they are genuine Lebanese. The Shia also have another group in Lebanon, called El-Amal.
Anonymous, 22 Sep 1998
---
Description
I saw a Hezbollah flag on television. It was yellow with in the center name Hezbollah (God's party) in Arab writing (Kufi style). Around the name were several revolutionary symbols, including guns.
Harald Müller, 08 May 1996

The flag of Hezbollah is yellow with a green device (probably a Kalashnikov, a book and an Arabic inscription) in the centre near the bottom. The flag is green-fringed.
Jaume Ollé, 01 Feb 1998

In the Israeli newspaper Yediot Akhronot of 18th August 1999, a photo taken at the funeral of one of the Hizbullah leaders in Lebanon shows their flag with an (apparently multicoloured) logo on a yellow field on the coffin and hoisted.
Anonymous, 18 Aug 1999

This flag [also] exists but I believe that with green logo is the official one.
Jaume Ollé, 27 Aug 1999

The highly stylized inscription comprising the base of the Hezbollah logo is "حزب الله".
The upper text reads "فإن حزبالله هم الغالبون" (usual English transcription: "fāʾinna ḥizb allāh hum al-ġālibūn"), meaning «Then surely the party of Allah are they that shall be triumphant», a Koranic quote (5:56), while the lower text reads "المقاومةالإسلامية في لبنان" (usual English transcription: "al-muqāwamah al-islāmīyah fīlubnān"), meaning «The Islamic Resistance in Lebanon».
António Martins-Tuválkin, 02 Oct 2006
---
Official Flag
This is a reconstruction of a flag seen in a poster of Hezbollah' secretary general, Hassan Nasrallah. The flag is draped and behind him so take the included image [above] with many caveats.
It appears to be the yellow version of the Hezbollah flag with the addition of a black band bordered with some sort of shiny golden material. Closer to the edges there is a green border. Only part of the writting on the black band can be seen (which I have attempted to copy) but it seem to go all around. The lettering on this band is golden (shiny) and the one on the logo is green.
Vidcaps with a similar flag (slightly different ratio, it seems to me) can be seen here and here. Interestingly, I have found what appears to be a variant (minus the gold and green band) here.
Unfortunately, no indication of its use.
Marc Pasquin, 04 Aug 2006
Interesting article here about the addition to the flag of Hezbollah of a line with political overtones
Nathan Lamm, 10 Aug 2006
This seems to be a discussion of the "new" flag of Hezbollah and it is of vexillological significance. The article "The Mystery Behind the New Hezbollah Flag," published on 10 August 2006 by Thair Abbas in the English edition of the Ashars Alawsat daily (Beirut, Lebanon), is fully dedicated to a potential "new" flag of Hezbollah:
Many viewers were confused after watching the televised speech of Hezbollah Secretary General Hasan Nasrallah, which aired on the evening of 9 July 2006, where the traditional Hezbollah flag that appeared behind him next to the Lebanese flag seemed altered. The black part at the bottom of the flag caught viewers' attention as it had inscribed on it the Koranic verse: "Prepare for them whatever forces you can muster" (Koran, Ch 8, Verse 60).

Some assumed the alteration was connected to the fact that Hezbollah is in a state of war, and linked between it and the change that occurred in the Iraqi flag in the wake of the Gulf War in 1991, when the words "God is great" were added to the flag between its three stars. Many people considered it an attempt by the (then) president Saddam Hussein to win the sympathy of the Muslim world.

However, that case does not apply to the Hezbollah flag according to Lebanese MP Hasan Fadlallah, or Hezbollah's media advisor Hussein Rahhal.

In a statement, Rahhal said Hezbollah's flag has not changed, and the verse "Prepare for them whatever forces you can muster" has in fact been on the flag for a long time. He said the flag that appeared in the recording (of Nasrallah's 9 August speech) is the official flag of Hezbollah's, and that the yellow flags that are carried by demonstrators or Hezbollah supporters and which do not contain that verse are incomplete and unofficial flags.

A source connected with Hezbollah stated to that "the deliberate showing of that verse on Hezbollah's flag could mean preparation for or paving the way for the declaration of holy jihad against the Israelis. That (holy jihad) is usually declared by the al-waliy al-faqih (the ruling jurisconsult; the jurisconsult charged with authority) who in Hezbollah's view is at present (the Supreme Guide of the Iranian revolution) Imam (Ali) Khamenei who sometime ago had expressed his dissatisfaction at the silence of the Muslim World on what is taking place in Lebanon."

On his part, Rahhal denied the possibility of this analysis being correct in part and parcel.
Ivan Sache, 11 Aug 2006
So the writting going all around the flag might simply be the same Koranic verse repeated 4 times.
Marc Pasquin, 11 Aug 2006
Here is a poster of the leader of Hezbollah. Alongside him you should also be able to see what appears to be possibly the "presidential flag of Hezbollah." It is the basic yellow Hezbollah flag, but with a black border with writings in Arabic and the "Dome of the Rock" in Jerusalem.
Bill Garrison, 16 Sep 2006
---
Flag Variants
| | | | | |
| --- | --- | --- | --- | --- |
| by António Martins-Tuválkin | 2:3 | | | by António Martins-Tuválkin | 2:3 | |
| by António Martins-Tuválkin | 2:3 | | | by António Martins-Tuválkin | 2:3 | |
Ma'ariv newspaper of 23 May 2000 showed more variants of the Hezbollah flag as seen at a parade the previous day: white on red, red on yellow, yellow on black and green on yellow.
Anonymous, 23 May 2000
I saw on television the following variations of the more usual Hezbollah flag (green logo on a yellow field). Green logo on yellow, red logo on yellow, yellow logo on red, yellow (rather gold-ish) logo on purple (this one I seem to recall with a gold fringe).
Santiago Dotor, 25 May 2000
In [Vexillacta #14, December 2001, Michel Lupant reports several variants of the party flag he saw in the Bekaa valley (one of the parts of Lebanon where Hezbollah rules):
Green on yellow
Black on red
White on black
White on red
Green on black
A black and white picture in the article shows a square Hezbollah flag. Shape and colours of Hezbollah flag do not seem to be really standardized.
Ivan Sache, 19 December 2001

[Gaceta de Banderas, January 2002, contains images of Lebanese political parties, reported by Michel Lupant and drawn by Jorge Hurtado following his specifications. (...) Michel Lupant says,
Pendant ma visite en avril 2001 j'ai (...) traversé la vallée de la Bekaa dans l'est du Liban. Partout des drapeaux étaient attachés aux poteaux le long des routes, aux fenêtres, en guirnalde à traves les rues. Il s'agissait de drapeaux du Hezbollah, il y en avait de toutes les couleurs: V/Y, N/R, W/N, W/R, V/N (...).
Santiago Dotor, 22 May 2002
My translation:
During my trip in April 2001 (...) I travelled across the Bekaa valley in Eastern Lebanon. Everywhere there were Hizbullah flags tied to the [electric] poles along the roads, on the windows, to strings over the streets. Those flag had several colours: Green/Yellow, Black/Red, White/Black, White/Red, Green/Black.
Ivan Sache, 22 May 2002
"Framed Logo" Variant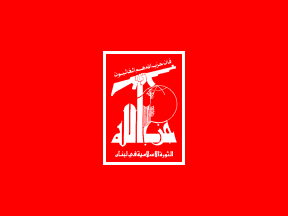 image by Eugene Ipavec, 30 Apr 2007

A different Hezbollah flag, used in 1994 in southern Lebanon. It is unusual in that the basic Hezbollah logo appears inside a frame.
Bill Garrison, 02 Oct 2006
Nasrallah Portrait Variants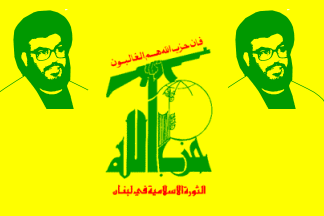 image by António Martins-Tuválkin and Eugene Ipavec, 25 Jun 2007

From an August 9, 2006 column on canada.com:
"On Sunday, 15,000 Quebecers, mostly Lebanese-Canadians, marched for 'justice and peace' in Lebanon."
Including a photo of a new Hezbollah variant, with two busts of Hassan Nasrallah flanking the logo.
Eugene Ipavec, 25 Jun 2007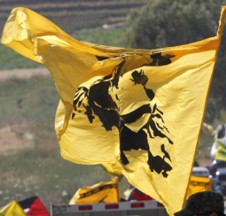 image located by Bill Garrison, 10 July 2021
This large yellow/black flag is associated with Lebanon's Hezbollah.
Source: https://www.trtworld.com/magazine/lebanon-s-crisis-could-end-up-empowering-hezbollah-48191
Caption: Supporters of Lebanon's Hezbollah leader Sayyed Hassan Nasrallah ride in a convoy marking "Resistance and Liberation Day", in Kfar Kila village, near the border with Israel, in southern Lebanon, May 25, 2021. (Aziz Taher / Reuters Archive)
Bill Garrison, 10 July 2021
If you turn the image 90 degrees right, I think you will see a two-tone photographic rendering of Sayyed Hassan Nasrallah in his imam robe facing left and apparently seated. His turbaned and bearded head is at the top of the image.
There is a precedent for this. Nasrallah's full-face portrait in two-tone appears on a yellow scarf: https://www.worthpoint.com/worthopedia/hezbollah-scarf-sayyed-hassan-1545176888
T.F. Mills, 26 July 2021
Variants in Gaceta de Banderas
| | |
| --- | --- |
| As reported in Gaceta de Banderas | Reconstructed image of the original flag |
| | |
both by Jorge Hurtado and Michel Lupant, exported to GIF by Santiago Dotor

[Gaceta de Banderas, January 2002, contains images of Lebanese political parties, reported by Michel Lupant and drawn by Jorge Hurtado following his specifications. (...) The flag of Hezbollah shows the emblem off-centred towards the fly and the flag's proportions are 7:8.
Santiago Dotor, 22 May 2002

Michel Lupant actually brought these flags home for his collection, and showed them to us at the October 2001 meeting of the Deutsche Gesellschaft für Flaggenkunde. I took pictures of these flags. (...) Looking at this flag more closely, I would say that the fact that the emblem is very offcentred towards the fly and the flag is almost square (7:8), is due to this being a quite used and worn specimen. Hoist as well as fly side look as if simply cut there without properly sewing the edge. So I would bet this is only part of the original flag.
Marcus Schmöger, 24 May 2002

Assuming the distance to the fly was originally (i.e. before being deteriorated through use) the same as to the hoist, the resulting image is almost exactly 2:3, so probably this was the original intended ratio.
Santiago Dotor, 18 June 2002

One odd point: Yellow is used by Hezbollah as well – and yet is not a "Pan-Arab" color!
Nathan Lamm, 13 Jun 2003
"Orange Faction" Variant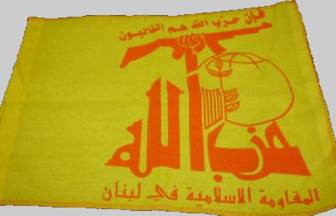 The other Hezbollah flags that I have seen have been with yellow cloth, and either black or green wording. This one has the Hezbollah verbiage in Orange color – this somehow identifies some mysterious Hezbollah "Orange faction" – but I know nothing more about it. I am still investigating.
Bill Garrison, 26 Mar 2007
Black Inscribed-Border Variant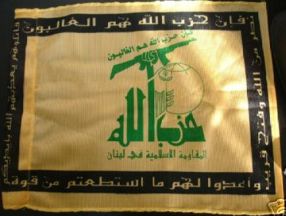 Unusual black Arabic-word border.
Bill Garrison, 14 Feb 2007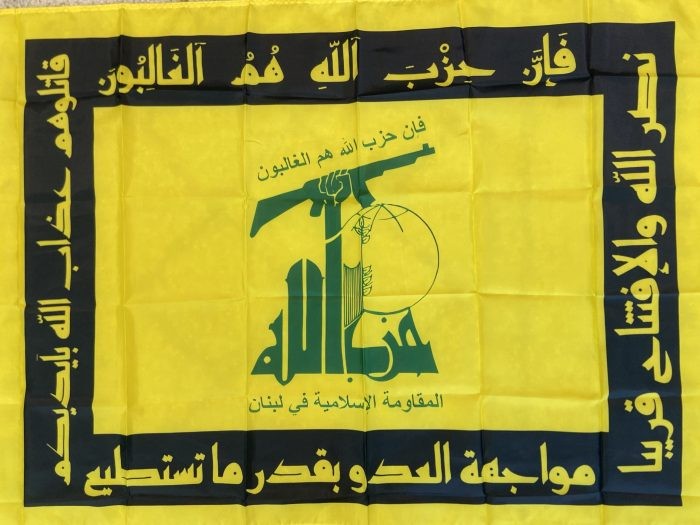 image located by William Garrison, 22 July 2013

Typical flag, but has a black border with some "slogan" -- not sure, could be the basic Islamic 'shahada'.
Hezbollah Flag Lebanon Nasrallah
Source: http://www.ebay.com/itm/111110775114
William Garrison, 22 July 2013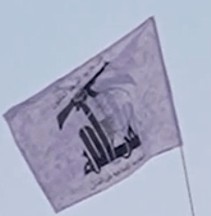 image located by Bill Garrison, 16 February 2022
A white-camouflage variety is used by Hezbollah ski-troopers/commandos.
Source: https://www.memri.org/tv/hizbullah-mountain-commando-snow-camouflage-shooting-drills-praying-south-lebanon
Bill Garrison, 16 February 2022
---
The Hezbollah Flag and the Revolutionary Guards Corps of Iran
I found a flag that is from the Middle East and I don't know which country its from. A friend of mine thinks it's a Hezbollah flag.
"Richard," 20 Nov 2004
Interesting. The logo is very close to Hezbollah logo but without its name. The inscription is in Arabic script but not in Arabic: "Safat Fasdaran Inkelab Islami." The year is 1257 (Islamic calendar).
Dov Gutterman, 21 Nov 2004
This is Farsi. I believe the correct transliteration is probably "Sepah-e Pasdaran-e Inqilab-e Islami," which is Farsi for "Islamic Revolutionary Guards Corps."
Interesting similarity in the logo, since the US has charged for years that Hezbollah is controlled by the IRGC and Iran has insisted it's an indigenous Lebanese political party.
Joe McMillan, 21 Nov 2004
---
Hezbollah Lance Pennon?
I can't remember seing anything like this photo: a triangular version of the flag of Hezbollah.
I saw these flags in a photo in the Público newspaper of August 15, 2006, during the Israeli invasion of southern Lebanon. They are in the shape of a right triangle, fringed, with the well-known Hezbollah symbol heavily shifted to the hoist, and seem to be attached to small hand-held batons, used in a (para-?)military parade.
There is an extra line of writing below the symbol. This writing is the reason why I don't GIF, along with the impossibility of being sure about the colours: there's a high probability that the flag itself is yellow, but the charges may be green or black. I'm inclined for the first, but I'm far from sure.
My guess as to what this is? A unit flag, or something of the sort.
Jorge Candeias, 07 Feb 2007
---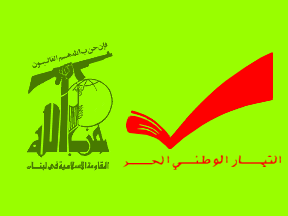 image by Eugene Ipavec, 20 May 2007
---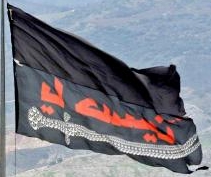 image located by William Garrison, 16 November 2019
Source: https://thearabweekly.com/hezbollahs-tunnels-are-part-irans-strategy

A large Shia black flag bearing the words "Oh, Hussein" flies near the Lebanon-Israel border, c. Dec. 2017. The two-prong sword on the bottom of the flag is the Zulfiquor sword, which indicates that this is a Shiite-Muslim militia. This flag is being flown by Hezbollah, the Levantine branch of Iran's "Islamic Revolutionary Guard Corps" (IRGC) in southern Lebanon.
William Garrison, 16 November 2019
---
Imam al-Mahdi Scouts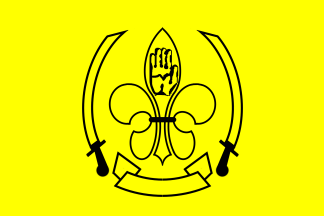 image by Eugene Ipavec, 20 May 2007

I recently saw a TV report on a Shi'ite youth movement sponsored by Hezbollah, the "Imam al-Mahdi Scouts." The flag was shown: yellow – naturally – with a black outline logo centered on a fleur-de-lys. There were also several inscriptions that cannot be reproduced.
Eugene Ipavec, 09 Feb 2007
---
image located by Bill Garrison, 11 January 2021
Source: https://www.terrorism-info.org.il/en/the-events-in-lebanon-for-the-anniversary-of-the-killing-of-qassem-soleimani-were-exploited-by-hezbollah-for-a-propaganda-campaign-within-the-shiite-community-to-spread-a-message-of-solidarity-with/

Caption: On 3 Jan 2021, on a hilltop in southern Lebanon and just north of Metula, Israel, the Hezbollah militia raised a new yellow flag bearing the images of martyrs Qassem Soleimani, Abu Mahdi al-Muhandis & Imad Mughniyeh.
Bill Garrison, 11 January 2021