This page is part of © FOTW Flags Of The World website
Movement of Independent Nasserists – al-Mourabitoun (Lebanon)
The Sentinels
Last modified: 2020-07-31 by ian macdonald
Keywords: lebanon | al-mourabitoun | sentinels | octagon (red) | octagon (white) | nasserist | crescent (red) | cedar | tree: cedar | red cross | text: arabic (black) |
Links: FOTW homepage | search | disclaimer and copyright | write us | mirrors

---
حركة الناصريين المستقلين-المرابطون, ("Movement of Independent Nasserists"), al-Mourabitoun ("The Sentinels")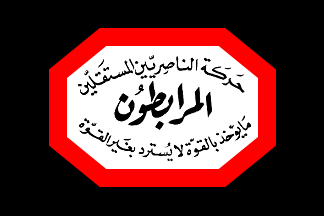 image by Eugene Ipavec and Santiago Dotor, 05 May 2007
---
---
See also:
---
Introduction
A Nasserist political organization and former militia group in Lebanon.
Hassan Kheite, 09 May 2005
Al-Murabitun (al-murabitûn, also transliterated as al-Mourabitoun, an Arabic term literally meaning "The Sentinels", but with Muslim historical connotations) was an alternative name for the Independent Nasserist Organization of Lebanon. It was also the name of the party's militia during the Lebanese Civil War, and there no distinction between the two. Both the INO and al-Murabitun were led by Ibrahim Kulaylat.
The radically Arab nationalist (Nasserist) Al-Murabitun was largely led by Sunni Muslims, but at its peak, its approximately 3,000 fighters also included many Shi'a muslims and some Druze, as well as minor numbers of other Lebanese sects. It participated in the Lebanese National Movement (LNM) under the leadership of Kamal Jumblatt's PSP against government forces and mainly Christian militias, and it was a strong ally of the Palestinian movement. It fought in West Beirut, Sidon and Tripoli among other places.
Its unwavering support for the PLO resulted in al-Murabitun being attacked and nearly completely destroyed by an alliance of Druze PSP fighters, the Shi'a Muslim Amal Movement and pro-Syrian organizations, after Syria launched an all-out offensive on the PLO and its supporters in 1985.
Source:
Wikipedia
Raed Badawi, 26 Sep 2006
---
Description
The upper Arabic line of writing on the flag says: "Independent Nasserist Organization."
The word in the middle is: "Al-Murabitun" (The Sentinels).
The lower line says: "What was taken by force cannot be recovered except by force." This was a famous quotation by the late Egyptian president Gamal Abdel Nasser.
Raed Badawi, 26 Sep 2006
---
Red Variant?
From a 2008 story in Newsweek:
Sunni gangs like Mazen's started forming in 2006. Thought to number hundreds or thousands, they've received help, including money, informal training and coordination, from the Future Movement as well as from Saudis and other Gulf Arabs. Many of the young toughs have adopted the red flag of al-Mourabitoun, an armed Sunni faction that was active during the civil war. These red pennants, as well as posters of the Hariris and even Saddam Hussein, now highlight the frontier between Sunni and Shiite neighborhoods. On the other side fly Hizbullah flags (yellow with a green Kalashnikov) and green Amal Movement banners. "They are drawing the lines," says one military official not authorized to talk to the press.
The Mourabitoun flag is given as black with a octagonal red framed field with black writing (see also here). So is the emblem used with the red frame extended to the edge of the flag or pennant, or is the Newsweek reporter mistaken as to what organization's flag is being adopted?

"prometevsberg," 17 May 2008
---
Lebanese National Crescent Institution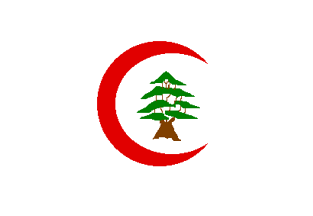 image by Raed Badawi, 28 Sep 2006

The Lebanese National Crescent Institution is one of the committees that belongs to the Al-Murabitun Organization.

Please notice that unlike all other Arab and Muslim countries, the officially recognized committee by the Lebanese government is the Lebanese Red Cross and not the Red Crescent. But during the religious civil war in Lebanon, Al-Murabitun, as the main Sunni Muslim militia, formed a Red Crescent Committee of its own and called it the Lebanese Red Crescent Institution. Then a few years later the International Red Cross Committee of Geneva complained to the Lebanese government that the Red Crescent of Al-Murabitun was not legitimate and unofficial and they should not be allowed to use the term "RED CRESCENT" so long as the Lebanese government recognized only the Red Cross. This is when Al-Murabitun changed the name to "Lebanese National Crescent." The word "RED" was avoided, though the red color of the crescent on the flag has been retained until today.

Almost all major religious Lebanese parties have their own medical institutions, and all of those institutions have their own flags.

Raed Badawi, 28 Sep 2006