This page is part of © FOTW Flags Of The World website
Syria
Sūriya, Syrian Arab Republic, Al-Jumhūriyyah al-Arabiyyah as-Sūriyyah
Last modified: 2023-11-11 by ian macdonald
Keywords: syria | syrian arab republic | suriyya | al-jumhuriyya al-'arabiyya as-suriyya | president | stars: 2 (green) | ba'ath party | politics | arab league | league of arab states |
Links: FOTW homepage | search | disclaimer and copyright | write us | mirrors

---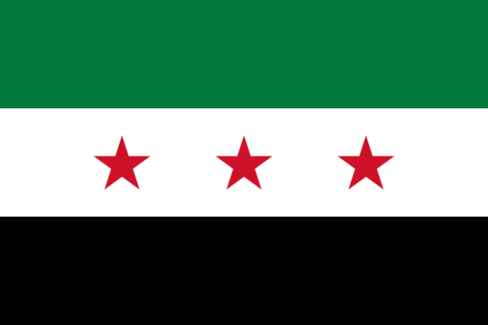 2:3

image by Eugene Ipavec, 31 May 2007
---
Official Name: الجمهورية العربية السورية [Al-Jumhūriyyah al-Arabiyyah as-Sūriyyah], Syrian Arab Republic
Short Form: سوريا or سورية [Sūriya], Syria
Flag Adopted: 1958 (abandoned 1961, readopted 30 Mar 1980)
Coat of Arms Adopted: unknown

---
Subnational Flags:
Historical Flags:
Political Entities:
Ethnic and Cultural Groups:
Educational Institutions:
Corporate flags:
Houseflags of Shipping Companies:
Teshreen Sport Club (Latakia)
See also:
Other sites:
---
Introduction
There are quite a lot of flags in Syria: not only on official buildings you always find the national flag and mostly the Ba'ath Party flag, but also on private buildings. In the Suqs there are lines with many little flags, often alternating the national flag and the Ba'ath Party flag. However, there are certainly some regional differences: In Damascus you see a lot of flags, also in the Suq; in the second-largest city, Aleppo, there are no flags in the Suq, but there are Islamic writings (for example the Shahada, as in the Saudi flag) hanging from the lines just as the little flags in the Damascus Suq; in Homs you can see the little triangular flags; in the parts along the Euphrates, for example near Der-ez-Zor, I saw some national flags without stars. However, there seem to be no regional flags or city flags.
M. Schmöger, 01 May 1997
---
The protocol manual for the London 2012 Olympics (Flags and Anthems Manual London 2012 [loc12]) provides recommendations for national flag designs. Each NOC was sent an image of the flag, including the PMS shades, for their approval by LOCOG. Once this was obtained, LOCOG produced a 60 x 90 cm version of the flag for further approval. So, while these specs may not be the official, government, version of each flag, they are certainly what the NOC believed the flag to be.
For Syria: PMS 032 red, 355 green and black. The vertical flag is simply the horizontal version turned 90 degrees clockwise.
Ian Sumner, 10 October 2012
---
Meaning of the Colours
[Ed.: see also Pan-Arab Colours for a historical explanation of the colours.]
Red symbolizes the struggle and sacrifice for freedom; white signifies peace; and black stands for the dark colonial past.
Source: [Crampton 1985.
Jarig Bakker, 21 Jul 1999
---
Vertical Flag [Click on image for full size]
4:1


Besides the normal horizontal usage of the flag you can see it displayed vertically as well, be it painted on a wall or hanging on a building. The vertical examples are usually quite long (proportions from 3:1 up to 8:1).
M. Schmöger, 01 May 1997

 
 
image by M. Schmöger
---
Flag Variants [Click on images for full size]
The national flag of Syria, as we know, is shown in a lot of different variants in Syria. There are four main variables in which individual flags can differ from one another.
M. Schmöger, 01 May 1997
As a Syrian, please allow me to make a correction. The variation of the flag without the two stars does not exist; this would be the flag of Yemen.
Moaz Marouf, 10 Oct 2000
A swallowtailed variant, depicted on a Syrian National Olympic Committee pin (photo):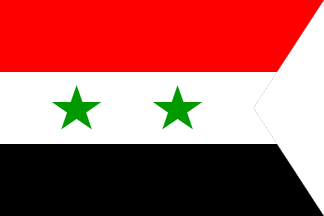 image by Eugene Ipavec
Eugene Ipavec, 31 Sep 2007
---
Lebanese-Syrian Flag
[During the 2005 Lebanon protests] I heard on the radio of a "Syrian flag with the Lebanese cedar added in the middle."
Ivan Sache, 10 Mar 2005