This page is part of © FOTW Flags Of The World website
Dutch Houseflags of Shipping Companies [s]
Last modified: 2017-11-11 by andrew weeks
Keywords: salahadji | ssm | solleveld | spliethoff | shipdock | smits | sanara |
Links: FOTW homepage | search | disclaimer and copyright | write us | mirrors

---
Other "S" companies:
See also:
---
Sabon Logistics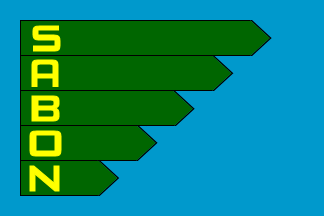 image by Eugene Ipavec, 3 Dec 2006

A Dutch forwarder not easily encountered on the web (try www.sabon.nl), Sabon Logistics BV is specialized in inland shipping. Now established at Papendrecht on the Oude Maas River, quite near Dordrecht in fact.

See this Vlootschouw page concerning the vessel 'Kiliya' for the company logo, middle of page: Five green stripes, left aligned and pointed at the right side, gradually getting smaller, bear a yellow initial each, reading from top to bottom 'SABON'. The house flag is blue with the logo in the hoist, as seen on 'Spes Nova'
(Binnenvaart page).
Jan Mertens, 1 Dec 2006

---
Salahadji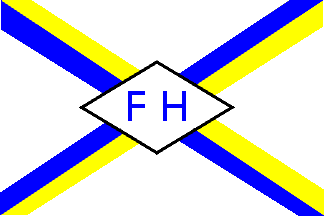 image by Jarig Bakker, 30 January 2005

Scheepvaart en Petroleum Maatschappij Salahadji, Amsterdam (Shipping and Petrol Co Salahadji) - white flag with blue/yellow saltire; in center white diamond, blue "FH". The Salahadji was an old ship of the Shell-group - I have no idea what "FH" represents. Salahadji is a little port in SE Aceh, Sumatra, Indonesia.
Source: Brown's Flags and Funnels of British and Foreign Steamship Companies, compiled by F.J.N. Wedge, Glasgow, 1926 [wed26]
Jarig Bakker, 30 January 2005

---
Salka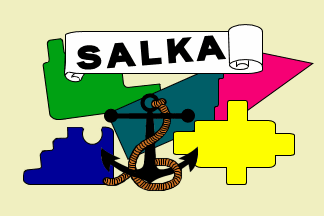 image by Eugene Ipavec, 22 May 2006

Salka Handels- en Transportmaatschappij BV has an unusual logo – to say the least – shown on this Vlootschouw page.
Almost halfway down, it appears to be a heap of variously coloured bits reminding one of jigsaw puzzle pieces – having a black foul anchor (brown rope) and a white scroll bearing 'SALKA' in black letters as the more common elements.
Let me add that the various pieces have different forms and are coloured bright green, fuchsia, blue-green, dark blue (purplish on Vlootschouw), and yellow.
This is the company website, showing a white flag with the logo and throwing in an orange pennant for good measure:
One of many similar firms located at Zwijndrecht, Salka presents itself as your partner for waterborne transport of polluted earth, dredgings, and various materials for recycling. In addition there is the sand and gravel business.
Besides two owned vessels Salka can count on some forty chartered barges of various kinds all of which are certified for the transport of above mentioned materials

Salka is said to mean 'surprise' in Latin (it does?) and yes, I am surprised!
Jan Mertens, 20 May 2006

---
Sanara, Rotterdam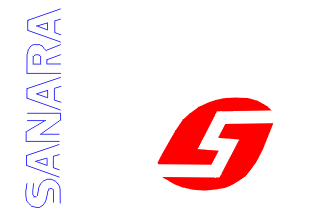 image by Jarig Bakker, 15 Sep 2005

Image after Brown's Flags and Funnels Shipping Companies of the World, compiled by J.L. Loughran, Glasgow, 1995 [lgr95] Sanara B.V., Rotterdam - white flag, at hoist vertical outlined "SANARA", at bottom fly red blob, white "S".
Jarig Bakker, 15 Sep 2005

---
Sauer Bevrachtingen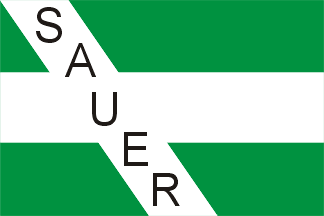 image by Jarig Bakker, 21 Jul 2006

Yesterday I saw in the Oude Houtmanhaven in Amsterdam a ship with the flag of Oranje Verzekeringen and an unknown flag: horizontal VWV, a white hoistdiagonal reaching half flaglength, charged with vertical aligned "SAUER" in black.
Jan Mertens assured me that it was "Sauer Bevrachtingen" (Chartering), Rotterdam BV., Zwijndrecht. No presence on the web (yet). The colors are the colors of
Rotterdam of course.
Jarig Bakker, 21 Jul 2006

---
Scaldis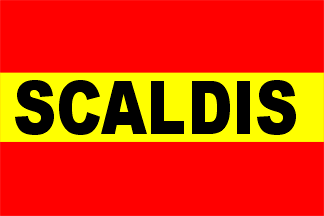 image by Jarig Bakker, 25 Feb 2006

Here is a house flag of a Dutch company in Belgian colours: Scaldis Lijn, owned by Hudig & Pieters, Rotterdam. Found on a Kennedy, Hunter & Co.'s
agencies list, date unknown.
Flag divided horizontally red-yellow-red, bearing the word SCALDIS in large black letters on the middle stripe.
'Scaldis' is Latin for the Schelde river; when people mention the river they usually mean the Western branch of the river leading to Antwerp, Belgium.
(Incidentally, both river mouths are Dutch territory).
Jan Mertens, 4 Feb 2006
---
Scandutch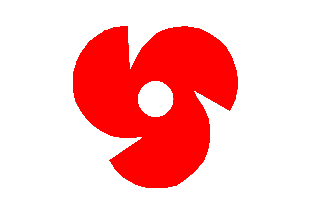 image by Jarig Bakker, 3 Mar 2005

Jan Mertens reported this link with mainly Dutch houseflags. ScanDutch - white flag, red rotor with three blades.
Loughran's "A Survey of Mercantile Houseflags and funnels", 1979 lists this as Scanservice (1969-72); ScanDutch (1972- ); Consortium.
Jarig Bakker, 3 Mar 2005

---
Scheepvaart- en Steenkolen Maatschappij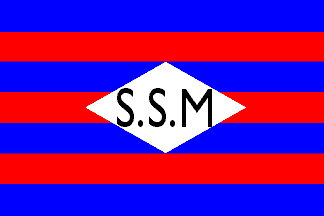 image by Jarig Bakker, 19 Oct 2003

N.V. Scheepvaart- en Steenkolen Maatschappij, Rotterdam (Shipping- and Coal Society).
Houseflag: seven equally wide horizontal stripes of blue and red, with in the center of the three central stripes a white diamond charged with S.S.M.
Image from Flagchart of houseflags of Dutch shipping companies, attached to the magazine "De Blauwe Wimpel", April 1956.
Jarig Bakker, 19 Oct 2003
---
Schot Scheepvaart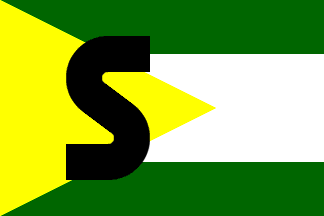 image sent by Miles Li, 28 May 2016

Dutch barge operator and freight forwarder HDC Schot Scheepvaart has no website. I did not find much information save the fact that this firm cooperates on an equal footing with IMT, forming 'Schelde-Maas' (named after two important rivers) since 1996.
Source: extract of Schuttevaer article of 15 November 1997.
Then there is the house flag of course – see this page: Horizontally divided VWV (1:2:1), a yellow triangle based on the hoist and jutting far into the white field (2/3 it seems) a large black 'S' (no serifs) placed over the triangle and, partly, the green stripes.
This item evokes the municipal flag of Rotterdam, the company seat, whereas 'Schot', a family name no doubt, is represented by the initial (no idea what HDC means).
Jan Mertens, 22 Sep 2009

---
SEAM Oosterlee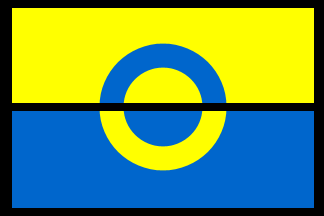 image by Eugene Ipavec, 24 Sep 2009

Dutch sand extractor and inland transportation company 'SEAM Oosterlee BV' is established at Breskens on the left bank of the W. Scheldt River. Modest webpage presenting this firm (in Dutch): The page shows a square flagoid horizontally divided blue above yellow, a ring in counterchanged colours placed over them. Indeed such a flag is flying on specialized vessel 'Rio': The thick black holding lines in the drawing may surprise and they do not seem to appear in the - admittedly small - photo detail. However a table flag shows them as well. Source: German eBay offer no. 290278850516 (end 12 Dec 2008) put up by "shipflag",
dimensions given as approx. 40 [cm] x 60 [cm].
Founded by the father of current owners J. and A. Oosterlee, SEAM Oosterlee was originally established at Maassluis and came to Breskens in 1969. Mainly delivered to the Belgian and French markets, the extracted sand is transported by ship, inland vessel, or truck. See this doc.file (in Dutch) – it is said that the firm was the first to operate on a maritime level: "SEAM" stands for 'Scheepvaart en Agentuur Mij.' i.e. Shipping and Agency Co..
Jan Mertens, 22 Sep 2009

---
Seatrade Groningen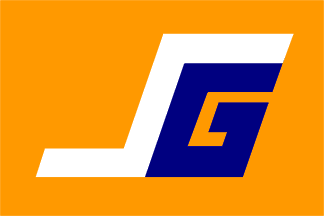 image by Jarig Bakker, 6 Jan 2006

Image after Brown's Flags and Funnels Shipping Companies of the World, compiled by J.L. Loughran, Glasgow, 1995 [lgr95] Seatrade Groningen B.V., Groningen - orange flag, stylized white "S", black "G".
Jarig Bakker, 6 Jan 2006

---
Shipdock, Amsterdam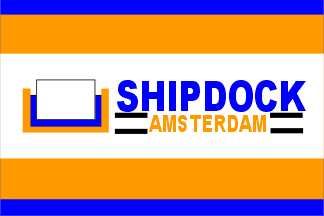 image by Jarig Bakker, 3 Mar 2005

Jan Mertens reported this link with mainly Dutch houseflags. Shipdock, Amsterdam - Five horizontal stripes Blue - Orange - white - Orange - blue; on white at hoist "SHIPDOCK" in blue above "AMSTERDAM" in orange; at the hoist a drawing of a dock.
Jarig Bakker, 3 Mar 2005

---
Scheepswerf Slob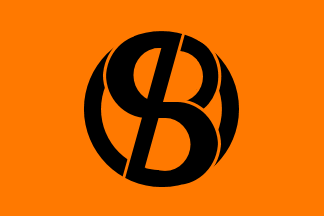 image by Eugene Ipavec, 22 Apr 2006

Scheepswerf Slob BV or "Slob Shipyard" is a venerable firm established at Papendrecht at the Lower Merwede River, across Dordrecht in fact. Here is the company website (English section available).
We immediately see the circular black-on-orange logo made up of the letters S-L-O-B and an orange flag with said logo flying on a ship, the 'Sarah' which is – we learn further on – a "Container Feeder and Dry Cargo Vessel". This must have been a trial run, I suppose.

Quote from the introduction: "The shipyard is designing and building a great variety of vessels of different type destined for seagoing-and inland shipping, offshore and dredging industry. Moreover complete steel constructions and hulls (called casco's, jm) for custom built motor yachts are being built. The yard also carries out refits to all kind of vessels."
Employing 78 people, the firm was founded in 1947 by Kommer Slob and sold to De Vries Scheepsbouw at Aalsmeer as there was no successor.
Additional information from the on-line Binnenvaartkrant, issue of 11 April 2006.
Jan Mertens, 22 Apr 2006

---
C. Smit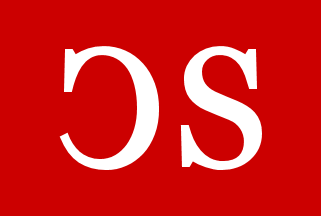 image by Eugene Ipavec, 25 Jan 2010

Maritiem Digitaal, a collective data base of Dutch maritime museums, has a lot to offer on flags. See for instance this item: A very long url easily avoided by pasting the ship name "beijenkorf" into the search box shown here: tick the box marked "Toon alleen..." (i.e. pictures only) and select "Zoeken" (i.e. search). When the result is displayed, switch to English by clicking the little Union Jack at upper right page (the translation appears to be machine-made.)

This aquarel made by Jacob Spin (1806-1875) shows the barque 'Beijenkorf' ("Beehive") arriving near the island of Texel in 1857. (Select third image and use the looking-glass function.) The flags flown are the name pennant or onomast, the captain's college flag (member of the Rotterdam chapter), the national flag, and last but not least a red flag bearing white serifed initials "CS" the "C" turned towards the hoist – the house flag.
We learn that at the date of painting 'Beijenkorf' belonged to C. Smit's shipping company at Alblasserdam (located on the River Noord between Dordrecht and Rotterdam) and that she was scrapped in 1859. One year earlier C[ornelis?] Smit operated two ships (list of Alblasserdam's shipping companies), see here.
Jan Mertens, 13 Dec 2009

---
Piet Smit Sleepdienst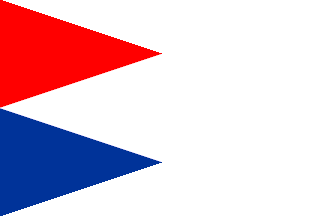 image by Miles Li, 28 May 2016, after image on this website.

Piet Smit Sleepdienst BV, a Dutch towage firm, is yet another one taken over by Smit Internationaal as explained in Jansen & Van Heck's "Duwvaart", p. 89.
Shown in b/w, its triangular house flag or pennant is described as being white having a red triangle in the upper left corner and a blue one in the lower left corner.
Of simple design and repeating the national colours, this pennant recalls a yachting burgee.
Some history found at this source (it does not show a flag but a funnel and moreover every vessel had its own initial):
Founded in 1877 by Piet Smit Jr as the 'Slikkerveersche Sleepdienst', starting out with five tugboats and expanding by taking over others. Later based in Rotterdam, the firm wisely renamed itself 'NV Nederlandsche Stooomsleepdienst v/h Piet Smit Jr' (i.e. Dutch Steam Towage Service Co. Ltd formerly Piet Smit Jr) in 1913. Owned a hundred tugs in 1927.
The company took over Stoomsleepdienst 'Maas' in 1969 and changed its name into 'Piet Smit Sleepdienst' two years later. Coming upon hard times, the fleet now only counted 23 tugs and cooperation with 'Nieuwe Rotterdamse Sleepdienst' began but only to disappear into a greater whole, Smit Internationaal.
There was a related shipyard which went broke in 1988 - and that is the way the world goes.
Jan Mertens, 1 Mar 2006
---
Smits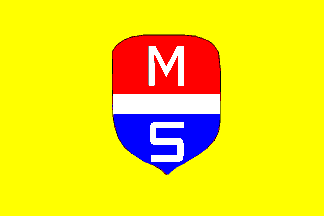 image by Jarig Bakker, 3 Mar 2005

Jan Mertens reported this link with mainly Dutch houseflags. Smits - yellow flag; in center a shield with red, white and blue horizontal bars; on red white "M", on blue white "S"..
Jarig Bakker, 3 Mar 2005

---
Solleveld & Co.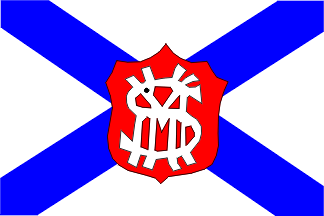 image by Jarig Bakker, 28 January 2005

Solleveld van der Meer & van Hattum, Rotterdam - white flag, blue saltire; in center red shield, charged with the firm's initials in white (I think...).
Source: Brown's Flags and Funnels of British and Foreign Steamship Companies, compiled by F.J.N. Wedge, Glasgow, 1926 [wed26]
Jarig Bakker, 28 January 2005

---
Sophia Tankvaart

image sent by Jan Mertens, 27 Sep 2006

This small company, the Dutch 'Sophia Tankvaart' ('vaart' meaning shipping) is located at Tholen, one of Zealand's islands; it operates the motor tanker 'Sophia' built in 2003.
Specialized in mineral oil and chemical transport, this vessel is chartered by the German firm Stetra - which we already know - and plies the waterways of the Netherlands, Belgium, Germany, France, and Switzerland.
Neat company website, showing the house flag on the first page (and incidentally doing a nice job of presenting the 'Sophia'): White field with logo also seen on the webpage: SOPHIA in white letters – no serifs – with light blue contours in front of a light blue rectangle and above four dark blue waves; under the waves is the word TANKVAART in smaller, light blue letters.
Jan Mertens, 27 Sep 2006

---
Spliethoff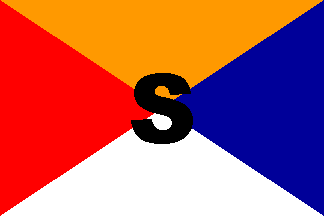 image by Jorge Candeias, 12 Mar 1999

Houseflag of Spliethoff's Bevrachtingskantoor BV (Amsterdam).
Quartered per saltire in orange, dark blue, white and red with a black "S" centered.
Jorge Candeias, 12 March 1999

Source: Company's website.
Dov Gutterman, 26 February 1999

---
Stemat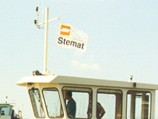 image sent by Jan Mertens, 13 Sep 2006

This company's website says it all (url followed by quote): "Stemat is a service company for the maritime sector, based in Rotterdam. Stemat started with a couple of vessels in 1986 and has now expanded to a current fleet holding of over 40 vessels. The considerable experience amassed over this time allows Stemat to offer expert advice to a large number of companies specialising in a wide field ranging from maritime construction to the dredging and offshore industry."
As befits such a firm there is a huge variety of vessels, listed in the 'Fleet' section: "crane barges, multipurpose vessels, anchor-handling vessels, tugboats, transport pontoons (…)" but check out the 'Pontoons' and 'Equipment' headings as well.
To give an idea of the various projects under way, here is a small selection: beach reclamation, depositing mud, tunnel building, windfarm construction, cable repair, dredging, transporting an entire sailing ship, towing a derrick, etc. etc. (see 'Projects' with nice little flags!).

The image is an extract of a photo showing 'Ingrid B', a multipurpose vessel ('Fleet'). The house flag is white with the orange company logo in the upper hoist corner and the company name 'Stemat' beneath it in black letters, apparently filling up the lower part of the flag. Said logo is all over the site, being a very stylized initial 'S'; the company name on the site's "letterhead" has the same font as the flag's.
Jan Mertens, 13 Sep 2006

---
Van der Straaten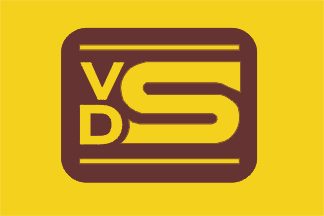 image by Jorge Candeias, 12 Mar 1999

Established at Hansweert, on the River Schelde (Dutch side), Van der Straaten Aannemingsmaatschappij BV is a 100 year old contractor: building bridges, locks and quays, roads, conduits, etc. In addition there is an engineering and study department, and existing constructions are maintained or restored.
Company homepage, showing the logo: stylized initials `VDS', the `S' extra large to the right of much smaller `V' and `D' in vertical position; two small horizontal
stripes contain the initials; all within a cartouche (square with rounded corners) – colours: yellow elements on a dark background which looks black but is, I think, dark brown.
In 2006 a tug was bought and named `Tuimelaar': We see small yellow pennants with the company logo near the hoist. Following photo, copyright "heja" shows Van der Straaten at work on a Vlissingen (Flushing) lock. This photo is clickable – very large in fact – and details can be examined at leisure. On the floating crane we see a rectangular flag bearing the company logo.
I cannot help thinking that the colours are yellow and brown, not black!
Jan Mertens, 9 Jun 2007

---
Swintank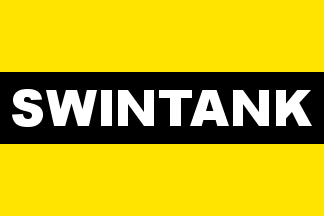 image by Eugene Ipavec, 7 Jul 2009

Another one of those laid-back Dutch shipping company flags! Seen on Marktplaats (Dutch auction site) as offer no. 197430988, accessed 30 Sep 2008, put up by "Skipvlag", giving dimensions as 0.98 [m] x 1.45 [m].
Horizontally divided (evenly, it appears) yellow-black-yellow, company name "SWINTANK" in white, without serifs, on the central stripe.
The little information I could find: Swintank BV is an inland tanker shipping company established at Zwijndrecht which is opposite Dordrecht on the Nieuwe Maas River. Its namesake freighting office, possibly the same firm, was taken over by Plouvier (Belgium) in 1997.
I could not help noticing the similarity with the Zwijndrecht municipal flag.
Jan Mertens, 6 Jul 2009

---