This page is part of © FOTW Flags Of The World website
ISIS / ISIL (Islamic State of Iraq and Syria / Levant)
Last modified: 2022-06-25 by rob raeside
Keywords: islam | hizb ut-tahrir |
Links: FOTW homepage | search | disclaimer and copyright | write us | mirrors

---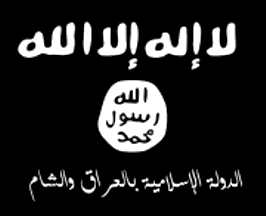 image located by William Garrison, 30 October 2013
---
See also:
---
John Issa, an interpreter who's an American citizen originally from Lebanon, translates words on a Shiite flag found Monday night in the Hurriyah area of Baghdad in a home once used as a kidnappers' hide-out. The flag reads, "Muqtada Sadr, savior of god," a reference to the Shiite cleric who heads the Mahdi Army.c. 2008 (Shia).
Bill Garrison, 30 October 2013
Good article was published in Time Magazine about the relevance of the symbols on this flag.
What the ISIS Flag Says About the Militant Group

The black and white standard of the Sunni militants gives some insight into how the group sees itself. The world is now becoming accustomed to seeing images of the stark black-and-white flag whose bearers are threatening to remake the Middle East and who have already taken responsibility for numerous acts of murder, massacres and ethnic cleansing across Iraq and Syria.

But what does the standard of the self-declared Islamic State–also known by its previous name, ISIS, or the Islamic State in Iraq and greater Syria–tell observers about the goals of the organization and its supporters?

Volumes, say experts in Islamic militant movements. The color, the calligraphy, and the choice of words on the flag all serve as a key to reading the group's history as well as unfolding a road map of where it sees itself going.

The flag is black with the words La 'ilaha 'illa-llah – "There is no God but God" – emblazoned across the top in white in a somewhat coarse, handwritten Arabic script. It's a very different kind of typeface from the more elaborate calligraphy on the Saudi flag, for example, that also includes this same shahada, or Islamic statement of faith. Even more rough around the edges is the white circle in the middle of the ISIS flag. Inside it are three words: "God Messenger Mohammed." It's an interesting choice of word order given that the second part of the shahada is "and Mohammed is God's messenger."

The reason for the circle and those words is that they're a copy of what's known as the Seal of Mohammed, which the prophet himself is believed to have used in his lifetime to seal letters he wrote to foreign leaders, asking them to join him. A version of the seal purported to belong to Othman, one of Mohammed's companions, is now permanently on display at the Topkapi Palace in Istanbul. The use of the seal, critics of ISIS say, is intended to add a veneer of historical authenticity to its mission.

"The power of the flag comes from the fact that the word 'Allah' is on it. The word itself is seen as sacred by Muslims and hence it becomes sacrilegious to desecrate the flag," explains Hayder al Khoei, an associate fellow of the Middle East and North Africa Programme at Chatham House in London. A week ago, for example, there were protests in Beirut at which ISIS flags were burned, with activist starting a #BurnISIS campaign meant to rival the ALS ice bucket challenge. Afterwards, the Lebanese Minister of Justice, Ashraf Rifi, asked that the burning of the flag be banned and that violators be given the "sternest punishment," because burning anything with the word Allah on it is viewed as an insult to Islam. The issue has stirred up emotions across the Islamic world. An Egyptian feminist, Aliaa Magda Elmahdy, recently held an extremely graphic protest intended to desecrate the ISIS flag, stirring up further controversy.

"The words are what makes the flag so powerful," al Khoei says. "It is a very weird and awkward situation for Muslims because ISIS is an evil terrorist organization with an actual holy flag."

The black and white flag's meaning is further complicated by the fact that ISIS did not create the image it bears. Rather, it appropriated the flag from other jihad-oriented groups, says Magnus Ranstorp, an expert on Islamic fundamentalist movements and the Research Director of the Centre for Asymmetric Threat Studies at the Swedish National Defense College. Al Qaeda in Iraq, al Qaeda in the Arabian Peninsula (active in Yemen and Saudi Arabia), and the al-Shabab group in Somalia have all used the same flag, he says.

"The most important thing is the color. This raya, the solid blank flag, was the Prophet Mohammed's war banner," he explains. "This flag compresses time and space – it harks back to where they came from and where they are going. It is not just the color of jihad and of the caliphate, but it represents the coming of what some believers see as the final battle and the day of resurrection." In other words, he explains, there's a kind of Islamic end-of-days element in the flag, pitting the forces of Islam against the Christian West.

To some Muslims, the choice of flag is worrying because of the symbolic weight of its absence of color. A look at other Islamists militant movements in the region makes them seem almost tame by comparison; Hamas' flag is green, Hizbollah's yellow. But like the flags of other jihadist groups the al-Nusra Front and Hizb ut-Tahrir—which also seeks a worldwide caliphate to replace nation-states laid out by Western powers nearly a century 100 years ago—the ISIS flag is set in stark, featureless black.

"The flag represents a lot things outside observers don't realize, but people in the Middle East understand the importance of colors," says Ranstorp. "The point of the war banner is showing the will to destroy the world order. If one understood that properly, you could use that to detect who is really involved." For example, he says, the law enforcement and intelligence communities could be savvier about detecting who among youth in Westerns countries is being drawn to the ideology and might end up getting lured to fight for ISIS abroad.

"There is a meaning to these symbols, that could be utilized, but we haven't really. In many places they are selling rings with the same Seal of Mohammed. You'll find it on many Islamic State social media sites. This symbol tells us where they have come from, the sacredness of their mission and what they want – a caliphate."
Ian MacDonald, 15 September 2014
---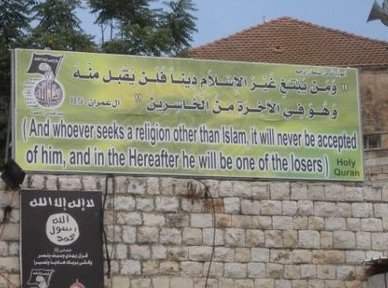 Image from William Garrison, June 5 2011

About two years ago (closer to three), I emailed an "Unknown Black Flag" as a jpeg to you and recently, I saw its actual use (at least on a billboard) in the attached image.
William Garrison, 5 June 2011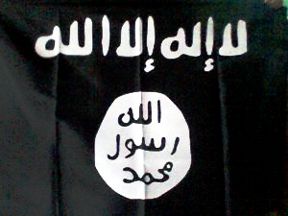 original image from William Garrison, 4 August 2008

The flag seems to be religious in nature. My Arabic is poor, but I kind of know the alphabet; the writing in the white circle says (I'm pretty sure) "God's messenger Mohammed" and it looks like a couple of "Allahs" above it.
Albert S. Kirsch, 5 Jun 2011

This sounds like the usual "No god but Allah and Mohammed is his messenger" formula? I don't know whether it can be broken up into two design elements like that though...
Eugene Ipavec, 6 June 2011

The white circle with inscription Muhammad Rasul Allah is the seal of Messenger of God which he used on his letters. To get a full Shahadah, the author of flag added the first part (There is no god but God) above the seal.
Amer Sulejmanagic, 7 June 2011

Looking at the Wikipedia entry on the Al-Shabaab or Shabaab (Arabic for "youth"), an illegal armed group in Somalia, one can notice the flag with the black background is their War Flag. They also have a variant white flag dubbed the Administration flag. They even have a logo.
Esteban Rivera, 11 June 2011

An article called "The Black Flag" begins "A mysterious Islamist banner has been popping up across the Middle East, from Benghazi to Lebanon. Is it a simply a sign of faith or the battle flag of al Qaeda?" by William McCants (November 7, 2001)
Dave Martucci, 8 November 2011

This flag is identified as the "Islamic State of Iraq's flag" at "On Flags, Islamic History, and al-Qa'ida."
William Garrison, 8 November 2011, and Esteban Rivera, 11 November 2011

This flag is also reported in use in Yemen - see http://www.foreignpolicy.com/articles/2012/03/09/land_of_the_black_flag#4.
Bill Garrison, 13 March 2012

At theunjustmedia.com, which seems to be a mujahideen website, there are photos from a parade held by Al-Shabaab in Mogadishu on 1 January 2010. In these photos, there is no sign of the flag of Al-Shabaab with circular text and swords emblem we describe. There are several pictures of the black flag with the first half of the shahada in white above the seal of Muhammad we describe here, identified through Wikimedia. The flag is seen with both white and yellow borders or fringes. The flag is described as the flag of Tawheed (or Tawhid, the doctrine of the oneness of God affirmed by the first part of the shahada), with Al-Shabaab leader Sheikh Mukhtar Robow Ali Abu Manshur stating "We will not accept any flag other than the black flag with the 'kalimah of Shahadah' because that is the one and only flag in Islam and it won't be decided by the UN or other countries such as America".
As well, as being associated with Al-Shabaab, this flag design has been used by Iraqi insurgency umbrella group Islamic State of Iraq, and was seen used in Benghazi, Libya, soon after the 2011 revolution (source: Mother Jones: Continuing anxiety over black flags in the middle east.
The last photo from Mogadishu is more similar to the basic white shahada on black flag used by the Islamic Courts Union/a> which Al-Shabaab is affiliated with, but also includes a sword, somewhat like the Saudi flag. While this basic flag is used in many contexts, I'm not sure we've recorded a variant with a sword before.
(You may be interested to note that I actually found this picture being used to illustrate some of the recent news reports regarding black flags in Timbuktu. True, without a caption, there was no claim that it was Timbuktu, but, well, it's a long way from Timbuktu to Mogadishu, in more than one sense.)
Jonathan Dixon, 5 April 2012

This flag (the Tawhid flag, or the "seal of Muhammad" flag) should probably get its own page - it is being used by Salafist groups all over the Middle East. It's not really a religious item, more a political flag, I think?
An example of a variant with a sword we have at Jaish Al-Umma (Army of the Faithful) in Palestine. I remember others too.
Eugene Ipavec, 5 April 2012

The flag you said to be that of Asnar Dine, which was first sent to the list as ufe11-32 is actually an Islamic Al-Qaida-related flag, now being used (as mentioned by Eugene Ipavec, Antonio Martins and others in these past few days) all over Islamic countries with current on going armed conflicts (e.g., Somalia, Iraq, Mali, etc.).
Ansar Dine does not properly have a flag, but rather uses the Al-Qaida related flag (ufe11-32) and Ansar Dine is not part of the MNLA in Mali, but a different organization. The issue is that they (MNLA and Ansar Dine) are coordinating operations to take different parts of Azawad according to their own areas of influence in order to overthrow the current military regime, that goal being part of the Turaeg Rebellion 2012.
Yesterday, April 5, 2012, after the capture of Douentza (see official communiqué here), the MNLA said that it had accomplished its goals and called off its offensive. Today, April 6, 2012 (the MNLA) proclaimed Azawad's independence from Mali (see official communiqué here).
Esteban Rivera, 6 April 2012

CNN today reported a crowd incident in Egypt where the animal crowd killed a man that apparently had thrown stones at it. One person was singled out for having done this, who was "carrying a flag popular with Islamist hardliners". The flag mentioned was visible in the footage and appeared to be this black flag.
Peter Hans van den Muijzenberg, 9 July 2013

It is an Islamic (particularly Salafist) flag used by a wide range of Islamist groups, which can be called the "flag of Tawheed" although some of the contributions on this entry are on different topics
Jonathan Dixon, 9 July 2013

Is there any documentation for the origin of the "seal" and how much it is generally accepted as actually being a depiction of
the seal of Muhammad?
The Wikipedia article at https://en.wikipedia.org/wiki/Seal_of_Muhammad seems to suggest it is an Ottoman reproduction - a point of view apparently shared by others, e.g. https://darvish.wordpress.com/2012/08/10/the-seal-ring-of-the-prophet-saw and http://www.islamweb.net/emainpage/index.php?page=showfatwa&Option=FatwaId&Id=216772. The second, islamweb, article seems to believe the wording and arrangement are genuine, though. Incidentally, the Wikipedia article refers to a representation of the seal appearing on jihadist flags from 2006.
Ian Sumner, 14 December 2015
---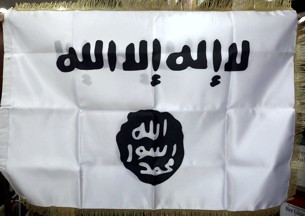 image located by Bill Garrison, 13 February 2022
From https://www.timesofisrael.com/mossad-helped-foil-12-attack-plots-on-israelis-in-turkey-over-past-2-years-report/?utm_source=The+Daily+Edition&utm_campaign=daily-edition-2022-02-13&utm_medium=email, a white-field "negative" image of the typical standard black-field ISIS flag, as being sold in a bookstore in the Fatih district of Istanbul, Turkey, c. Oct. 2014. (AP Photo/Emrah Gurel)
Bill Garrison, 13 February 2022
---

image located by Bill Garrison, 28 August 2021
From https://www.dailyadvent.com/news/57872affe6d550104973abf660043322-Who-is-ISISK-and-What-Do-We-Know-About-Them: ISIS-K (Islamic State-Khorasan) "banner" alongside ISIL flags; c. 2021.
Bill Garrison, 28 August 2021
---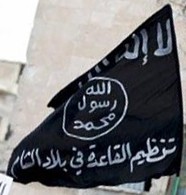 image located by Bill Garrison, 23 May 2022
Source: https://www.egypttoday.com/Article/1/62883/Qaeda-renews-strategy-to-expand-in-sub-Saharan-Africa-Egypt

A typical looking black-field ISIS flag, but I believe the bottom line reads differently from what FOTW ​currently shows. As this flag is surrounded by Syrian flags, so it appears to be some ISIS-Syria variant. |
Bill Garrison, 23 May 2022