This page is part of © FOTW Flags Of The World website
Tokelau (New Zealand)
formerly Union Islands
Last modified: 2009-11-13 by ian macdonald
Keywords: tokelau | stars (white) | circles 3 (broken) | palm tree (green |
Links: FOTW homepage | search | disclaimer and copyright | write us | mirrors

---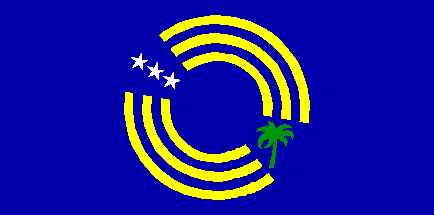 image by Mark Sensen
---
---
See also:
---
Unofficial 1989 Proposal
As far as I know, the blue flag of Tokelau is only a proposal made for some sport event in 1980's. The official flag should be the New Zealand one.
Jan Zrzavy, 4 March 1998

The Flags of Paradise 1996 chart shows the blue flag for Tokelau with the broken yellow rings (a coral atoll with two entrances?) and the caption, "Tokelau Islands NZ Territory circa 1989-present (unofficial)". I suspect they are close enough to the scene to know that the flag is in actual use.
John Ayer, 5 March 1998

Jos Poels told me some years ago he had contacted the authorities on Tokelau, and they confirmed the flag is not adopted officially.
Mark Sensen, 13 April 1999

Humberto Brumatti, a Tokelau-fan from Argentina visited FOTW and e-mailed me. I asked him for further information on the officialness of the flag (tk.gif) and its appearance or not on Tokelau stamps. This is his answer, abridged and translated:
Tokelau is undergoing an institutional change process where the UN plays a role. Its 1500 inhabitants, 10 sq.km. and no important income source (as is the case with Nauru) make impossible its independence from New Zealand, and the islanders are very comfortable with the current situation, with which they assume more self-determination rights in political issues, while New Zealand covers its broad economical deficit and absorbs constant immigration originating in a population excess.

Up to the last Report of the Administrator of Tokelau for the year ended 30 June 1997 (published almost one [two?] and a half years [sic] later), no indication exists on the approval of a flag of their own.

Post stamps were issued up to the early nineties by the New Zealand Post, who in 1988 issued a series of stamps in one of which appeared the New Zealand flag. Later on, the issuing authority was assumed by the Office for the Tokelau Affairs, based up to recently at Apia (Western Samoa) and currently at Tokelau. I have even the most recently issued stamps, and none of them shows the flag in question.

Consulting the Office is useless. When it was managed by a New Zealand official, they kindly supplied any requested information and they even had an excellent periodical magazine, but since the islanders took over they have greatly neglected this important aspect of their [public] relations.
Santiago Dotor, 23 November 1999

When I visited the atolls in 1983 that the only flag visible was that of New Zealand.
Christopher Vance, 19 August 2000

I have seen the Tokelau flag used at New Zealand's national museum (Te Papa Tongarewa, in Wellington), displayed in their Pacific Hall, but I am very doubtful of whether it is used by the islanders themselves.
James Dignan, 16 December 2003

A web page at http://www.tokelau.org.nz/english/press/press3.htm implies there is a desire to develop an identifying flag.
Paraskevas Renesis, 16 August 2004

I have never heard of the Tokelau flag actually being used in the islands. When NZ's prime minister Helen Clark visited the islands two weeks ago, only the NZ flag was visible in news reports (although this unofficial flag was used during TVNZ coverage of the visit in its in-studio captions). Tokelau is one of the territories that continually worries the UN by overwhelmingly refusing independence. I think the last poll on the issue found about 95% of the adult population wishing to remain as an overseas territory of New Zealand.
James Dignan, 17 August 2004

At this semi-official website for one of Tokelau's three atolls, the flag is used as the link marker for the Tokelauan language page. The fact that there is no text implies that the local webpage users would recognize the flag (placed below the New Zealand flag that links to the English language page).
Michael K. Renalds, 9 November 2004

According to the report of the 11th session (morning) of the Decolonization Committee of the United Nations, published as press release AG/COL/3125 on 24 June 2005, Tokelau and New Zealand progress in the elaboration of a free association treaty. The Committee has acknowledged that the people of Tokelau firmly want to gain autonomy and the promulgation of a self-determination act. The Committee was pleased about the progress achieved this year, especially the transfer of power from the Administrator to the three Village Councils. The Committee also noticed the progress towards the adoption of a Constitution and national symbols for Tokelau and the elaboration of a free-association treaty between Tokelau and New Zealand. Ulu-o-Tokelau (Chief of Tokelau) Pio Tuia invited the Committee to visit Tokelau and gave more details on the process leading to self-determination. The design of a national anthem, flag and symbol is scheduled for November 2005. Pio Tuia stated that the people of Tokelau don't want independence but a free-association. The Administrator of Tokelau, Neil Walter, confirmed Pio Tuia's statements and gave more details to the New Zealand contribution to the economical development of Tokelau.
Source: http://www.un.org/News/fr-press/docs/2005/AGCOL3125.doc.htm (French version; the report is probably available in other languages).
Ivan Sache, 2 July 2005