This page is part of © FOTW Flags Of The World website
Massachusetts Colonial/Revolutionary War Flags (U.S.)
Historical
Last modified: 2018-12-28 by rick wyatt
Keywords: massachusetts | united states | newburyport | thirteenth contintental regiment |
Links: FOTW homepage | search | disclaimer and copyright | write us | mirrors

---
---
See also:
---
Independent Company of Newburyport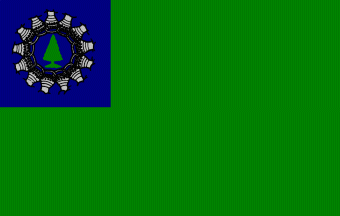 image by Randy Young, 1 February 2001
Source: "Flags to Color from the American Revolution."

This flag is found on page 23 of the book, and is listed as "Flag of the Independent Company of Newburyport." The colors are listed as "Green field and tree, blue canton, silver mailed hands and chain."

"Thirteen mailed hands holding an endless chain of thirteen links was symbolic of unity and strength. A similar device, a mailed hand grasping thirteen arrows, was used by privateers and the First New York Regiment."
Randy Young, 1 February 2001
---
Newburyport Independent Marine Company Flag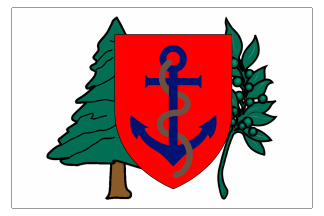 image by Dave Pawson, 15 October 2010
I have tripped across a reference to a Revolutionary War era flag that seems to have gone unnoticed. I have recreated the flag (above) based on the description:

"Among the independent companies formed was one by the Marine Society of Newburyport, then [in September 1774] but two years old, and consisting of seventy-six persons, who formed themselves into a company called the Independent Marine Company, with Captain James Hudson as their commander. Their colors were expressive not only of their profession, but combined the insignia of the State, and their sentiments in regard to war; the standard being a blue anchor on a red field, supported by a pine tree and olive branch.

From History of Newburyport, Euphemia Vale Blake, 1854, p. 82
http://books.google.com/Independent+Company+of+Newburyport

David Pawson, 9 October 2010
I suspect there are many more such references out there in similar old histories. Further on in the same book there is a reference of a reception for President Madison that notes one of the decorations was a flag carried in the Revolution (but which it is is not stated). Wish we knew!

We need to try to think like 18th century vexillographers. My interpretation of this flag, which remember pre-dates the Revolution by several months, is that it was a red ensign-type color with the design in the center of the fly end and a Union Jack in the canton (typical of pre-revolution company colors). I think it is possible that because of the reference to the tree and branch being "supporters" perhaps the anchor was placed on a shield-like charge or perhaps surrounded by the typical filigree lines of the day with the Pine Tree and Olive Branch hugging the sides.

I am not sure, but is this the earliest reference to an Olive Branch in American Vexillography we know of? That symbol became a significant charge in the US Arms a decade later.

I found another book online entitled "History of the Marine society of Newburyport, Massachusetts, from its incorporation in 1772 to the year 1906" which states (p. 318) the officers of this 76-man unit in 1774 were James Hudson, Captain; Officers Thomas Thomas, David Coats, Michael Hodge, and Samuel Newhall. Hudson was a charter member of the society and was the operator of an important salt works (since 1767) in Massachusetts, which was partially subsidized by the Great and General Court. The others were also charter members and all were sea captains. Several of them commanded vessels during the Revolution (leading one to wonder what became of the 'independent company') and all but Hudson were part of the Newburyport Artillery unit that participated in the Rhode Island campaign in 1777. Some of them were participants in the disastrous Penobscot Expedition in 1779. The book has the exact same description of the unit colors.

Dave Martucci, 11 October 2010
---
Thirteenth Continental Regiment
In the book "Liberty and Freedom: A Visual History of America's Founding Ideas", the 13th Massachusetts Regiment standard ca. 1775-1776 is reported. The flag has a buff background with 13 red and white stripes in the canton. In the center, a dark green scroll over a scene with a large pine tree surrounded by a number of smaller pines and soldiers. "REGT. XIII" is below the scene.

see also:
www.revolutionarywar101.com/.../ma-13
Standards and Colors of the American Revolution
Steve Shumaker, 21 July 2015
---
On page 339 of the 1917 National Geographic Society's Flags of the World shows the image (#381) of the Three Company Troop: https://books.google.com/.

The flag has a red background with yellow streamer like scroll with "Three County Troop" with an arm coming out of a cloud holding a sword aloft.

Page 345 of the same book indicated that the Three County Troop was a cavalry company (troop) raised from three Counties (Middlesex, Essex, Suffolk) in Massachusetts Bay Colony in 1659. The Troops operated for 20 or more years and most likely served in King Philip's War in 1675 & 1676. The source for this flag is a drawing in which Troop is misspelled as Trom) and original bill at the British Museum.
https://books.google.com

According to our Bedford Massachusetts Militia flag page, the flag was granted in 1661-1662 "Similarity to sketches of a flag made soon after 1660 for another Massachusetts cavalry, the Three County Troop,..."
Steve Shumaker, 19 July 2015