---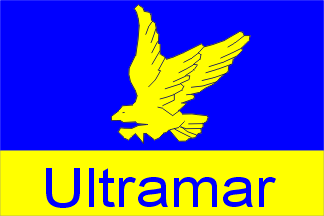 image by Jarig Bakker, 5 February 2006
Ultramar Shipping Co., Inc., New York - horizontal blue over yellow flag; on yellow "Ultramar" in blue; on blue a yellow eagle.
Source: Loughran (1995)
Jarig Bakker, 5 February 2006
---
image by Joe McMillan
Union Barge Line, Pittsburgh
As the name and homeport suggest, this is a barge line operating on the Mississippi-Ohio river system. The flag is (was?) a white pennant with the word "Union" in blue letters of diminishing size.
Source: www.steamship.net (no longer available)
Joe McMillan, 29 November 2001
---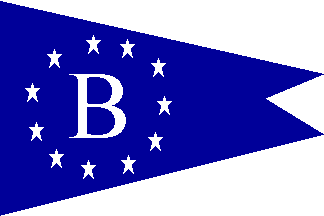 image by Richard Knipel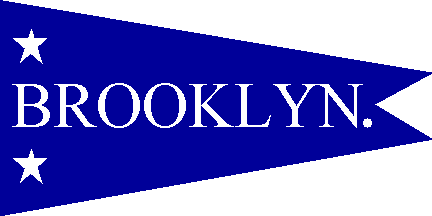 image by Richard Knipel
I am reporting two flags flown from the ferry boat "Brooklyn", operated by the Union Ferry Company in the 1840s, at the time one of five ferry lines crossing between Brooklyn and Manhattan. They are from a painting from some time between 1846-49 by the identical twin painters James and John Bard, noted for their depictions of river craft around New York. I saw the painting in a black-and-white photograph in the book "Brooklyn's City Hall", by William J. Conklin and Jeffrey Simpson, Copyright 1983 by the City of New York. But the image is credited to the Long Island Historical Society, now known as the Brooklyn Historical Society. I imagine the painting is in their archive. As the photo was black-and-white, I was forced to chose dark blue as a reasonably likely color.
Richard Knipel, 2 August 2004
---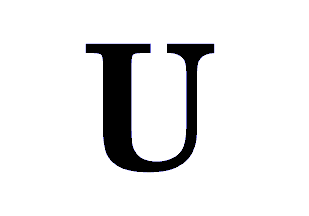 image by Joe McMillan
Union (Havre) Line, New York (?-1863)<us~union.gif
This flag is very similar to that of the Fox & Livingston Havre Line, which was one of the three New York-to-Le Havre lines that were consolidated into the Union Line in the 1840s. It was eventually put out of business by the American Civil War. This flag is white with a black U and was in use by at least 1845. The Fox & Livingston Union Line flag was white with a blue U according to Private Signals of the Merchants of New York. I am somewhat skeptical that there were really two different flags, as the F&L line had been consolidated into the Union Line by the time the chart was published.
Source: chart of "Private Signals of the Merchants of New York"
Joe McMillan, 29 November 2001
---
Union Oil Company of California, Los Angeles (1890-present)
This company was formed by the merger of the holdings of three partners who had struck oil northwest of Los Angeles in the late 19th century. The number "76" came into use as a trademark in 1930 and was placed on an orange circle, as shown in the latter two flags below, in 1947.
Formed in 1890 by the merger of Hardison & Stewart Oil Company, Sespe Oil Company and Torrey Canyon Oil Company. In 1917 it purchased Pinal-Dome Oil company and in 1965 the Pure Oil Company. Shell bought 25% of the company and formed Shell Oil Corporation in 1922 to consolidate its operations and those of Union Oil Company of Delaware in 1922. Union Oil became Unocal in 1983.
Phil Nelson, 20 October 2003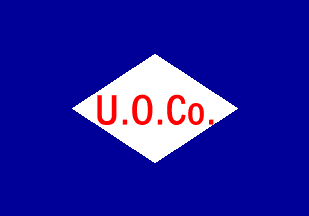 image by Joe McMillan
Sources: Wedge (1951), Stewart (1953), US Navy's 1961 H.O. This was apparently the first flag of the company's tanker fleet, which consisted of 8 ships as of 1949. It was blue with a white lozenge bearing the initials U.O.Co. (as shown) or, in a variant, U.O.C.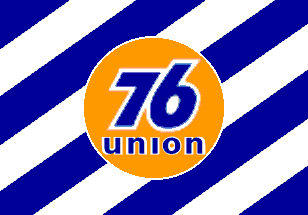 by Joe McMillan
Source: Styring (1971), a distinctive design of diagonal blue and white stripes with the orange 76 logo superimposed.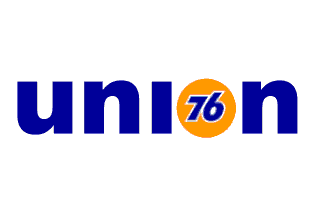 image by Joe McMillan
Source: photo of house flags in dining hall at US Merchant Marine Academy, Kings Point, apparently from the late 1970s, white with the word Union in blue lower case letters, the 76 on an orange disk forming the letter o.
Joe McMillan, 29 November 2001
Union Oil Co. of California. Going by Lloyds the shipping stayed under this name until they got out around 1998 with the last couple of tankers now operating [in their old names] under Crowley Petroleum Transport Inc. According to Loughran (1979) the blue and white diagonally striped flag was adopted in 1966 on the 76th anniversary.
Neale Rosanoski, 15 August 2004
---
image by Philip Patterson, 14 September 2019
Union Sulphur Co., New York (1896-1962)
This company was formed in New Jersey in 1896 and had operations all up and down the U.S. east coast, but primarily in mining the sulphur domes along the Louisiana and Texas coasts in the midst of oil country. It later got into the oil business as well, specializing in extracting the sulphur from sour crude and selling both products. It was operating its own ships by 1920. Union Sulphur became Union Sulphur and Oil in 1950, Union Oil and Gas in 1955, and Union Texas Natural Gas in 1960 before merging with Allied Chemical Company in 1962. The flag (as I said, my favorite of the whole set) is perfect for a sulphur company, as it simply reeks of brimstone--yellow with a red devil brandishing a black pitchfork.
Source: Talbot-Booth (1937)
Joe McMillan, 29 November 2001
---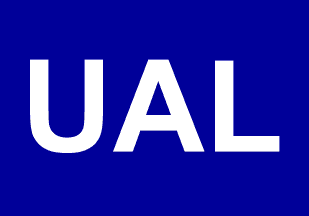 image by Joe McMillan
United American Lines (American Shipping and Commercial Corp.), New York (1920-26)
This large shipping company was essentially the plaything of the W. Averell Harriman, son of E. H. Harriman of the Union Pacific Railroad, whose name will be familiar to fans of the film "Butch Cassidy and the Sundance Kid." It was financed by Averell's mother as a way for him to make his mark in business independent of his father--an interesting concept when Mom's providing all the cash! Harriman's timing wasn't the best, as he entered the passenger shipping business just when immigration laws were tightened, ending the great flow of immigrants of the previous 40-50 years. He also got taken to the cleaners in a joint venture with the German firm HAPAG, which was determined to recover from the German defeat in the first World War, and whose owners had vastly more experience in the shipping business than young Averell. Several million of his mother's dollars later, Harriman sold what was left of UAL to HAPAG. He learned from the bitter experience of UAL, however, and subsequently enjoyed considerable success in international trade, although he did not go back into shipping. He later entered politics and diplomacy, becoming governor of New York and later U.S. ambassador to South Vietnam. He is best remembered today as the last husband of the socialite, Democratic Party fundraiser, and U.S. ambassador to Paris, Pamela Harriman. His choice in flags was unfortunately less adventurous than his choice of brides: the white letters UAL on a blue field.
Source: verbal description in North Atlantic Seaway IV:1502)
Joe McMillan, 29 November 2001
---
The pre-World War I American Line and the United States Lines, although with no direct corporate lineage, were both eventually owned by the International Mercantile Marine holding company and so ended up with the same house flag. The United States Lines was originally created by the US Shipping Board to operate German liners confiscated in World War I, including the huge HAPAG liner Vaterland, which was renamed Leviathan.
Larousse Commercial Illustré (Paris, 1930) shows a flag of the United States Line, New York, as a blue swallowtail, a white disk near the hoist bearing red letters ULS (with serifs), the L placed lower than the others; the U and L have a definite upward slant. Different from what is shown above. Source URL http://www.nvo.com/louisvuitton/vintageluggagelabels/list.nhtml, item VL#28 is no longer available, but the image is posted here.
Jan Mertens, 13 December 2003

image by Neale Rosanoski
The flag is shown by Brown 1929 although in their case the bottom of the "L" is positioned horizontally. By the dates of the sources, if the version existed or was proposed, then it would appear to have been a replacement for the initial flag.
Neale Rosanoski, 15 August 2004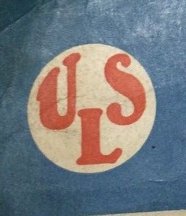 image provided by Mark H. Goldberg, 29 December 2013
These are the colors, position, etc of the USL house flag from late summer of 1929 through spring of 1929. The flag was changed then and again in 1931 after the IMM/Roosevelt group bought it.
Mark H. Goldberg, 29 December 2013

See also: reports of flags in the 1920s bearing a propeller.
1931-38 Flag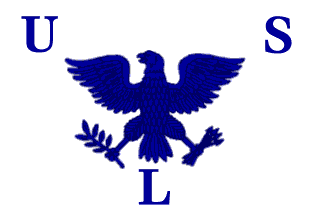 image by Joe McMillan
Although it had sought to avoid doing so, the government sold both the United States Lines and another former Chapman property, the American Merchant Line, to the monopolistic International Mercantile Marine (parent company of the former American Line) in consortium with the Robert Dollar family. IMM gave both companies modified versions of the old American Line flag, a blue eagle on white, with the initials of the respective lines added in the upper hoist and fly and lower center. A third IMM property, the Panama-Pacific Line, used a similar flag but with the eagle shown in outline with blue details rather than all blue. (Source: description in North Atlantic Seaway IV:192)
Source: Barraclough & Crampton (1981)
Joe McMillan, 26 August 2000
This "similar flag" can be seen at http://www.timetableimages.com/maritime/images/ppl.htm (last image, brochure issued July 1940).
Jan Mertens, 13 January 2005
1938-86 Flag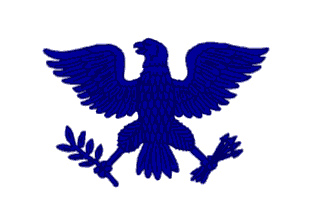 image by Joe McMillan
In 1937, IMM abolished the American Merchant Line and merged its assets into the United States Lines. At this point, the initials were removed from the flags and the simple blue eagle on white of the pre-war American Line was restored. Eventually, IMM decided that "United States Lines" had a better public resonance than "International Mercantile Marine" and arranged for the parent company to be swallowed up by the subsidiary. For the rest of its history, US Lines was the premier shipping company operating under the United States flag, both the largest and the most prestigious. Its flagship, the United States, was the biggest passenger ship ever built in the US and the fastest ever. But it never turned a profit, and a combination of losses from passenger service and slowness to embrace containerization for its freight services put the company in serious financial trouble by the late 1960s. It recovered briefly but went back into the red in mid-1980s and was forced into bankruptcy and liquidation in 1986. The name "United States Line" has since been purchased by a company that is running cruises under that name, but I don't know if they are also using the old USL flag.
Source: National Geographic (1934)
Joe McMillan, 26 August 2001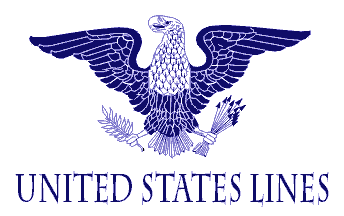 image by Jarig Bakker, based on the website of the National Maritime Museum.

From the website of the National Maritime Museum, "the house flag of the United States Lines Co., New York. A white rectangular flag, printed in blue with the American eagle, 'UNITED STATES LINES' below. The flag is made of nylon fabric. It has a cotton hoist and is machine sewn."
Joe McMillan made several images of this shipping line, none of which resembles this one. The flag was produced c. 1951, perhaps a special flag?
Jarig Bakker, 31 August 2004

Two flags are reported for the periods 1921-29 and 1929-1931, both images by Joe McMillan, 26 August 2001, who reported that during its initial years, the line was operated directly by the US government and used a bureaucratic LOB for a house flag, featuring a steamship propeller inside a triangle inside a circle containing the name of the line.
Source

:

(Source: description in North Atlantic Seaway IV:192)

The company was sold in 1929 to Paul W. Chapman, a financial speculator, as part of privatization of the lines created by the Shipping Board. The only change in the flag was the addition of a red star in the canton. Unfortunately, private ownership turned out to run a less efficient operation than the USSB, and the Shipping Board was forced to resume ownership in 1931 to save the company from bankruptcy.
Source: (Source: description in North Atlantic Seaway IV:192)
Joe McMillan, 26 August 2001

United States Lines. The flag shown for 1929-1931 is only an assumption because Bonsor does not mention any lettering or propeller. The 1931-1938 version is shown by Brown 1934 as having a black eagle and letters which colouring can probably be disregarded although Loughran (1979) also shows the same. Whilst it may represent a subsequent change to a plain blue eagle, which all sources agree with, it seems more likely to be a confusion caused by a dark shade of blue.
Neale Rosanoski, 15 August 2004

USL never featured a propeller on its flag. Its first flag (between 1921 and 1929) featured a white disc with red letters USL on a blue background and a very different design but not on white between 1929 and 1931.
Mark H. Goldberg, 29 December 2013

Note that the information here referring to a propeller came from a book about Atlantic merchant shipping entitled North Atlantic Seaway. That was a verbal description, on the basis of which I drew the images concerned. I have not found any direct evidence that it was used as a flag, but the logo described in the book is presumably the one that appears at the bottom of this poster for SS Leviathan. Not a propeller, but the authors of the book could easily have mistaken it for one.
Joe McMillan, 18 October 2014

Redrawn images based on the description in North Atlantic Seaway and using the SS Leviathan poster as a design base are posted for the 1921 and 1929 flags.
Peter Hans van den Muijzenberg, 18 November 2014
---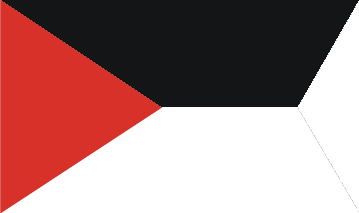 image by Rob Raeside, 26 December 2005
The flag can be seen flying at http://www.nd.edu/~scollin4/Michigan03.htm#sault (third image down), which shows from left to right, this flag, Algoma, Interlake, Inland Lakes Mgt, and Canadian Steamship. The flag is divided horizontally, black above white, and has a red triangle near the hoist (a 'Czech' pattern). It seems also to wave on this US Steel ship, the 'George A. Sloan': http://www.wellandcanal.ca/shiparc/uss/georgeasloan/sloan4.htm.
Jan Mertens, 4 November 2005
United States Steel (USS) Great Lakes Fleet Inc. started out in 1981 when US Steel, Pittsburgh Steamship Div. (formerly the venerable Pittsburgh Steamship Co., once the biggest US Great Lakes operator) merged with other firms to become USS Great Lakes Fleet. Cargoes were bulk goods: taconite, salt, coal, etc. At the end of 2003, Canadian National Railroad announced plans to buy the firm, by then operating eight bulk cargo ships, an intention which was realized in May 2004. Some pictures showing the 'Czech' patterned flag can be found at http://www.boatnerd.com/pictures/fleet/thumb/Munson-bow-small.jpg,
http://www.boatnerd.com/news/newpictures/gotta6-26-01-mn.jpg, and http://www.boatnerd.com/pictures/fleet/thumb/MUNSONJOHNGb1508-18-02mn.jpg.
Jan Mertens, 11 November 2005
Shortly after my report I stumbled upon an American eBay offer, item no. 7373226822 (ended 17 Dec. 2005) showing a similar flag. Quote: "This house flag measuring approximately 7 feet 9 inches long by 4 feet 7 inches wide was used by the Great Lakes Fleet (ex-USS Fleet) on its Lake freighters. The flag is made form high strength nylon and is in absolutely pristine condition. Its condition would indicate that it may never have been put into service. It was purchased in Duluth, MN in the 1990'." The flag is also shown on the flag chart.
Jan Mertens, 8 November 2006
Why this flag was used is a bit of a mystery which I am trying to unravel at the moment. There was a funnel marking at one time which used a kind of version of the flag as a panel but following threads on the boatnerd website I cannot find any mention of this but there is reference to a light blue flag with "USS" within a ring in either grey or silver being the US Steel flag and appearing on cap badges and being flown by ships as well as outside their HQ (28.4.2009 - see http://www.daylife.com/article/0a06eM5aqmb54?q=Cisco+Systems%2C+Inc), which is said by a boatnerd thread to have been adopted in the 1960s though seen as a rectangle rather than a swallowtail as shown on the cap badges.

Incidentally the Know Your Ships 2007 which is the last one I got showed that the Great Lakes Fleet was flying the flag of the managers Key Lakes Inc. so the "Czech" style flag may have gone.
Neale Rosanoski, 2 February 2010
US Steel was the owner of the company, during that time they used the blue with white USS flag which is still flow at the USS steel mills and office locations. When Transtar was formed they moved all the transport companies (rail roads and the Great Lakes fleet) under their control. That is when they used the black red and white flag. It represents the coal, iron ore, and limestone the Great Lakes fleet carried. When US Steel sold off various parts of its transportation companies CN bought it and placed it under Key Lakes to remain in compliance with the Jones Act, they now fly the Key Lakes house flag.
In 1967 Us Steel merged the Bradley transportation, and the Pittsburgh steamship together and renamed it USS Great Lakes fleet. 1988 is when they fell under Transtar and in 2001 it was sold to CN Rail.
steveo1226, 16 August 2013
---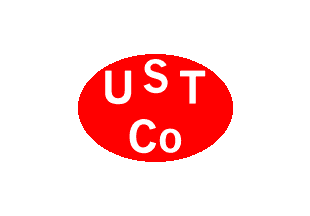 image by Joe McMillan
Based in Cleveland (Source: Wedge, 1951)
From the home port, obviously a Great Lakes company, but no further information. Flag white with a red oval bearing the company's initials in white.
Joe McMillan, 26 August 2001
---

image by Ivan Sache, 5 September 2005
George B. Upton, Boston, is one of the house flags carried by Donald McKay's Clippers.
Jan Mertens, 29 August 2005
---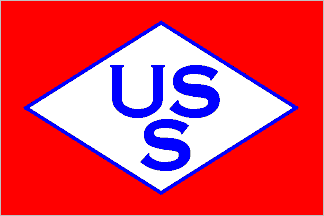 image by Jarig Bakker
USS Holding LLC - Red charged with with bordered blue lozenge with US above and S below
http://www.usshippingllc.com/default.asp
Dov Gutterman, 13 October 2003
---
US shipping lines house flags - 'V' continued