This page is part of © FOTW Flags Of The World website
Helvetic Republic (1798 – 1803)
Last modified: 2023-11-04 by martin karner
Keywords: switzerland | helvetic republic | french revolution | napoleon |
Links: FOTW homepage | search | disclaimer and copyright | write us | mirrors

---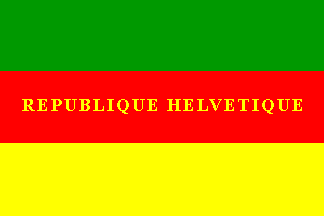 image by António Martins


---
See also:
---
Flag
The flag adopted by the Helvetic Republic was green-red-yellow horizontally.
Harald Müller, 15 July 1996
On 14 April 1798 the General Assembly of the Helvetic Republic adopted the colours green, red and yellow as the national colours and the colours of the cockades. The green colour was fixed in reverence to the canton of Léman, which had adopted the new order under the French rule at first and whose flag was green. The origins of the other two colours are not verified. Mühlemann [mue91] cites Günter Mattern, who assumes that they were taken from the cockade of Zurich (black, yellow, red), the most powerful canton (p. 18). Mühlemann ascribes the revolutionary colours of Zurich (black, yellow, red; besides the more traditional variant with white, blue, red) as a reverence to the colours of the oldest cantons Uri, Schwyz and Unterwalden, "the first founders of Swiss freedom" (p. 17). If Mattern's assumption is correct, the Helvetic colours (and flag) are an example for the unification of two historical strains: tradition and evolution.
On 13 February 1799 the Helvetic government, the Directorate, ordained that the colours of the national flag shall have the same three colours in horizontal order, green, red and yellow (p. 18). However, Mühlemann reports nothing about the ruling for the inscriptions of the flag. Perhaps these details were added later by an order off the record. This picture (Source: [m2m93]) from the State Archive Schwyz shows a flag with the German inscription "Helvetische Republik". On the back side is the French inscription "République Helvétique". Other flags have the variant "Liberté Unité Egalité" on their back side. It can be assumed that for the Italian speaking regions the inscription on the front side was "Repubblica Elvetica".

Martin Karner, 7 December 2022
[Flag of Helvetic Republic with French inscription RÉPUBLIQUE HELVÉTIQUE, 1799, 150x150 cm, silk taffeta. Location: Historical Museum Thurgau, Frauenfeld (source)]
---
History
When the French under Napoléon conquered great parts of Europe they created republics all over. Flags were introduced according to the French model, i.e. vertical and horizontal tricolours. Switzerland met the same fate in 1798. Later on, after France had become an empire, all those republics were transformed into kingdoms (often with Napoléon's relatives as monarchs).
Harald Müller, 26 January 1996
---
Variation of the flag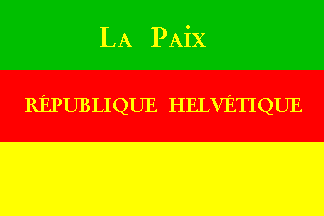 image by T.F. Mills

It is a correction in the sense that the font is more correct. It is a variant in the sense that I'm not sure whether "La Paix" was on all flags. This image is rendered from a photograph of a surviving flag. The photo is actually pale blue-pink-white, but I find no evidence that those were the actual colours, and I assume that it faded from green-red-yellow.
The Helvetic Republic (Switzerland) was proclaimed on 19 March 1798. This flag was officially adopted on 13 February 1799. It is in effect the first national flag of modern Switzerland.
T.F. Mills, 24 September 1997

This flag, reported above by T.F. Mills, is one of four different Helvetic flags housed in the military museum in Morges (Vaud). Emil Dreyer reports about them in Vexilla Helvetica [dry02b]. [b7b42] and [dry02b] display a colour photo of the above mentioned flag. The inscription is the same on both sides. The assumption of T.F. Mills about the faded colours is correct. Since the colours green, red and yellow were decreed by law, there is no room for speculation about other colours (The Helvetic Republic was a very centralist state). It can be said that the inscription "La Paix" was not on all flags of the Helvetic Republic.
The other three flags – in bad condition – Emil Dreyer reports about are: Two flags are identical Helvetic tricolours with the German "Helvetische Republick" (sic!) on one side and the French "République Helvétique" on the other side. The fourth flag is the same as the aforementioned ones but with a troop designation in one of the upper corners: "B.on No 7". This was the 7th Helvetic Battalion (p. 27–28).
Martin Karner, 7 December 2022