This page is part of © FOTW Flags Of The World website
Historical flags of the Dominican Republic
Last modified: 2015-04-17 by randy young
Keywords: dominican republic | haiti | cross: patty (white) | trinitarian movement | star: 6 points (white) | star: 5 points (white) | stars: 10 (white) | doubt |
Links: FOTW homepage | search | disclaimer and copyright | write us | mirrors

---
See also:
---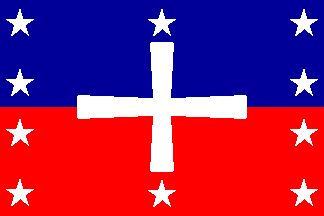 image by Mark Sensen, 30 June 2001

The flag of the Dominican Republic has its roots in the Haitian Flag of the early 19th century, a horizontal bicolor of blue over red. The leader of the movement for independence from Haiti, Juan Pablo Duarte, founded a secret society, the Trinitarians, on 16 July 1838. This name referred to their religion as well as to the organization of their society, which limited association between members to cells of three individuals.
Dave Martucci, 12 October 1999

On 16 July 1838 the Trinitaria movement was founded, adopted the Haitian flag with a cross (the cross of Konstantin the Great of Byzanz!). The flag was hoisted on 27 February 1844 when independence was declared, because the Dominican part did not accept Haitian president Boyer. The new design came in use on 6 November 1844.
Ralf Stelter, 21 January 2001

What does 10 stars represent?
Nozomi Kariyasu, 28 January 2001



According to Corre's 2001 article [cor01a], the members of the secret society Trinitaria allied to Haitian liberals to form a common front against (Haitian) Boyer's regime, thus explaining the "Haitian" origin of the Trinitaria flag. This Trinitaria flag thought to be the origin of the Dominican flag is shown in one source (in [stb65], plate 25, flag #871, erroneously captioned "Dominica (English Western Colonies)") as an horizontally divided blue-red flag with a white cross in the center, four white stars placed vertically along the hoist, two white stars placed above and below the cross, respectively, and four white stars placed vertically along the hoist.
Ivan Sache, 30 June 2001

This flag is shown on both the 1862 Bromme flag atlas [bmm62], and the 1864 Johnson flag chart [jow63]; Bromme showing is as "Republ. Dominca" and Jonhson (incorrectly) as "Dominica."
Devereaux Cannon, 30 June 2001

I found another source showing this flag: a flag chart named The Flags of All Nations, new edition [g9b97a].
Nozomi Kariyasu, 28 January 2001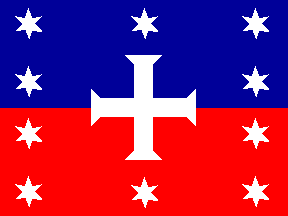 image by Ivan Sache, 2 February 2001, from [bmm62]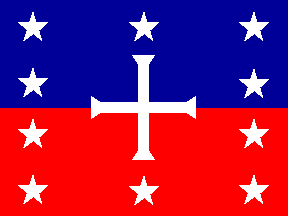 image by Ivan Sache, 2 February 2001, from [jow63]

This is from Johnson & Wards New Chart of National Emblems [jow63] of the 19th century where the flag is named "Dominica" and stands right next to Haiti.
Ralf Stelter, 28 January 2001

There is only Dominican flags in 1858 US flag chart [hbl58]: "Dominica" [sic] at position (2:9): Trinitarian flag: 5-point stars and cross patty, matching the report in [jow63], for which [hbl58] was surely the source.
António Martins, 9 October 2008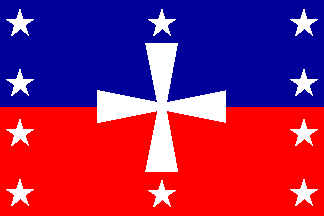 image by Ivan Sache, 30 June 2001, from [cor01a]
I confirm that my image, made after the one published in [cor01a], is indeed different from Mark's one, made from the primary source, [stb65].
Ivan Sache, 1 July 2001

Steenbergen [stb65] shows the cross not widening so much as in Ivan's image, the horizontal arms are a bit longer then the vertical arms, and the edges are a bit rounded.
Mark Sensen, 30 June 2001

---


image by Željko Heimer and António Martins, 8 September 2003

Article 194 of the Dominican Constitution from 6 November 1844 states, quoting from Paul Estrade's article [esr91], as quoted in Olivier Corre's article [cor01]:
El pabellon mercante nacional se compone de los colores azules y rosados, colocados en cuarteles esquinados; y divididos en el centro por una cruz blanca de la mitad del ancho de unoe de los otros colores que toque en los cuatro extremos.
Ivan Sache, 30 June 2001

According to [smi75b] and [smi80], the cross of the Trinitaria flag was later extended to the edges, and then the colours were reversed.
Ralf Stelter, 21 January 2001

After several unsuccessful attempts, independence was finally achieved on 27 February 1844. By then the flag of the Trinitarians was modified slightly by the reversal of the colors at the fly end of the flag, making the flag as known today.
Dave Martucci, 12 October 1999

Is there any connection between the historical (and local) flag of Lares (Puerto Rico) and the old national flag (1844-1861) of the Dominican Republic? They are identical, except for the star on the upper hoist of the Puerto Rican flag.
António Martins, 27 March 2000

There is a connection between the Dominican and the Lares flag. Some of the leaders of the 1868 revolution were exiled in the Dominican Republic and from there they came to Puerto Rico. They had planned to bring arms and supplies from the Dom. Rep. but the Spaniards were informed of their plans, so they had to move ahead the date of the rising in Lares hoping that they could hold long enough to receive the arm supplies. This was not the case as the revolutionary forces were crushed in three days. Becasue of their connection with the Dominican Republic it was natural that the leaders would choose a flag similar to that nation's. The 1895 leaders did the same when they chose a flag similar to the Cuban one, since they were intimately connected with the Cuban struggle.
Victor Quinones, 31 March 2000

---
See also: Santo Domingo Maritime Province 1863-1865 (Spain)

On 18 March 1861, the Dominican government puts itself under Spanish rule again, President Pedro Santana becomes governor of the newly spanish colony. Again independence declaration on 14 September 1863, fight against Spanish lasts two years.
Ralf Stelter, 21 January 2001

The Eastern part of Santo Domingo island asked to be again a Spanish colony in 1861. I infer from this that the former colonial Spanish flag was re-hoisted. This second Spanish rule in Santo Domingo was between 18 March 1861 and 11 July 1865.
Jaume Ollé, 2 November 1997

According to Corre's 2001 article [cor01a], this second Spanish rule was established by the pro-Spanish party of the Caudillo Pedro Santana. Expulsion of the Spaniards led to the independence of Dominican Republic and partition of the island with Haiti.
Ivan Sache, 30 June 2001

---


image by Ivan Sache, 30 June 2001

Red, white and yellow holizontal 3 stripes (1:1:1). Proportion 2:3.
Nozomi Kariyasu, 21 January 2001

This flag is on the 1862 Bromme atlas [bmm62], it is shown as "Stadt St. Domingo".
Devereaux Cannon, 30 June 2001

This flag was most probably intended to represent a pre-1714 Spanish ensign and was thus a mistake in Norie and Hobbs 1848 [noh48].
Santiago Dotor, 2 July 2001

Origin may be Spanish naval flags of American colonies. I have one source saying it was the flag of Santo Domingo 1861 - 1863/65, but if, how is it possible that Norie-Hobbs [noh48] show that flag in 1848?
Ralf Stelter, 21 January 2001

According to Corre's 2001 article [cor01a], the flag used during these years could have been an horizontally divided red-white-yellow flag. This flag is shown for Santo Domingo in Norie and Hobbs' chart [noh48] from 1848 (plate XXIV, #293), and might therefore have been used during the first Spanish rule (1842-1848).
Ivan Sache, 30 June 2001

The flag red, white yellow surely is not the flag of Spanish colony because: Jaume Ollé, 30 June 2001



image by António Martins, 27 June 2008

I saw a version of the Red-White-Yellow flag, but in vertical alignment in a gaga ceremony (kind of voodoo related) in a sugar cane field settlement (Batey las Cejas) close to the city of Higuey. That ceremony takes place (there, and in many other villages and small cities) during the Holy Week (we assisted to this on Easter Sunday). Could this be a real flag that somehow was kept in rural areas or was it just an invented flag?
Christoforos Korakas, 1 April 2008

The photo shows the yellow panel slightly more narrow than the other two, but I'm guessing this is caused by pole attaching shortcomings (either permanent or of eolic nature), not by design.
António Martins, 27 June 2008

---