This page is part of © FOTW Flags Of The World website
Röda Bolaget (shipping company: Sweden)
Last modified: 2021-08-25 by

christopher oehler
Keywords: house flag | shipping: sweden | roda bolaget | neptun | malmö bogsar | tug boat |
Links: FOTW homepage | search | disclaimer and copyright | write us | mirrors

---
See also:
---
Röda Bolaget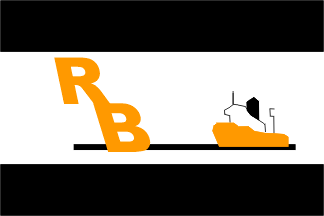 image by Jarig Bakker, 5 August 2005
Source: http://kommandobryggan.se/Bryggan/Rederi.htm

Three horizontal stripes black - white - black, proportioned 1:2:1; on white orange letters RB at the hoist and at the fly an orange tug, connected by a black line.
Jarig Bakker, 5 August 2005
---
The source site is unfortunately not clear with its colours. The orange shown should be red and the vessel is a tug.
The name Röda Bolaget dates from 1872 meaning "Red Company" due to the red bands on the funnels of their tugs and was possibly the original name, being originally involved within the port of Gothenburg. They gradually absorbed their smaller competitors and then around 1890 [dates differ a year either way from two sources] they took over their largest competitor, Bogserings A/B which was known as the White Company. This appears to have been the formation of Göteborgs Bogserings A/B. In 1918 Broströms, through their subsidiary Ångfartygs A/B Tirfing, took a controlling interest and the company was renamed Göterborgs Bogserings och Bärggnings A/B [The Gothenburg Towage & Salvage Co. Ltd.].
Later takeovers were Malmö Bogser A/B in 1938 and Bergnings & Dykeri Neptun A/B in 1943 [and AB Bogserkompaniet probably post-World War 2 being shown as a subsidiary as of 1964.
Röda Bolaget, circa 1960s-70s



image contributed by Neale Rosanoski, 7 January 2007.
According to the Kommandobryggan site in the late 1970s the port towage activities of the Broström Group were organized under the Röda Bolaget with Neptun, which became Neptun Transport & Marin Service A/B dealing with the international towage section. This is supported by Lloyds by the end of the decade with Roda Bolaget changing name to Neptun Röda Bolaget in 1984 but returning to Röda Bolaget A/B in 1987. The latter is shown independently under the operation of Knut A. Andersson from the early 1960s until the latter 1970s when the ships appear as part of the Göteborg fleet. By the Collectors Corner cap badges website their flag was white with narrow dark red bands along top and bottom edges [see b183].
The flag design for Röda Bolaget presumably dates from this period of c.1980 replacing that of Göterborgs Bogserings och Bärggnings A/B whereas the funnel designs remained unchanged. Göterborgs fate is unclear. (sources Kommandbryggan website and the Broström centenary "From Lake & River to Distant Oceans".
---

image by
António Martins-Tuválkin,
18 October 2007
I have now found another version at http://www.tugboatlars.se/Bogserkompaniet.htm which shows the red bands being on the field rather than forming the top and bottom of the flag.
Neale Rosanoski, 8 June 2007
---
Table flag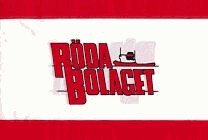 image contributed by Neale Rosanoski, 7 January 2007.
Source: by Josef Nüsse
There is another Röda flag shown by Josef Nüsse [5]. The design is double sided and I suspect that it is for table flag use only.
In 1999 the Roda Bolaget A/B came under the A.P. Möller Group of Denmark and although they retain their identity as part of the Svitzerwijsmuller A/S subsidiary group of Denmark, they have since 2002 used the Svitzer livery.
Neale Rosanoski, 7 January 2007
---
Neptun [Bergnings och Dykeri AB Neptun]
images contributed by Neale Rosanoski, 23 June 2006
A far better example is available on the Josef Nüsse [1] site [see se~n66]. Another version whereby the sea occupies the whole bottom portion of the flag is shown by a cap badge on the Collectors Corner site [see n122] with Brown 1982 [3] showing a different version of the latter by reversing it resulting in the canton being in the fly and Neptune riding also to the fly [see n123]. The company appears to have been absorbed into Röda Bolaget A/B.
Neale Rosanoski, 23 June 2006
---
This company was formed in 1870. It ended up as part of the Norwegian group Neptun A/S. It is no longer a ship owner being involved now in marine contracting (Neptun Heavy Lift) and business development (Neptun Venture) still using the "Neptun" logo but not, I would image, the flag.
Neale Rosanoski, 7 January 2007
---
White field, in center Neptune riding a black seahorse in rather Wagnerian atmosphere; in the canton the Swedish flag.
Jarig Bakker, 5 August 2005
---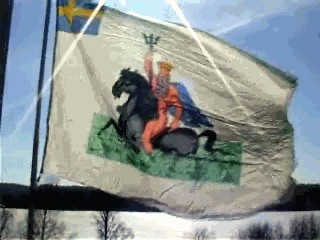 image contributed by Neale Rosanoski, 2 July 2007
Another version has been found, this time a photo of a full size flag on www.tugboatlars.se which shows the sea as a green panel.
Neale Rosanoski, 2 July 2007
---
Göteborgs Bogsering AB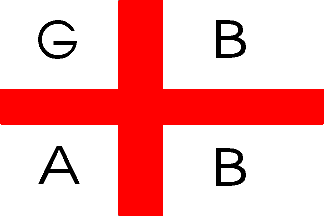 image by Jarig Bakker, 5 August 2005
Source: http://kommandobryggan.se/Bryggan/Rederi.htm
White flag, red cross, in all quarters GBAB
Jarig Bakker, 5 August 2005
---
Malmö Bogser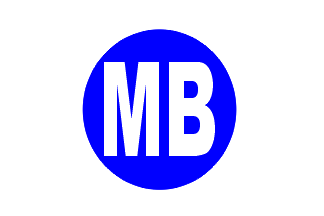 image by Jarig Bakker, 5 August 2005
Source: http://kommandobryggan.se/Bryggan/Rederi.htm
White field, in center blue disk charged with white "MB".
Jarig Bakker, 5 August 2005
---

image contributed by Neale Rosanoski, 8 June 2006
The circle is black, not blue, according to all other sources including the cap badge in Collectors Corner.
Neale Rosanoski, 8 June 2006
---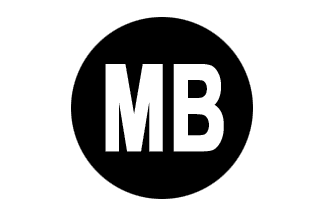 image by
António Martins-Tuválkin,
18 October 2007
It now appears that the letter shapes as shown in my image (m118) above are not correct. From a photo of the tug funnels found on www.tugboatlars.se it seems that the "v" of the "M" is shallow and whilst their "B" is normal [though the letters are slanting in most cases] another look at the Collectors Corner cap badge shows that whilst it also has a shallower "v", but not as shallow as the funnel letter, its "B" varies. Whether the latter especially has any bearing it would seem certain that the shape of the "M" is not that shown by most sources.
Neale Rosanoski, 8 June 2007
---
Bogserings A/B Stormking

image contributed by Neale Rosanoski, 12 March 2007
A Göteborg towage company that was taken over by Goteborgs Bogserings & Bärgnings A/B, probably around the mid 1970s, and absorbed. The Collectors Corner cap badge shows a vertical multiband of 3 blue and 2 white stripes].
Neale Rosanoski, 12 March 2007
---