This page is part of © FOTW Flags Of The World website
Sankt Gallen canton (Switzerland)
Last modified: 2023-05-20 by martin karner
Keywords: switzerland | sankt gallen | canton | fasces | german |
Links: FOTW homepage | search | disclaimer and copyright | write us | mirrors

---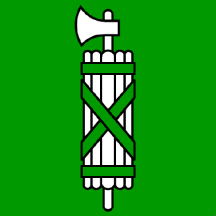 image by António Martins

See also:
---
Description of the flag
Vert, a judge's axe palewise facing dexter enfiled by a lictorial fasces of five visible shafts the two outermost reduced in width all argent, bound fess- and saltire-wise with a ribbon of the field.

On a green field, a white upright axe facing the hoist. The shaft of the axe is bound by five white staffs, the outermost ones being slightly narrower, and the bundle is bound with green ribbon. The fasces are fimbriated in black so they don't appear as a solid block.
---
Symbolism of the flag
The lictoral fasces was an ancient Roman symbol carried in front of magistrates as a symbol of their authority and power over life and death. According to the designer of the St. Gallen arms and flag, the fasces represented authority, justice, sovereignty and unity. Green was at the time the colour of revolution and freedom, and sometimes referred to as the "light green of the new order" (Cf. Vaud and Thurgau created at the same time). If the fasces were three-dimentional there would be eight staffs, but only five are visible. The eight represent the original districts of the Canton. The ribbon tying the fasces represents the unity and strength of the canton. According to Roman symbolism, a single stick was easily broken, but a fagot (same root as fasces) was indestructible. The flag has undergone several minor modifications, several of them provoking uproar about unnecessary bureaucratic tinkering, and leading one critic to call the fasces a "salami pinched by its lacing".
---
History of the flag
The monastery of St. Gallen was founded in the 7th century and was gradually surrounded by little colonies which evolved into a city-state. The city eventually gained its independence within the Holy Roman Empire, and by the 13th century the Abbott of St. Gallen had his own battle flag consisting of a bear (see Appenzell), and in the 14th century the bear became the seal of the city. The city-state became allied with the Swiss Confederation in 1412, and an "associated state" in 1454.

St. Gallen was one of eight new Cantons created in 1798 for the Helvetic Republic, patched together from eight unrelated territories of other Cantons. The Act of Mediation of 1803 restored the Swiss Confederation, and reorganised St. Gallen from eleven districts. David von Gonzenbach, governor of St. Gallen, designed the arms and flag in 1803 with no reference to any symbolism of the former city-state of St. Gallen or the other constituent territories of the new Canton. The weapon was originally a halberd, but this was changed in 1843 to a battle-axe. The flag underwent seven more minor modifications in 1848, 1925, 1931, 1942, 1951 and 1981. The 1951 "hatchet" had a spike opposite the blade providing better artistic balance, but the weapon was designated a "judge's axe" (i.e. executioner's tool) in 1981, and the spike was removed. Pre 1981 versions also included a black Swiss cross on the blade. This might have been introduced as a reaction to the adoption of the fasces as a symbol of Italian fascism.
T.F. Mills, 2 November 1997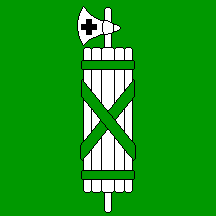 image by António Martins
Angst (1992), "A Panoply of Colours: The Cantonal Banners of Switzerland and the Swiss National Flag" reported the axe with a black cross on the blade, introduced before WWII and kept until 1951 (to stress the "Swissness" of the symbol, avoiding connections with fascism).
António Martins, 25 October 1998
---
Variations of the flag

image by Ole Andersen

Simple rectangular cantonal flag, as shown in Kannik (1956).
Ole Andersen, 4 August 2002
---
Flaggen, Knatterfahnen and Livery Colours



images by Pascal Gross

Flaggen are vertically hoisted from a crossbar in the manner of gonfanon, in ratio of about 2:9, with a swallowtail that indents about 2 units. The chief, or hoist (square part) usually incorporates the design from the coat of arms – not from the flag. The fly part is always divided lengthwise, usually in a bicolour, triband or tricolour pattern (except Schwyz which is monocolour, and Glarus which has four stripes of unequal width). The colours chosen for the fly end are usually the main colours of the coat of arms, but the choice is not always straight forward.

Knatterfahnen are similar to Flaggen, but hoisted from the long side and have no swallow tail. They normally show the national, cantonal or communal flag in their chiefs.

Željko Heimer, 16 July 2000