This page is part of © FOTW Flags Of The World website
Unidentified Flags or Ensigns (2011) - Page 1
Flags submitted in 2011 - 1 of 3 pages
Last modified: 2023-11-25 by

zachary harden
Keywords: ufe | unidentified flags |
Links: FOTW homepage | search | disclaimer and copyright | write us | mirrors

---
Please note our Policy for Submissions and Enquiries.
Below is a series of images of flags that have been provided to FOTW; some we have recognized, and some we have been unable to recognize. If you can help us identify any of these flags, please let us know! Contact the: UFE Editor.
Identification Key:
= Positive ID (Positive Identification)
= Tentative ID (Tentative Identification)
= Some Speculation
---
11-1. Maltese Marching Bands and Club Flags

Positive ID
These have been identified as Maltese marching band flags of the villages of San Giljan and Hal Tarxien.
---
11-2. Danish Shipping Company Flag

Positive ID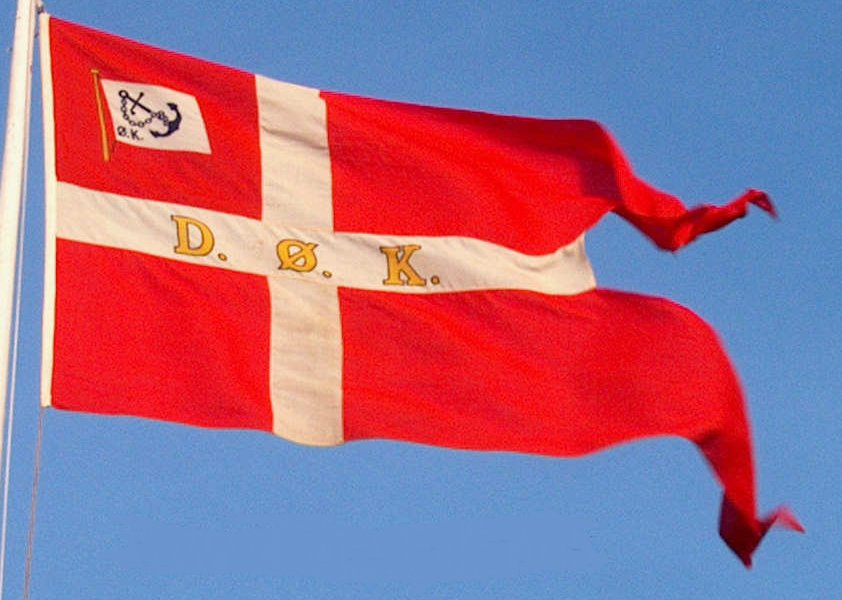 This flag is the house flag of the Danish East Asian Company and is now located on its proper page.
---
11-3. Blue Ensign, Wreathed Anchor, plus MCC

Positive ID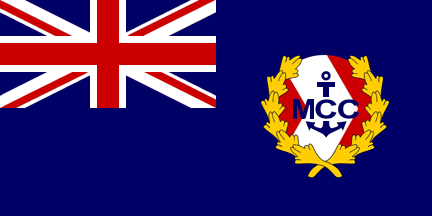 This ensign was identified as the old ensign of the Thames Motor Yacht Club, when they were the Thames Motor Cruising Club.
---
11-4. Unknown Pakistanian Flags

Positive ID

Speculative image by Pete Loeser, 22 January 2011
Hopefully you can identify the attached jpegs of Pakistani flags. One even looks like a green-colored Canadian Maple Leaf! If you have an FOTW contact in Pakistan, maybe he can provide some information.
Bill Garrison 22 January 2011
I was able to identify most of them on our page Pakistan - Political flags. However, we have quite a pile of other unidentifed Pakistanian flags at Unknown Pakistani Flags, if anyone wants to help identify them.
Rob Raeside, 22 January 2011
The blue-red-blue flag is the flag of the extermist religious party Shahbab e-Islami Pakistan, according the AllVoices.com news article titled "The Extermist Side of Pakistan" (25 January 2011), written by muaaz ahmad. You can also find out more about Shahbab e-Islami Pakistan at their English language blog.
Knut, 25 January 2011
---
11-5. Two unknown Portuguese Historical Flags

Positive IDs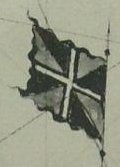 #5a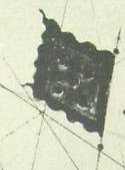 #5b
Images from Ron Strachan, 24 January 2011
The attached two images are taken from a black-and-white photograph of a map drawn up in the mid-1500s. The map itself was destroyed during WW2, so only the photo remains. A friend is researching the map at the Australian National Library, and is trying to identify the two flags shown. I have included my thoughts on the two flags, and guess that the first flag is some variation on the Portuguese Ceuta flag or the flag of Lisbon. And the second is possibly that of one of the (5) small shields in the current Portuguese arms. If you know anyone who might be able to assist in identifying these two flags, I'd be most grateful. Do you think GrahamB might assist??
My thoughts: This flag (#5a) looks gyronny black and gold with a white cross - it if was the ancestor of the Ceuta flag, then it was probably drawn back to front - a common error. (Often I've seen the Scottish lion facing left when the flag pole is on the right). The modern Ceuta flag incorporates the Portuguese coat of arms as an escutcheon. Note that the civil flag of Ceuta omits the escutcheon. The flag in the photo does not appear to be gyronny black and White as the cross appears to be white. I can only think it must be gold as that is the only other colour heraldically correct. This is extraordinarily distinctive as a Portuguese flag - no other Portuguese flags (historical or otherwise) bear any resemblance. Ceuta was under Portuguese control from 1415-1667 incl. Some background from Wiki: "In 1415, during the Battle of Ceuta, the city was captured by the Portuguese during the reign of John I of Portugal. The King of Spain seized the Portuguese throne in 1580 and held it for 60 years ( Iberian Union ). During this time Ceuta gained many residents of Spanish origin.[1] Thus Ceuta became the only city of the Portuguese Empire that sided with Spain when Portugal regained its independence in 1640 and war broke out between the two countries. The formal allegiance of Ceuta to Spain was recognized by the Treaty of Lisbon by which, on January 1, 1668, King Afonso VI of Portugal formally ceded Ceuta to Carlos II of Spain. However, the originally Portuguese flag and coat of arms of Ceuta remained unchanged and the modern-day Ceuta flag features the configuration of the Portuguese shield. The flag's background is also the same as that of the flag of Lisbon." Source: http://en.wikipedia.org/wiki/Ceuta
The Second flag (#5b), if Portuguese, it looks like this could be a blue field charged with 5 silver roundels within a red bordure. This banner would have existed from 1485. Prior to this date, back to 1143, the blue was charged with 11 silver roundels.
Chris, 23 January 2011
I'd direct all interested parties to our own website material on the Order cross on gyronny flag (blue and gold) and the Red bordered quina, where these two flags are addressed. These two FotW-ws sections, by the way, include mainly material contributed in 1997 and edited shortly after. This UFE report should be marked as identified (albeit these flags on old maps were often fanciful and did not always faithfully shown what actual flags looked like) and the long, fairly accurate, and unrelated story about Ceuta can be safely placed on the Ceuta (Spain) page.
António Martins-Tuválkin, 10 October 2011
I'm not even certain #5a and #5b have the same design.
Peter Hans van den Muijzenberg, 3 February 2013
---
11-6. Unknown Sign/Flag in New York City

Tentative ID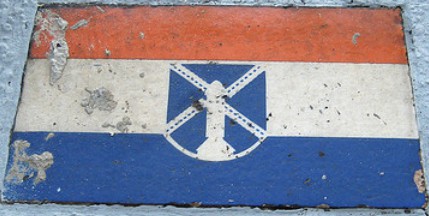 Image from , 25 January 2011
This unknown flag was reportably seen in Sutton Place Park that overlooks the East River in New York City. It is a vertical designed tricolor that is placed in cement as part of a plaque.
Rob Raeside, 25 January 2011
There is a brief comment on Flickr about the recently-reported UFE 11-6 (the plaque seen at Sutton Place, New York City, US; orange-white-blue horizontal bands with white windmill on blue shield). At http://www.flickr.com/photos/wallyg/1032938015/ a viewer, wiedesign_60, states "NYC during the WPA projects used this icon on many public works projects," but gives no indication if the icon was used as a flag.
WPA (intially Works Progress Administration, later Works Program Administration) was a US federal agency 1935-1943 authorized to construct public buildings, roads, parks, etc. and underwrite artistic, literary, dramatic, and historical projects. See the wikipedia article http://en.wikipedia.org/wiki/Works_Progress_Administration.
Ned Smith 29 January 2010
Well, from the images floating around, the WPA appears to be Blue-White-Red, rather than the other way around.
Peter Hans van den Muijzenberg, 29 January 2010
The usual color scheme for the entire agency itself does appear to be blue-white-red, but a New York regional office could have a different scheme. And from the wording of the Flickr quote I'm not sure if they even meant the regional office, or NYC itself using funds provided by the WPA.
Ned Smith, 29 January 2010
The city of New York and Manhattan Borough in particular have used the windmill (or at least its sails) as a symbol since at least 1686. It is the principal feature of both the city and the borough arms. The colors of the Prince Vlag (Orange-White-Blue) have also played an important symbological role in the city (especially in the Boroughs of Manhattan and the Bronx, not to mention the 1939 and 1964 World's Fairs). Many organizations and associations use these symbols as well (St. Nicholas Society, Citizen's Union Foundation). I have studied NYC symbols extensively for many years (I grew up in the Metropolitan area) and cannot say I have ever seen this exact arrangement before, but the colors and windmill symbol scream New York City!
Dave Martucci, 5 February 2011
---
11-7. Unknown flag on a silver bowl

Positive ID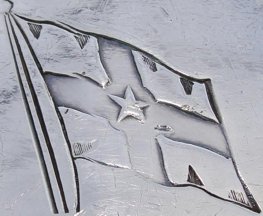 This flag has been identified as that of the Norwegian maritime company Anders Jahre, Sandefjord.
---
11-8. E on yellow disk on blue pennant

Positive ID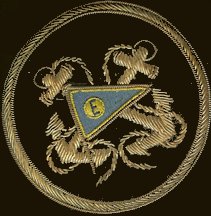 Image from John Gorto, 15 February 2011
Attached is an emblem with a flag I can not ID, I gave up on it. Any help greatly appreciated.
John Gorto, 15 February 2011
This is the burgee of the Edge Creek Boat Club, located in Maryland.
Jan Mertens, 15 February 2011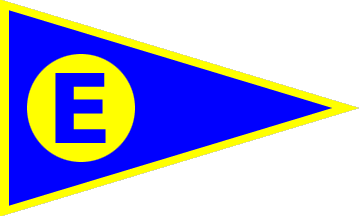 Image by António Martins, 5 April 2016
Here's a standard image. It's a triangular about 3:5 blue flag with a thin yellow border all around (incl. hoist) and the letter "E", sans-serif upper case, in blue on a yellow centered disc.
António Martins, 5 April 2016
Edge Creek Boat Club, Royal Oak, Talbot County, Maryland, was established in 1954. (Lloyd's Register of American Yachts, 1963, no burgee shown.) The club doesn't seem to exist any more.
Peter Hans van den Muijzenberg, 9 April 2016
---
11-9. UFE at Bahrain funerals

Positive ID

This flag has been identified as the religious Muharram Flag from the Kingdom of Bahrain.
---
11-10. Pineland Patch

Positive ID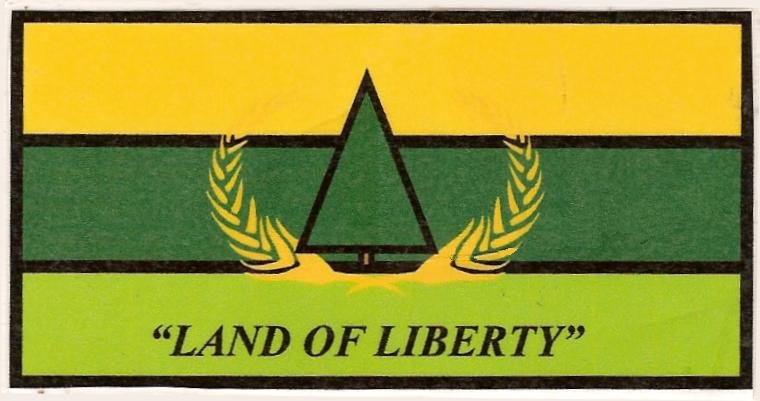 Image from Charles Barreras, 25 February 2011
I have been a contributor to FOTW in the past, and so this was my first choice for an attempt to identify an image that has crossed my electronic desk. I operate a small patch and emblem making business, and a client sent me this image, with no other information, requesting that it be made into a patch. I have no idea what it is, and as a result, can't guess on the exact colors to use, nor can I find a cleaner image of it. Therefore, I was hoping to submit it to UFE, in the hope that I could find more information on it.
Charles Barreras, 25 February 2011
Hah, "Pineland, Land of Liberty!" You're not going to find that on a map; not on an ordinary map, anyway. Pineland is the fictional "country" that USA special forces finish their training in. To the rest of the world it's more commonly known as middle North Carolina. I didn't think it was allowed to influence reality up to the point where it had its own flag, but it might be patches for supposed governmental troops, or similar, would be within the range.
On a more serious note: I believe real law-enforcement involved in the exercise is supposed to wear a special version of their uniform, as in the past a misunderstanding between faux forces and real forces has resulted in very real deaths. It may be this kind of patch is the identifying mark of such a uniform. That's just speculation, though.
Peter Hans van den Muijzenberg, 27 February 2011
---
11-11. Bordered Union Jack, defaced, white escutcheon

Some Speculation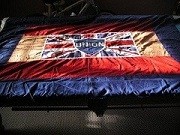 Image from Glenn, 22 June 2010

[This was passed on to me by Peter Hans van den Muijzenberg , 27 February 2011, with the following information and comment. Apparently, I missed Al's original posting. - UFE Editor]

Attached is an inquiry I received along with my rather tentative answer. Any further enlightenment would be most welcome.
Question: "I have a large flag with the Union Jack in the center and light brown, red, and white bordering it. It also has UNION written across the middle of the Union Jack. I would appreciate any help identifying it. I am sure it is over 100 years old." - (Glenn)
Answer: "I see the picture clearly enough; thanks for posting it. It looks like a one-off design for some special occasion, though I have no idea what it might be. The blue, btw, also appears to be part of the design. Conceivably it could be a political banner from Ulster advocating continued union with the British Crown (as opposed to the Irish Republic), though that would make it less old than 100 years. I will post this to a list of flag people and report back if I learn anything more." - (Al)
Al Kirsch, 22 June, 2010

It does look like the blue is attached to it, but Glenn doesn't say it is, so maybe it's merely attached to it for strengthening. It's a pity that Glenn doesn't give the extra information that tells him it's more than 100 years old, as it might have given us a direction. The blue shield with "Union" looks awfully familiar, but I really can't recall why. Other than that, the Union Steamship Company does have a Union Jack with red border.
Peter Hans van den Muijzenberg, 26 February 2011

As far as this one is concerned, the Northern Ireland connection might be further supported if that "light brown" is actually faded orange.
James Dignan,5 March 2011

Having done a house flag day, yesterday, I must say it looks somewhat Glen Line-ish. But they had all the extra blue in a pennant flying over the flag, and it wasn't a shield for the other shipping house either, I believe, but a cross.
Peter Hans van den Muijzenberg, 5 March 2011

I can't tell from the photo - are there clear indications there is a hoist side with grommets or sleeve? If not the item sort of looks to me as if it might have been funeral pall for some Ulster Loyalist group. Just my subjective impression and speculation, fWIW.
Ned Smith, 6 March 2011
---
11-12. Unknown pro-Gaddafi Rally Flag

Positive ID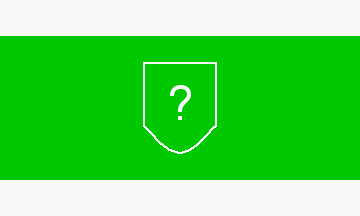 Speculative image by James Dignan, 4 March 2011
TV news coverage showing pro and anti-Gaddafi rallies in Libya have just briefly shown an intriguing UFE. It was only shown briefly, and was at a pro-Gaddafi rally in Tripoli. The flag was green with white horizontal stripes top and bottom (similar design - but different colours - to the Spanish national flag) with some sort of symbol in the centre in white, which appeared to be a European-style shield or coat of arms. A rough sketch is attached with the shield emblem simply marked with a question mark. Anyone have any idea what the flag might represent?
James Dignan, 4 March 2011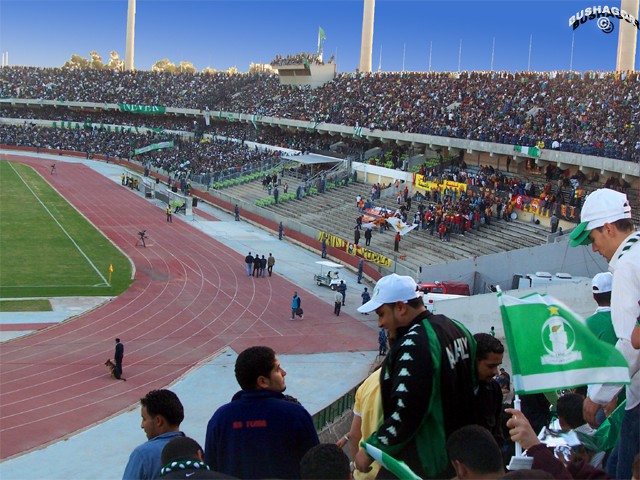 Photo from Sadig Salem Shwihdi, 10 March 2016
This flag belongs to the Al-Ahli Sport Club, a sport club from Tripoli, Libya.
Sadig Salem Shwihdi, 10 March 2016
---
11-13. 1848 flag seen in Trinidad (Cuba)

Positive ID
Image by Olivier Touzeau, 13 March 2011
I saw this flag seen during my trip in Cuba in the municipal museum of Trinidad. According to the caption in the museum, it dates from 1848. It is similar to the Flag of the Mine Conspiracy of the Cuban Rose, but with a 5-pointed star.
Olivier Touzeau, 13 March 2011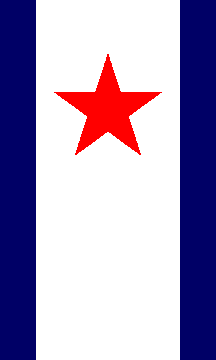 Speculative Image by Peter Hans van den Muijzenberg, 13 March 2011
I tried a different version of the flag. It seems to me that the white is four times as wide as the blue, and I'll take your word that there's blue on the other side as well. So, that would make it 1:4:1. The star is quite big, so I used half the width of the flag. As some points are fat and others lean, I assumed that it's really supposed to be regular; you might know whether it wasn't hung very straight, or whether it maybe wasn't done very expertly. As the star points towards the hoist, and the flag is hoisted vertically, it seems logical to assume that the flag is indeed meant to be vertical. The height of the star on the flag is difficult to determine exactly, but half the size of the star, being a quarter of the width of the flag, doesn't seem to be all that far off. The blues very dark, but the red is quite bright, so it can't be the lack of light. I went with your choice of regular white and red and very dark blue. (I just used the standard FotW shades of that.)
No other information from the caption? Do you think they didn't know? Or would it help if someone who speaks the language (meaning: not me) contacts them about it?
Peter Hans van den Muijzenberg, 13 March 2011
This is the Bandera de Trinidad (Flag of Trinidad), a branch of the Conspiración de la Mina de la Rosa Cubana (Conspiracy of the Cuban Mina de la Rosa) an insurrectionary anti-Spanish movement during the years 1847-1848, that takes place in Trinidad (Santi Spìritus, Cuba), led by general Narciso López. The original is on the Museo Municipal de Trinidad (Cuba). You can see the attached image (not displayed on the flag) on the educatuoonal oficial website of Cuba.
The flag itself is found on the official Cuban site.
Anonymous, 15 July 2021
---
11-14. Burgee on a Cup

Positive ID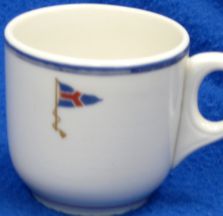 Image from Bill Strunk, 13 March 2011
I have what appears to be a yacht club burgee printed on a demitasse cup. I would like to identify the club. The offsite identification websites don't seem to include burgees. If you or one of your member/contributors can identify it, I would greatly appreciate it.
Bill Strunk, 13 March 2011
The burgee could belong to the Devon Yacht Club of Amagansett, NY (US): at least if the thin lines bordering the red "Y" as they appear on the demitasse are really white.
Jan Mertens, 29 May 2011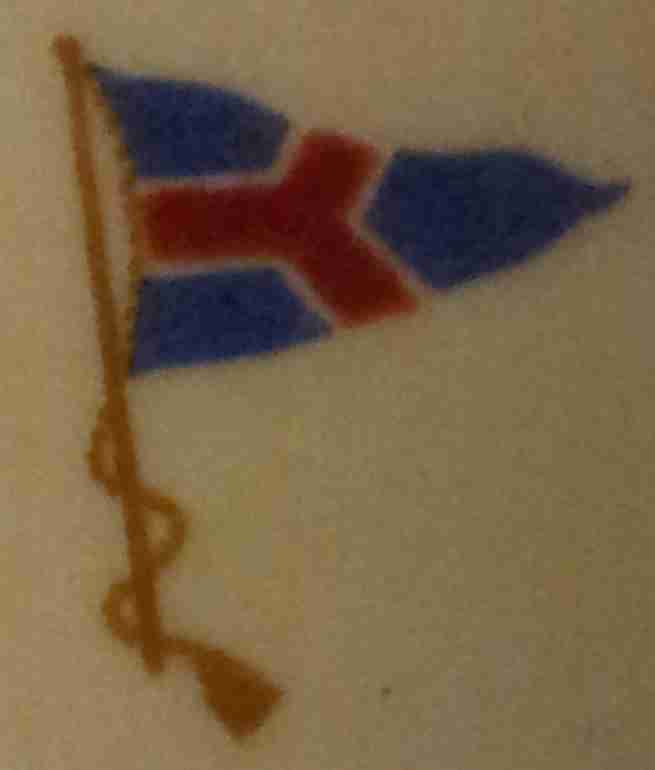 Image detail, 9 September 2013
Bill feels Jan's identification is indeed correct. He is now in the process of contacting the Devon Yacht Club of Amagansett, NY, to see if they know more about the cup.
I add the flag detail, which is enough to show that the lines are indeed in a white colour, probably simply the surface it is painted on. I'd say that Jan's contribution can be considered a positive identification now.
Peter Hans van den Muijzenberg, 9 September 2013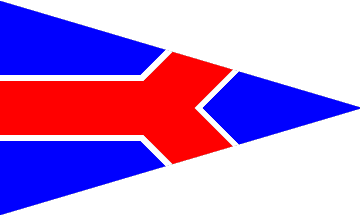 Image from António Martins, 20 May 2016
Attached is a standard image for the burgee of the Devon Yacht Club of Amagansett, in Suffolk County, Long Island, New York State, United States. My image differs from the one on the demitasse in details that seek a compromise with the burgee as depicted in the club's logo; both are artistic renderings of fluttering flags - a flat image of an actual flag, or exact specs, are necessary to create a more faithful rendition.
This design is curiously a horizontally flipped (and clipped back into a triangle) version of UFE13-43b - any relation?
António Martins, 20 May 2016
Regarding any relation between UFE11-14 and UFE13-43b, 43b has been identified as Chicago Motor Boat Club.
Esteban Rivera, 21 May 2016
The question remains: Is there any relation between the Chicago Motor Boat Club and the Devon Yacht Club of Amagansett to explain why they have flags that are flipped images of each other, or it is merely a coincidence?
António Martins, 21 May 2016
Well, there's 900 miles between the two, with one a Great Lakes club and the other an East Coast club. Still, the Devon was established in 1916 [Lloyd's Register of American Yachts (1963)], at which time the CMBC was around as well, according to my report. But so far I've not encountered a connection.
The colours were the common colours used in most American yacht club burgees at the time; the pattern, well, the Taw and Torridge Sailing Club - now the North Devon - used a pall as well; they may have turned it to not look too closely related.
Peter Hans van den Muijzenberg, 22 May 2016
---
11-15. Two Unknown Utah Flags

Two Positive IDs and

Some Speculation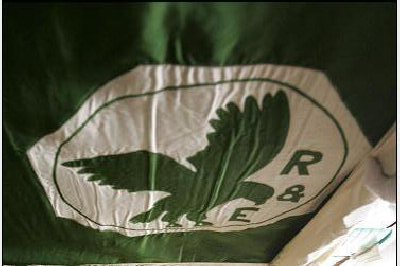 #15a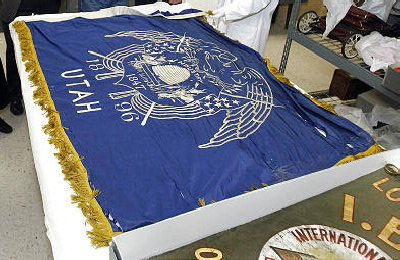 #15b
Images from Esteban Rivera, 17 March 2011

On March 11, while doing research on the claim of a new Utah flag, I encountered these two historic UFEs from Utah. The first flag (#15a) was found in the Deseret News archieves. On the second picture (#15b), the flag which I cannot identify is the flag right next to the Utah flag. It has an olive green background, showing a part of a title "International..." and some initials "I.B..." The "I" could stand for "International," but cannot see the rest. This picture accompanied this article "Utah's first state flag finally found." The caption on the photograph reads: "Ron Fox searches for Utah's first state flag last August. Fox's search ended six months later, when a Utah State Historical Society Museum staff member uncovered it (Barton Glasser, Deseret News archives). Any help is greatly appreciated.
Esteban Rivera, 17 March 2011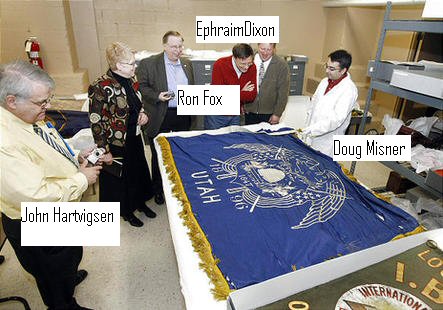 #15c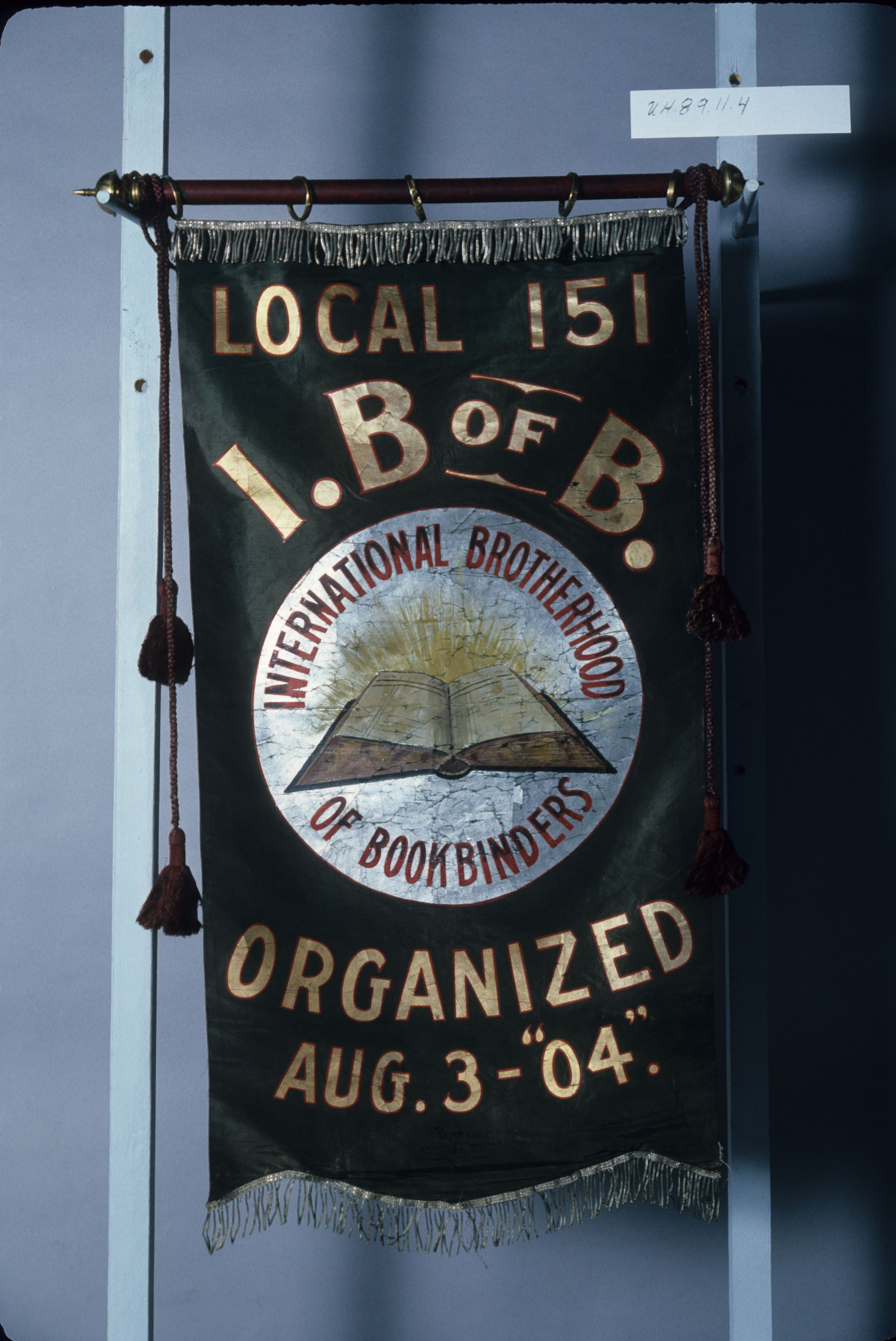 #15d
Images from John Hartvigsen, 7-10 May 2012

The flags shown in #15b are the recently rediscovered 1903 Utah State flag found in the Utah State Historical Society Museum collection and the other flag is an International Brotherhood of Bookbinders Union (IBB) Local 151 banner. I had little interest in the second artifact since it is a union banner and not what I would consider to be a true flag. However, here is an additional picture of the group of us examining the flags (#15c) and the information I have on the IBofB Union banner. I also include a better picture of the Union Banner. (#15d)
The now retired former director (Phil Notoriani) of the Utah State Historical Society purchased this banner with a group of other union banners in 1989. It is displayed from a cross bar, is in the gonfalon shape, and is a union parade banner. The International Brotherhood of Bookbinders (IBB) initials appear on the flag. As you can see from the photo, it was Local 151 organized Aug 3, 04.
I think Ron Fox planed to emailed you about the other flag (#15a), and said he would email Ephraim Dickson at the Fort Douglas Museum to see if he could identify the flag, which is in that museum's collection. I also emailed Ephraim, so hopefully he can add some information on that flag.
John M. Hartvigsen, 7-10 May 2012

I share a bit more about the "rediscovery" of the 1903 Utah State flag. It had been in the collection of the Utah State Archives, but was transferred to the Utah State Historical Society (USHS) in a box. After Ron Fox asked that the USHS to make a search for the flag, the box was opened and the flag was rediscovered after being lost for decades. I had asked both the Archives and the USHS if they knew of the flags whereabouts. Each assured me that they did not have the flag and did not know of its whereabouts. Although a black and white photograph of the 1903 flag had appeared in various publications, the actual flag was last seen pictured in a newspaper photograph when the then Governor of Utah Charles R. Maybey took the flag with him to Portland, Oregon on July 22, 1922, where it was flown from the masthead of the City Rose. When I began looking for the flag in the 1980s, its whereabouts were unknown. When I discussed the story with Ron Fox in 2010, he felt is was worth trying again to find the artifact. At Rox's urging, the staff of the USHS looked one more time and found the flag.
The unofficial 1903 flag is in the collection of the USHS and would be appropriate to call the 1903 flag the unofficial 1903 flag [adopted on April 8, 1911]. The picture #15c is not "an additional picture of the group," but the un-cropped picture shown in #15b.
John M. Hartvigsen, 12 May 2012
---
11-16. WWI Era German Diplomat Silk Flag

Positive ID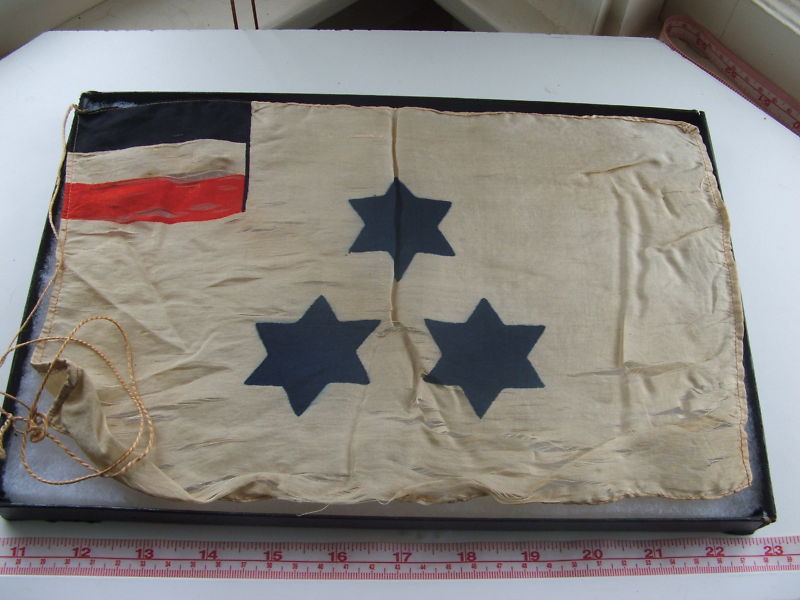 Image from William Garrison, 14 March 2011
Saw this on e-Bay, with this description: "I have been told this is a German diplomat flag from the Weimar era. I'm NOT sure. The flag is very fragile and made of silk. It has some longitudinal tears. It measure about 8"x12'"
William Garrison, 14 March 2011
Considering the time period in Germany, a curious combination, the use of those six pointed stars. Also, notice its not a Weimar flag, but Imperial Flag in the canton. The brief use of the Imperial Flag again between 1932-35 is even less likely time period for six-pointed stars.
Pete Loeser, 18 March 2011
Those are heraldic six-pointed stars, or "mullets," rather than Magan Davids which are generally composed of two interlaced triangles. The thing is that an Imperial tricolour on a Weimar Republic official flag seems a hint unlikely, but (whatever this flag actually is) I do know that the black, red, yellow versus black, white and red debate went on for several years, so a date sometime between 1919 and 1935 is not unreasonable.
Christopher Southworth, 15 March 2011
I don't believe that it is a governmental flag, looks like the flag of a sailing or rowing club. If it would be the latter, the club surely is dissolved.
Klaus-Michael Schneider, 15 March 2011
If this is only something like 20x30cm, what type of flag was this?
Peter Hans van den Muijzenberg, 7 April 2011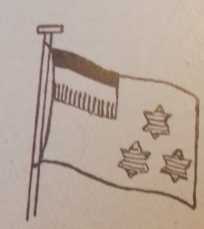 (evidence)

Images from Klaus-Michael Schneider, 7 June 2014
It is the flag of the Dresdner Ruder-Verein, a German Rowing Club. In the canton is the German tricolour black over white over red. In the lower fly end are three dark blue mullets ordered 1:2. The club had been dissolved after World War II, but has been re-established after German reunification with a new flag. The canton was replaced by a canton in city colours (black-yellow), the stars were rreordered (sinister bendy) and rotated (90 ° clockwise) and a fourth star was added.
Source: Der Rudersport (weekly); II/50/10 December 1913.
Klaus-Michael Schneider, 7 June 2014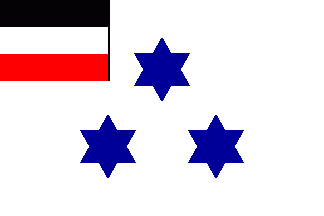 Images from Peter Hans van den Muijzenberg, 8 June 2014
[Dresden Rowing Club more like William reported it.]
You'd wonder whether they changed their flag as the national flag changed. This document on eBay, with again the stars placed somewhat differently, shows the same canton for 1932. Of course, if this is from the period Pete mentioned, when the flag was in use again, that would not tells us what happened in the mean time.
Peter Hans van den Muijzenberg, 8 June 2014
---
11-17. Unknown Crowned Flying Swan

Some Speculation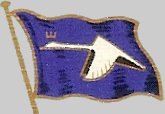 Image from Sam Neumann, 20 March 2011
Can you ID this flag at all?
Sam Neumann,
For what it's worth, it seems Scandinavian to me, but I may be influenced by the use of the swan on the Nordic Council flag.
Rob Raeside, 20 March 2011
---
11-18. Flags of the 1964 World's Faire

Some Speculation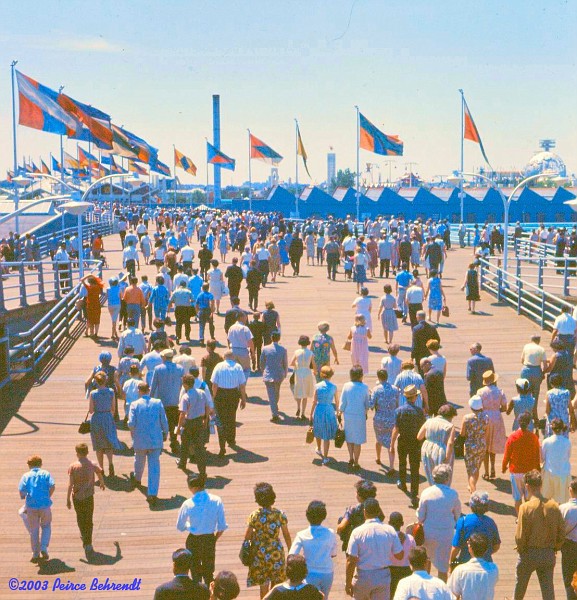 #18a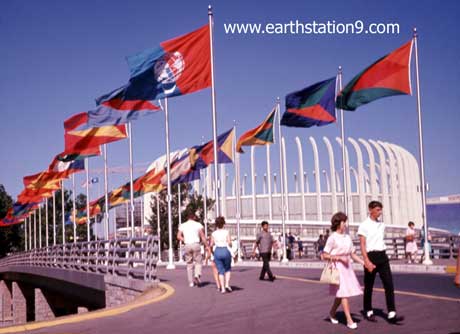 #18b [Click on images to enlarge]
Images from Esteban Rivera, 17 March 2011
[These two pictures were taken at the World's Fair in 1964-1965. They were sent to the list by Esteban Rivera (7 July 2010), but overlooked. The first (#18a) is taken at the main entrance ramp to the Fair. The second (#18b) is taken at the Ford Rotunda outside the American car maker's pavilion at Ford Bridge. On the right picture (#18b), one can see the Fair's flag, but the rest of the waving flags are unknown. - UFE Editor]
These seem to be pictures of all the same type of flags with some photographic colouring and developing differences. Considering that they're all very simple shapes and easy to remember, I seriously doubt that they actually have any meaning at all. They might just be decorate and local colour.
Peter Hans van den Muijzenberg, 11 March 2011
I second that. Blue and orange are the New York city colors; I suspect these were just intended as decorative displays of those colors.
Joe McMillan, 23 March 2011
---
11-19. Unknown Yemeni Military Flag

Positive ID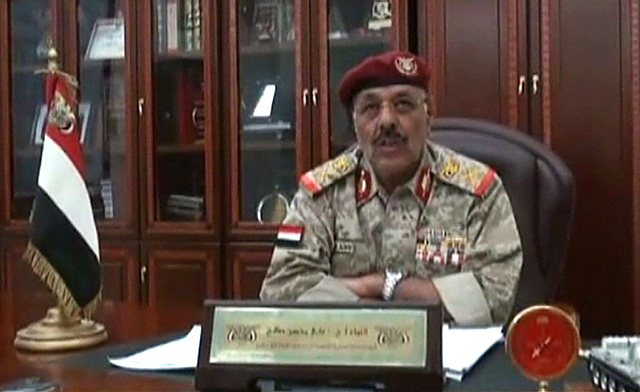 This flag has been identified as the Yemen Presidental flag.
---
11-20. Flag reading "US-6"

Tentative ID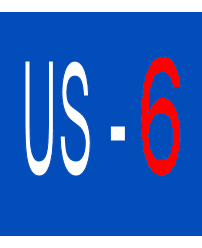 Speculative Image by Pete Loeser, 24 March 2011
I received the following: "I purchased a flag at an auction and I am having trouble identifying it. It is approx 19"x19" (48 cm) and looks to be made of canvas. It is dark blue with an 1 1/4" white hem on the top and bottom. There are four brass grommets, one in each corner. Sewn on it, in a cotton like material, it has US-6. The US- is white and the 6 is in red. the letters are approx. 4" wide by 13" tall. I can see no other markings and I don't know if its two-sided as its in an old frame that must be dismantled to remove the flag. The auctioneer said it came from an estate with a lot of WWII items and they thought it was from the Coast Guard."
Albert S. Kirsch 20 March 2011
I have no idea, but if it has a grommet in each corner it can't very well be a flag. (Letters more than 3 times as tall as they are wide sounds very, very weird.)
Joe McMillan, 21 March 2011
As has been observed by others, with the grommets in each corner this is not a flag. However, what it might be is a Beach Marker, used by Beachmasters to direct landing craft bearing troops and supplies. This was one of the jobs in which US Coast Guard did participate in some of the numerous amphibious landings during WWII, Korea, Vietnam & elsewhere. I've not really looked into this, and have never examined a surviving original Beach Marker; but I've read about them, always assuming they were either plain colored flags or flags from the ICS, but this might be a special purpose Beach Marker. Just a thought, but Beach Markers are flag-like-objects.
Jim Ferrigan, 23 March 2011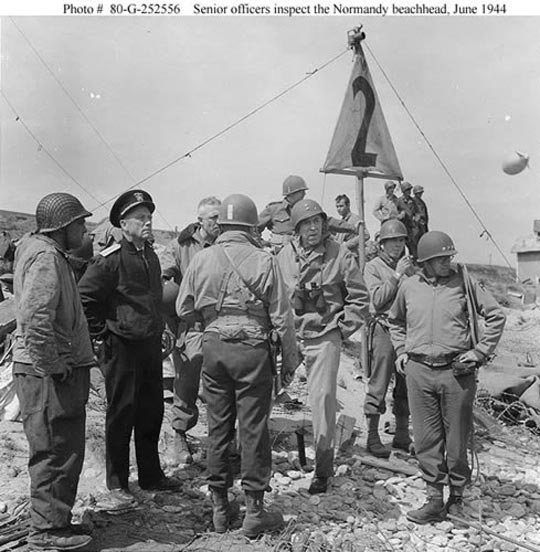 Photograph from U.S. National Archives
[Click to enlarge]
See this picture with a Beach Marker. Not the same, but indeed similar enough that it might be possible.
Peter Hans van den Muijzenberg, 23 March 2011
I was thinking something similar myself. This would also explain why the letters are tall and thin, as they would need to be seen from a low angle at a distance.
James Dignan, 23 March 2011
I attach a speculative image, not to scale, (hopefully one of you can provide a better one, including the eyelets), but I think you have nailed it. There were a lot of beachheads in both Europe and the South Pacific during World War II, Korea, etc.
Pete Loeser, 24 March 2011
---
11-21. More Yemeni Military Flags

Positive ID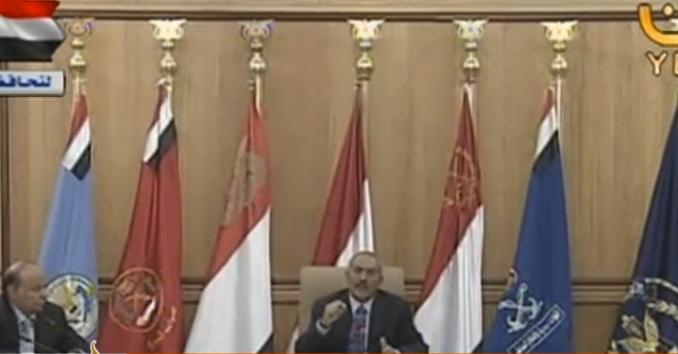 These Military Flags of Yeman have all been identified.
---
11-22. Clipper Ship House flag (US/CSA)

Some Speculation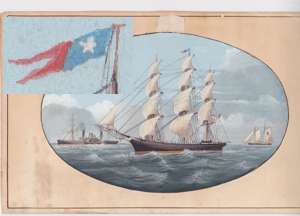 Image provided by Earl Sheck, modified by Rob Raeside, 3 April 2011
I recently purchased this painting and I'm trying to identify the ship. The painting was one of three; the others being the CSS Florida, and the Brig Dorothy. They all came out of the same estate and probably date to the U.S. Civil War Period. Can you identify the house flag? Thanks in advance for any assistance you might provide.
Earl Sheck, 3 April 2011
It is not one of the 750 US shipping lines flags we have on our site. It is in fact quite unlike shipping lines flags in general, and my suspicion is that this is an artist's rendering, and not a true flag.
Rob Raeside, 3 March 2011
We could speculate that, for having a white star on a blue field, this is a war pennant.
Peter Hans van den Muijzenberg, 30 April 2011
---
11-23. Unknown Flag in Ottawa

Positive ID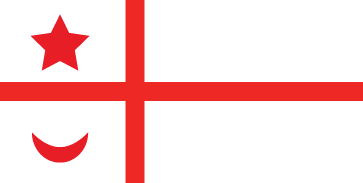 Image by Denis Vermeirre, 12 April 2011
Driving in Ottawa last week, I saw on the back of a car next to mine a sticker with this flag. I have never seen anything quite like it. The sticker was roughly 3 by 6 inches. On a white background a thin red Scandinavian cross with a five pointed star and crescent. All charges and the cross were a dark red. Do you have any idea?
Denis Vermeirre, 12 April 2011
This is the flag of the Mi'kmaq First Nation people of Nova Scotia. The version shown here is much more like the commonly seen flag flying here in Nova Scotia than the one on the Canadian pages.
Rob Raeside, 15 April 2011
---