This page is part of © FOTW Flags Of The World website
Unidentified Flags or Ensigns - Page 1 (2020)
flags submitted in 2020 - Page 1 of 3
Last modified: 2023-07-08 by

zachary harden
Keywords: ufe | unidentified flags | 2020 |
Links: FOTW homepage | search | disclaimer and copyright | write us | mirrors

---
Please note our Policy for Submissions and Enquiries.
Below is a series of images of flags that have been provided to FOTW; some we have recognized, and some we have been unable to recognize. If you can help us identify any of these flags, please let us know! Contact the: UFE Editor.
Identification Key:
= Positive ID (Positive Identification)
= Tentative ID (Tentative Identification)
= Some Speculation
Unidentified Flags on this Page:

Unidentified Flags on Page 2:

Unidentified Flags on Page 3:

Unidentified Flags on other pages:
---
20-1. Possible Alaskan Shipping Company Flag Positive ID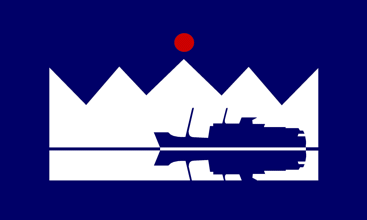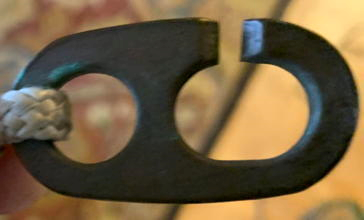 Example of Inglefield clip
Image by Dave Martucci, 4 January 2020
My friend Greg has an unidentified flag. I have made a drawing of it, attached, and hope someone can identify it. He says he thinks it came from Alaska or some such place but knows nothing about it for sure.
It is a standard size flag, about 3' x 5' (about 0.9m X 1.5m), with a 2" (5cm) canvas header that encloses a nylon rope that runs about 2' (about 0.6m) below the flag. It has Inglefield clips (photo of one attached) at the top and bottom of the rope. The flag is printed bunting, looks like a synthetic-wool blend. Don't know how old it is but it is in excellent condition.
Dave Martucci, 4 January 2020
I tried looking for information on this by looking for tugboats, fishing companies, even cruise lines and boat rides, but found nothing. Perhaps your friend can give us a location or some sort of hint so we can try to search for more information on such flag.
Regarding the silhouette of the ship on the flag, it is quite big, but not that big as to infer it is a shipping company, like Pete mentions. One can also discard it is a tugboat as well. I myself am inclined to believe it is a local riding boat, but we'll see if your friend can point to at least some coordinates or city/town where he spotted such flag.
Esteban Rivera, 12 January 2020
My friend is a boat builder and teacher here in Maine and he traded a Maine Flag for this one, but neither he nor the other person had any idea of what the flag is. Given the Inglefield clips, likely it was not made in the USA; more likely Canada or even the UK. Still, no idea where it came from.
Dave Martucci, 12 January 2020
Ok, so it is definitely a sport fishing boat (judging from the silhouette) and my best guess is that it is probably either a Canadian or Alaskan flag (from the blue background and the red dot, which might resemble the sun in that part of the globe).
Esteban Rivera, 13 January 2020
This so far unidentified flag is the house flag of Hebridean Island Cruises Ltd, a British company which owns and runs the small cruise ship MV Hebridean Princess (which the flag depicts).
MV Hebridean Princess is a former car ferry built in 1964 which under the name RMS Columba served the Hebridean Isles. In 1988 it was transformed into a luxury cruise ship and since provides exclusive cruises to the Hebridean, Orkney and Shetland Islands and to Norway. Twice, in 2006 and 2010, the British monarch, Queen Elizabeth II, chartered the ship for private cruises to the Outer Hebridean Isles. A luxury cruise ship, indeed


U. Beck-Wyler, 13 January 2010
Please note that the MV Hebridean Princess was formerly known as the RMS "Columba". Columba is a name rooted in Scottish history and must not be mistaken with the American "Columbia". Columba, or Columbkille, was an Irish abbot and missionary (c521-c597) who was credited with spreading Christianity in what is today Scotland.
Urs Beck-Wyler, 25 January 2020.
---
20-2. Unidentified NATO Flag

Positive ID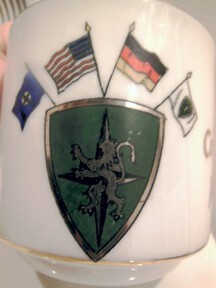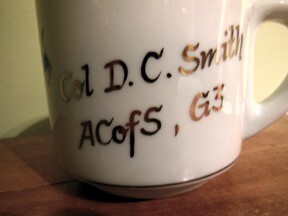 Images from Patricia Parker, 7 January 2020
I was perusing your website trying to sort out flag ID's on a vintage mug I own. I have determined the mug was made prior to 1972. I can ID the NATO, US and German flags, but I'm still searching for the lion crest and what all this represents. I wondering if you might know?
Patricia Parker, 7 January 2020
Looks like the NATO, United States, German and the US Army Central Group (CENTAG) flags.
Dave Fowler, 7 January 2020
The Central Army Group (CENTAG) was a military planning group, comprised of military personnel from Germany, France, and the United States, that was headquartered at the Campbell Barracks in Heidelberg, Germany, between 1950-1993 as part of the joint NATO Allied Land Forces of Central Europe. Later, in August 1961, the CENTAG headquarters moved to Hammonds Barracks in Seckenheim, Germany. Apparently this cup belonged to a Colonel D.C. Smith who was the Assistant Chief of Staff or G3 sometime during these years.
Pete Loeser, 7 January 2010
---
20-3. UFE Family Hand-Me-Down Heirloom Positive ID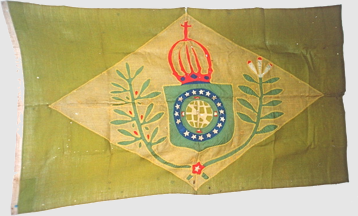 Image from Prentiss Cole, 14 January 2010
The flag pictured has been handed down through our family. Can you identify it? We would appreciate any help you could give us.
Prentiss Cole, 14 January 2010
That is a flag of the Empire of Brazil (1822-1889). However the manufacturer made some mistakes in the design.
Francisco Gregoric, 15 January 2020
---
20-4. German Imperial Flag with Imperial Eagle. Tentative ID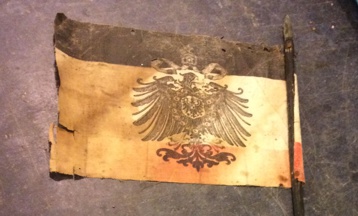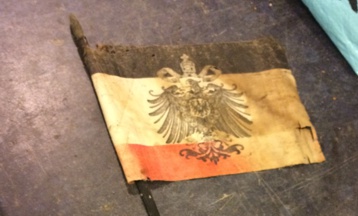 Images from Ken Robertson, 16 January 2020
I have inherited this flag from my father-in-law and would like to find out something of it's history. It's a small pendant on a wooden staff with a fashioned spear head. Hopefully, you can shed some light on it's origin.
Ken Robertson, 16 January 2020
Looks like an Imperial German table flag (Reichsadlerflagge) or possibly a parade flag since it is attached to an approximately 20-25 inch long stick. It will be quite hard to determine exactly where, for what, or when it was used (could be anywhere between 1870-1918, or later).
Pete Loeser, 16 January 2020
The texture and tears in the photo look like paper, not cloth. Pete mentions earlier that the flag is on a "20-25 inch long stick" and calls it a "table flag." Who identified the dimensions? 20 cm. might be more realistic. (What are the dimensions of the flag itself, and why does the owner call it a "pendant"?)
I would suggest this is a large cake decoration. To have been preserved this long, the original occasion may have been special and memorable. Possibilities include a wedding, a ship commissioning, or a major diplomatic event. If the owner knows more of his family history, some possibilities may present themselves.
T.F. Mills, 15 February 2020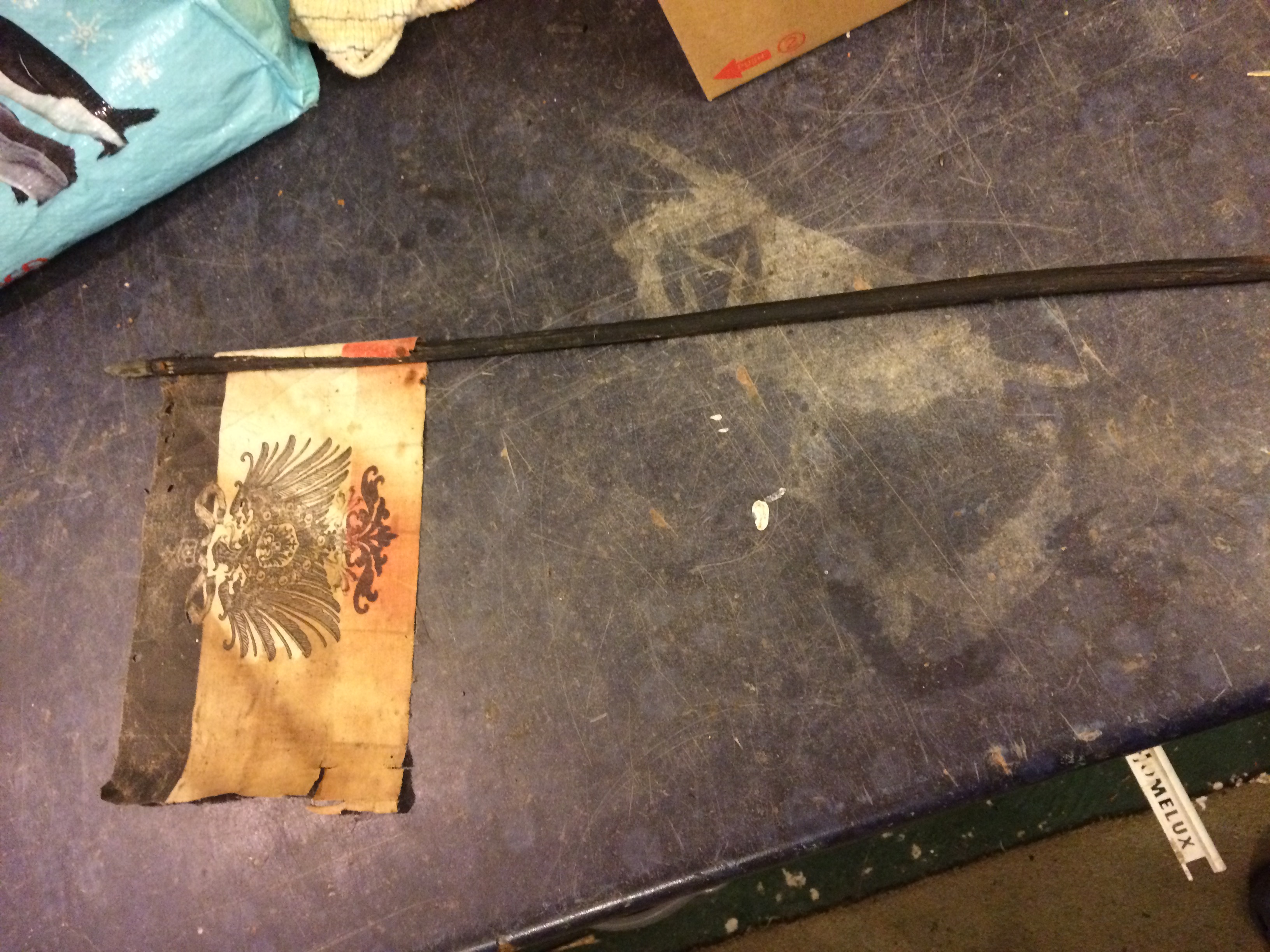 Image from Ken Robertson, 24 June 2020
Have you had any opportunity to review this flag? It appears to be from the Coronation of Kaiser Wilhelm II in 1888 and would have been something waved by a bystander. Any background would be much appreciated.
Ken Robertson, 24 June 2020
This confirms my original suspicion that it is a paper special-event flag. I am not expert in German flags, so I will confine myself to pointing out the somewhat obvious in the hopes that experts will chime in. The defining features of this flag are the narrow red and black stripes, and eagle straddling all the stripes.
A close match is this "German state flag", or this Foreign and Colonial Office, both matching closely the flag in question. Also, on FOTW show an Unidentified Foreign Office Flag that closely matches the German Imperial Parade Flag in design.
T.F. Mills, 27 June 2020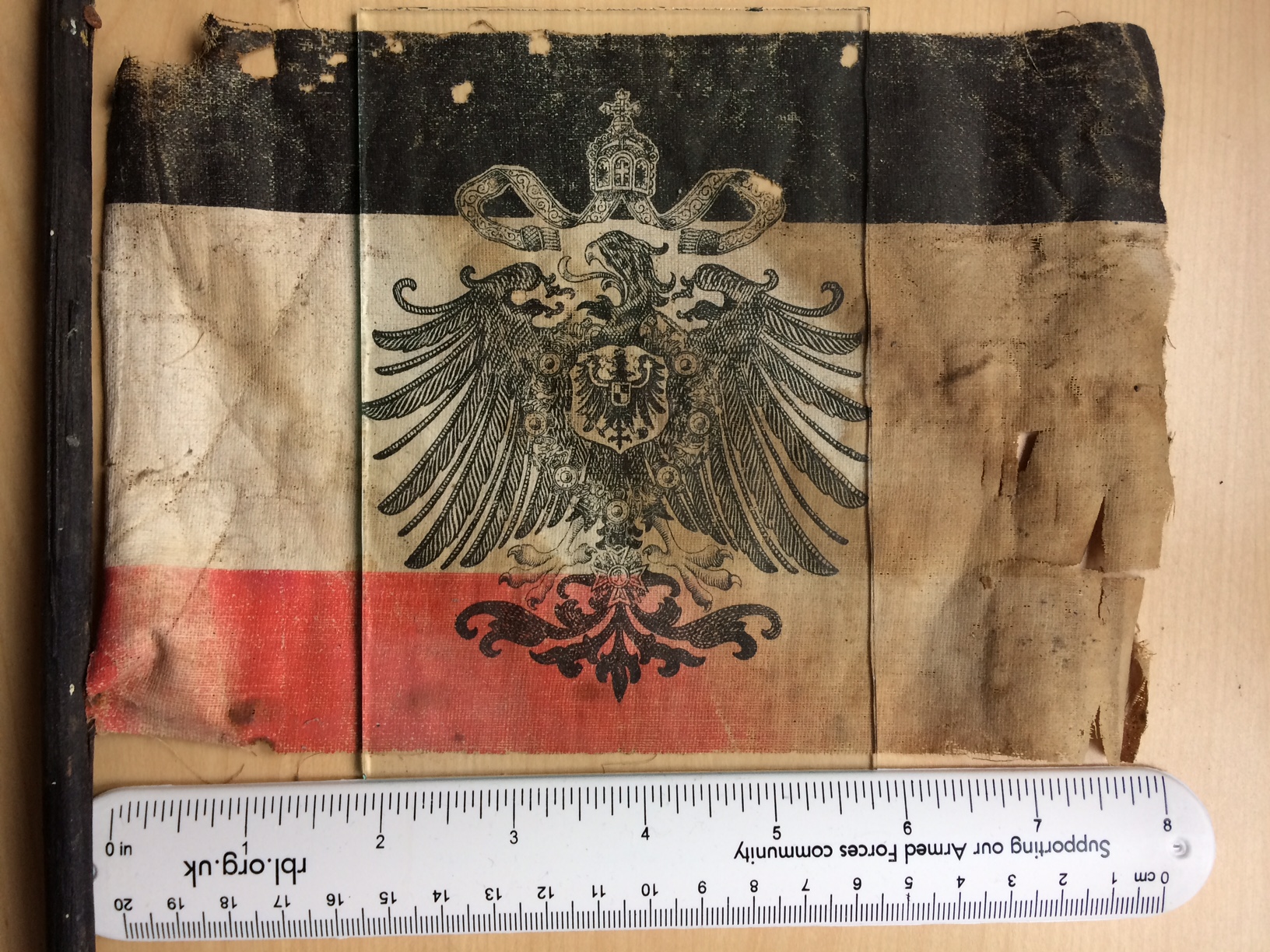 #20d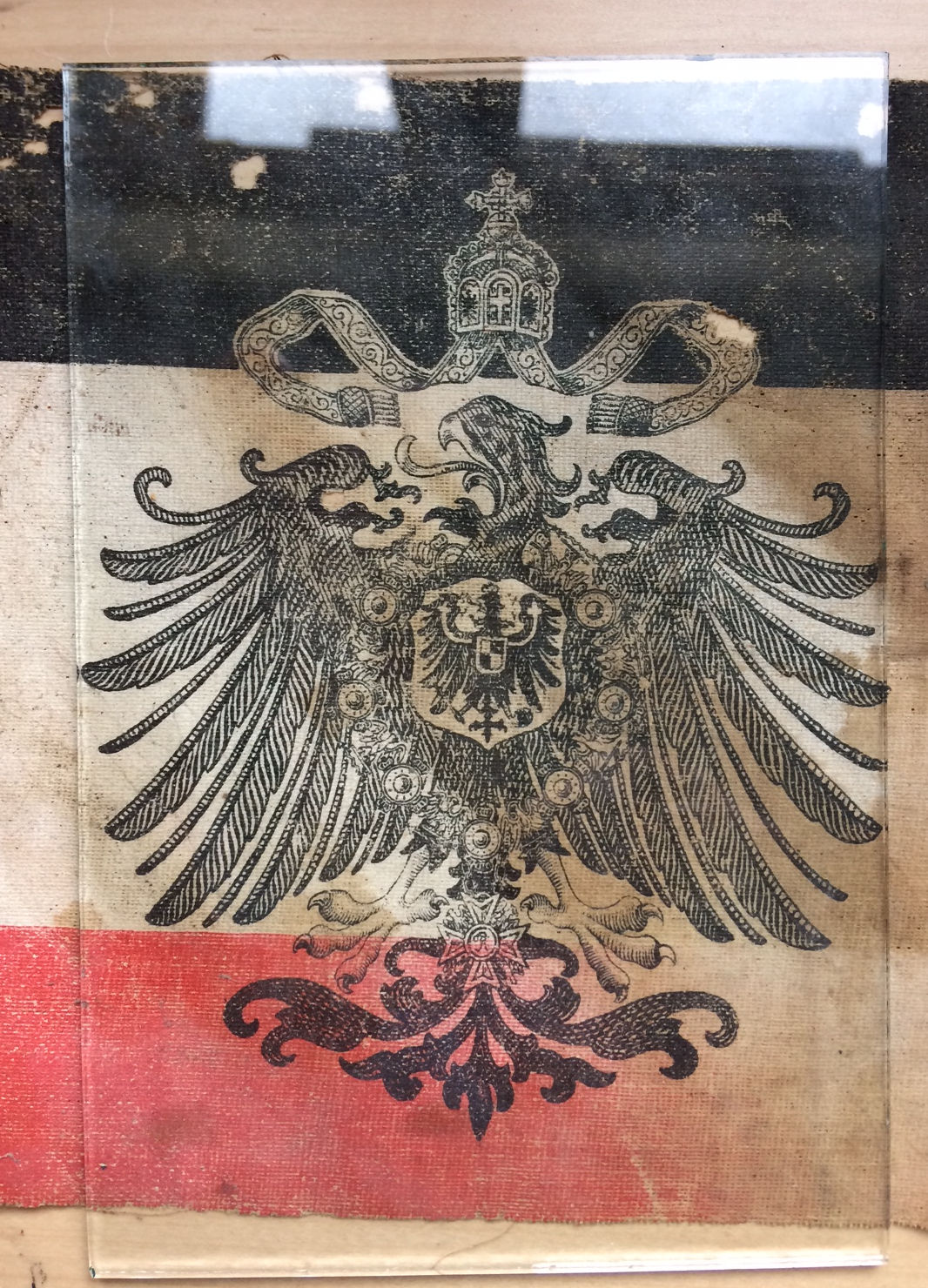 #20e
Images from Ken Robertson, 29 June 2020
I now realise that I've given you two very poor images and I've included two better ones here, using a small sheet of glass to keep the flag flat, as it's been kept furled for goodness knows how long.
The reason that I called it a pendant is because it is only eight inches long and five and a half inches high. The wooden stick is 50cm long and would have been longer originally, as the end is clearly snapped off. The material is very thin and fragile cloth that is attached to the stick with two small rusty nails.
The heraldry is very similar to the Imperial Eagle Flag - Reichsadlerflagge - linked in the post but with the imperial flag as the background. The heraldry is not quite as detailed as the Detail of German Arms 1888; probably a commercially printed item.
Ken Roberts, 29 June 2020
This is really a tough one to identify exactly because it probably was a parade flag produced for a certain German Imperial event or holiday, and wasn't expected to survive as it has. It was a manufacturer's variant made expressly for that event as a souvenir and not a replica of any particular official Imperial flag. Its just an inexpensive little flag designed to wave at that particular parade. There were probably thousands made and after the parade most just thrown away. Somehow this one survived as a family keepsake, passed down from ancestor to ancestor, until its meaning was forgotten.
About the only thing that can be done to determine which particular event, would be to examine the hundreds of pictures and films of Imperial parades of the period hoping to spot one of these little flags and to be able to recognize it as it was waved.
Pete Loeser, 30 June 2020
---
20-5. Unidentified flag in a Bag. Positive ID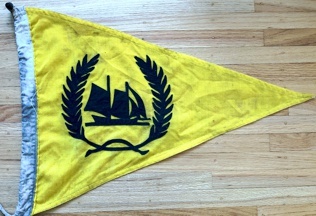 Image from Rob Cunningham, 27 January 2020
I found this old flag/burgee in a historic Great Lakes Schooner in a bag with many other flags, most of which I have been able to identify. Any clue as to its meaning? I looked in a 1950's copy of Lloyd's register, but couldn't find this one. Can anybody help?
Rob Cunningham, 27 January 2020
This is not a flag I recognize, but it doesn't look like it was at home in the Great Lakes! From the design of the ship, it appears more Asian to me.
Rob Raeside, 27 January 2020
I think it is the burgee of the Grenada Yacht Club, St George's, Grenada, West Indies. I found it in the burgee collection of the Grand Traverse Yacht Club as F9; but the club website, linked from the GTYC site, does not seem to show the burgee (using the search function results in 0 hits) "except" in the website's favicon, which just shows the vessel on the burgee.
Ian Sumner, 29 January 2020
I can't make out the exact origin, but I can add another burgee exchange between the Stillwater Yacht Club and the Grenada Yacht Club.
Peter Hans van den Muijzenberg, 1 February 2020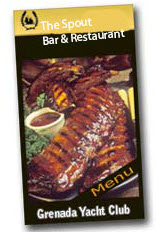 Image from Russ Adams, 2 February 2020
The Grenada Yacht Club's website does show an image of their restaurant's menu, with the club emblem in colors matching the pennant in the upper left corner of the menu. It's small, but seems to confirm the identification.
Russ Adams, 2 February 2020
---
20-6. Mali Coat-of-Arms with Crocodiles? Positive ID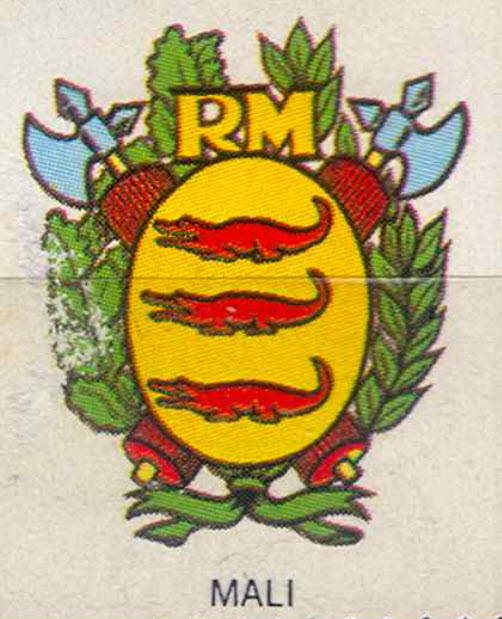 Image from Viktor Lomantsov, 7 February 2020
Does anybody know what this is? Is it really the COA of Mali?
Viktor Lomantsov, 7 February 2020
It is coat of arms of Bamako, the capital city.
Valentin Poposki, 7 February 2020
Image from Jean-Marc Merklin, 7 February 2020
It looks like the arms for Bamako.
Jean-Marc Merklin, 7 February 2020
---
20-7. Unknown Israeli Text on Flag Positive ID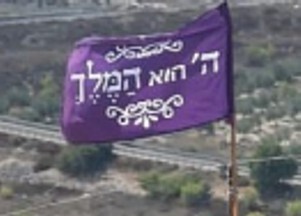 Cropped image #20-7 from Bill Garrison, 14 February 2020
Information moved to Hilltop Youth (Israel)
---
20-8. Unrecognized Organisation's Flag (Germany 1929?) Tentative ID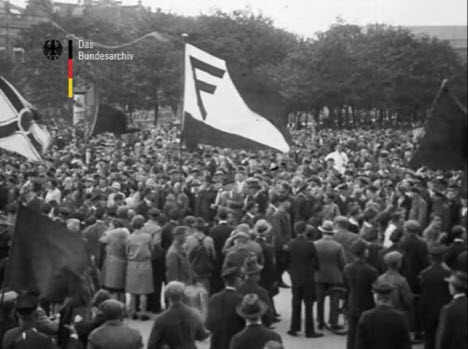 Image from Grégoire Bonneau-Fortier, 27 March 2020
Do you know this flag which was apparently used at the Manifestation in 1929 Frankfurt? Does "F" stand for Frieden? Perhaps Deutscher Friedengesellschaft? What are the colors of the flag?
Grégoire Bonneau-Fortier, 27 March 2020
The color logo on the black and white picture is that of the Federal Government of Germany's federal archives. (source) Apparently the picture is part of their collection.
Pete Loeser, 26 April 2020
I have checked all images of the archive, which are available online (but, of course, only from 1929). The image in question isn't among those. Thus it might be the wrong year. But I am fairly sure, it is not Deutsche Friedensgesellschaft (now they use a blue flag with white logo - two hands breaking an MG). The symbol might be some kind of arrow instead. Colours black-white-red or black-yellow-red, which is however just an educated guess, nothing more. Sorry about that!
Klaus-Michael Schneider, 27 April 2020
I contacted the German Federal Archives about this photo and received this reply from Jasmin Brötz, Bundesarchiv, Federal Archives, Division FA 5 (images, maps, sounds): "The requested picture is a still photograph from the newsreel Emelka-Woche 28 (03.07.1929) showing a demonstration of the anti-war movement in Berlin (see 12:40) (film source).
[For using films of the Federal Archives please contact filmothek@bundesarchiv.de.]
Due to the great workload in division FA5 (picture archive) and the lack of time for indexing our own pictures, I am sorry to inform you that we are not able to assist you in identifying the flag. Unfortunately we have no information concerning which institution or person might be able to help you."
Pete Loeser, 27 April 2020
Obviously it is one of the more prominent flags of the rally, but I neither do know the flag nor the "F" symbol. However, I am definitely not a specialist for Weimar-era flags. I tried to find out about earlier flags/symbols of the Deutsche Friedensgesellschaft, but online I could not find anything (the current symbol is late 1960s, In My Humble Opinion the broken rifle is the 1960s to 1990s standard rifle of the Bundeswehr, the Heckler&Koch G3. The usual flag collections (e.g. DHM) do not have any historical flags of the DFG, either. My last resort was the collection of Arnold Rabbow (I had made copies of all his material on political flags a couple of years ago), but again, nothing.
Manuela Schmöger, 24 May 2020
The reply from the Bundesarchiv on April 27 by Jasmin Brötz is as follows: "Emelka-Woche 28 (03.07.1929) showing a demonstration of the anti-war movement in Berlin (see clip at 12:40) (original video). 'Emelka' is a denomination of the Münchener Lichtspielkunst GmbH (Munich Cinematographic Ltd. Co.), simply and colloquially known as Emelka for pronunciation reasons, and it is the official Bavaria State Film archive (source). The subtitle of the newsreel in which the flag is spotted is Anti-Kriegsbewegung/Berliner Demonstration gegen den Krieg am 1. Agusut (Anti-war movement/Berlin demonstration against the war on August 1st) and starts at 11:51. The caption for the newsreel identification is: 4. Zwischentitel: In Berlin fanden Kundgebungen gegen den Versailler Vertrag statt Bild: Außenaufnahme eines Berliner Gebäudes mit Banner auf dem Dach:"28. Juni 1919 – 1929. 10 Jahre Versailler Diktat! 10 Jahre Kriegsschuldlüge! Nur Einigkeit macht frei! Deutsches Volk sei endlich einig!" dann Aufnahmen einer Demonstration in Berlin Mitte (4th subtitle: Demonstrations against the Versailles Treaty took place in Berlin Image: Exterior view of a Berlin building with a banner on the roof: "28. June 1919 - 1929. 10 years of Versailles dictation! [in reference to mandatory compliance] 10 years [of] war guilt lie! Only unity sets you free! German people are finally united!" recordings taken from a demonstration in Berlin's Central [District])".
A general "movement" against war, known in Germany as Friedensbewegung (Anti war movement) began to appear in Europe in the late XIXth century, as separate initiatives by different leaders in several countries (source). In Germany, the main movement was the Deutscher Friedengesellschaft, abbreviated as DFG (German Peace Society), a largely loose movement with different members across the country, that regained importance in post-WWI era (Weimar Republic). Particularly the DFG rose to prominence early in 1929 when high profile members (such as General and WWI Veteran Paul von Schoenaich) began to join and a new leader emerged as the most notorious and visible head of the movement, Fritz Küster (source), who centralized the organization and also called for demonstrationen (demonstrations) on a large scale from 1929 onwards, especially after the 1930 elections (flag image) and up until 1933 when the Machtergreifung (Nazi seizure of power) also known as Machtübernahme (taking of power) and even Machtübergabe (handing of power) (source) took place, and both, the movement and its journal, Das Other Deutschland (The Other Germany) were banned.
The newsreel shows several landmarks in Central Berlin, among them the Rotes Rathaus (Red City Hall). Several flags are seen being waved during the demonstrations, especially in the early scenes of this "chapter" or "section", although I cannot identify any of them. They seem to be simply red flags (i.e. Socialists and Communists) and banners (mostly white background) with inscriptions. Among them, one can see the flag in question, which is the the DFG flag (displaying a large F) seen from 12:34 onwards, from the name of the overall organization, Friedensbewegung. It is common practice in Germany to have the name of a movement which expresses more or less a national membership in the sense of articulated "chapters" or "branches", or even a national interest, by the name of the cause or the main driving idea behind of it all, even though it's a generic term (such as the case of Nationaler Widerstand, or National Resistance (Examples: UFE16-66 and National Resistance flag image and UFE17-31) which encompasses several branches but stands out as a single concept. So the same applies in this case, in which Friedensbewegung (peace movement) is both a trend movement, but also it applies to one organization properly.
It is important to notice that the protests were both against the Versailles Treaty and against the possibility of another war, so there is a chance that other movements (such as War Veterans) and organizations' (i.e. Communists, Socialists and Pacifists) flags are displayed in the video as well.
Also, bear in mind that this is during the time in which the Dolchstoßlegende (Stab-in-the-back Legend) (source) took place, in which a narrative was put in place telling the story that the German military had been betrayed by its political leadership who forced them to capitulate, mainly those who were responsible for the Novemberrevolution (November Revolution) (source) which led to the fall of the monarchy, a Constitutional reform and its transformation into a parliamentary democracy, the Deutsches Reich (Weimar Republic). That is: the country's new leadership that was in charge after the revolution, forced the military to sign the armistice. Hence, the widely held belief that not only the German military was not defeated and also that war reparations dictated by the Versailles Treaty (and its subsequent agreements) were not only a burden on the German population but also a lie, as it was implied that Germany was mostly (if not the only country) responsible for making such war reparations, both in money and land mainly.
The color composition of the flag in question might be the same as the Imperial Civil Flag and Ensign (flag image) since such flag was used post-WWI widely. That is: the reported UFE could be black on top (the upper right corner in dark shade), white in the middle and red on the bottom (in the lower left corner in dark shade), with the stylized "F" towards the hoist, in black, as first proposed by Klaus-Michael Schneider.
Also, as mentioned by Manuela Schmöger, the current form of the Deutsche Friedensgesellschaft, which originally ceased to exist in 1933, banned by the NSDAP, was participant in this protests in 1929 onwards (source) and was later reestablished in 1946, to later merge in 1968 with the then Internationale der Kriegsdienstgegner/innen e. V. [eingetragener Verein], IKV (International Opponents of Military Service [registered association]) and adopted the IKVs' "broken rifle" logo, a widely used pacifism symbol, to adopt the name for which it currently stands, the DFG-VK, VK standing for Vereinigte KriegsdienstgegnerInnen, VK (United Opponents of Military Service) (source).
Esteban Rivera, 1 June 2020
---
20-9. Quartered Extinction Rebellion Flag Positive ID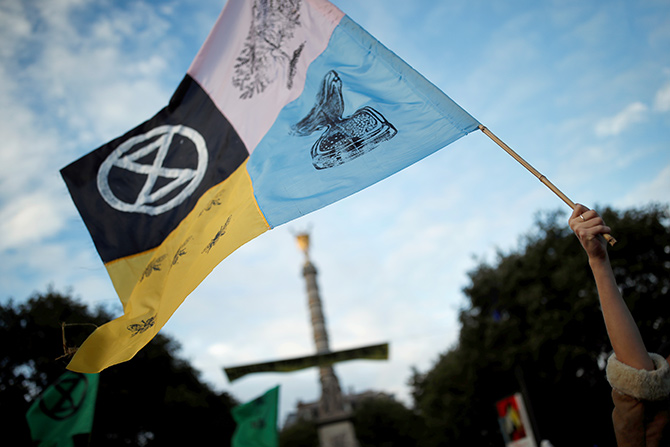 This whole discussion is now located at XR Quartered Flags.
---
20-10. Unidentified flag in New Zealand Positive ID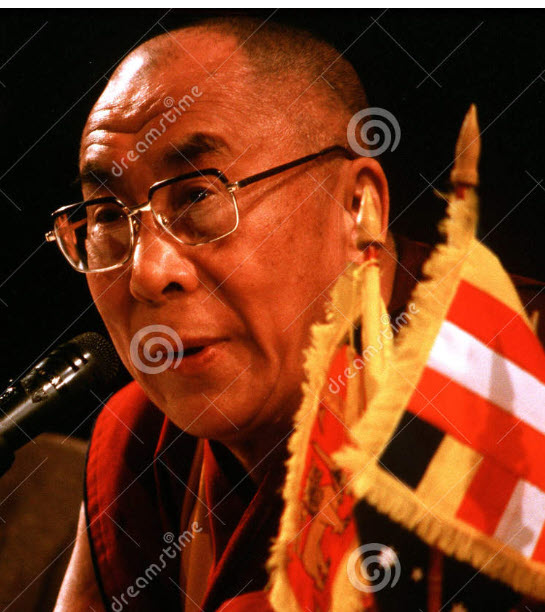 The table flag hidden behind the variant Buddhist flag is the flag of Sri Lanka displayed during the Dalai Lama's visit to Auckland in 2003.
---
20-11. Dominican Republic UFE Some Speculation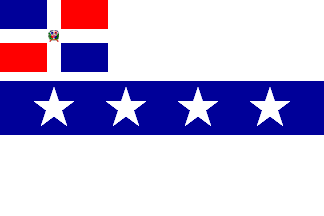 Image by Miles Li, 10 April 2020
Here is an unknown flag from the Dominican Republic. White, with the state flag in the canton, and a (blue?) horizontal stripe bearing (four?) white five-pointed stars. This UFE is shown on this photo from this page.
The text translated as: "Honoris Causa, doctorate acceptance speech of Generalissimo Trujillo. On his right Dr Virgilio Diaz and on his left General Hector B. Trujillo. University of Santo Domingo 1939." Since a different flag, that of a Generalissimo (as illustrated on Flaggenbuch 1939) would have been used by Rafael Trujillo, could this possibly be the rank flag of a General, used by Hector Trujillo?
Miles Li, 10 April 2020
I'm curious, what is the emblem on the cross in the canton? Can you provide a detail of it?
Pete Loeser, 30 June 2020
The flag in the canton is the Dominican Republic's national flag; the emblem in it is simply the coat of arms
Miles Li, 30 June 2020
---
20-12. Unknown Iranian flag Positive ID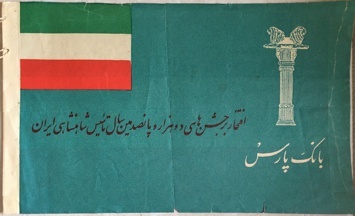 Image from Clay Moss, 17 April 2020
I was given a string of paper flags, back when I was maybe eight or 10 years old. This is one of the flags on the string. Most of the flags are ordinary, but this particular one is two-sided. On the back of this is the Iranian merchant flag from the days of the Shah. Any ideas? Please feel free to pass this around. It would be fun to figure out what it is. I haven't been able to find it on the Internet.
Clay Moss, 17 April 2020
What does it say and what/where (and possibly when) is the pillory-like object?
Peter Hans van den Muijzenberg, 25 April 2020
I don't know what the inscriptions say, but the pillar looks like one of the surviving Persian-type pillars found in Persepolis. These variously have lions, bulls, cows, horses and perhaps other animal heads at the top.
Dave Martucci, 27 April 2020
I don't know if this helps, but the flag in the canton is the Persian (Iranian) Civil Flag, basically used since 1906 in different ratios. So this might indicate that the flag probably isn't military. Might be political or commercial, but we need some help to translate the script/text to be sure.
Pete Loeser, 2 May 2020
Yes, one of my "Iranian scouts" says, it is the flag of a bank (short inscription at fly), and the column is obviously from Persepolis. It might be related to the 2000-years anniversary in the times of Shah Reza Pahlewi. Hope, I get more information. Until then it is mere speculation.
Klaus-Michael Schneider, 2 May 2020
Thanks to Ahmad Sameeh Massalha (أحمد سميح مصالحة) we're able to identify the flag through the FOTW-Facebook group, with the following remarks made by him yesterday: "The white (text) on the fly says: " بانک پارس which translates as "Bank Pars" or "Bank of Persia". The black text reads: افتخار بر جشن هاي دو هزار وپانصد مين سال تاسيس اهنشاهي ايران (Pride in celebrating the 2500th anniversary of the establishment of the Iranian Empire). The event was officially called دوهزار و پانصدمین سال بنیانگذاری شاهنشاهی ایران (The 2,500th Year of the Foundation of the Imperial State of Iran) but was also called the جشن‌های ۲۵۰۰ سالهٔ شاهنشاهی ایران (The 2,500-year celebration of the Persian Empire)."
The flag is a commemorative flag issued in 1971 by the بانک پارس (Bank of Persia) in support of the above mentioned event. It follows the same pattern of official flags in the Region (also adopted by most Arabic countries, as well as Iran, of course) in the sense that it is a horizontal flag, which portrays the country's flag in the canton and the name and logo of the institution on the fly, over a plain pale blue color background, the background color being that of the Pahlavi Dynasty. Notice the white two-headed lion column featured on the fly, a symbol common in Persepolis, which is the logo of the bank.
For additional information go to the Bank Mellat (official website)
Esteban Rivera, 22 September 2020
---
20-13. Union Jack with Sacred Heart Some Speculation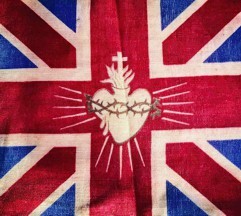 Image from Daniel Hawkes, 8 May 2020
A friend of mine is looking for information of a union jack with a sacred heart. Would you know anything about these flags, as we can't find anything online
Daniel Hawkes, 8 May 2020
I have never seen or heard of this variation of the Union Flag, but the "Sacred Heart" is a particularly Roman Catholic symbol, so I would assume that this particular flag is some sort of expression of faith?
Christopher Southworth, 8 May 2020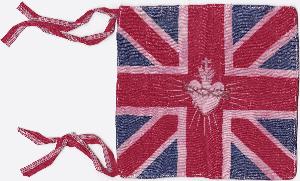 Image from Alastair Connor, 3 May 2021
I am trying to find some information about a flag in my possession, and came across your site with the same flag listed as unidentified.
I don't know if I can help much but attach a picture of my flag. The family story is that my Great Grandfather was given the flag at the end of the First World War by a resident of Lille in France during the liberation parade (18 October 1918).
I would be very interested in any history you have relating to the picture shown on your site.
Alastair Connor, 3 May 2021
---
20-14. Ingushetia UFE Positive ID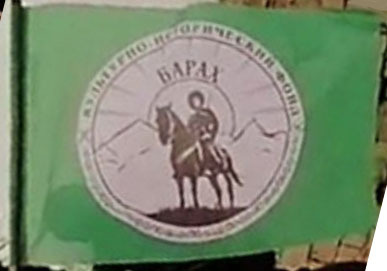 Image from Jaume Ollé, 13 May 2020
In my files I found this flag. I'm not able to read the inscription and I can't identify it. The main name I believe is not Magas, but as I'm not sure if inscription is in Russian, nakh chechen or another language, all is possible. Any suggestion?
Jaume Ollé, 13 May 2020
"BARAH&quot is a cultural and historical foundation. There is a small village with the same name "Barah" in Ingushetia.
Victor Lomantsov, 13 May 2020
The main inscription in semi-circular form around the sun, right above the peasant on horseback reads "БАРАХ", and as mentioned by Victor, it translates to "Barah".
Barah is located in the Dzheyrakhsky District (Джейрахский район) (official website), in Ingushetia.
Within the District, there are a total of five rural settlements (Сельское поселение), of which Ghouls (Гули) is one. The five Rural settlements comprise a total of 85 Localities/towns (Населённый/ пункт), and Barah one of those Towns, belonging to Ghoul (official website).
(source #1), (source #2) and (source #3)
Esteban Rivera, 13 May 2020
---
20-15. UFE Heraldic Flag Some Speculation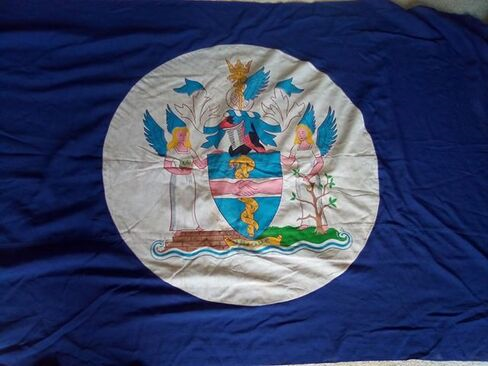 Image from Ralph Kelly, 30 May 2020
I was recently asked to identify some flags for the Victorian Maritime Centre. A photo of one flag that I could not identify is attached. It includes the Rod of Asclepius, a winged wheel and two arms in a hand-shake. These suggest that it relates to a hospital, medical association or even something like an association of retired ambulance officers. The style of the drawing suggest it might have a grant of arms, but there is nothing in Charles Low's Roll of Australian Arms. It is almost certainly an Australian entity. Is this something a list member might happen to recognise?
Ralph Kelly, 30 May 2020
An Australian heraldry contact has been able to identify the coat of arms for me - it is the Royal District Nursing Service Limited. With the name, the elements of the design start to make sense, even the crown and the hands shaking. This was founded in 1885 as the Melbourne District Nursing Society and it was granted the royal prefix in 1966 and it received a grant of arms in 1970. In 2015 it merged with RSL Care and in August 2017 the merged entity was renamed Bolton Clarke.
Ralph Kelly, 30 May 2020
Did a fleet of flags just happen to swim into their net one morning, or are there known origins or known lacks of origin to them? Anything on the rest of the flag? The identification of the coat of arms now makes the elements more understandable.
Peter Hans van den Muijzenberg, 30 April 2020
The museum has received donations from a variety of sources, and in the past it has not been good at recording the sources. The other flags were unrelated house flags of some Australian shipping companies.
The photo was of the entire flag - just a coat of arms on a white disc on a blue field.
Ralph Kelly, 30 May 2020
---
20-16. Flag Identification Request Some Speculation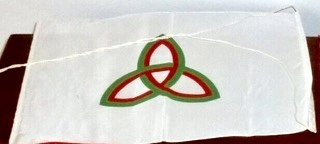 #16a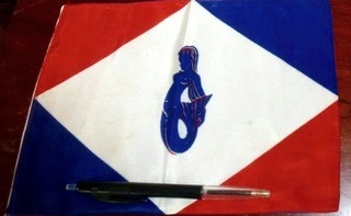 #16b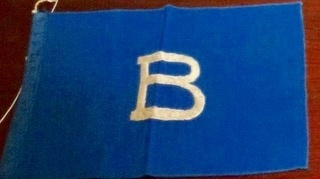 #16c
Images from Nigel Owen, 2 June 2020

Been trying to identify these 3 flags, can you help please.
Nigel Owen, 2 June 2020

I don't recognize any of these flags myself, but they are of the style of shipping company house flags, especially the one with the mermaid on it. Do you have any context for these flags?
Rob Raeside, 2 June 2020

Do we know the source for each image? That way we can look for further information.
Esteban Rivera, 2 June 2020

A possible match for the blue one (#16c) could be: J.L. Vatis & Co. located in Syria (Source: Flaggenbuch 1905, part V, p.70b, image 717), it is the only one with serifed letter.
Klaus-Michael Schneider, 2 June 2020

They were from a French collector so are probably French, Belgium or maybe Dutch.
Nigel Owen, 3 June 2020

[Editorial Note: #16b was re-submitted again by Nigil as a single enquiry on 15 April 2021 as UFE21-15 "Flag with Blue Mermaid"]
---
20-17. Five-Pointed White Stars on Blue Field Some Speculation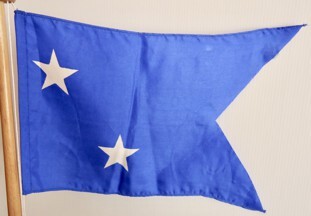 Image from Nigel Owen, 17 June 2020
I have another flag I am trying to identify with the 2 five pointed white stars on blue.
Nigel Owen, 17 June 2020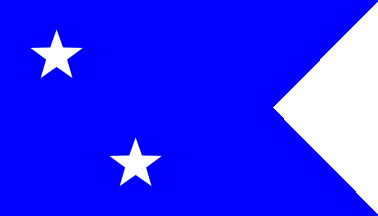 Image from Ivan Sache, 17 June 2020
I can't help with identification, but for what it is worth, I am attaching a standardized image.
Ivan Sache, 17 June 2020
---