This page is part of © FOTW Flags Of The World website
Unidentified Flags or Ensigns (2015) Page 1
flags submitted in 2015 1 of 4 pages
Last modified: 2023-06-03 by

zachary harden
Keywords: ufe | unidentified flags | 2015 |
Links: FOTW homepage | search | disclaimer and copyright | write us | mirrors

---
Please note our Policy for Submissions and Enquiries.
Below is a series of images of flags that have been provided to FOTW; some we have recognized, and some we have been unable to recognize. If you can help us identify any of these flags, please let us know! Contact the: UFE Editor.
Identification Key:
= Positive ID (Positive Identification)
= Tentative ID (Tentative Identification)
= Some Speculation
Unidentified Flags on This Page:
Unidentified Flags on Page 2:
Unidentified Flags on Page 3:

Unidentified Flags on Page 4:

Unidentified Flags on other pages:
---
15-1. Unidentified Naval Ensign (possibly in an Spanish port) Some Speculation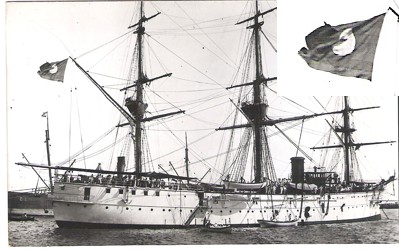 Image from Marcelo Malara, 7 January 2015
Would you please be so kind of identifying the ensign flying from the mizzen of the ship in the attached photo? I suspect Ottoman, but can not be conclusive.
Marcelo Malara, 7 January 2015
This looks like a horizontally striped (possibly blue and red?) ensign with a white disk - I cannot convince myself there is a crescent and star there, but they could be lost in the folds. I have clipped the ensign from the image and posted it at original size on the attached image - if anyone needs the full size image, let me know.
Rob Raeside, 7 January 2015
Thanks for your answer Rob. I am a member of the Argentine's Histarmar forum (http://www.histarmar.com.ar/), the image has been sent by a Spanish member. Surely it has been taken on a Spanish port, may be Barcelona. It is horizontally stripped, I think two colors better than two fabrics. Not many naval powers would have a masted cruiser visiting a Spanish port. I would say US, UK, Portugal, France, Greek (?), Ottoman empire, Austria, Italy, and the ABC South American powers. Of all, only the Ottoman bears some resemblance, may be the wrinkle make the crescent look like a full moon?
Marcelo Malara, 7 January 2015
My initial response: That's a tough one - I don't think it is Ottoman, as it looks like a full disk, not a crescent. And I think the flag might be horizontally striped - maybe red and blue? Or may be that is just two types of fabric. Where did you find this image? That might help us to locate it.
Rob Raeside, 7 January 2015
If you look carefully you would just make out an outline of a lozenge on the flag... Therefore this would be the Brazilian flag.
Miles Li, 8 January 2015
I had not noticed the lozenge on the flag, but you are right, Miles - there definitely seems to be a lozenge on it. But I think the disk is clearly much brighter - either white or yellow, and the lozenge seems to be the same colour as the second, fourth and sixth stripe, so not the national flag of Brazil. I note that lozenges and blue/red stripes are found also on German shipping lines flags, but I could not find this combination. The recognition of the lozenge pretty much rules out any Ottoman connection.
Rob Raeside, 8 January 2015
Besides the color, in the Brazilian flag the lozenge is larger than the disk, here it is clearly smaller. Here is a good page with naval ensigns I discovered: Man-of-War Ensigns - 1913.
Marcelo Malara, 8 January 2015
The link provided by Marcelo Malara is a very very old website (and interesting too). I remember looking through it a lot, if I´m not mistaken, it was called "Trenches on the web". It is a World War I reference website (maybe mirrored). However, since the source for the Naval Flags (labeled as "Man-of-War") dates 1913, I wonder if maybe this source has already been listed in the Bibliography (perhaps the National Geographic or the Royal Handbook of Signaling).
Esteban Rivera, 8 January 2015
Well, that's the website's name for them, however, it would appear to be what the Dreadnought Project lists as the: "IV Ensigns, Admirals' Flags, etc. (of Various Nations, 10 pages, color)". Unfortunately, they don't give full source information, and since their reference is an archive, rather than a library, we're left with basically the same information we already have.
I'm leaning towards this being the Handbook of Signalling (its bibliographic title). I also saw some mention of the signals mentioned in the handbook never actually having been taken into use, because of a looming threat of war, but I haven't found anything definite as yet.
You may have to contact Mr. William Schleihauf to get more details.
Peter Hans van den Muijzenberg, 9 January 2015
I do not see a lozenge there, but it could be star and a – somewhat bleached – crescent might be there as well. The stripes we see could reflect that the flag is made of several pieces of texture stitched together - not exceptional given its size. Suppose it would be red, than it would be the flag of Tunisia.
Jeroen van Leeuwen, 26 January 2015
---
15-2. Bettmann Archive Flag Some Speculation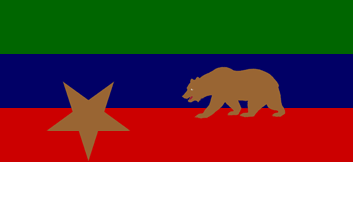 Image by Clay Moss, 7 January 2015
The attached early California Bear flag is reconstructed from a flag originally reported by Whitney Smith, but whose identity is now unknown. It was sent to Jim Ferrigan by Whitney some years ago. I had it redrawn by Clay Moss (attached), but we don't really know anything about it. Whitney reported he found it in the Bettmann Archive collection, now managed by Corbis. Jim called the Corbis people and they pointed out that within the Corbis collection there are over 19,000,000 images, so we need more information to locate it again, either the ID or title name. I've been calling it the Bettmann Flag, but that certainly isn't it's real name. The four horizontal stripes are green, blue, red, and white (from top to bottom).
Can anybody help getting information about it?
Pete Loeser, 7 January 2015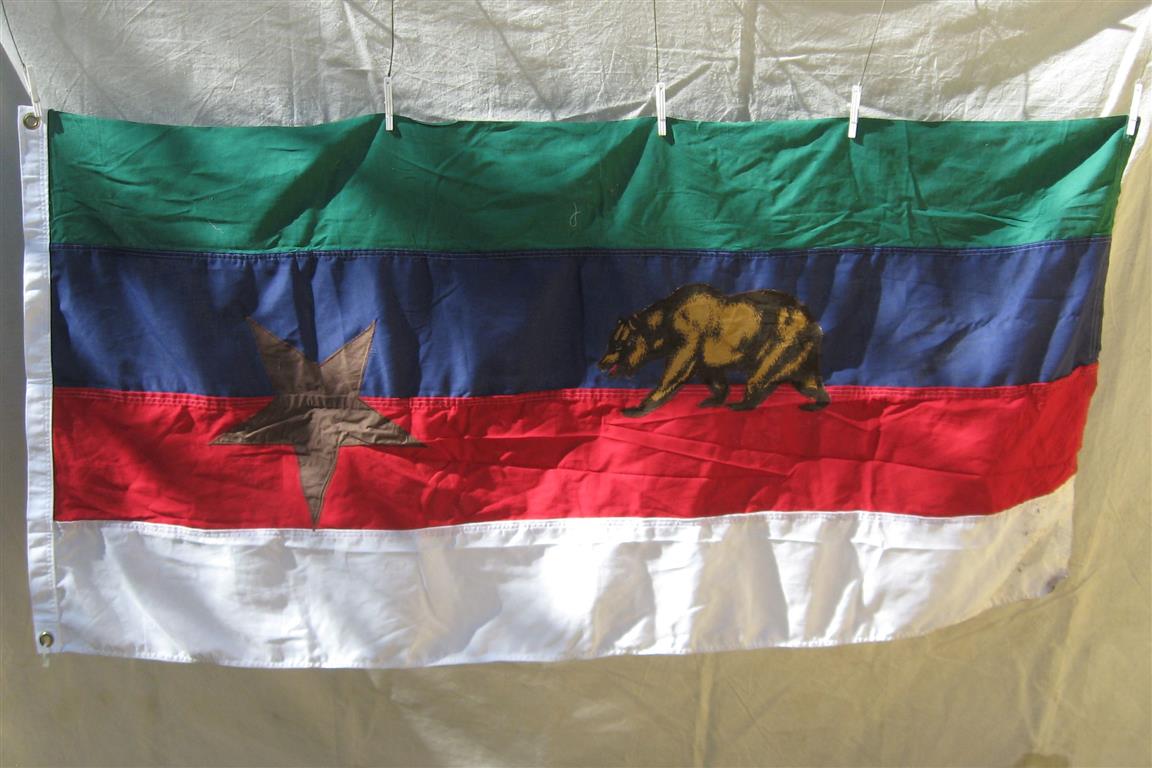 Photo from James Ferrigan, 7 January 2015
Thanks Pete and Clay for bringing this California Flag to FOTW.
Yes, a photocopy of this flag was sent to me in the 1990s when The Flag Store in Sonoma, CA was researching flags for their line of Historic Flags of California, It came via Whitney from the Flag Research Center, who in turn had acquired it from the Bettmann Archive, the massive collection of images compiled by Otto Bettmann, which is now a component of Bill Gates' Crobis Images. The Bettmann collection of over 19,000,000 images itself was a compilation of numerous photographic images and newspaper drawings that was absorbed into the 100,000,000 images of the Corbis collection, so locating a specific image without a title, tagline, date or some way to locate it is daunting.
The hope is someone else may also have seen this before. The design with the modern silhouette of the bear was made into a flag so as to clearly indicate that it was a reconstruction. I will try an see if I do not still have a photocopy of the original correspondence from the FRC. I queried Whitney about it, but it came with no explanation from one of the many clipping services Whitney engaged who constantly sent him flag information.
We did make it up into a 3'x5' cotton flag for sale, and we referred to is as a purported flag from the Bettmann Archive. There were very few made, my guess would be a half dozen. I hope this helps.
James Ferrigan, 7 January 2015
Can we get some information about it first? What's accurate about the reconstruction, and what might not be. For all we know it could be this one.
Peter Hans van den Muijzenberg, 12 January 2015
Nope, not that one, it has a post-1911 bear on it.
Anyway, here is what I know. The stripe pattern and colors are fairly accurate to the replica, but possibly not the correct tint. The star and bear are located fairly accurately placed based on the replica flag we have, but Clay's drawing of the bear may not be correct. In his speculative drawing I think he uses the 1846 model bear design (suggested by me), and not the more modern one used on the 1990s reproduction flag (as shown with Jim's message). That's all I know right now, I´m obviously hopeful a more inform individual can fill in some of the huge gaps of information I currently have.
Pete Loeser, 12 January 2015
Actually, I have used the "current" bear with all of the details removed, attempting to mimic the reproduction flag in the photo that Pete sent. If it is thought that the 1846 bear was the better choice, than I can modify things.
Clay Moss, 12 January 2015
OK, as far as I can tell, this is what we now have on the FotW list about it:
Whitney Smith reported this flag from the Bettmann Archive collection. Presumably this means that the original flag specification is a photograph. He sent what he had to Jim Ferrigan. Do we know whether this was a text with some sort of provenance of the flag and a reference to the photograph, or whether it was rather a lone print/copy of the photograph itself? Do we know whether the subject was a flag or merely a drawing on a piece of paper, a car, a wall, that depicted a flag?
Clay drew a picture of it based on an unspecified replica. In Clay's picture, the stripe pattern of four equal flywise stripes of green over blue over red over white is a fairly accurate reproduction of that replica. The shades of the stripes might not be. The locations of the star and the bear are close to the positions in the replica. (The star is flywise approximately centred in the hoist, but has its centre just below the centre line. The bear is flywise approximately centred in the fly, but has its centre just above the centre line.) I'll assume that in the replica the star was indeed five-pointed and that the bear was passant and facing the hoist, since the difference would have been worth mentioning. We don't know the size of either charge in the replica, nor their colour, nor the orientation of the star, nor the exact representation of the bear.
While the forte of Bettmann's collection was the excellent indexing system, judging by the reported reaction from Corbis this has now been destroyed, making the photograph unlocatable.
Plus, there's supposed to have been a message form Jim Ferrigan to the list, but this has apparently been handled by Corbis as well.
From private correspondence, I understand there's more to add to this, so what more do we know?
Peter Hans van den Muijzenberg, 12 January 2015
To further clarify the so-called Bettmann Archive purported flag, between 1992 and 1995 The Flag Store in Sonoma, CA owned principally by Mr. John Tudor, formerly owner of the Paramount Flag Co. of San Francisco, CA and managed by me, undertook a research project to replicate and offer for sale a line of the historic bear flags of California. To that end we began to compile information, images and where possible, photographs of the flags appropriate to the short lived Bear Flag Republic.
We were subscribers to the comprehensive flag research service of Dr. Whitney Smith's Flag Research Center (FRC). We asked Whitney for images of the various known California bear flags. Among the images sent from the FRC was a line drawing of the bear flag in question, with hatchings shading the four stripes. There was no explanation accompanying the flag. Since this flag was unknown to us I asked Whitney for more information, but none was forthcoming, as it had been acquired from one of the many clipping services Whitney utilized.
The flag was, is and remains a curiosity. When the time came to decide which flags to carry in the store, we, John and I and the store manager from the gift shop on the Sonoma Barracks, decided to include it, mostly because it was a curiosity. It was displayed during some of the events celebrating the Sesquicentennial of the Raising of the Bear Flag in the Sonoma Plaza during the summer of 1996.
The flag is a reconstruction from the line drawing, not a photograph of an actual flag. For the bear we chose to use a modern bear from a commercially produced California state flag, rather than the silhouette of an 1846 bear so it would be recognizable as a reconstruction, so there would be no mistaking it in later years for an antique. The stripes were reconstructed from the hatchings. The design and placement of the star and bear was based on the drawing.
When I searched the Corbis website for Pete Loeser I could not locate this drawing, so I called customer service and explained the problem. The explained that if it did not come up in their search engine under California or bear or any of the other combinations I tried that I would need a title, a number, a tagline or some more specific way to relocate this image.
I left the store in 1997 after it was sold to a new owner. The original correspondence was in their files when I left to move to Nevada. I gave this information to Pete, and he posted it on the FOTW site in as an UFE entry for this flag.
When Pete contacted me I sent him images of most of the flag we reproduced for the 1996 Sesquicentennial. Frankly I'd forgotten about the flag until I opened my box of Bear flags to photograph them for Pete. In my message to Pete I said I will look through my things to see if I kept a photo copy of the flag, and I will check, but I am flying to Pennsylvania in a day and will not have time until I return.
Perhaps a half-dozen of these were made, and the photographs are of an example I retained.
Jim Ferrigan, 12 January 2015
Let's not loose the whole purpose of this, which is we found a little known historical flag, and are trying to identify it. I had hoped to find out more about it by placing it on the list, and I still do. Was it one of the original first bear flags, or a later invention? Who used it, etc.?
Pete Loeser, 14 January 2015
Does anybody have an "in" with the University of Texas? They own all of Whitney Smith´s flag research now, and I would really be interested in finding any information on this flag they have.
Pete Loeser, 26 January 2015
---
15-3. Possible Canadian UFE Positive ID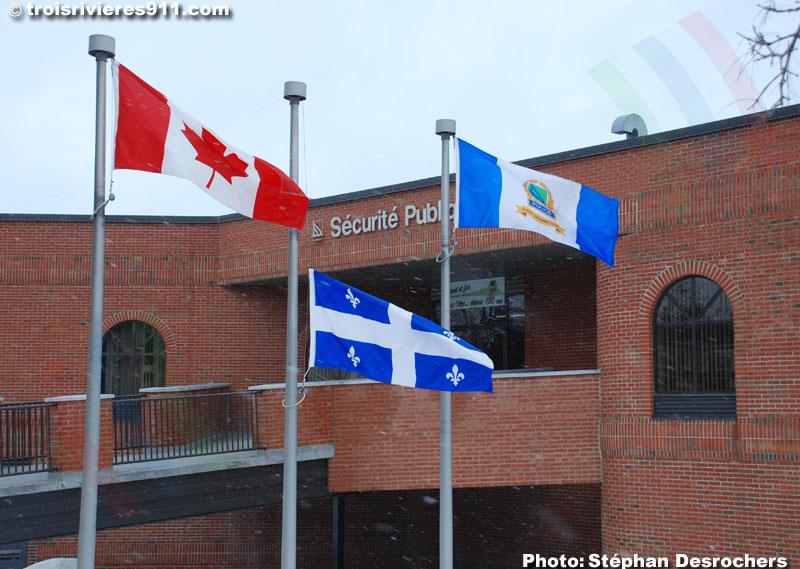 Image from Esteban Rivera, 8 January 2015
Could anybody help me identify this flag, possibly of Canadian origin (the one on the right).
Source: Le drapeau du Québec en berne
Esteban Rivera, 8 January 2015
That would be the flag of the Service de police de Trois-Rivières in Québec, Canada.
Dave Fowler, 8 January 2015
That one is Trois Rivières. The badge on the Canadian Pale flag is the same as the logo flag on our site. Thanks for the proof of its use!
Rob Raeside, 8 January 2015
This must be the flag of the municipal police (Sécurité publique) of Trois-Rivières (Quebec). The flag is vertically divided blue-white-blue (1:2:1) with the emblem in the middle. The motto on the emblem reads Respect Engagement Ethique (Respect Empowerment Ethics). See detail of the emblem here.
Ivan Sache, 8 January 2015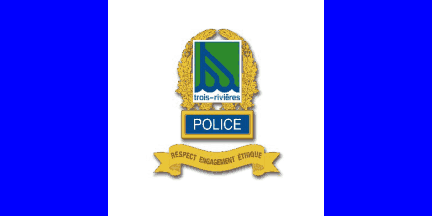 Image from Zoltan Horvath, 9 January 2015
I created an image of the flag for you.
Zoltan Horvath, 9 January 2015
---
15-4. Possible Haitian Foundation Positive ID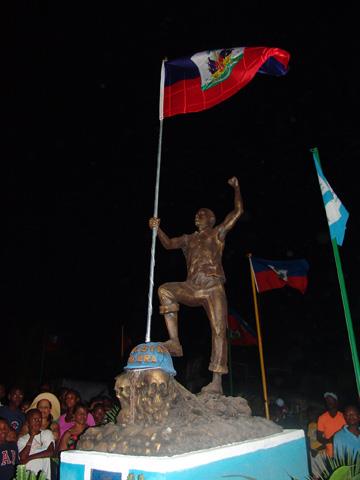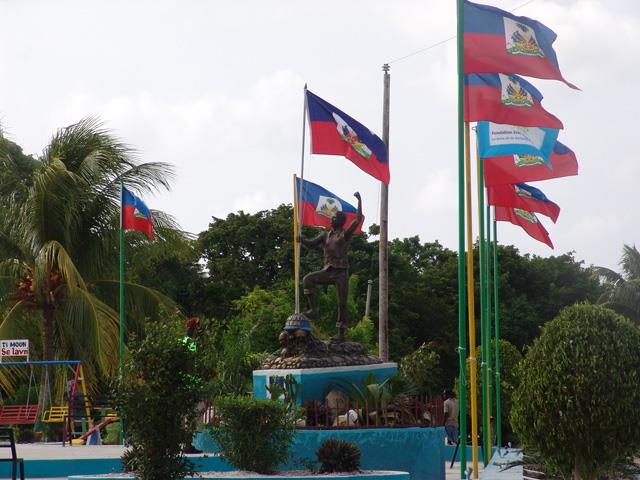 Images from Esteban Rivera 8 January 2015
There's a light blue flag seen here seen in this article: Photos de la place de la resistance `a Port Salut. It seems to be from a foundation of some sort, but I can't recognize it. If someone can give me a hand I'd appreciate it.
Esteban Rivera 8 January 2015
There's this YouTube video.
Peter Hans van den Muijzenberg, 12 January 2015
If all else fails, read the flag..."Fondation Eric Jean Baptiste" (Le Sens de la Solidarité Nationale). This foundation appears to be set up be a Haitian entrepreneur and benefactor, Eric Jean Baptiste.
Rob Raeside, 17 January 2015
I believe that was already identified. Is the flag of the "Fondation Eric Jean Baptiste".
Jaume Ollé , 17 January 2015
---
15-5. Unknown Yacht Club Burgee Some Speculation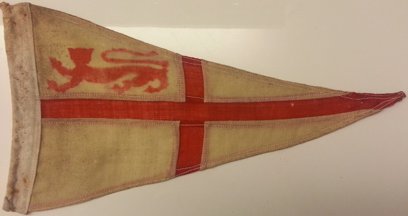 Image from Markus Blomquist, 11 January 2015
Perhaps you can help me in identifying a possible yacht club burgee. The Airisto Segelsällskap Yacht Club is having its 150 years anniversary this year and we have a project in trying to identify all of the burgees that are on the walls of our club building in Turku Finland. There are a lot of them due to close contacts with yachtsmen around the world during a long time. A reason for this is the close relation to the biggest yachts shipyard in the Nordic countries (Åbo Båtvarf 1889-1954).
Markus Blomquist, 11 January 2015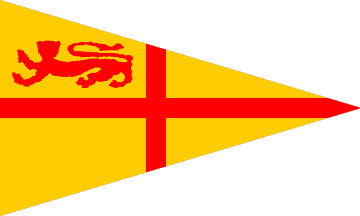 Image from António Martins-Tuválkin, 29 June 2016
While I cannot help with any identification, I can draw a standard image from photo, although I'm uncertain about the main color of this flag: White, regular yellow, dark yellow? I was not sure and went for the latter; might have to recolor it.
It is a triangular flag approximately 3:5 with a thin red cross throughout, its arms thickness around 10% of the flag's height; on the upper hoist quadrant the outline of a red lioness/lion/leopard, in the typical heraldic stance of lyon passant guardant, as in the arms of England and of Normandy.
António Martins-Tuválkin, 29 June 2016
Would you be able to ask Markus whether they made any progress, and if they didn't, whether the field appears to be painted at all, or whether it's cloth white?
Peter Hans van den Muijzenberg, 2 July 2016
---
15-6. Paris - Unidentified Flag Some Speculation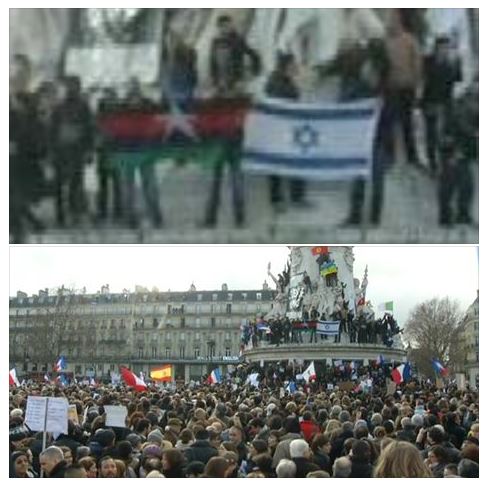 Image from Jason, 17 January 2015
There were a host of flags in evidence in Paris on January 11th at the gathering on La Republique - most of them were recognizable, but no one I've contacted has been able to identify this 4 striped design with a large 5 pointed white star? It is displayed alongside an Israeli flag. The stripes are black, red, blue, green from top to bottom. I imagined it was related to some Somali irredentist or Ogaden based group as it seemed of the same ilk as flags from these areas, but I have not been able to find this specific design in any source or reference.
Jason, 17 January 2015
This is already being discussed under item UFE14-61: African refugeee flag in Israel.
Jeroen van Leeuwen, 26 January 2015
[Good Catch, I missed that one - Ed.]
---
15-7. Mexican Tapestry (flag or banner)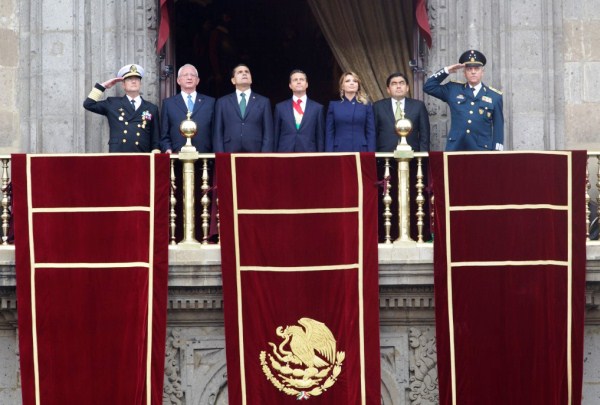 Image from Esteban Rivera, 24 January 2015
On September 16, 2014, during the military parade commemorating the 204th anniversary of Mexican Independence and the Centennial of the United States occupation of the Puerto de Veracruz in 1914, there's a tapestry flown from the Balcón Central del Palacio Nacional (Central Balcony of the National Palace) that might be a flag (or banner). Image source: Vertiente Global
Esteban Rivera, 24 January 2015
In an interesting aside to the main subject here, the flag of the city of Veracruz shown on Wikipedia at http://en.wikipedia.org/wiki/Veracruz (city) is not the flag of the city. In fact, according to our Mexican editor, Juan Manuel Gabino Villascán, the flag is not only not the flag of Veracruz, he has never seen that particular flag anywhere in Mexico. It appears it might be one of those on Wikipedia that somebody just made up.
Pete Loeser, 27 January 2015
The flag of Veracruz City is plain white charged with the city coat of arms in the center. The flag was already described in a message of 16 Nov 2014 - Message #199561
Juan Manuel Gabino Villascán, 27 January 2015
---
15-8. Mexican Military UFE (possible rank flag) Positive ID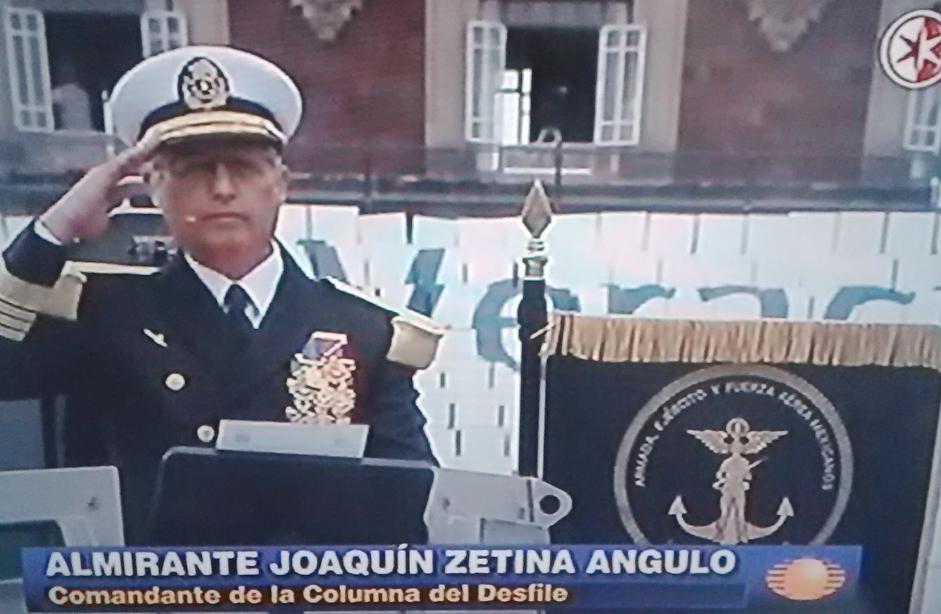 #8a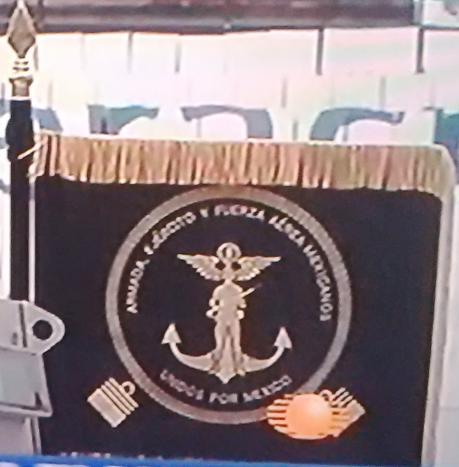 #8b
Images from Esteban Rivera, 24 January 2015
On September 16, 2014, I saw a Mexican military flag during the Desfile Militar Conmemorativo del Inicio de la Gesta Heróica de la Independencia de México y del Centenario de la Gesta Heróica del Puerto de Veracruz (Commemorative Military Parade of the Heroic Deed of Mexican Independence and the Centennial of the Heroic Deed of Puerto Veracruz) showing Almirante (Admiral) Joaquíín Zetina Angulo as Comandante de la Columna de Desfile (Parade Column Commander) - the first time the column has ever been led by a Naval officer - holding the post of Jefe del Estado Mayor General de la Armada (Navy Chief of Staff). He was appointed as Comandante de la Columna de Desfile by the Secretary of the National Defense and the Secretary of the Navy. Is this his rank flag or a Department flag?
Sources and Notes:
Esteban Rivera, 24 January 2015

The flag Esteban described is not exactly a flag, but a guidon. It is not a rank flag, actually it is just a ceremonial guidon made to purpose of the military parade. The guidon bears the text CENTENARIO HEROICA VERACRUZ 1914 (Centennial Heroic Veracruz 1914) refering to the United States invasion to Veracruz in that year. The guidon was made to commemorate the centennial of the defense of Veracruz against the United States.
The Navy, Army and Air Force, are the three military bodies. The first is under the control of the Secretariat of the Navy, while the Army and the Air Force are under the administration of the Secretariat of Defense. The guidon in question bears an emblem that combines elements of the three armed forces: a soldier for the Army, an anchor for the Navy and wings for the Air Force. Two navy rank ensigns for admirals. The guidon is black. The text reads ARMADA, EJÉRCITO Y FUERZA AÉREA MEXICANOS UNIDOS POR MÉXICO" (Mexican Navy, Army and Air Force united for Mexico)
Juan Manuel Gabino Villascán, 27 January 2015
---
15-9. UFEs in Oak Ridge, Tennessee (US) Positive IDs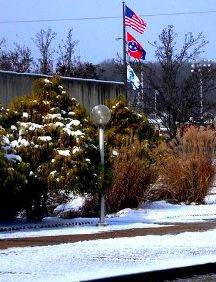 #9a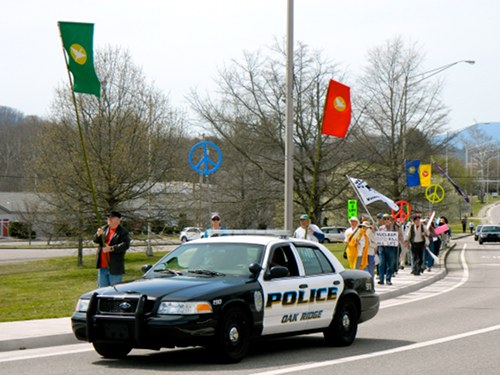 #9b
Images from Esteban Rivera, 27 January 2015
Since according to our Oak Ridge, Tennessee (U.S.) page, Oakridge has no flag, I was wondering then what this flag (#9a) shown on the Oakridge Government page, third flag from top to bottom, might be? The picture caption is about the Civic Center, but I couldn't find any further information.
Also, there's another set of UFE's in this picture (#9b) also from an Oakridge source that I was wondering what they might represent...
Esteban Rivera, 27 January 2015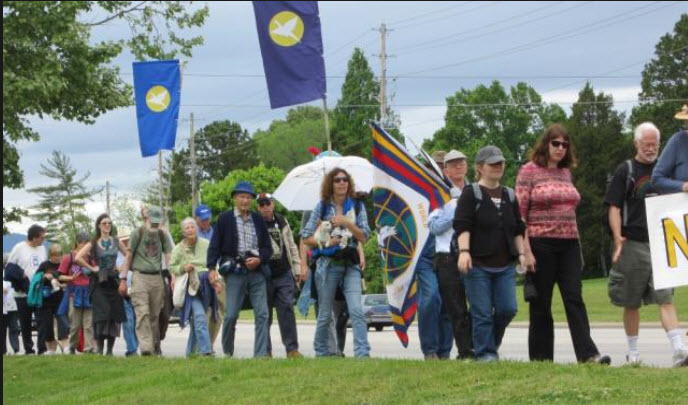 Image #9c added by Pete Loeser, 2 February 2015
The green, the red, the blue and the yellow crane flags (Image #9b), as well as a more purplish one (Image #9c), appear to be part of the annual march of the Oak Ridge Environmental Peace Alliance (OREPA) to the Y-12 National Security Complex. The Y-12 complex was built as part of the Manhattan project. This was the project to design and produce the first atomic bombs.
OREPA would like the US government to acknowledge that they succeeded in destroying two Japanese cities with atom bombs, and can now stop fighting World War II and shut down production at Y-12. The Oak Ridge police strike back by arresting people for stepping off the curb. (Obviously, stepping off the curb is a bigger threat to humanity than a nuclear arms plant is.) As OREPA threatens the world by tying peace cranes to the Y-12 fence, I expect the crane flags tie in with that highly dangerous activity.
The white one (#9a) looks like it's the Pedestrians For Peace flag found in the ACTION South article: "Oak Ridge: Zero Tolerance" for Dissent in the Secret City."
Peter Hans van den Muijzenberg, 2 February 2015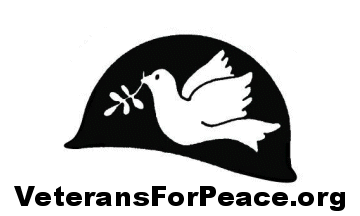 Image from Randy Young, 22 February 2015
The white flag in the photos is actually the flag of the local chapter of Veterans For Peace. According to the group´s Wikipedia entry, Veterans For Peace was founded in 1985 and is comprised of US military veterans from conflicts since World War II working to promote alternatives to war. The group has actively opposed US, NATO, and Israeli military policies and military actions and threats against Russia, Iraq, Afghanistan, Libya, and Syria.
The group's flag features their logo centered on a white field, with the black letters across the bottom of the flag spelling out the URL "VeteransForPeace.org." The logo shows the silhouette in black of a standard US military helmet, with a white dove carrying an olive branch superimposed over the helmet.
Based on the Oak Ridge photos, it appears that the local chapter of Veterans For Peace likely has its designation in black lettering in the canton portion of the flag, but I can't verify that for sure.
Randy Young, 22 February 2016
---
15-10. Unknown Australian Maritime Flag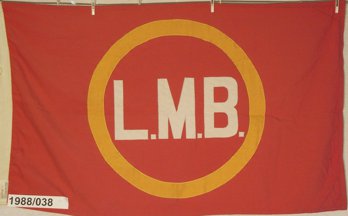 Image from Bill Storer, 29 January 2015
I'd like to ask you about a flag in our collection that is a mystery to us. It obviously came from a vessel that called at Newcastle New South Wales, but no details were recorded when it was taken into the collection. It was manufactured in Australia is 650 mm on the mast and 1140 mm long. I hope your resources might help us identify it.
Bill Storer, Collection manager, Newcastle Maritime Museum, 29 January 2015
---
15-11. Gold Shahada (SA) Some Speculation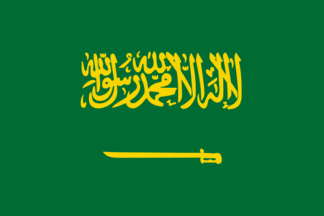 Image from Tomislav Šipek, 9 February 2015
On Alriyadh I found this gold shahada and sword on a green field. Does anyone know who uses this flag?
Tomislav Šipek, 9 February 2015
This flag seems to be unusual indeed, but I think it's a variant of the Saudi flag with a more decorative mode. The article has no any flag relevance, it says three sport-officials met in Kuwait in the residence of the Deputy General President of Youth Welfare, Prince Nawaf bin Faisal of Saudi Arabia, during the 24th meeting of the Ministers of Youth and Sports and the heads of the Olympic committees of the Gulf Cooperation Council (GCC). The prince is head of this committee. Since he is a prince of the Saudi royal family, I suspect he used this Saudi flag with its more decorative version of the gold shahada and sword. But this is only speculation, I haven't found any other information about it.
Zoltan Horvath, 15 February 2015
---
15-12. Possible Sioux National Flag? Positive ID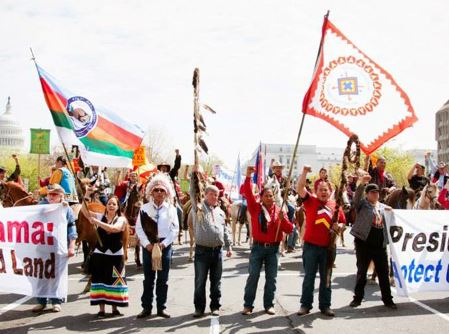 Image from Jason Saber, 10 January 2015
This image turned up on the FOTW Facebook page. The flag on the right is that of the Rosebud Sioux, but I have been unable to identify that on the left. Perhaps this may be a new creation or has it already been noted somewhere? I believe it may be the flag of a band of the Sioux nation, but I cannot locate it.
Jason Saber, 10 January 2015
It doesn't help much, but some more details are visible Fast for the Earth, which also gives the image a bit of context.
The flag on the right of the Rosebud Sioux is somewhat different than ours shown at Rosebud Sioux - South Dakota . I wonder whether that's a variation or a new development? It is also visible on the First People Worldwide website ( picture here).
During my search I also caught this interesting flag at the Indian Country website, possiably the First National United States flag given to the United States' first couple?
Peter Hans van den Muijzenberg, 11 February 2015
Indeed, enough details to make out some of the writing on the logo, but that's less rewarding than finding this page at on the Keystone XL Pipeline Protest by the Beaver Lake Cree Nation, which shows another angle of the flag and makes it clear that it belongs to the Beaver Lake Cree Nation.
The flag, similar to the one shown for the nation at Don Healy's Native American Flags, shows a badge on a background of horizontal stripes - light blue, red, orange, green, and white, with the top and bottom stripes thicker than the others. In the photo, the badge is quite detailed, the same as appears on the Beaver Creek Cree Nation website. It shows a beaver above three light blue waves, with (conifer?) trees and blue sky in the background, surrounded by text in Canadian syllabics. On the flag in the photo, the lower part of the flag contains the text "BEAVER LAKE/CREE NATION".
The Beaver Lake Cree Nation is based in Alberta. I'm not sure why the Don Healy page has it listed under Ontario.
Jonathan Dixon, 11 Feburary 2015
Because the Beaver Lakes are in Ontario, whereas the lake in Alberta actually has a French name? I'm not sure either.
Peter Hans van den Muijzenberg, 11 February 2015
---
15-13. Unknown Flag in Debaltseve Positive ID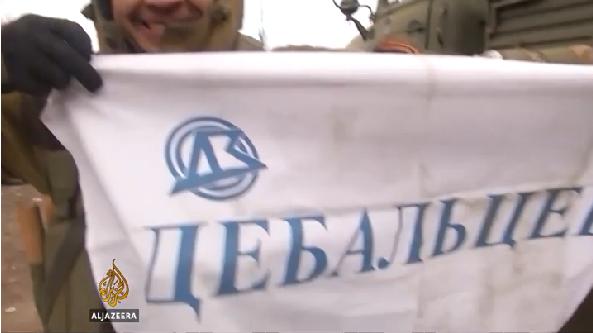 Image from Esteban Rivera, 19 February 2015
In this Al Jazeera news report today, there's a video where an unknown flag is shown, being waved by Pro Russian separatists during fighting in Debaltseve. I hope someone can tell us what it means and what it reads.
Esteban Rivera, 19 February 2015
Doing a little research on this, and watching the video again (0:23), the flag portrayed here reads "Дебальцеве" (Debaltseve) in the middle of a white horizontal flag, and above it features what seems to be a logo with two letters (probably in Cyrillic, since the video mentions that pro Russian militas took the city back when this news was reported, however, the writing may also be in Ukrainian, since the news report also states that the militias fighting were Ukrainian and pro-Russian).
I wonder what the logo on top stands for and if anybody can identify the letters.
Esteban Rivera, 24 June 2015
The text is indeed in Cyrillic script, and states "Debaltseve". By the way, both Russian and Ukrainian use Cyrillic script. Debaltseve is the Ukrainian name of the town, in Russian it is Debaltsevo. The logo is a monochrome version of that of the Donetsk Railways logo, combining its Ukrainian initials DZ (in Cyrillic: Д3). On Wikipedia you can see a blue-and-yellow version of the logo.
Jeroen van Leeuwen, 13 January 2016
The Donetsk Railway logo is clearly the same logo spotted and reported on the UFE we're currently discussing. Since it has already been identified as the Donetsk Railway (Ukrainian: Донeцька заiзнидя) this is indeed a government flag, because the Donetsk Railways belong to the much larger Ukrainian Railways (Ukrzaliznytsia), but since the War in Donbass, which created the so called "Donetsk Republic" and "Lugansk Republic" and Debaltseve is actually in this disputed region, effective control of the Donetsk Railway by the Kiev government has been cumbersome lately.
The Donetsk Railway was established on May 15, 1953, between the merger of the North and South Donetsk Railways, but it traces its origins as far back as January 5, 1870 when the first railway in the Region was established. Sources: On the Road and Our History.
Esteban Rivera, 16 January 2016
---
15-14. Unknown Flag in Mexico Positive ID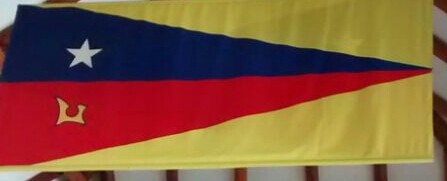 Image from Carlos Flores, 20 February 2015
I saw a flag hanging in a restaurant in Cancun, Mexico. I've been having headaches trying to solve where it's from, do you have an idea?
Carlos Flores, 20 February 2015
This a proposed flag for the Quintana Roo State based in its arms. Some time ago it was reported as semi-official. I was in Quintana Roo two months ago and didn't see this flag displayed. The "official" one (adopted 8 October 2013) is white with the arms and is hoisted only on Sundays and holidays and doesn't see much use.
Jaume Ollé, 28 February 2015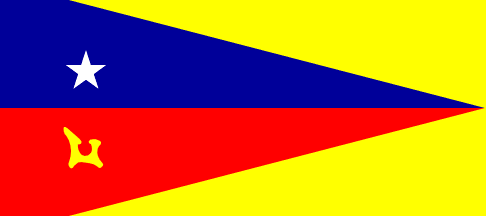 Image by António Martins-Tuválkin, 18 November 2016
This needs to be added the unofficial flag of the Quintana Roo State in use around the late 2000s and early 2010s. I think it is a good design, in broad vexillographic terms, although this particular rendering feels unskilled: Surely it would work better with a less oblong ratio, exact triangles, and bigger charges.
António Martins-Tuválkin, 18 November 2016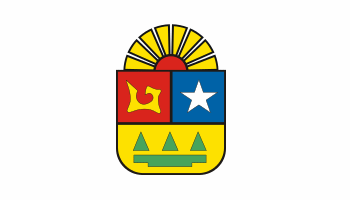 Image by Jaume Ollé, 28 February 2015
On April 15, I saw this flag (source) during an session of the Electoral Institute of Quintana Roo (Instituto Electoral de Quintana Roo) or IEQROO. Notice the inscription on the wall that reads Tribunal Electoral de Quintana Roo - TEQROO (Electoral Tribunal of Quintana Roo), which seems an older name for it. The article is dated April 6, 2016 and the location is in the town of Chetumal.
After looking at the symbols of Chetumal (Logo) (Flag), the flag in the picture (the one on the left) is most certainly the flag of Quintana Roo. It features the logo (over a white horizontal flag). For additional information go to Quintana Roo official website.
Esteban Rivera, 19 November 2016
---
15-15. An Unknown Banner of WWII Vintage Some Speculation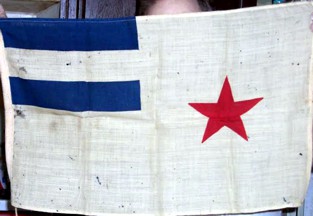 Image from Matthew J. Cataline, 24 February 2015
While cleaning, my father found a box of items belonging to my grandfather, who served in Europe during the Second World War. Among them is the banner pictured. I have been unable to identify it. I am hoping that you, or someone on your site, will be able to identify it.
Matthew J. Cataline, 24 February 2015
Looks rather Central American, doesn't it? Any such country with a 1-star admiral like this?
Peter Hans van den Muijzenberg, 10 May 2015
The canton design does match some flags of El Salvador, Nicaragua, or early Honduras.
Pete Loeser, 14 May 2015
It does look like something akin to the Commander of a Group flag and other such flags - some Soviet naval rank flag.
António Martins-Tuválkin, 6 February 2016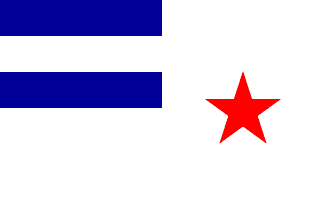 Image by António Martins-Tuválkin, 23 February 2016
And here's a FOTW standard flat flag image.
António Martins-Tuválkin, 23 February 2016
---