This page is part of © FOTW Flags Of The World website
Unidentified Flags or Ensigns Page 3 (2016)
flags submitted in 2016 - Page 3 of 5
Last modified: 2023-06-03 by

zachary harden
Keywords: ufe | unidentified flags | 2016 |
Links: FOTW homepage | search | disclaimer and copyright | write us | mirrors

---
Please note our Policy for Submissions and Enquiries.
Below is a series of images of flags that have been provided to FOTW; some we have recognized, and some we have been unable to recognize. If you can help us identify any of these flags, please let us know! Contact the: UFE Editor.
Identification Key:
= Positive ID (Positive Identification)
= Tentative ID (Tentative Identification)
= Some Speculation
Unidentified Flags on Page 1:

Unidentified Flags on Page 2:

Unidentified Flags on this Page:




Unidentified Flags on Page 4:

Unidentified Flags on Page 5::

Unidentified Flags on other pages:
---
16-34. Mongolian UFE #1 Positive ID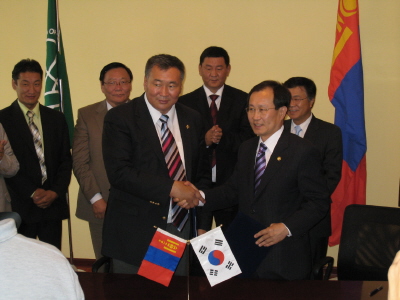 Image from Esteban Rivera, 21 May 2016
This picture (source) shows on the left an image of a flag that seems to be Mongolian, but I cannot identify it. The article mentions a meeting between Ministries of Environment of Mongolia and Thailand, but no relation to the image can be found. If someone can please identify it, I'd be more than glad.
Esteban Rivera, 21 May 2016
The flag on the left is the former flag of the Ministry of Environment. The full name of the ministry is "Ministry of Environment and Green Development of Mongolia (Байгаль орчин, ногоон хөгжил, аялал жуулчлалын яам). However, I am not sure when this flag was abandoned to go with a generic government pattern (government logo on a white flag, ministry name in blue, as seen at Microsoft News [in Mongolian].
Zachary Harden, 23 July 2016
---
16-35. Mongolian UFE #2 Some Speculation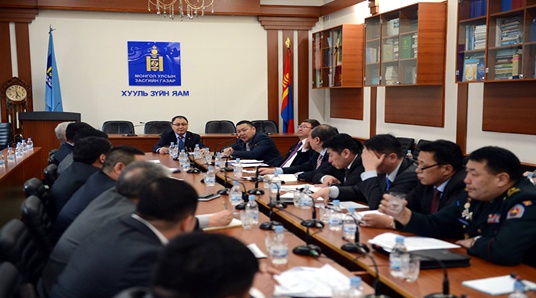 Image from Esteban Rivera, 21 May 2016
This picture (source) shows on the left a flag that seems to be Mongolian, but I can't see enough to determine what department it could be for. The article mentions a visa and tax exemption measure taken during the ASEM 11 meeting, but it doesn't match that of any government Agency/Ministry regarding taxes and/or visas, that I know of.
It has a blue background with an unidentified logo of the Mongolian government centered on it.
Esteban Rivera, 21 May 2016
It looks to me like the darker blue logo in the left flag is the same as the one on the back wall. That logo is from the Mongolian Ministry of Roads and Transportation. Their website seems to be down, and I didn't dig deeper into it, as I don't speak Mongolian, but I found this PDF File which shows the logo, and is conveniently in English
Dieter Mayr, 18 August 2016
I also can't read Mongolian, but the Goggle Translator says the inscription on this logo is "GOVERNMENT OF MONGOLIA". I think any governmental ministry or agency may use this logo. But the inscription under the logo is "Ministry of Justice." Nozomi in 2008 wrote about the flag of MN Ministry of Justice as light blue with their logo.
Victor Lomantsov, 26 September 2016
---
16-36. Flag with Claw and Royal Crest Crown Positive ID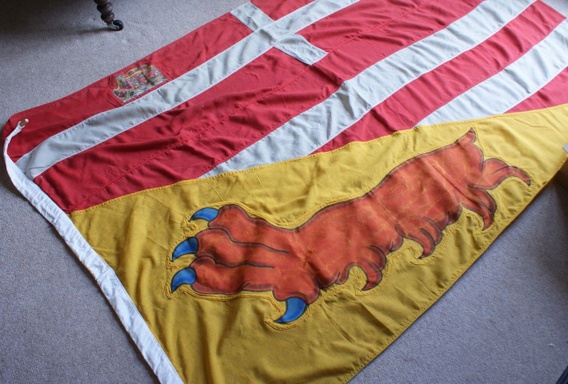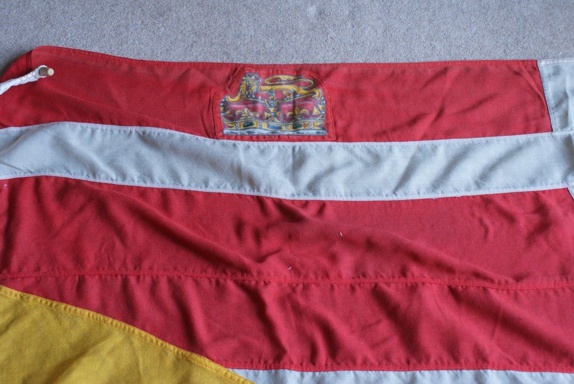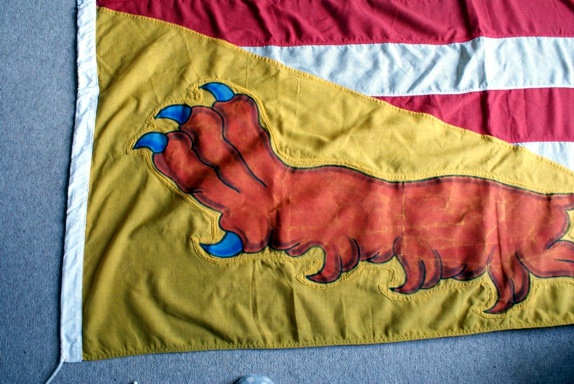 Images from Mattias Hansson, 29 May 2016
I would like to submit the following flag for the members to identify. It was offered for sale on eBay earlier this year. My guess is that this is a Personal banner from a UK noble family, possibly flown from said person's castle. I would say UK made with 99% certainty.
This is what the seller had to contribute: "On offer a large vintage well made flag representing the UK? in very good condition. I'm not sure if this is a made up flag or if it does represent some country or county, there is a small image of the crown in the top, against a background of red and white, while the bottom half of the flag is mustard yellow with a large image of a lion's claw on it. Measuring approximately 71" x 48" this flag has been well stitched. It has been designed to fly from a pole and still has its toggles and rope attached. Made from a fine wool this flag has is in very good condition."
Mattias Hansson, 29 May 2016
I can't identify this flag, and can only share a feeling which is that (particularly bearing a royal crown) it is unlikely to be a personal banner of arms? It looks more like a county or municipal flag, but is not one with which I am familiar?
Christopher Southworth, 3 June 2016
Is it not the banner of arms of an officer of the Order of St John? "A Bailiff or Dame Grand Cross being armigerous shall be entitled to have carried immediately after him or her a Personal Banner depicting his or her Arms with those of the Order in chief." The arms of the lion's leg appear in Papworth's Ordinary, where they are attributed to a prince of Powis, in Wales, and to a family named Eyton in Denbighshire.
Ian Sumner, 3 June 2016
It's possible, of course, and a reasonable assumption, but bearing a definitely British Royal Crown?
Christopher Southworth, 3 June 2016
I'm away from home at the moment, so can't check all my sources, but I'm pretty sure that the Order in the United Kingdom uses the Royal crest in the first quarter. If I recall correctly it's a modern thing, from the re-founding of the Order in this country.
Ian Summer, 3 June 2016
Of course (as you say) you need to check your facts, but I am once again impressed by the sheer range of scholarship contained within our group of enthusiasts. A mystery apparently solved?
Christopher Southworth, 5 June 2016
Ian is clearly right that it is a personal banner of a Bailiff Grand Cros in the Order of St John (the British version, that is - formally the Most Venerable Order of the Hospital of St John of Jerusalem). But maybe this only counts as speculation until we know whose banner it is...
In fact, the arms are those of Harold Caccia, titled Baron Caccia of Abernant in the county of Breconshire. He was Lord Prior of the Order from 1969-1981.
Jonathan Dixon, 5 June 2016
According to its website, the Order of St John, formally known as The Most Venerable Order of the Hospital of Saint John of Jerusalem, is a royal order of chivalry first constituted as such by royal charter from Queen Victoria in 1888. Currently Queen Elizabeth II is the Sovereign Head of The Order of St John, followed by the Grand Prior, Prince Richard, Duke of Gloucester. The Royal involvement would perhaps explain the Royal crest in the first quarter.
At that webpage there is a photo showing a service, and in the background is a banner showing the arms of the Duke of Gloucester (The British Royal arms with a differenced label) with a chief of the Order, as in this UFE. There may be other BOAs, with a similar defacement, at the right and left edges, behind the assembled brethren.
The homepage of the Order's museum in Clerkenwell has a slide show which includes a picture of the flag flying over the Head Quarters, and another of a room in the building showing several more flags, all with the chief of the Order.
In essence, I think, it's a Protestant version of SMOM, but with added Royal patronage.
Ian Sumner, 17 June 2016
---
16-37. Possible Commercial Flag (Pichidangui, Chile) Positive ID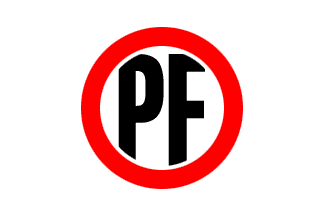 Speculative image by António Martins-Tuválkin, 1 June 2016
This photo (from Wikimedia Commons) shows a view of the Paseo Maritimo (seaside promenade) of Pichidangui, Chile, Coquimbo region, Choapa Province, Los Vilos comm., taken on 2010.10.29 by Silvio Rossi. What seems to be a cottage cafe/restaurant has on its front yard three or four flags: One is the well-known flag of Coca-Cola, one (possibly two) other are limp and seen as an undistinguishable tangle of red, white, and yellowish green, and a white flag, seemingly 2:3, with thick tall black capitals "PF" within (even "behind" although with white gaps) a wide red ring, as if a mock prohibition road sign. It might be the flag of a commercial outfit, similar to the Coca-Cola flag it is being flown along with, but I could find no information.
António Martins-Tuválkin, 1 June 2016
The pole would have to be angled really bad for a circle to have that much perspective distortion in that direction. Anyway, it's Productos Fernández, maker of sausages and similar.
Peter Hans van den Muijzenberg, 1 June 2016
It is the flag of Productos Fernández S.A., a Chilean company established in 1903 that produces cured meat. The logo in the middle is not a circle, but an oval. (official website)
Along the same promenade, as you mentioned, one can see The Coca-Cola Company (official website) flag (I've visited recently their main Head Quarters in Atlanta, and to my surprise, didn't see any official flag at their museum, called "World of Coca-Cola" (official website): nor on their main building...) However, here's their official flag (source) and the caption reads: "A flag waves in the breeze outside Coca-Cola world headquarters January 31, 2003 in Atlanta, Georgia. Coca-Cola has announced plans to cut 1,000 workers as part of a massive reorganization of its North American operations. Of those jobs, about 500 will be pared from Atlanta. The move is the latest of many major changes at Coke, which has a new president and is pushing to integrate several operations - notably Coca-Cola North America, Coke Fountain and Minute Maid"".
Also, along the same promenade, one can see the flag of San Jorge (official website) another Chilean meat company, featuring the logo in inverted colors (flag being green horizontal and letters being white), as seen on this picture (source) showing the third flag from left to right.
And finally, yet another flag, this one remains an UFE since I cannot identify it, which has a blue horizontal background and the logo in the middle (image seen here) (source) and (also here) - second flag from left to right (source). However, I did identify the name of the place; all these flags are on top a food place called Restaurant El Mastike (The Chewing Restaurant).
Esteban Rivera, 1 June 2016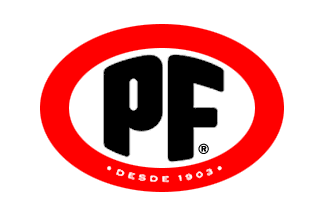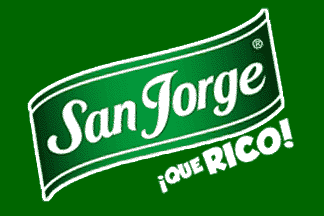 Images by António Martins-Tuválkin, 9 June 2016
Great find, Esteban! This other photo seems to show a much darker shade of green [for the San Jorge flag], though? A tentative image attached - it should be replaced with a more exact rendition. Also a improved image attached [of Productos Fernández flag]. Peter Hans was right about the pole needing to be bent in the direction of the photographer to have a circle distorted into an ellipsis like this, but bent flag poles in a seaside location is not an uncommon sight. I should have drawn the flag more squarish if that were the case, though.
We need to go there and check it out over some local delicacies. All for the advance of Vexillology!


Meanwhile I added hover titles.
António Martins-Tuválkin, 9 June 2016
---
16-38. German shipping company? Positive ID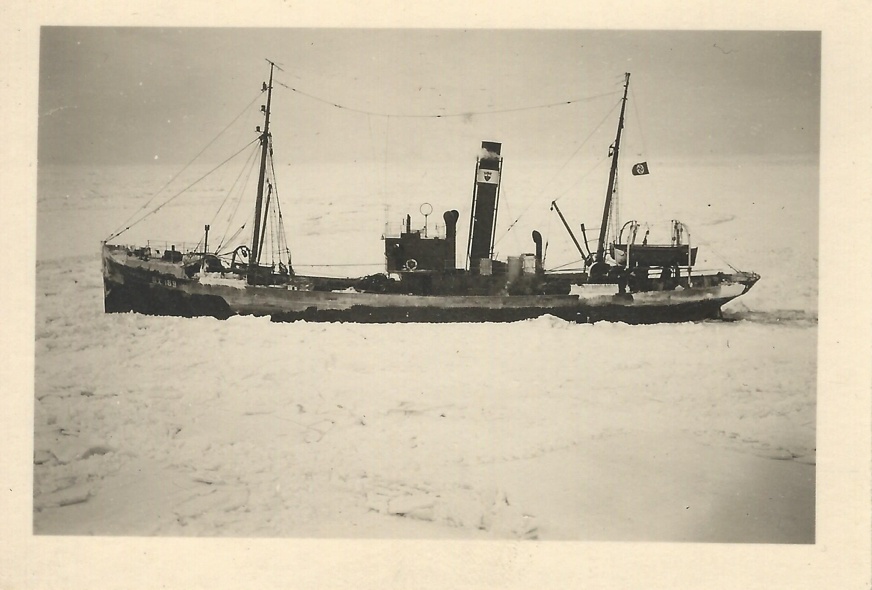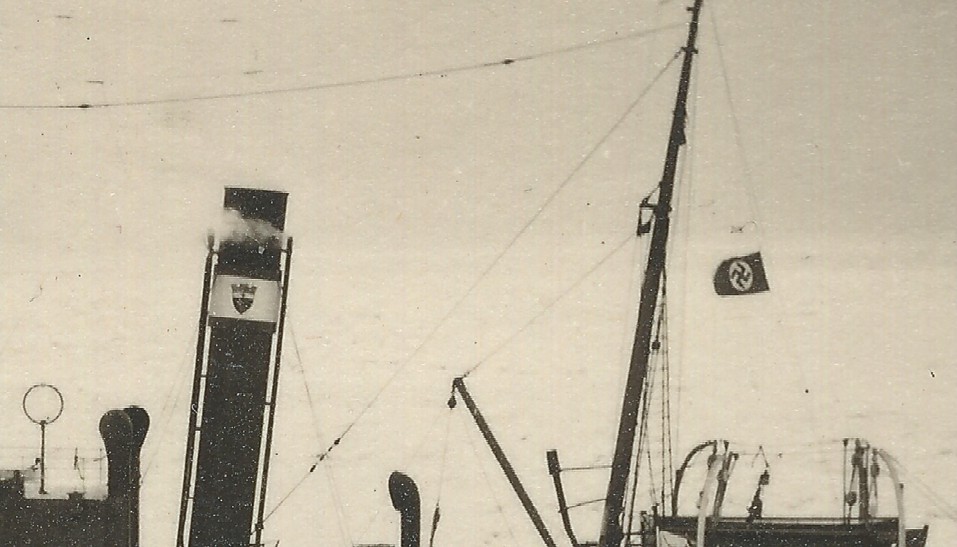 Images from Paul A. Davis, 5 June 2016
Attached are a couple of photos of a German ship with a shipping company (?) emblem on the stack consisting of a crenelated top band, a center band with a cross (?) and the lower part of the shield with some sort of figure. The bow bears the name "ANSKAT" (?) and the number "BX 189". The back of the photo indicates that it was possibly developed in Wilhemshaven. It was among a collection of photos which were apparently taken by a crew member of the German battleship Scharnhorst. Just putting this out to see if anyone can shed light on the identity of the vessel.
Paul A. Davis, 5 June 2016
Perhaps Hanseatische Hochseefischerei AG.
Dominique Cureau, 6 June 2016
I can't make out the lettering that easily, but BX is the fishing port code for Bremerhaven, rather than Wilhemshaven (AW); the distance being small enough to allow the possibility. The "crenelated" top band appears to be a wall crown, suggesting they are city arms. The City of Bremerhaven did indeed use arms similar to the one on the stack until it was added to Wesermünde in 1939.
Knowing what to city an code to look for yields Oceania on a page "German Auxiliary Patrol Ships" mentioning a ship with that code called "Hanseat".
I hope someone else can shed more light on the entry on that page, but it looks like as a patrol ship its code was: V 312.
These two codes combined save us from having to sift through all the other occurrences of that popular name: Wreck site gives us the 1942 wrecking information of a patrol boat of that name and with that code, which started out as a Bremerhaven fisherman in 1926.
It turns out to have been owned by the Hanseatische Hochseefischerei a flag which is covered on FOTW, bringing us full circle as the design of that flag matches what we see on the stack.
I hope that these bits of information are definite enough to identify the ship.
Peter Hans van den Muijzenberg, 6 June 2016
I think the funnel in the photo perfectly matches the flag of Hanseatische Hochseefischerei AG (1929-1985), in the part about Hamburg-Süd. So that must be it's homeport.
Klaus-Michael Schneider, 29 October 2026
---
16-39. Two Japanese Made Flags Positive IDs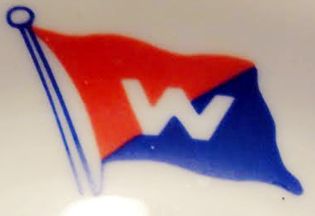 #39a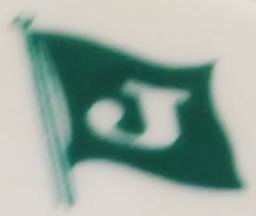 #39b
Images from Marc L. Hendon Sr., 9 June 2016
I've got a few pieces that I cannot find on your website. These are Japanese made so I suspect they come from Japanese shipping lines.
Flag #39a is diagonally red over blue, with a white "W". Flag #39b is a white "J" on green.
Marc L. Hendon Sr., 9 June 2016
The flag with the "W" (#39a) appears to be that of the Anders Wilhelmsen & Co, a Norwegian company. The flag with "J" (#39b) is the Japan line House flag. (Source: Dominique's House Flag of the World Identikier).
Dominique Cureau, 10 June 2016
---
16-40. Unknown German Flag Variant 1933-35 Some Speculation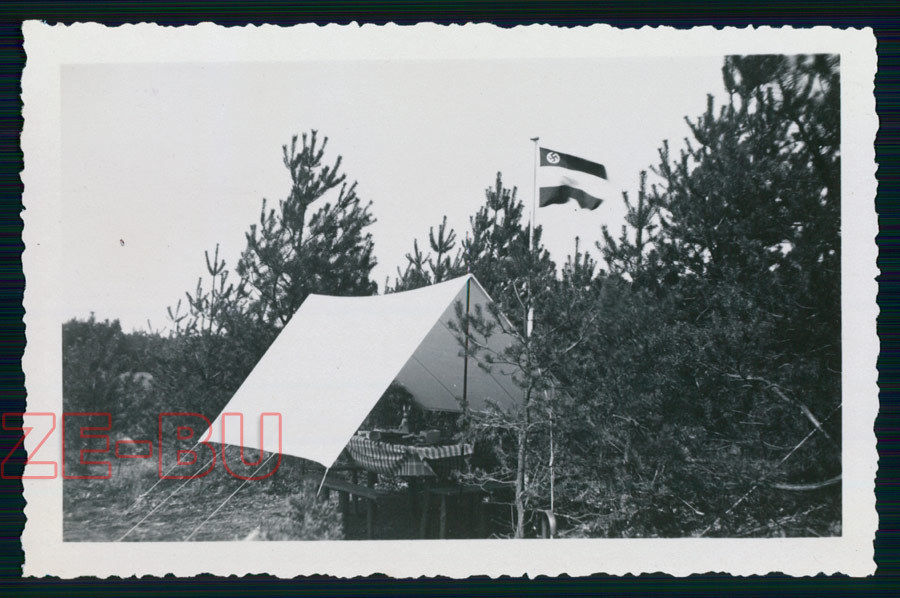 Image from J. A. Hefner, 10 June 2016
I recently saw a photo with a variant of the 1933-35 German black-white-red tricolor, where the Nazi swastika flag is in the canton (design seems to be in line with the previous Weimar diplomat flag, black-white-red with republican flag in canton). I don't know the exact date as the eBay seller doesn't, but here is the link, plus attached photo.
J. A. Hefner, 10 June 2016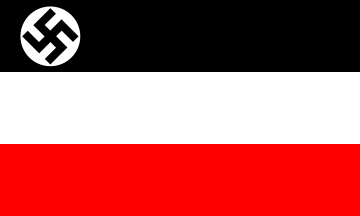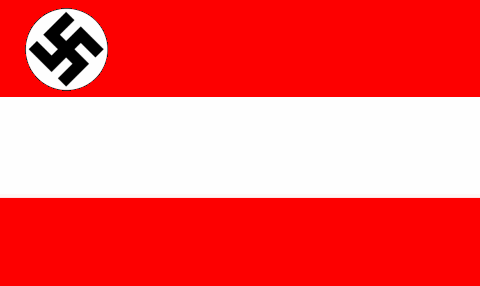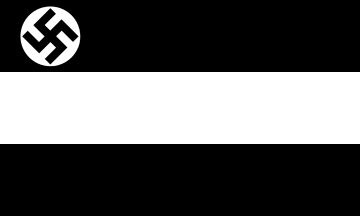 Speculative images from Pete Loeser and Tomislav Todorovic, 25 June 2016
I realize that these colors are just speculation. I used the red, white, black combination first since that was the most common for the time period in question. However, there is also a very real possibility that the stripes were both red since several NSDAP youth organizations used two red stripes, take for example, the HJ Bannfahne and the Bund Deutscher Mädel. I don't really feel that two black stripes are as likely a possibility for the time period, a bit too old Prussian, but there were a few flags used during the period with black stripes. The Car Command Flag for a naval fortress commander would be an example, but the combination is rare. I'm hoping somebody can come up with a positive identification and the correct color scheme.
Pete Loeser, 25 June 2016
It is difficult to tell if the top stripe is really darker than the bottom one - near the hoist, two stripes do not differ very much, and halfway between hoist and fly edges, they both look rather dark, not differing much from the top fly, so it is possible that all the dark areas are such due to the shadows produced by flag fluttering in the wind. For these reasons, it is possible that the top stripe is also red, which looks like the flag of Austria, but is also more in line with the Nazi flag. [Between 1938-45 Austria was annexed to Germany]
Tomislav Todorovic, 25 June 2016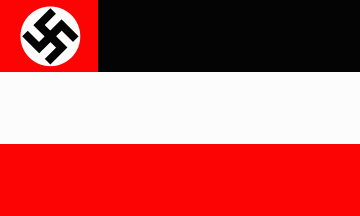 Speculative image from Dieter Mayr, 5 July 2016
Regarding the speculations, when you look at the big version of the picture, there is a clear difference in shade between the swastika in the canton and the rest of the upper strip. I have modified one of your already posted images to show how I think it looks like. Unfortunately, I have no idea so far about the origin of the flag.
Dieter Mayr, 5 July 2016
I think you may be on to something here. Upon closer examination of the flag, I can see what you spotted and I think your color speculation is spot on. Assuming the bottom stripe is red, the canton also looks to be the same color (red), and the rest of the top stripe definitely black. Now all we need to do is figure out what the flag was.
Pete Loeser, 5 July 2016
---
16-41. Unknown Basque Flag (ES) Positive ID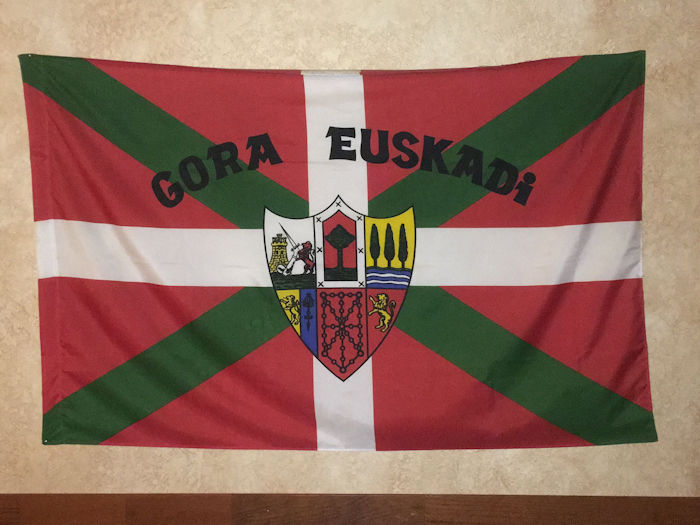 Image from Pete Loeser, 18 June 2016
While having a meal at a Basque restaurant in San Juan Batista, California, I noticed this flag displayed on the wall. I assume it to be some sort of Basque heritage flag or sports flag, but it's unknown to me. I could not find what Gora Euskadi translates as, perhaps a team name? Does anybody recognize it?
Pete Loeser, 18 June 2016
Gora Euzkadi is "Long live (the Basque country)". I would guess that this is the Ikurrina enthusiastically "enhanced" with the slogan and a combination of the arms of the provinces different from the more usual one.
Will Linden, 18 June 2016
This is a Basque Pride flag. They are common among the Basque expatriate communities. It places on the Basque flag the historic Basque arms used during the short-lived republic and adds the slogan. These arms were used on flags by the Basque government, although unofficially, as this variant, though often seen, was not, to my knowledge, described in the law.
My mother, Juanita Mariana Zavalbeascoa was Basque.
Jim Ferrigan, 18 June 2016
The word gora in Basque translates the same way as the Spanish viva, something like the English "hooray". It is more of a patriotic (therefore political, as the Basque Country is not independent) flag. Note also the typeface used for the text is in the folk engraving style. The word Euskadi means "Basque Country".
The flag itself is the ikurrina with the 6=1 marshalled CoA - see Unidentified Flags - this section has a misleading title, as these are not "unidentified", merely unofficial. The six marshalled arms are those of the six historical provinces. (Where, I just noticed, Donibane Garaz/St.Jean-Pied-de-Port should be St.Jean-Pied-de-Port/Donibane Garaz, to match the rest.)
António Martins-Tuválkin, 18 June 2016
---
16-42. Unknown Flag from World War II- Guadalcanal Positive ID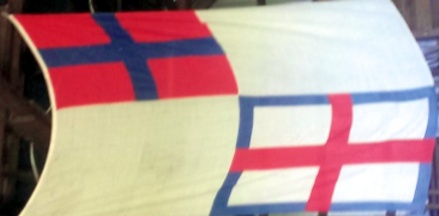 Image from David True, 20 June 2016
I am hoping you can help me out with figuring out what this flag means or is. To give you some back story. My father inherited this flag from his father. His father obtained it somewhere during his time with the U.S Navy while frequenting the Guadalcanal all while on board the US Hunger Ligget. My dad has had it hanging for a while and has never been able to figure out what it is or means.
David True, 20 June 2016

Image from António Martins-Tuválkin, 23 June 2016
Could it be some kind of U.S. Navy signal flag? Judging from the photo it is printed/dyed, not sewn, and the size is around 90x150 cm, maybe?
It is a quartered flag with the top fly and bottom hoist quadrants in plain white, while the other two bear cross patterns, their arm thickness about 1/5th of the respective field: Blue cross on red at the upper hoist, and on the lower fly red cross overall on white background edged all around in blue, the thickness of the edge half the cross's.
This arrangement could be flipped, as the photo is not clear about which side goes up (analysis of the flag might even be inconclusive also, depending on the hoist attachment type), although it is more likely like this, vexillolographically speaking, than with plain white upper hoist quadrant etc. The photo seems to show two different shades of blue, but that might be due to a lighting effect. My attached standard image is made on the assumption that this is an U.S. flag, although it could also be Japanese (JP) or local (SB).
António Martins-Tuválkin, 23 June 2016
It looks like the flag of Nova Genuensis, but something is wrong. Is it possible to determine the hoist and top edges of the actual flag? The drawing and photograph don't match up.
Peter Hans van den Muijzenberg, 20 June 2016

António Martins' image rotated 180 degrees, by Pete Loeser, 24 June 2016
The flag is upside down and backwards, but I think you've got it. David's grandfather must have picked up this Italian shipping flag while in the Pacific theater. We perhaps missed an interesting story here. There were lots of sinkings or seizings of Nova Genuensis ships during World War II, more common in the European Theater, naturally, but some in the Pacific.
Just a historical note. The Hunter Liggett was originally a Munson Steamship Line passenger ship named the SS Pan American, launched in 1922, but was acquired by the War Department in 1939 for conversion into an Army troopship. She was re-commissioned as the USS Hunter Liggett (AP-27) in 1941, then reclassified as an Amphibious Attack Transport (APA-14) in 1943. During World War II she was active throughout the Asiatic-Pacific Theater and manned by the US Coast Guard. She served in the Guadalcanal-Tulagi landings, the Solomon Islands, the Treasury-Bougainville operations, and the occupation and defense of Cape Torokina, to name a few places. She then basically served throughout the South Pacific until the war's end, then was decommissioned in 1946 and sold for scrap in 1948.
Pete Loeser, 24 June 2016
Thank you so much for this. My father is going to be ecstatic with this information.
David True, 24 June 2016
---
16-43. Japanese Naval Flag Some Speculation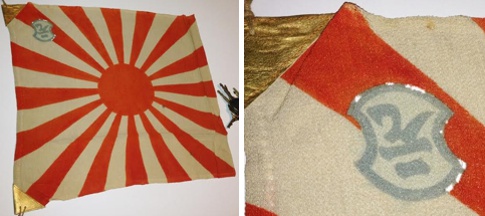 Image from Patrick Brennan, 4 July 2016
Would you mind assisting me to ID a flag that I recently acquired? It measures 16" X 17" and has two gold corners with string ties. The blue symbol in the upper-left corner is of particular interest to me. Does it represent a school or training location?
Patrick Brennan, 4 July 2016
This flag has the squarish dimensions of the Early Meiji era Army National Flag, but I do not recognise the blue symbol attached to it.
Rob Raeside, 4 July 2016
The unidentified Japanese flag is upside down. Based on the blue kanji, which I cannot translate at the present time, as my Japanese-English dictionary is not at hand as I write this, the flag is white over red. The kanji is written with the two stroke radical "=" (visually equivalent to the numbers "ni" or "futsu") on top, hence the badge cannot be in the position of a canton.
Michael Halleran, 4 July 2016
---
16-44. Incorrect Soviet Union flag variant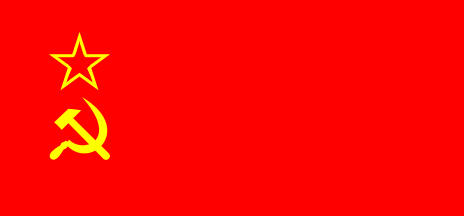 Image by António Martins-Tuválkin, 4 July 2016
Attached is a Soviet Union flag variant with extra-large emblem, the height of the hammer-and-sickle-with-star being about 3/5ths of the flag's height, placed roughly on the center of the hoist-side 1/3rd of the flag area, and with the star itself much larger than usual, the distance between non-adjacent vertices approx. identical to the length of the hammer's handle.
So far so good, but I seem to have misplaced my notes on the provenance of this design. I drew this on March 1st from an online scan of a Soviet (i.i.r.c.) official source, apparently from 1938. Does anyone remember such a thing?
António Martins-Tuválkin, 4 July 2016
---
16-45. Singapore - Military UFEs Mostly Positive IDs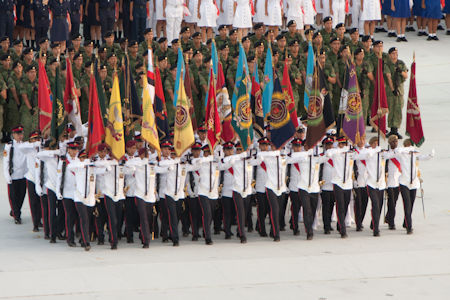 Image from Esteban Rivera, 6 July 2016
The caption on this group of flags (source) reads: "MILITARY FLAGS: These flags can be seen openly paraded during the annual National Day Parade, on August 9. During the parade, these flags are called the Colours. Every vocation of the Singapore Armed Forces, such as the Guards, Infantry, Commando and Military Police, have their own unique flag. The vocational flags display the emblems of the various vocations. Besides vocational flags, there are also organizational flags such as the Singapore Armed Forces and the Chief of Defence Force flags. (Photo by Brian Jeffery Beggerly)"
Perhaps some are already featured on FOTW, but I believe some of them are not, so if someone could help me out identifying them I'd appreciate it.
Esteban Rivera, 6 July 2016
The caption sounds like it came from a civilian who knows little of military culture, but then I know little about Singapore military culture other than its British origins. The photo looks like a cadets passing out parade (rather than the National Day parade), but that fails to explain the presence of regular army colours carried by the cadets. Singapore has national service (i.e. conscript armed forces), so there is a large intake every year.
Most of the flags in the front row feature the crest of the Singapore Armed Forces, surrounded by a circlet inscribed Tentera Singapura which means Singapore Armed Forces. I don't know what the different colours of those flags means, but I think they are all different battalions of Singapore Infantry, the colour being the battalion's identifier (along with the Roman numerals in the canton.)
The flag on the far right is "3rd Battalion, Singapore Guards." The Guards are elite infantry, first formed in 1976. 3rd Battalion was formed in 1980 by redesignation of 7th Battalion Singapore Infantry. The winged dagger crest of the Guards can be seen on Wikipedia. Barely visible on the flag above the crest is the word "Guards." The scroll at the bottom reads "Ready to Strike." Judging from the uniform of the colour bearer (note the winged dagger on his colour belt), the next flag to the left is also a Guards battalion. In that case, fringe and cord colour would seem to also be battalion identifiers.
The yellow flags with slightly different winged dagger badges are Commandos (not to be confused with the buff coloured infantry battalion to their right.) As far as I know there is only 1 Commando (designated by battalion Roman numeral on the right flag.). The other very similar flag to the left might represent Commando Headquarters (with no battalion numeral.)
T.F. Mills, 6 July 2016
The second row in the photo is still army flags.
On the left are two armoured regiments (green flags), the crest being a mailed fist on crossed daggers.
To the right of them is a red over blue bicolour with crest of crossed cannons and a grenade. This represents the Artillery branch. I would assume that individual artillery regiments do not carry colours (in the British tradition.)
Next is the Combat Engineers branch, a brown flag with crest of crenelated turret surmounted by a dagger.
Next is the Signals branch, a vertical red-blue-red tricolour, with on the blue stripe a white device containing two signal flags.
The next flag I can guess, but I am not familiar with it. It is a horizontal light blue-red-dark blue tricolour representing the air, army and navy services, and one can make out the words "Medical Service." I. was not aware that this was now a joint service operation.
The next flag (red with cogwheel) is Maintenance and Engineering Support branch.
The next two flags are black, and I don't know what they are.
Third row, second from left with antique crossed pistols is SAF Military Police Command (inter service). The rest to the right seem to be naval and air force.
T.F. Mills, 7 July 2016
---
16-46. Royal flag of Syria 1920? Some Speculation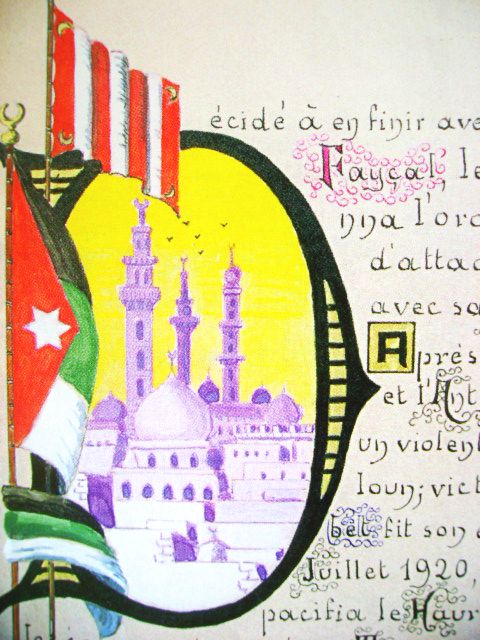 Image from Jaume Ollé, 7 July 2016

[Editor's Note: This same unindentified flag is mentioned at Unidentified flags (Syria)]

An unknown flag of 7 vertical stripes of R-W-R-W-R-W-R with golden half moon in the corners from a French drawing celebrating the capture of Damascus in 1920. Can it be the Royal Flag of King Faisal or perhaps a local flag from Damascus?
Jaume Ollé, 7 July 2016

Here's the full page of Jaumé's flag: (image) (source) The image caption reads: Livre de famille du général Goybet, sur prise de Damas (General Goybet's family book on Damascus takeover). The text in the image is the following: Décidé à en finir avec la duplicité de l'Emir Faycal, le général Gouraud donna l'ordre au Général Goybet d'attaquer l'armée Chérifienne avec sa 3 D.I. et d'occuper Damas. Après avoir traversé le liban et l'anti-Liban, la 3ème D.I. livra un violent combat à Khan Meiseloun; victorieux, le Général Goybet fit son entrée à DAMAS, le 25 juillet 1920, déposa l'Emir Faycal, pacifia le Hauran révolté et exerca le commandement du territoire de Damas, jusqu'a sa mise au cadre de reserve, le 17 août 1921. Il revint en France Commandeur de la Légion d'Honneur et titulaire d'une 5 eme citation à l'ordre de l'armée, de la croix de guerre des TOE et de la médaille de Syrie. Le 30 juin 1923, il fut nommé Général de Division.
A loose translation (worth revising indeed) would be: "Decided to end the duplicity of Emir Faisal, General Gouraud ordered General Goybet to attack the Chief's Army with his 3 Infantry Division and occupy Damascus. After crossing (Mount) Lebanon and Anti-Lebanon (mountains), the 3rd I.D. delivered a violent fight at Khan Maysalun (mountains); victorious, General Goybet arrived at Damascus, July 25, 1920, deposed Emir Faisal, quelled the Hauran (region) rebellion and exercised control of the territory of Damascus, until its completion on August 17, 1921. He returned to France (and was awarded the) Commander of the Legion of Honor and a fifth mention in dispatches, (as well as) the Military Cross TOE (Theater of Operations) and the Medal of Syria. (On) June 30, 1923, he was appointed Major General."
At first I was mislead into the translation of the text "...l'armée Chérifienne..." because there was a similar entity that existed in Morocco, called Empire chérifien (Sherifian Empire), but then realized that it simply meant the Chief's (Faisal) Army, when reading it in context.
My personal conclusion is that the flag in question, featured in two separate sections on FOTW, as UFE 16-46 "Royal flag of Syria 1920?" here and as "Royal flag of Syria 1920?" is a battle flag used by the Arabs at either the Battle of Maysalun or during the revolts of that time. There are still doubts since the only two captured flags that remain from that period, are black, green white and red (source), and not red and white with a yellow crescent as described in the image first submitted by Jaumé.
In the same image, one can see yet another unidentified flag below the Légend (Caption) letter "D" at the start of the chapter.
It is important to notice that in the Goybet family's CoA (source) (image), there's a crescent featured, perhaps granted for his participation during these military actions as a member of the (French) Army of the Levant and part of the Franco-Syrian War against the (Arab) Kingdom of Syria.
Esteban Rivera, 12 June 2019

The Sherif was, as far as I know, the ruler in Mekka from the Hashemite dynasty, who had their own country Hedschas on the Western shores of the Arabian peninsula and afterwards had been expelled by the Saudis. Thus it means the Army of the Sherif (of Mekka).
Klaus-Michael Schneider, 15 June 2017
---
16-47. Flag at Black Lives Matter Protest. Some Speculation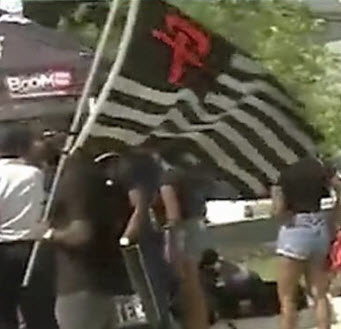 Image from Alex Douglas, 11 July 2016
Can you ID this flag seen at a Black Lives Matter protest?
Alex Douglas, 11 July 2016
The flag in the picture is clearly a flag based on the U.S. flag, with 13 stripes (seven black and 6 white, starting with black at the top), with an inscription in the (black) canton very similar to the juxtaposition of the letters "f" and "p" (in red), a possible reference of the phrase "Fuck the police" (sometimes written in slang form as fuck da police).
Now, regarding the context, it is absolutely clear that it is a protest flag, aimed at protesting at the U.S Police. In the previous days of the flag reported (early July, 2016) there was an important incident that took place and sparked (even more) outrage at the already troublesome situation, when the fatal shooting of Alton Sterling, a black man, took place, in Baton Rouge, Louisiana on July 5, when two white Baton Rouge Police Department Officers fired at him, after they were attempting to control Sterling's arms. Mass protests across the country were constant and consecutive. This incident was followed by the shooting of Dallas Police Officers as well, the same week, sparkling more protests and incidents. (source #1) (source #2) (source #3) and (source #4). It is suggested then, that the flag spotted by Alex may well have been sighted in Baton Rouge where the protests were most intense. However, it may not be since there were protests elsewhere in the country.
Esteban Rivera, 12 June 2019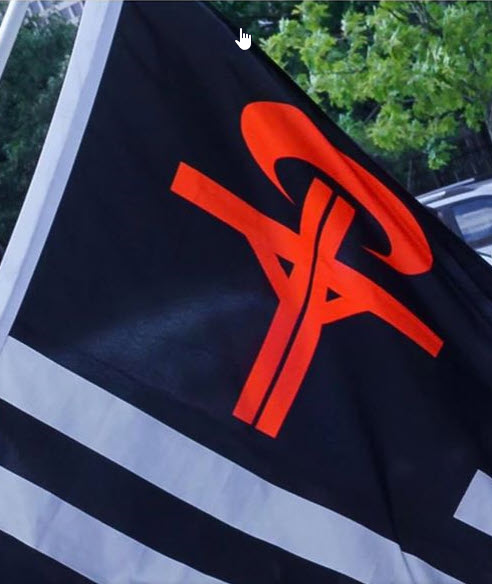 Image from Alex Douglas, 19 May 2020
This flag or a variant of it was also seen at a Black Lives Matter march in Atlanta, Georgia, in 2016. This gives a better view of the canton.
Jeremiah Cook, 19 May 2020
To be fair with this new reported sighting, it adds this additional image to FOTW with a far more better resolution than the one we had. Since it has been reported both in Baton Rouge (Louisiana) and Atlanta (Georgia) it is most likely through the coordination of minor groupings that protest such situations, especially in the southern States of the country.
Is it possible that you can let us know what is the source of those images? That is: the specific URL (link) so that we can gather further information?
Esteban Rivera, 20 May 2020
I'd consider the identification rather weak. The new photo, which is not quite the same symbol in the canton as that shown in the first photo is probably, however, meant to represent the same symbol in a less simplified form. But if it does, the speculation that the symbol is a stylistic "FP" strikes me as even more dubious than it did before.
However, neither of the two reports we have at hand even mentions whether this was carried by a protestor or a counter-protestor. Stylistically, the overall flag is closer to the Blue Lives Matter flags that represent a counter-protest to Black Lives Matter, but I wouldn't consider it the same flag. See, for example, the Thin Blue Lines - USA: Law Enforcement Flags and "Barring of 'Thin Blue Line' Flag Display Stirs Controversy In Montgomery County" (npr KQED).
Do we really know more than there were at least two physical flags that were different, but probably meant to be the same flag, leading to speculation that this was not a personal flag or a creation of a single manufacturer, and that they have some relation to Black Lives Matter?
Jon Radel, 20 May 2020
Indeed as Jeremiah mentioned, the flag is located here in the FaceBook discussion "What is this thing?", posted by Kersten Toebben yesterday, itself a picture forwarded to her.
Even though the description I made looks now incorrect, the context is true, as this image shows (screenshot of the group in which the flag was spotted): The correct description is, as two group users Mel Ody and Vincent Vox put it: "two lynching gallows made into a cross with a (red) halo". [You must be logged into FaceBook to see some of this information]
Esteban Rivera, 20 May 2020
---