This page is part of © FOTW Flags Of The World website
Unidentified Flags or Ensigns Page 5 (2016)
flags submitted in 2016 - Page 5 of 5
Last modified: 2019-05-11 by pete loeser
Keywords: ufe | unidentified flags | 2016 |
Links: FOTW homepage | search | disclaimer and copyright | write us | mirrors

---
Please note our Policy for Submissions and Enquiries.
Below is a series of images of flags that have been provided to FOTW; some we have recognized, and some we have been unable to recognize. If you can help us identify any of these flags, please let us know! Contact the: UFE Editor.
Identification Key:
= Positive ID (Positive Identification)
= Tentative ID (Tentative Identification)
= Some Speculation
Unidentified Flags on Page 1:

Unidentified Flags on Page 2:

Unidentified Flags on Page 3:




Unidentified Flags on Page 4:

Unidentified Flags on this Page:

Unidentified Flags on other pages:
---
16-65. Unknown Flag Cap Badges Some Speculation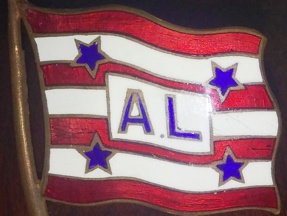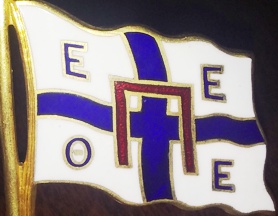 Images from Nunya Biznez , 26 November 2016
I've been researching a large lot of shipping company flag pins and cap badges using your online site information. It helped me identify 12 that I couldn't! However I have been unable to identify these two. I'm wondering if you have any idea what these are.
Nunya Biznez , 26 November 2016
I am afraid I don't recognise either of these two flags, although the second one is presumably Greek or Cypriot, given the pi and theta on it.
Rob Raeside, 26 November 2016
Is there context? Where do the pins-badges come from? Does it say anything on the reverse etc.? Are any of the twelve identified pins ones we don't cover? (Always trying to cover even more.)
Peter Hans van den Muijzenberg, 22 March 2017
---
16-66. Unknown neo-Nazi flag at Demonstration Tentative ID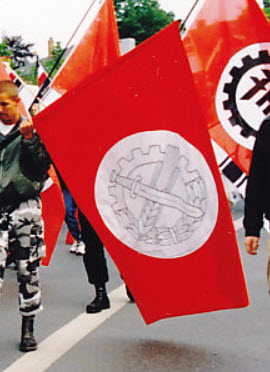 Image from Tomislav Todorovic, 27 November 2016
This neo-Nazi flag from Germany can be viewed at what appears to be a German Freedom Party demonstration in the early 1990s (Source) (Photo #1) (Photo #2)
The white disc on red field, typical for neo-Nazi flags, is here charged with an emblem composed of crossed sword and wheat-ear, which are placed over a combination of cogwheel and laurel wreath, one half of each; all these devices are white, outlined in black. The flag was carried together with those of the Liberal German Workers' Party, but it does not mean that it was one of their flags, since other groups' presence can be identified - most notably, that of the National List whose demonstration posters can be seen in some of the photos.
A Google image search reveals the depicted emblem to resemble that of the German Socialists' Camp League (Photo: ) (Kampfbund Deutscher Sozialisten; KDS), a group which existed from 1999 to 2008, but also differs from it - the KDS emblem has an upright sword over two crossed devices which resemble spades or torches (the image resolution does not allow precise detection), all over a wreath of oak leaves. The flag user is consequently yet to be determined.
Tomislav Todorovic, 27 November 2016
This unknown neo-Nazi flag is related to the National Resistance (Nationaler Widerstand) flag and as well as that discussed in UFE 17-31, plus being mentioned on list messages #104514 and 104427. In these messages, Santiago Dotor explains the following and positively identifies the flag: "...the unidentified flag is a symbol for the National Resistance (Nationaler Widerstand). It's not used by a party or organisation, just for the whole action called Nationaler Widerstand. It's meant for a folk-unit out of soldiers and workers.". Then, Martin Karner adds: "News stories about the new diary for 2006 of the German Nationaler Widerstand confirm the use of this logo. It can be seen on the homepage of PNOS (Party of Nationally Oriented Swiss)... The diary is distributed by the publishing house Deutsche Stimme (German Voice) which is affiliated to the NPD. According to news stories the German Verfassungsschutz (protection of the constitution) describes it as "hard on the edge of legality".
This last part, the Verfassungsschutz, refers to the "Constitution protection (in Germany) and it is a generic term for the material (legislation) protection of the constitution as well as the Inlandsnachrichtendienst Bundesamt für Verfassungsschutz (BfV) (Domestic Intelligence Service Federal Office for the Protection of the Constitution, BfV). It should serve as a political instrument of the Streitbare Demokratie (Militant Democracy), which implies that the government (Bundesregierung), the Parliament (Bundestag) and the judiciary are given extensive powers and duties to defend the Freiheitlich-Demokratische Grundordnung (Liberal democratic order) against those who want to abolish it. The idea behind the concept is the notion that even a majority rule of the people cannot be allowed to install a totalitarian or autocratic regime like the Enabling Act of 1933 (formally Ermächtigungsgesetz vom 24. März 1933, offiziell das "Gesetz zur Behebung der Not von Volk und Reich" - Enabling Act of 24 March 1933, officially the "Law for the Elimination of the Tribulation of the People and the Reich"), thereby violating the principles of the German constitution, the Basic Law. Together with the Landesämter für Verfassungsschutz (LfV) (State Office for the Protection of the Constitution) at the State level, it is tasked with intelligence-gathering on threats concerning the democratic order, the existence and security of the Federation or one of its states, and the peaceful coexistence of peoples; with counter-intelligence; and with protective security and counter-sabotage. Likewise, the term is used in Austria in the administrative sense. Collectively and generically the term ,in Switzerland, is the Staatsschutz (State protection)." Its legal base is the Grundgesetz für die Bundesrepublik Deutschland (Basic Law for the Federal Republic of Germany) or Deutsches Grundgesetz (German Basic Law), generally abbreviated "GG", with the Verfassungsschutz focused on Articles 9, 18, 21 and 79.
Sources: Source #1, Source #2 and Source #3.
Esteban Rivera, 13 January 2018
While it is indeed possible that these are closely related, it should be mentioned that these flags are not actually of the same design. The National Resistance Flag shows a hammer over a sword, while UFE16-66 appears to be a sword over a sheaf of grain over a circle of a demi-cog wheel before a laurel wreath.
Peter Hans van den Muijzenberg, 16 March 2018
---
16-67. Possibly 2nd Troop, Philadelphia City Cavalry? (US) Some Speculation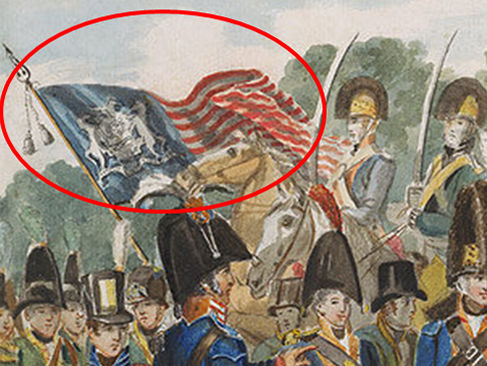 #67a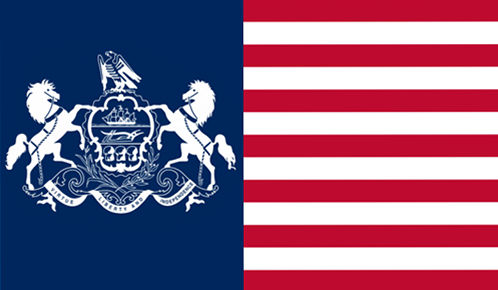 #67b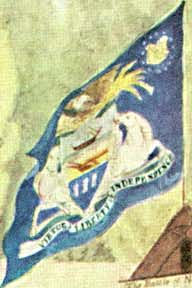 #67c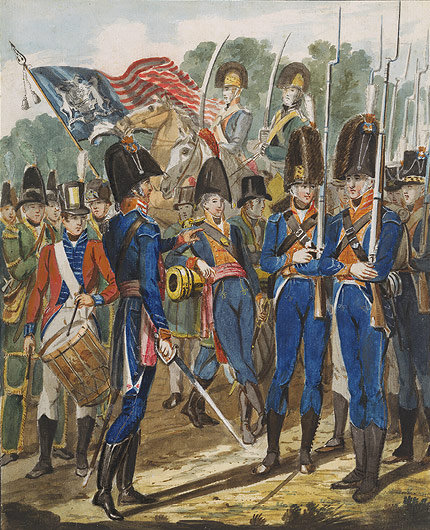 #67d
Images from Vinson R. Nash, 16 December 2016
I've stumbled across an image of a painting (#67d) which is identified as "Members of the City Troop and Other Philadelphia Soldiery" by John Lewis Krimmel (1811-1813). Why this is of particular interest is that I am doing historical research on the Second Troop Philadelphia City Cavalry, which had distinct uniforms and presumably, a distinct color. Now, the uniforms are not perfectly consistent with either First Troop or the known examples I have seen or read for Second Troop, but there are element which are identifiable, and if one takes into account a liberal choice of colors on the part of the artist - given that this is a watercolor - it seems to fit with Second Troop's original uniform pattern.
What interests me in this instance is the odd flag. It is of a pattern similar to early US flags with two exceptions; one - it clearly is bisected by a blue field rather than having a blue canton; and two - the blue field seems to have the Pennsylvania coat of arms on it in white. I found a depiction of an early Pennsylvania flag (#67c) for comparison, but it did not have the clearly present red-and-white stripes. I have a theory that this could be the "lost" (to history, that is) color of Second Troop. Given that First Troop's color - the Markoe Standard - is yellow with a blue-and-white striped canton with a unique crest on the fly, my thought was that the somewhat-reversed design would make Second Troop's color clearly distinguishable.
Vinson R. Nash, 16 December 2016
[Note: image #67a is a detail from image #67d and image #67b is an attempt to reproduce the flag in question.]
---
16-68. Unknown Polish European Union Flag? Some Speculation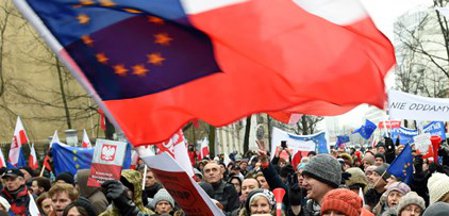 Image from William Garrison, 20 December 2016
A Polish European Union Flag? Anybody know anything about it?
William Garrison, 20 December 2016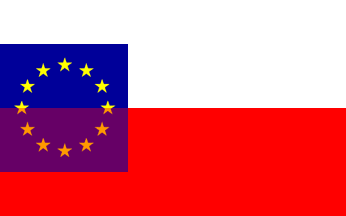 #68a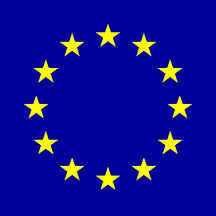 #68b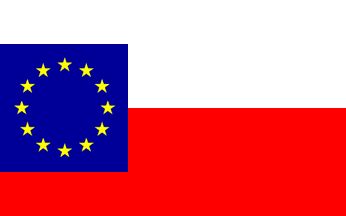 #68c
Images by António Martins-Tuválkin, 24 December 2016
Looks like a regular Polish national flag flown along (on the same staff, or on two staffs held together, or even on two separate staffs seen as if joined due to the relative position of the photographer) a smaller (~60% of the height), square E.U. flag, given the clear color difference of the overlaping areas.
However, since a square E.U. flag is a rare sight, I attach (#68b) and also the putative joint flag, both as seen on that photo. the overlapping color areas (#68a), and an idealized version, in case this is "a thing" (#68c).
António Martins-Tuválkin, 24 December 2016
The reconstructions we have are inaccurate. In the photograph:
The stars in the EU flag are upside-down;
There are at least 7 stars in the purple;
One of the stars is rather close to the division line.
If you happened to live under a two-striped flag and had to fit a different flag on to it, wouldn't you either canton it or centre it on the division line? Clearly neither happened here.
Even in an uncropped photograph you can't see why those two flags fly together, but that's what we see: Two flags "flying" together.
Peter Hans van den Muijzenberg, 23 April 2019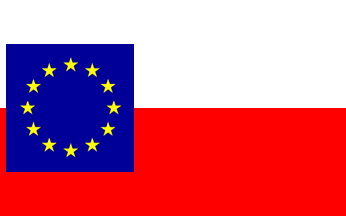 #68d
Image from Tomislav Todorovic, 23 April 2019
Not exactly: one flag is attached (sewn? glued?) to the other, but incorrectly (upside-down, and not precisely centered on the partition line). Note that there is a narrow white-red "margin" next to the staff, which might also have uneven width, although it is difficult to tell, but seems not to be unexpected, given all other obvious inaccuracies. In my drawing (#68d) the "margin" is taken into the account (approximate width, might be a bit more or less wide, but does'nt really matter, as it might be uneven on the real flag).
Tomislav Todorovic, 23 April 2019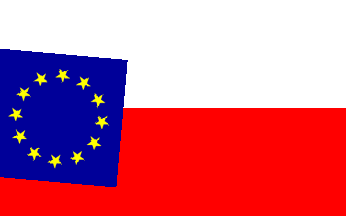 #68e
Image from Peter Hans van den Muijzenberg, 23 April 2019
I've now found a good enough image to see who is flying whatever they are flying. It's not a margin: higher up you see the pole of the white and red, lower it's obscured by a billow of the flag. If these flags were fixed together, they'd be more like #68e, just with a slightly larger Polish part.
Be that as it may: They are two known flags; not a single "Unknown Polish European Union Flag" anymore.
Peter Hans van den Muijzenberg, 23 April 2019
The staff is not obscured along the complete flag width. But there is that "margin" as well. It is not rotated that much - both hoist corners of EU flag are well visible. The folds of one flag seem to follow those of the other too precisely to let it be two separate flags. They do seem to be attached to each other somehow, other than sharing the same staff.
Tomislav Todorovic, 23 April 2019
---