This page is part of © FOTW Flags Of The World website
Unidentified Flags or Ensigns Page 5 (2016)
flags submitted in 2016 - Page 5 of 5
Last modified: 2023-11-25 by

zachary harden
Keywords: ufe | unidentified flags | 2016 |
Links: FOTW homepage | search | disclaimer and copyright | write us | mirrors

---
Please note our Policy for Submissions and Enquiries.
Below is a series of images of flags that have been provided to FOTW; some we have recognized, and some we have been unable to recognize. If you can help us identify any of these flags, please let us know! Contact the: UFE Editor.
Identification Key:
= Positive ID (Positive Identification)
= Tentative ID (Tentative Identification)
= Some Speculation
Unidentified Flags on Page 1:

Unidentified Flags on Page 2:

Unidentified Flags on Page 3:




Unidentified Flags on Page 4:

Unidentified Flags on this Page:

Unidentified Flags on other pages:
---
16-59. Strange Flags at Hockey World Cup Positive ID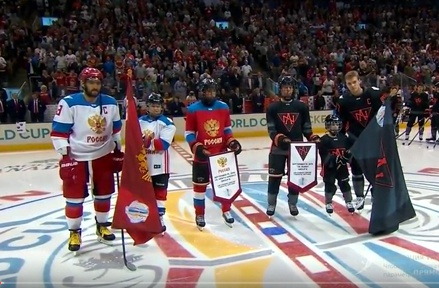 Opening Ceremony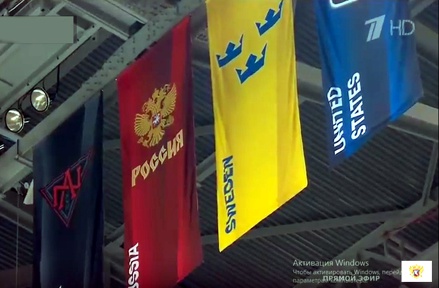 Stadium Roof
Images from Victor Lomantsov, 23 September 2016
At the Hockey World Cup (2016) I saw some very strange flags of hockey teams. They had young flag-bearers holding them at the opening ceremony and they were used as big banners below the roof of the arena.
The first was a red flag with an eagle for Russia and the second might have been a black flag of North America? The third had the three crowns for Sweden, and the fourth was a blue flag with what appeared to be the coat-of-arms of the USA.
Victor Lomantsov 23 September 2016
Please see message # 211521. The flags along the stadium roof are the teams participating at the event - they are (from left to right):
Team North America - officially the North American Men's 23-and-under Ice Hockey Team. It features this logo over the flag. (source).
Team Russia - officially: Russian Men's National Ice Hockey Team (Сборная России по хоккею с шайбой) .
Team Sweden (see message # 211521)
Team United States (unidentified logo)
Also hung from the statium roof (but not shown in this photo) were: Esteban Rivera, 21 October 2016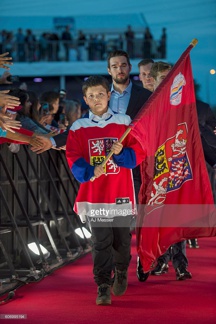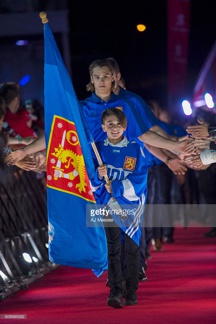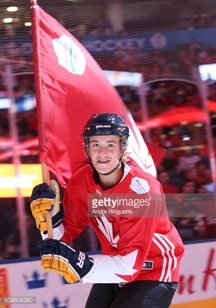 Getty images from James Dignan, 22 October 2016

The 2016 World Cup of Hockey featured a curious mix of national and supranational teams. As such it would make sense if they didn't use national flags, but rather used plain coloured banners with the emblem and name of each team. Such banners were displayed hanging vertically, alongside banners of the WCH and a red "advertising-style" banner for this year's tournament. (See this image, which clearly shows that the "NA" flag does represent the North America team). The national flags of all competitirs, whether part of national or supranational teams - was also displayed in the arena.
The competing sides were Canada, the US, Sweden , Czech Republic, Russia, Finland, Europe (a combined teams of European nations not otherwise represented) and North America (a combined US and Canadian under-23 team) (details)
In this article are the "nationaL " emblems used by each of the eight teams at the 2016 WCH (including an intriguing light and dark blue shield for Europe - the EU emblem could not be used because it would not represent any Swiss participants)... and here is the emblem (and, presumably, flag) of the 2016 WCH.
James Dignan, 22 October 2016

Here are the vertical flags at the opening ceremony:
Esteban Rivera, 23 October 2016
---
16-60. Possible HM Customs and Revenues Pennant Positive ID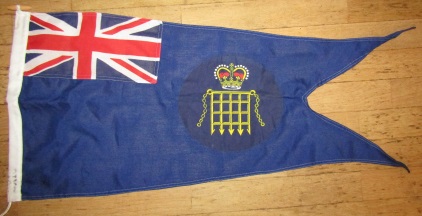 This burgee/pennant has been identified and is now at its permanent location on the United Kingdom: HM Revenue and Customs page.
---
16-61. Belgian flag with Lion Positive ID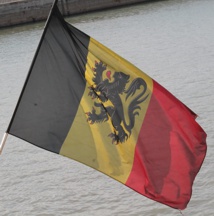 This flag design was originally a special Civil Ensign of 1936, but is now used as a merchant ensign for Belgian Naval Reserve Officers (with the lion slightly enlarged).
---
16-62. Gold Eagle on Black Flag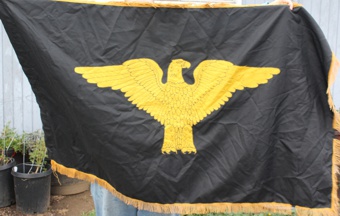 Image from Clayton Horner, 15 October 2016
I picked this flag up quite a while ago and have not been able to ID it. It is a gold eagle on a black flag with a gold fringe. It is a double sided flag with a sleeve for indoor display. I do not think that it is a military rank flag (at least not US military) because it does not match the colors of any of the US military branches, the eagle is not on a perch, and the rank represented by an eagle are not entitled to a flag.
Clayton Horner, 15 October 2016
---
16-63. This old flag - American? Tentative ID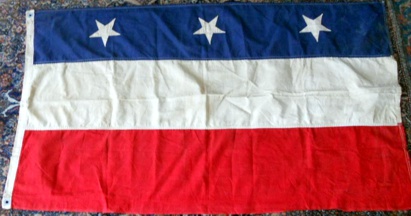 Image from Bob Egbert, 22 October 2016
I was given this old flag by a friend who found it in the attic of an old house here in Milford, Delaware. There were two of them, other was the same but very badly damaged. This flag is cotton, measures 28"x48", is machine sewn, stars are also machine sewn on both sides. It has a small sleeve that a rope could pass through and two grommets made of galvanized or lead metal that are heavily encrusted. There are no identifying marks on this flag whatsoever. The white bar is discolored from storage and the fold marks throughout the flag are quite obvious. Don't know if it is a flag or perhaps a bunting or banner, it is however quite attractive. I am thinking of framing it and hanging it in the house and knowing it will draw attention would love to have any information not only for myself but others that might find it interesting. Hopefully you can answer my questions about this remarkable flags.
Bob Egbert, 22 October 2016
I don't recognise this flag either - the stars seem to be upside down to have the blue band at the top, but who would put them on a blue band at the bottom.
Rob Raeside, 22 October 2016
My first thought was red-white-blue with stars on the bottom stripe. Perhaps a decoration?
Pete Loeser, 22 October 2016
Never thought that the blue stripe could be the bottom, but, who knows? It is a very intriguing thing though, banner, bunting, shipping line flag, all possibilities, especially with the zinc grommets. Anyway any ideas would be appreciated especially the age.
Bob Egbert, 23 October 2016
Bunting. I have some images of a 1939 Dettra catalogue showing a 5 star version. There the stars are pointing towards the top when blue is at the top, but I'd say it's the same intention.
Peter Hans van den Muijzenberg, 28 October 2016
---
16-64. Germanic Odinist Irminsul Banner Positive ID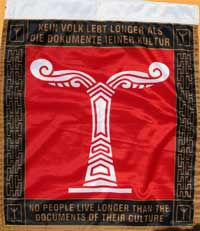 Image from Pete Loeser, 26 November 2016

I've run into another weird banner and I hope some of you might have some insight. It claims to be an "Germanic Odinist Irminsul Banner", has anybody ever seen anything like this particular one? Obviously its a modern replica or fantasy flag - note text which includes English, German and two other languages. The sleeve indicates it was designed to be carried on a T-mount or hung at a 45 degree slant. So far all I've got is Irminsul is old Saxon for "great/mighty pillar" or "arising pillar", which was "...a kind of pillar which is attested as playing an important role in the Germanic paganism of the Saxon people," but of this banner, I have nothing but the picture. I know this kind of symbol has been repurposed in modern extremist pagan mythology.
Pete Loeser, 26 November 2016

About the use of this flag, seems that lots of flags are being sold online as the "Odinist", "Asatru", etc., but are actually neo-Nazi ones, many of them having been verified as such by photos of their use. Still I cannot say more about this particular one without more background information. [Note: The use of the Irminsul symbol by neo-Nazi extremist groups is discussed at Neo-Nazi flag symbolism.] .
Tomislav Todorovic, 27 November 2016

The Irminsul symbol is the same as used by the SS-Ahnenerbe. The exact same symbol is used by the publisher of the Haus der S.S. Ahnenerbe. The Inscription Kein Volk lebt länger als die Dokumente seiner Kultur was the motto of the SS-Ahnenerbe. However, I doubt the flag shown is of German origin, the upper text shows two obvious grammar mistakes. Länger is written as "Longer" on the flag ("longer" is English for länger in German), and on the second line seiner is written as "ieiner". Because of this I beleive the creator of this flag did not know that the "long s" was commonly in use in the German of that time. Thus I think the origin of this flag is in an English speaking country.
Dieter Mayr, 25 December 2016

The quote is from Hitler, used by Ahnenerbe (the organisation to research the superiority of the Arians). The Irminsul featured in their activities as well. I don't think they were Odinists, though; that probably wouldn't have been exclusively German enough.
The vertical columns look like decoration to me, not other languages. Since the German has an error that is much more likely to be made by an English speaker than a German speaker, I would say that it's from some English language neo-NS group who would like to repeat past mistakes by remembering.
Can't recall ever seeing one before, but not my thing.
Peter Hans van den Muijzenberg, 20 January 2017

That text and image appeared on the on-line shop PzG, for the first time archived with that content in 2012. The date is of some importance as PzG mentions the research efforts of FotW. As our involvement with this dates from 2016, it apparently isn't a flag he had made after our efforts. The item is described as: "F52 - Germanic Odinist Irminsul Banner Irminsul (Old Saxon, probably 'great/mighty pillar' or 'arising pillar') was a kind of pillar which is attested as playing an important role in the Germanic paganism of the Saxon people. Details: 14 inch X 14 inch wall hanger, banner, flag. nazi flags $15.00 +s/h"
No source for the flag is mentioned. It is, however, obviously an internationalisation of an original German object. The Internet can then help us find what is termed "the original Irminsul tapestry of the SS-Ahnenerbe". The organisation providing this information, Germania International, offers a single-language recreation of the tapestry for sale. I would say PzG likewise (re-)created the tapestry, as a banner, with the quote of Hitler displayed in two languages: German and the language of their US customers. It's a fan item made in China (as that's where PzG have their items made), of no actual WWII meaning at all.
Peter Hans van den Muijzenberg, 5 April 2019

We already have something similar. Irminsul was a pagan symbol. But nobody seems to know, what it had been exactly, a tree or a sculpture. It was destroyed by Karl the Great, after he had defeated Widukind and the Saxons in the 9th(?) century. Probably Pete or Toma know better. As far as I remember the images with that tree referred to Yggdrasil, the ash carrying the world in the Edda.
Klaus-Michael Schneider, 5 April 2019

Another hit is at the Library of Congress, providing a better view of its location in the room.
Peter Hans van den Muijzenberg, 5 April 2019
---
16-65. Unknown Flag Cap Badges Some Speculation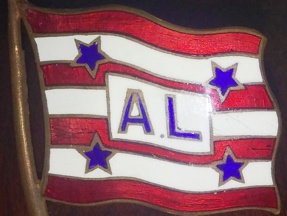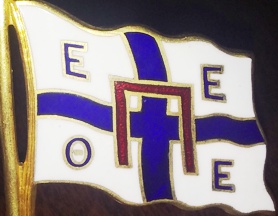 Images from Nunya Biznez , 26 November 2016
I've been researching a large lot of shipping company flag pins and cap badges using your online site information. It helped me identify 12 that I couldn't! However I have been unable to identify these two. I'm wondering if you have any idea what these are.
Nunya Biznez , 26 November 2016
I am afraid I don't recognise either of these two flags, although the second one is presumably Greek or Cypriot, given the pi and theta on it.
Rob Raeside, 26 November 2016
Is there context? Where do the pins-badges come from? Does it say anything on the reverse etc.? Are any of the twelve identified pins ones we don't cover? (Always trying to cover even more.)
Peter Hans van den Muijzenberg, 22 March 2017
---
16-66. Unknown neo-Nazi flag at Demonstration Tentative ID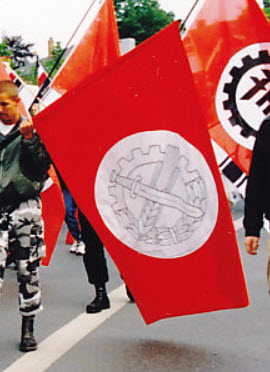 Image from Tomislav Todorovic, 27 November 2016
This neo-Nazi flag from Germany can be viewed at what appears to be a German Freedom Party demonstration in the early 1990s (Source) (Photo #1) (Photo #2)
The white disc on red field, typical for neo-Nazi flags, is here charged with an emblem composed of crossed sword and wheat-ear, which are placed over a combination of cogwheel and laurel wreath, one half of each; all these devices are white, outlined in black. The flag was carried together with those of the Liberal German Workers' Party, but it does not mean that it was one of their flags, since other groups' presence can be identified - most notably, that of the National List whose demonstration posters can be seen in some of the photos.
A Google image search reveals the depicted emblem to resemble that of the German Socialists' Camp League (Photo: ) (Kampfbund Deutscher Sozialisten; KDS), a group which existed from 1999 to 2008, but also differs from it - the KDS emblem has an upright sword over two crossed devices which resemble spades or torches (the image resolution does not allow precise detection), all over a wreath of oak leaves. The flag user is consequently yet to be determined.
Tomislav Todorovic, 27 November 2016
This unknown neo-Nazi flag is related to the National Resistance (Nationaler Widerstand) flag and as well as that discussed in UFE 17-31, plus being mentioned on list messages #104514 and 104427. In these messages, Santiago Dotor explains the following and positively identifies the flag: "...the unidentified flag is a symbol for the National Resistance (Nationaler Widerstand). It's not used by a party or organisation, just for the whole action called Nationaler Widerstand. It's meant for a folk-unit out of soldiers and workers.". Then, Martin Karner adds: "News stories about the new diary for 2006 of the German Nationaler Widerstand confirm the use of this logo. It can be seen on the homepage of PNOS (Party of Nationally Oriented Swiss)... The diary is distributed by the publishing house Deutsche Stimme (German Voice) which is affiliated to the NPD. According to news stories the German Verfassungsschutz (protection of the constitution) describes it as "hard on the edge of legality".
This last part, the Verfassungsschutz, refers to the "Constitution protection (in Germany) and it is a generic term for the material (legislation) protection of the constitution as well as the Inlandsnachrichtendienst Bundesamt für Verfassungsschutz (BfV) (Domestic Intelligence Service Federal Office for the Protection of the Constitution, BfV). It should serve as a political instrument of the Streitbare Demokratie (Militant Democracy), which implies that the government (Bundesregierung), the Parliament (Bundestag) and the judiciary are given extensive powers and duties to defend the Freiheitlich-Demokratische Grundordnung (Liberal democratic order) against those who want to abolish it. The idea behind the concept is the notion that even a majority rule of the people cannot be allowed to install a totalitarian or autocratic regime like the Enabling Act of 1933 (formally Ermächtigungsgesetz vom 24. März 1933, offiziell das "Gesetz zur Behebung der Not von Volk und Reich" - Enabling Act of 24 March 1933, officially the "Law for the Elimination of the Tribulation of the People and the Reich"), thereby violating the principles of the German constitution, the Basic Law. Together with the Landesämter für Verfassungsschutz (LfV) (State Office for the Protection of the Constitution) at the State level, it is tasked with intelligence-gathering on threats concerning the democratic order, the existence and security of the Federation or one of its states, and the peaceful coexistence of peoples; with counter-intelligence; and with protective security and counter-sabotage. Likewise, the term is used in Austria in the administrative sense. Collectively and generically the term ,in Switzerland, is the Staatsschutz (State protection)." Its legal base is the Grundgesetz für die Bundesrepublik Deutschland (Basic Law for the Federal Republic of Germany) or Deutsches Grundgesetz (German Basic Law), generally abbreviated "GG", with the Verfassungsschutz focused on Articles 9, 18, 21 and 79.
Sources: Source #1, Source #2 and Source #3.
Esteban Rivera, 13 January 2018
While it is indeed possible that these are closely related, it should be mentioned that these flags are not actually of the same design. The National Resistance Flag shows a hammer over a sword, while UFE16-66 appears to be a sword over a sheaf of grain over a circle of a demi-cog wheel before a laurel wreath.
Peter Hans van den Muijzenberg, 16 March 2018
I wonder if we are looking at the reverse side of the flag and thus seeing only stitching?
Pete Loeser, 5 July 2019
---
16-67. Possibly 2nd Troop, Philadelphia City Cavalry? (US) Some Speculation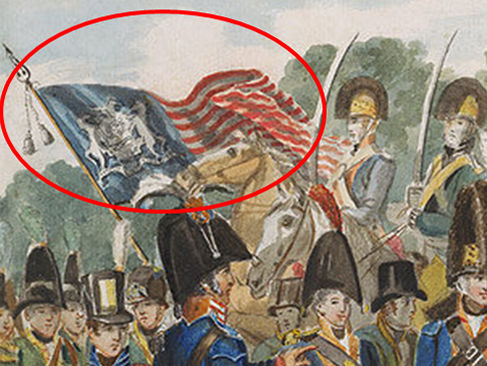 #67a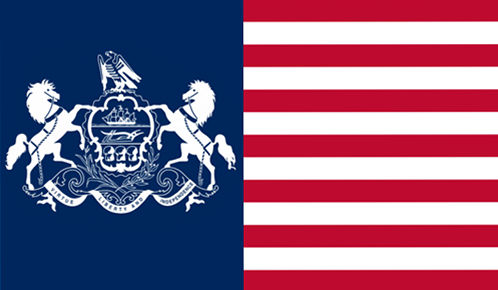 #67b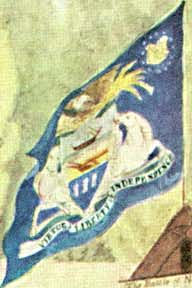 #67c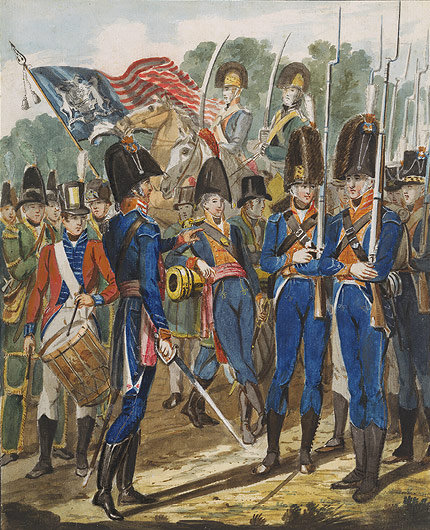 #67d
Images from Vinson R. Nash, 16 December 2016
[Note: image #67a is a detail from image #67d and image #67b is an attempt to reproduce the flag in question.]
I've stumbled across an image of a painting (#67d) which is identified as "Members of the City Troop and Other Philadelphia Soldiery" by John Lewis Krimmel (1811-1813). Why this is of particular interest is that I am doing historical research on the Second Troop Philadelphia City Cavalry, which had distinct uniforms and presumably, a distinct color. Now, the uniforms are not perfectly consistent with either First Troop or the known examples I have seen or read for Second Troop, but there are element which are identifiable, and if one takes into account a liberal choice of colors on the part of the artist - given that this is a watercolor - it seems to fit with Second Troop's original uniform pattern.
What interests me in this instance is the odd flag. It is of a pattern similar to early US flags with two exceptions; one - it clearly is bisected by a blue field rather than having a blue canton; and two - the blue field seems to have the Pennsylvania coat of arms on it in white. I found a depiction of an early Pennsylvania flag (#67c) for comparison, but it did not have the clearly present red-and-white stripes. I have a theory that this could be the "lost" (to history, that is) color of Second Troop. Given that First Troop's color - the Markoe Standard - is yellow with a blue-and-white striped canton with a unique crest on the fly, my thought was that the somewhat-reversed design would make Second Troop's color clearly distinguishable.
Vinson R. Nash, 16 December 2016
The original painting is held at the Metropolitan Museum of Art in New York City. It is described as "Members of the City Troop and Other Philadelphia Soldiery". Other details follow.
Dave Martucci, 27 January 2019
In analyzing a painting like this it is essential to remember the artist is by nature creating a scene that may have existed only briefly or even not at all whose details are supplied most likely by his imagination. Even in the best case scenario, where the artist took careful notes on uniforms, weapons, and of course, flags, some details are invariably missed. However for the most part this is not how these scenes were created.
So examining the scene we see at least six different uniforms.
On the left are a few Riflemen dressed in green hunting frocks with yellow fringe and a tall chapeaux-type hat. They are wearing green trousers also with yellow fringe.
On the right are some Light Infantry dressed in blue jackets with orange-red facings and blue trousers with black gaiters over their lower leg and shoes, some with bear fur helmets and others with shakos. All but one have a leopard skin band around their hats while an officer wearing a chapeaux with a red sash of rank of the same regiment lounges on the cannon barrel. This regiment's drummer stands at left in a uniform whose colors are reversed as was customary.
Between those last two stands a general officer of the division in a blue coat with scarlet facings, a red sash and a big chapeaux on his head. Behind the cannon are two men in green coats faced gold and white trousers wearing top hats, who I take to be the artillery men.
In the background are two cavalry troopers, depicted as belonging to two different troops. One is wearing a blue coat faced red facings and white cross belts and the other a green coat with black facings and buff cross belts. The latter fellow appears to be wearing deerskin breeches, a sure sign of a Dragoon. Both are wearing bear fur trimmed leather helmets typical of the elite troops.
The flag is pretty visible although who is waving it is not shown. Clearly that person is not mounted on a horse. The pole features a spearhead and it has a cord and tassel pair, so there is some military connection intended. But the proportions of the flag are not consistent with either Cavalry or Infantry usage, being way too long proportion-wise.
A blue panel with the State Arms of Pennsylvania to which is attached a 13 alternate red and white striped fly I think is just a fantasy flag and was not intended to resemble the colors of any of the troops in the picture but was rather intended to speak to the patriotic feelings of the viewer of the picture.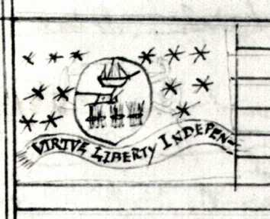 #67e - Image from Dave Martucci, 12 August 2019
Source: Furlong, pg. 144

The flag in the painting bears a resemblance to the flag depicted in Ezra Stiles diary under date of 24 April 1783 (the original is at Yale University.). The image is an ink line drawing over some faint pencil sketching. The available illustration is only a detail so the exact number of stripes is not shown. Stiles' diary describes it as having "The stripes red and white, with azure field in the upper part charged with 13 stars." He also describes the arms as those of the US but in this he erred. The canton bears 13 six-pointed stars disposed around the arms of Pennsylvania. It presumably had a total of thirteen stripes.
Obviously the Stiles flag has the Pennsylvania Arms on a canton surrounded by stars and the flag in the painting has the arms on a hoist band and no stars, but the similarities are clear.
Dave Martucci, 12 August 2019

I remember thinking that the reproduction (#67b) seems far too short. The fly looks like it at least folds back on itself, and it appears to fold out again, and even flows on from there. If that's all the same flag, then it's much longer than the reproduction with the blue taking up almost half the flag.
So, regardless of whether this exact design existed: Would such a long flag with a hoist box have been likely around 1812? And is this John Lewis Krimmel know for representing flags well?
Why is this one not UFE-ed as "Members of the City Troop and Other Philadelphia Soldiery", by-the-way? Was there not really a "City Troop" in Philadelphia at the time? Do the arms tell us whether this was a contemporary piece or a historical piece?
Peter Hans van den Muijzenberg, 12 August 2019

Peter Hans, I agree with you regarding proportions. The image #67b should have the red and white stripes about three times longer than what is shown. Flags that are very long proportion-wise would not have been very common in 1812 or any other date in the 19th or 20th centuries in the USA, hence my characterization as a "fantasy" flag.
I have no idea if John Lewis Krimmel depicted other flags in other paintings. The painting is entitled "Members of the City Troop and Other Philadelphia Soldiery" although the inquiry came in as "Possibly 2nd Troop, Philadelphia City Cavalry?"
The First Troop of Philadelphia City Cavalry still exists today as the last remaining militia unit from the 18th century of that place. I consulted with them about 15 years ago when they were trying to get new flags made in the design the unit had in 1776. At the time of the painting there were at least two cavalry troops and one troop of dragoons as well as a number of infantry, light infantry and artillery units. Philadelphia, like other US Cities, was serious about its protection.
The Pennsylvania Arms in the painting are similar to other depictions during the 19th century, so those alone do not give us a hint as to dating.
Dave Martucci, 20 August 2019

I have to ask: Who are what, here? What are the city troop, what other soldiery would the city have?
I'm not quite sure about the number of stripes, as counting on different places gets me different totals. I've kept it at Vinson R. Nash's 13 stripes, but I've shrunk it to more or less the size that would go with the complex weaving of the stripes, to show how terribly long this would be. Obviously, it's just an approximation; the arms aren't really the same on the painting as on the jpeg.
Now, is there anything left for the devil's advocate? Is there a way, in which there cavalry people could have such a relatively large version of their flag? Oh, and seeing another US flag with the union along the entire host reminds me: At what time did the USA describe where that union was meant to go?
Peter Hans van den Muijzenberg, 5 June 2020
---
16-68. Unknown Polish European Union Flag? Some Speculation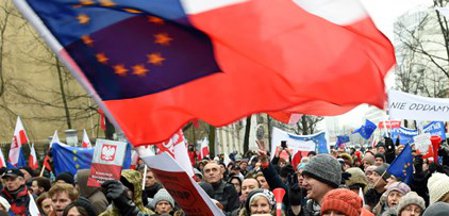 Image from William Garrison, 20 December 2016
A Polish European Union Flag? Anybody know anything about it?
William Garrison, 20 December 2016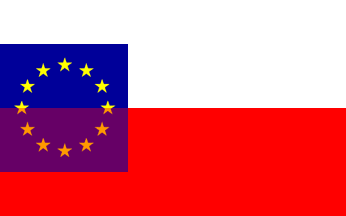 #68a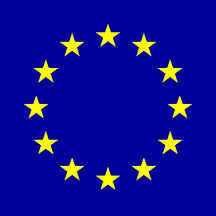 #68b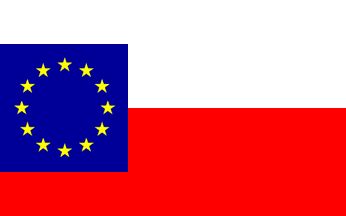 #68c
Images by António Martins, 24 December 2016
Looks like a regular Polish national flag flown along (on the same staff, or on two staffs held together, or even on two separate staffs seen as if joined due to the relative position of the photographer) a smaller (~60% of the height), square E.U. flag, given the clear color difference of the overlaping areas.
However, since a square E.U. flag is a rare sight, I attach (#68b) and also the putative joint flag, both as seen on that photo. the overlapping color areas (#68a), and an idealized version, in case this is "a thing" (#68c).
António Martins, 24 December 2016
---