This page is part of © FOTW Flags Of The World website
Unidentified Flags or Ensigns Page 4 (2017)
flags submitted in 2017 - Page 4 of 4
Last modified: 2023-01-14 by

zachary harden
Keywords: ufe | unidentified flags | 2017 |
Links: FOTW homepage | search | disclaimer and copyright | write us | mirrors

---
Please note our Policy for Submissions and Enquiries.
Below is a series of images of flags that have been provided to FOTW; some we have recognized, and some we have been unable to recognize. If you can help us identify any of these flags, please let us know! Contact the: UFE Editor.
Identification Key:
= Positive ID (Positive Identification)
= Tentative ID (Tentative Identification)
= Some Speculation
---
17-34. Unknown Tudor Naval Ensign? Some Speculation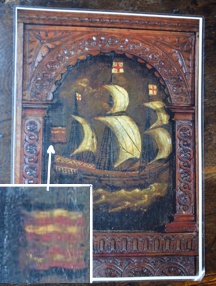 Image from John Garrett, 6 October 2017
Modified by Rob Raeside, 6 October 2017
I wonder if you can shed any light on the ensign that one can just make out on the attached image, which is a photo of a photo of a painting that's in Christchurch Mansion, Ipswich. It's said to be an image of the Desire, that sailed under Thomas Cavendish with Thomas Eldred aboard in 1586. The image is one of three in the carved oak over-mantle that was removed from Thomas Eldred's house. The painting would appear to have been over-painted on a low-relief panel but when and with what authenticity, I don't know.
John Garrett, 6 October 2017
My first thought is that this flag is intended to be a Tudor ensign. The only other common multi-striped flags are from the Netherlands but the context appears to preclude that. The puzzle is the black or dark blue top and bottom bands on ensign. I have attached a reduced version of the photo (but with the ensign clipped and pasted at original size in the lower corner of the image.
Rob Raeside, 6 October 2017
E'gads, this new flag enquiry "almost" looks a little like our mysterious striped flag in number 17-24 doesn't it? Of course, all horizontally striped flags look a lot alike...
Pete Loeser, 7 October 2017
We obviously know from the ship's design, and from the masthead flags, that this is an English, race-built galleon of the Elizabethan period, but it should be remembered that there is very little reliable information on the stern-mounted ensigns flown during this period. What little we have is almost entirely based upon pictorial records, and the tradition of accuracy in marine paintings was not yet established.
It should also be remembered s stern-mounted ensign was something of a luxury during the Elizabethan age, and where such existed, that (at least from the visual evidence mentioned above) the period was noted for its freedom of design. In other words, whether the "Desire" actually flew such an ensign in the 1580s, whilst not impossible of course, is entirely a matter of conjecture?
Christopher Southworth, 7 October 2017
---
17-35. Unknown Assyrian Flag Positive ID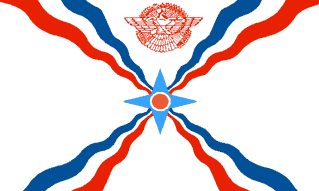 Image from Pete Loeser, 11 October 2017
I'm in the process of cleaning out computer clutter and will now do something I hate - post a flag without a brief description of the flag, where it was located, and any other known information pertinent to its history. I just have an undocumented image found in a folder of "unknown flags." The Assyrian symbol on it gives a clue, and hopefully one of you will recognize it.
Pete Loeser, 11 October 2017
Except the shades which are slightly different and the shape of the blue star, it seems to be the very same flag as shown on the Assyrians page. Maybe it's just an old alternate gif which didn't make it to the site?
Corentin Chamboredon, 13 October 2017
You are absolutely correct, I must have been asleep to miss that one. I'll just consider it an incorrect image or a manufacturer's variant - if it was, in fact, actually based on a real physical flag. Thanks for the quick reply.
Pete Loeser, 12 October 2017
---
17-36. Unknown Celtic Cross Flag Some Speculation
Image from Pete Loeser, 11 October 2017
I'm still in the process of going through old folders trying to get a handle on my computer clutter. So I post this image of what is obviously a Celtic Cross design, but I can't find out what organization or movement it belongs to or any information pertinent to its history. Anybody recognized it?
Pete Loeser, 11 October 2017
While I don't recognize it, I'd say it is probably one of those novelty flags with complex versions of different symbols which are manufactured for online sale to people who might like the flag with a particular symbol and are attracted by complex design. There are lots of examples for that, not only with Celtic cross, but other symbols as well.
Tomislav Todorovic, 11 October 2017
---
17-37. Unknown Catalan Flag Positive ID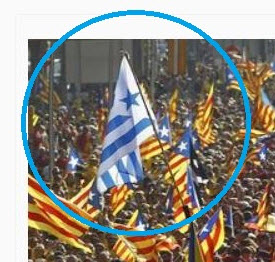 This has been identified as the sports club flag of the RCD Espanyol of Barcelona.
---
17-38. Don't Tread on Memes (US) Positive ID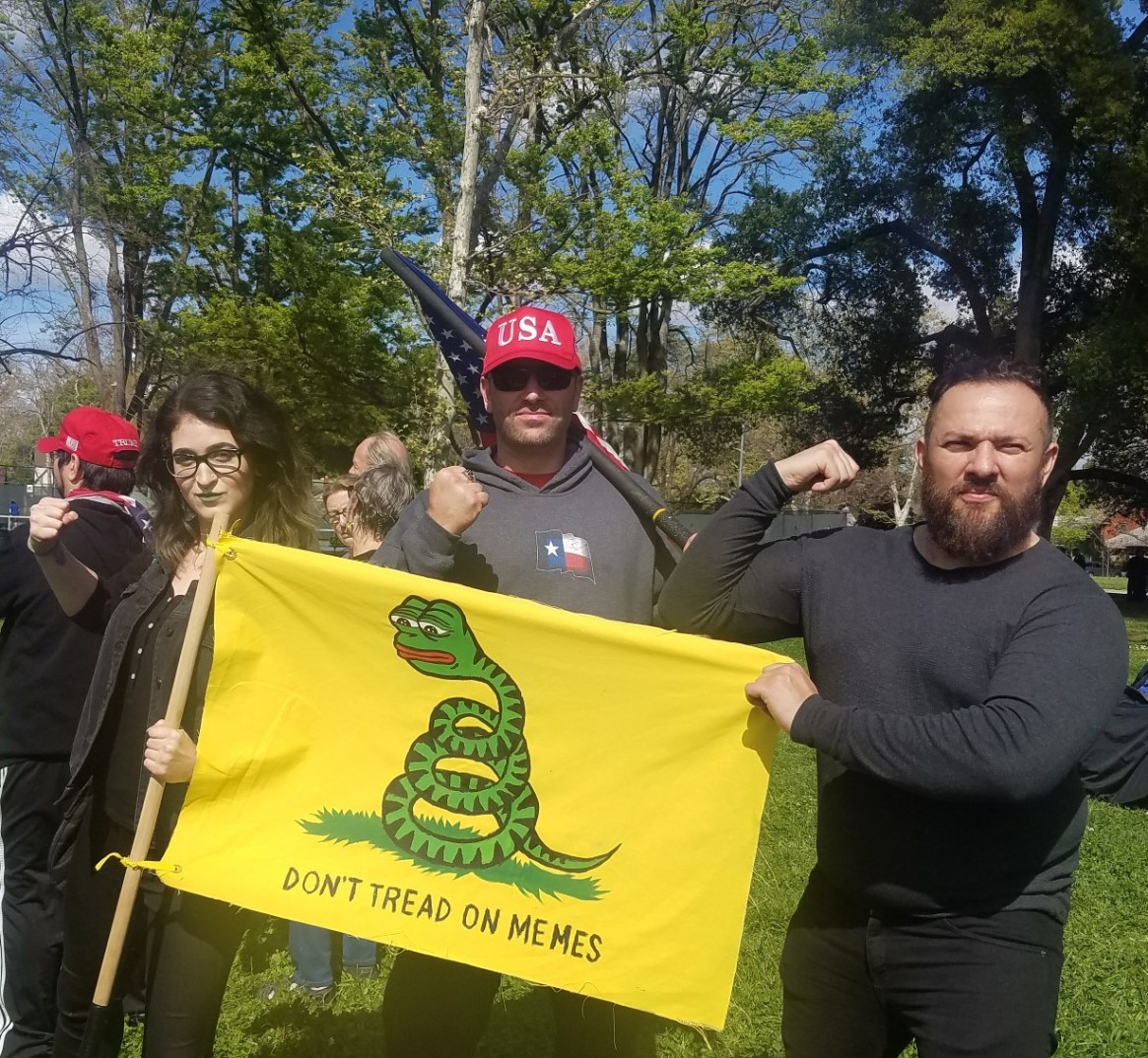 Image from Pete Loeser, 9 November 2017
In this new digital world there are many things I really don't understand. Take for example "memes" (which rhymes with "teams" I'm told). The definition of a meme (memetics?) is as confusing as is its use. It has been described as "a way of describing cultural information being shared" or "an element of a culture or system of behavior that may be considered to be passed from one individual to another by non-genetic means, especially imitation." (source) Clear as mud, huh.
Statements like "The meme is at the forefront of what makes up shareable, viral content on the social web" don't help me much. It apparently is a simple image, video or GIF with a witty tag line made in the spirit of online commentary, but also is "often considered any type of content designed and packaged to be share with your friends." According to Cecil Adams the concept of memes "is either really deep or really, really obvious."
Anyway, why am I going on with all of this on FOTW you may ask, I guess I'll just let this picture speak for itself. I found this while researching Anticom and Discord for extremist flags. Yes, they are wearing "Trump" hats and apparently Texans. Nope, I can't remember exactly where I found it.
Pete Loeser, 9 November 2017
If I can add to this definition, text isn't required and can include photoshopped or altered images to denote a fact (or alternative fact), an event or a feeling. Some can be in the form of social media posts (like Facebook, Twitter, Instagram) taken and shared around, others are still photos from a movie, YouTube video or cartoon or news video and then modified in the above mentioned thing. Sure it is my generation that creates and share these, I still say 85% is "above my head" but my staff thrives and communicates just on these. Sheesh.
There was a speech initially made by a Trump supporter in February in 2017 and was axed by the school due to safety and other concerns. I will let this Berkeley Protests page do the talking. On a side note, Discord is an app where users can communicate in real time and do not have to use real names. Another note as for why the design was changed, probably due to looks and costs. Many of times these flags are made quickly by using clip art found online. With this specific flag set, there is only another flag like this that was turned into cloth; it says "No Step on Snek" with a cartoon drawn flag is a flag "in the wild".
Zachary Harden, 9 November 2017.
In this case, the meme which "shall not be trodden on" is Pepe the Frog whose head is attached to the body of the Gadsden flag snake (note that the rattles are removed, too - no idea why, for it seems to depart from the original flag concept too much). By-the-way, the picture in question was taken in Berkeley, California, in April of 2017.
The "Kekistan flag", which was described earlier here (by Pete as well) is also the product of a meme, which was itself derived from the above "amphibian meme".
Regarding the subject, one might find interesting that excessive use of Gadsden flag has produced the reaction in form of several "anti-Gadsden" memes, some of which have resulted in creation of new flags - try to Google the phrase "We will tread&quot.
Tomislav Todorovic, 9 November 2017.
Since we are in danger of all going down the rabbit hole here, I recommend a visit to "Know Your Meme" particularly ""Gadsden Flag/Don't Tread on Me" to complete the journey. (Be prepared to wade through a plethora of ads)
Pete Loeser, 9 November 2017
---
17-39. Unknown Militia Flag (Latakia Province, Syria) Positive ID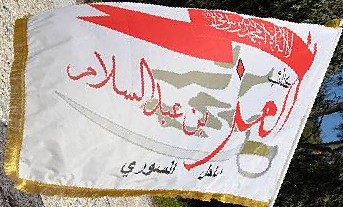 Image from Bill Garrison, 5 December 2017
This unknown militia Flag was seen in Latakia Province, Syria.
Bill Garrison, 5 December 2017
Embedded in this picture of the Unknown Militia Flag is the following information: "Abu Fahed, a costume and props designer and member of the al-Ezz bin Abdul Salam brigade, poses for a picture with the brigade flag during a training session at an undisclosed location near the al-Turkman mountains, in Syria's northern..." which pretty much answers the inferred question.
Pete Loeser, 7 December 2017.
In this image (source), the caption reads the following: "A Free Syrian Army commander in the Al-Ezz bin Abdul Salam Brigade, takes part in a meeting with his comrades at the brigade's base at an undisclosed location near the al-Turkman mountains." Hence, it is a faction within the FSA.
Here's another picture. The picture caption reads: "A member of the Al-Ezz bin Abdul Salam brigade waves a flag of the Katiba on the back of a pick-up truck before a training session at an undisclosed location near the al-Turkman mountains, in Syria's northern Latakia province, on April 25, 2013" And by-the-way, this image shows the exact same persona as the other image submitted.
Esteban Rivera, 7 December 2017.
---
17-40. Unidentified Flag from Toy Set Some Speculation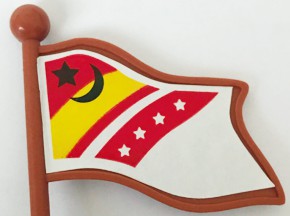 Image from Dan Shmikler, 10 December 2017
(Cropped and reduced by Rob Raeside, 11 December 2017)
I have an unidentified flag for your site. It was included in a set of toy soldiers my son got at Cantigny in the western suburbs of Chicago. It is the former estate of Col. Robert McCormick, who fought in World War I, and houses a museum of the Army's First Infantry Division.
Dan Shmikler, 10 December 2017
This is not a flag I recognise, nor anything like it. It looks like the flag is on a paper or plastic sticker on a brown plastic background, so clearly it doesn't date from World War I. My guess is that it comes from a toy set and is invented. I have trimmed the image and reduced the file size.
Rob Raeside, 11 December 2017
What sort of toy soldiers are in the set? Is the set modern soldiers or Mahdists from 1880s Khartoum? What is the brand name? Is it generic name like "Attack Force" or "Ultimate Combat" from some company like Ling Fat Toy Co.? I looked online and it seems many plastic toy soldier sets have fictional flags or flags of random countries.
Here's a set with what appears to be a completely made up flag. Here's a picture from a set that included a Russian flag and a Panamanian flag. Here's a set with several flags including what appears to be Singapore and Bangladesh.
Andy Behrens, 19 December 2017
While I don't know what flag it is, it is the same as UFE07-1, but with the four stars (also unsolved) added, so it is more likely to be real. Maybe the person who posted the picture could find the manufacture somewhere on the soldiers and see if the products is on their webpage or something?
Matthew Lewis, 18 December 2017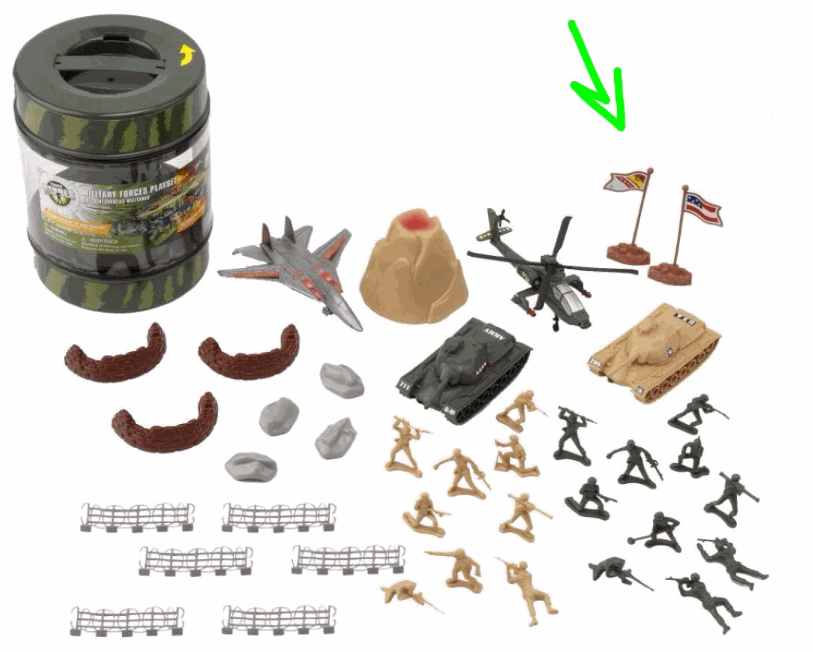 Image from Matthew Lewis, 21 December 2017
Rob Raeside was right, it does come from a play set. It is part of the "True Heroes Army" playset bucket from Toys R Us.
Matthew Lewis, 21 December 2017
Curious. They don't appear to be very likely flag designs, so how come we even have two of them now? Who thought these up? Do we know where the first poster came from? Hm, where does one go to ask questions about toy soldiers? This one has a certain Play Mobil-ness about it. But do Play Mobil soldiers even have flags?
Erm, I'm confused. Which if these is/are actually unidentified, and which are unconfirmed instead?
Peter Hans van den Muijzenberg, 23 December 2017
As Matthew Lewis correctly pointed out on December 18, 2017 (enforced by Peter Hans' comments yesterday), this UFE 17-40 entry is very much related to UFE 7-1. Now, I checked the original entry on UFE 7-1 (message #118854) and it only mentions that the flag was sent to Rob by Jennifer Leslie and no further information is provided.
Perhaps Rob can contact her to ask for any other details as to where she saw/acquired it.
Esteban Rivera, 24 December 2017
---
17- 41. Unrecorded Flags of the Kingdom of Mysore Positive IDs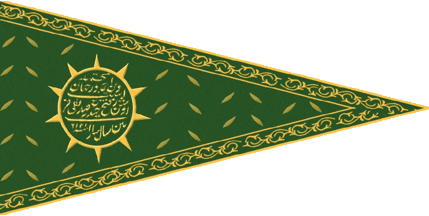 Flag #41

[Editor's Note: Currently none of these flags are included on the FOTW database]



Flag #41a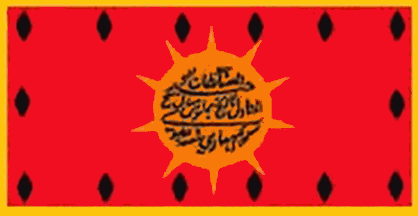 Flag #41b
Images from Richard Sambasivam, 18 December 2017
I am doing some research on the period in which Hyder Ali and Tipu Sultan ruled the Kingdom of Mysore and wanted some clarity on the flag(s) of the state during the period. There is Flag #41 which flew outside the Fort of Bangalore, and Flag #41a, which appears to be the pre-colonial flag of the kingdom, and Flag #41b, which appears to be flag of the Hyder and Tipu.
What would you consider "official" for the period of the 1770s and '80s? Secondly, if you know where any originals or replicas might be housed it would be greatly appreciated.
Richard Sambasivam, 18 December 2017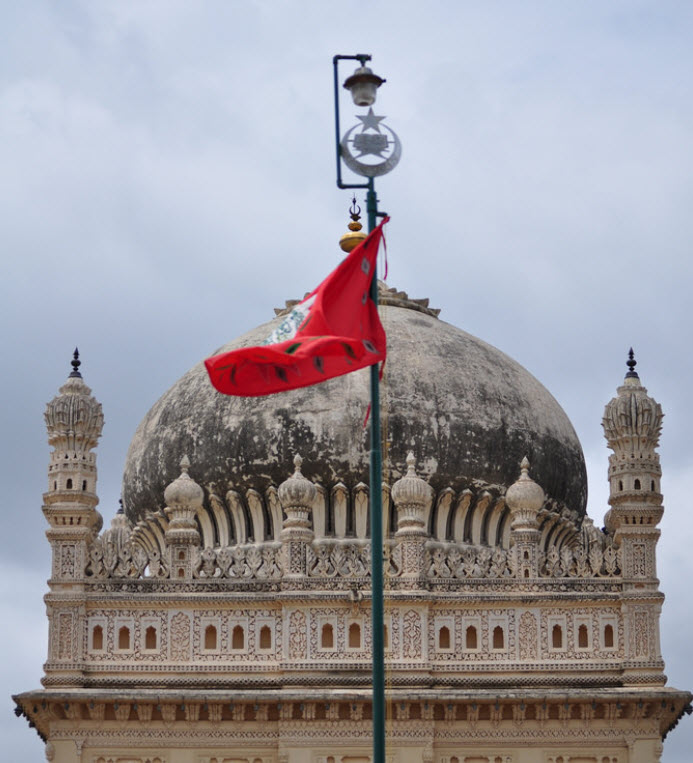 Image from Esteban Rivera, 23 December 2017
Regarding #17- 41b, I had in my personal notes as a flag from the Kingdom of Mysore. This reference is in my backlog, dated November 3, 2015, when I first came across it. The flag is actually a real waving flag (source). The picture caption reads: "Tomb of Tipu Sultan at Srirangapattanam, Mysore, India. Srirangapatna, the historical town of India, located near Mysore city, has many important tourism and historical sites. Gumbaz, the tombs of Tipu Sultan and Hyder Ali is one of the most important tourist site in Srirangapatna. Tipu Sultan, the tiger of Mysore, the great warrior who fought with the British empire, built Gumbaz in the midst of Lal Bagh, a beautiful garden. He built tombs for his father Hyder Ali and mother Fathima Begam (Fakr-Un-Nisa) in Gumbaz. The structure is very beautiful standing on a high and wide platform with an open verandah of polished pillars all round. The highlight of the Gumbaz structure are well shaped large dome, ivory inlaid doors, and carved stone windows of fine workmanship. The chamber is painted with the tiger stripes. The flag that represented his kingdom, adorns the front part of the mausoleum."
Here's another image (source). The picture caption reads: "The mausoleum housing Tipu's tomb is another example of Islamic architecture. Tipu's flag is in the foreground." And here's a better image, with a clearer inscription of the emblem in the middle (source). So, to answer Richard Sambasivam's query, there is indeed a real flag, located on the Tomb of Tipu Sultan at Srirangapattanam, Mysore, India, and #17-41b is clearly Tipu's flag.
There is already an FOTW entry on the the Kingdom of Mysore, where a flag image is displayed although the color shades of Richard's flag (#17-41a) is a bit different. To my surprise Wikipedia's image of the flag is not currently featured on FOTW, but its description by Jaumé Ollé is included on FOTW. Here's a variant featuring Richard's flag (#17-41a) plus the coat-of-arms in the middle, which takes us back to this image, featured on the subsection "Variant flag", by Sarvagnya, located by Pete Loeser, 8 June 2014, which was clearly meant to be as a recreation of the flag, only in different color scheme to Roberts. This same flag is refered to by this website as the State flag.
Now, regarding, the other two, #17-41 according to this same website is the Kingdom of Mysore's War Flag, based on the Maharaja's (High King) flag that flew over Fort Bangalore (source). The picture caption reads: "Plate fifteen from 'Picturesque Scenery in the Kingdom of Mysore' by James Hunter (d.1792). This aquatint, which is based on an original composition by Hunter, shows the north gate of the fort at Bangalore, Karnataka. Tipu Sultan's flag is seen waving above the gate. Very little of the original fort, which was rebuilt out of cut stone in in 1761, remains today. The fort was oval in shape, and measured 731 metres from north to south, and 548 metres from east to west. Haidar Ali (c.1722 - 1782) and his eldest son, Tipu Sultan (1753 -1799) were the kings of Mysore during the Eighteenth Century, and made Bangalore into one of their strategic capitals." In essence, it seems that the War Flag was based on Tipu's personal flag.
This template actually shows three separate images of flags:
On the left #17-41b being the State flag
In the middle there's a Regimental flag (not featured on FOTW)
On the right, it shows a slighlty different version of "Tippu Sahib's flag", being actually a Naval flag. This variant shows a much wider red stripe near the canton, featuring the same eight-pointed sun featured on #17-41b, but much smaller.
In this forum, TWC (Total War Center), based on "Total War", a,computer series of strategy games (source), there's a discussion regarding "State, Regimental and Naval Flags - Mysore". First, two versions of the green flag (#17-41) are shown:
The following inscription regarding these images is as follows: "Found some decent references with the sultan's sun. There are some standards (blue for exemple), but they are royal standards. Pictures and painting depict the flags as green with golden decorations. The flag on the Mysore fort got a sun with arabian text. Same as the sultan's sun and flag. And found it on a coin of mysore as well (square flag with the sun and the arabian text). Tomorrow I will edit the flag yellow decoration to be more accurate (just found by watching all the pictures they golden circles are more like diamond shapes)."
Then, there's even some suggestion that this flag (#17-41) might have a slight different detailed version, in two color shades:
The green version (and here's even another variant).
The following inscription regarding these images is as follows: "It appears red and green was used, because we find both of them on equal number on paintings. The sun as to be used, and golden decorations too (for the state flag). But what of the shape, triangular or rectangular? Both are depicted and the Sultan was westernizing/modernizing his state and army which is in favour of a rectangular flag. But that was done by the end of the 18th century, so we also need to depict Mysore before that. Two new color versions of the state flag while waiting to decide for its shape".
Esteban Rivera, 23 December 2017
---
17-42. Danish UFE Some Speculation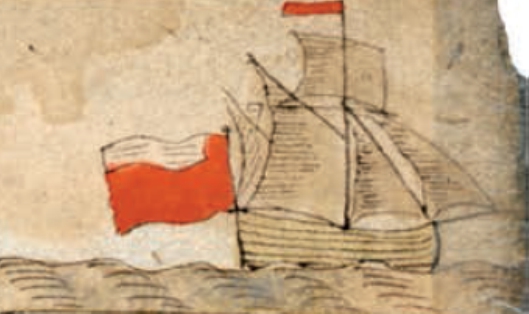 Image from Jørgen Johannessen, 29 December 2017
In a diary written about the Danish fleet of 1710-1714, there is a flag on a boat from the City of Aabenraa that I can not recognize. Aabenraa was, at the time, a city under the protection of the Gottorp influence of the Duke of Slesvig-Holstein. I'd be very grateful if you have any idea about this flag in particular.
Also on two other boats I have seen the Reported blue and red flag from your Schleswig-Holstein Historical Flags page.
Jørgen Johannessen, Archaeologist/Conservator, Norwegian Folk Museum, Norwegian Naval Museum Department, 29 December 2017
I assume this is the diary of Trosner (hvilken som helst), as apparently the diary has both text and images, and Trosner's diary has that and also would fit the dates. Does he write anything about it, apart from identifying the boat as coming from Aabenraa?
It looks like a stripe flag with a canton of some sort, or a Dannebrog, miscoloured. But there are no lines to indicate that there should be more sections, and such a mistake would be rather unlikely in a diary, as the writer would still have the original view in his mind.
I think there was a Dannebrog with a panel for Aabenraa, at some point, but obviously this is not it. Does the other flag on the boat tell us anything?
Peter Hans van den Muijzenberg, 29 December 2017
Thank you, the diary is Trosner indeed (1710-1714). On 5-6 August 1711, Trosner writes on page 386 that "in the morning we were east of Bornholm. The vessel of SOPHIA HEDVIG chased a galiot that was an aabenraaer that came from Stockholm with cargo from Gotland..."
The drawing of the boat is attached. In the next drawing Dannebrog is depicted on the boat from SOPHIA HEDVIG, so I don't think it is mixed with the attached drawing. Everything points to the fact that the boat is an Aabenraaer.
The other flag is not very accurate I think, because red flags appear on many different boats from both Sweden and Denmark. It's probably generic.
Jørgen Johannessen, 5 January 2018
---