This page is part of © FOTW Flags Of The World website
Unidentified Flags or Ensigns - Page 5 (2022)
flags submitted in 2022 - Page 5 of 5
Last modified: 2023-01-14 by

zachary harden
Keywords: ufe | unidentified flags | 2022 |
Links: FOTW homepage | search | disclaimer and copyright | write us | mirrors

---
Please note our Policy for Submissions and Enquiries.
Below is a series of images of flags that have been provided to FOTW; some we have recognized, and some we have been unable to recognize. If you can help us identify any of these flags, please let us know! Contact the: UFE Editor.
Identification Key:
= Positive ID (Positive Identification)
= Tentative ID (Tentative Identification)
= Some Speculation
---
22-58. Image from Ukraine Invasion Positive ID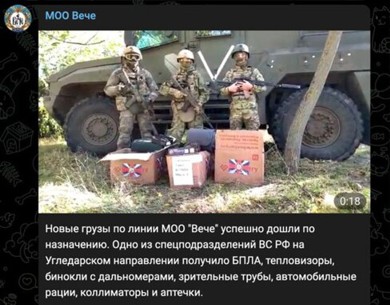 Image from Kevin E. Pyle, 10 October 2022
I was reading an article about how the invaders of Ukraine are using cryptocurrency to buy weapons, equipment and other supplies. In one picture, two boxes had the attached image printed on them. I thought it was a national flag but I was not correct. Any idea what it might be?
Kevin E. Pyle, 10 October 2022
The caption appears to be in Russian and states (using Google translator), "New cargoes through the MOO Veetse line have successfully reached the destination. One of the special forces of the Armed Forces of the Russian Federation in the Ugledar direction received a UAV, thermal imagers, binoculars, with distance meters, vision tubes, car radios, collimators and first aid kits". The flag is in the style of some Russian and Ukrainian military flags - see: (source #1) (source #2)
Rob Raeside, 10 October 2022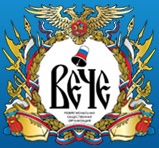 #58a COA


#58b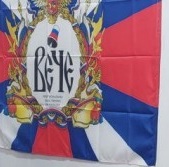 #58c Flag (source)
Images located by Esteban Rivera, 23 September 2022
That is the flag of the Interregional public organization VECHE (Межрегиональная общественная организация ВЕЧЕ), abbreviated as "МОО Veche" (МОО Вече). A Veche is a popular assembly or civic council in medieval Slavic countries (source).
"It was established on April 26, 2009 by the decision of the conference of users of the forum of the Internet portal INOFORUM.RU, protocol No. 1 dated April 26, 2009. A community of citizens who have decided to move on to active civic action and create their own public organization was formed on the basis of the former RIA Novosti (РИА Новости), a Russian state-owned domestic news agency internet project named inoSMI (иноСМИ), a derivation from "Foreign mass media" (Иностранные СМИ, which has been specializing in translations and discussions of foreign press for more than five years. As a result, in the period from March 10 to March 13, 2009, more than six thousand participants of the INOSMI forum, living in different countries, of different nationalities, of various citizenships, left the INOSMI resource, within a few days raised funds based on voluntary donations from the members of the forum and created a people's patriotic Internet project "Inoforum" (Инофорум).
On April 26, the founding conference of the organization was held. In May 2009 meetings of regional branches were held in St. Petersburg, Novosibirsk and Moscow. On July 11, 2009, the first congress of the International Public Organization "Veche" was held in Moscow, which was attended by delegates of regional organizations, as well as guests and observers from other regions where regional organizations have not yet been established. (source)
It's important to notice that this organization has supported Russian troops in its military effort in Ukraine since 2014, as documented in this forum where pictures of military supplies were collected and sent to conflict areas that year. (photo #1) and (photo #2) (source).
Also important is that the same organization has supported also troops from the Lugansk People's Republic and Donetsk People's Republic, as seen in this article (dated 2017). In the image attached by Kevin one can see the organization's logo in what seems to be a social network, possibly Telegram.
Images attached:
Image #58a (CoA) (cropped image from the original located here. (source)
Image #58b (CoA in detail) (copied image from the original located here. (source)
Image #58c (Flag) (cropped image from the original located here. (source)
For additional info go to: Veche info (official website)
Esteban Rivera, 10 October 2022
---
22-59. Unidentified Saudi Navy Units Positive ID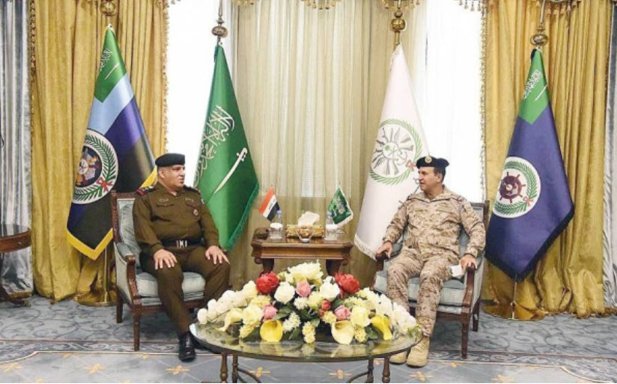 Image from William Garrison, 7 September 2022
An article in the 7 September 2022 issue of the Saudi Gazette shows several unidentified KSA navy flags: (1) left: unidentified, (2) Saudi national flag, (3) unidentified white-field flag, (4) right: "Naval Base Flag" (see images by Santiago Dotor, António Martins-Tuválkin and Mario Fabretto on the FOTW Saudi Arabian Navy flags Page.
The original Caption on Saudi Gazette photo was: "RIYADH - Commander of the Royal Saudi Naval Forces Lt. Gen. Fahd Bin Abdullah Al-Ghafili received Commander of Iraqi Navy Rear Adm. Ahmed Jassim and his accompanying delegation in Riyadh."
William Garrison, 7 September 2022
The four striped flag (1) is the flag of the Saudi Joint Chief of Staff.
The white one (2) is the flag of Saudi Ministry of Defense (before 2011 called the Ministry of Defense and Aviation, MODA).
The blue flag (4) is the flag of the Navy, not exclusive for the naval bases.
Jaume Ollé, 15 October 2022
---
22-60. Some Help with Unknown Text on US City Flags?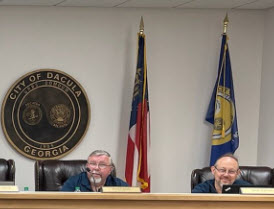 Dacula, Georgia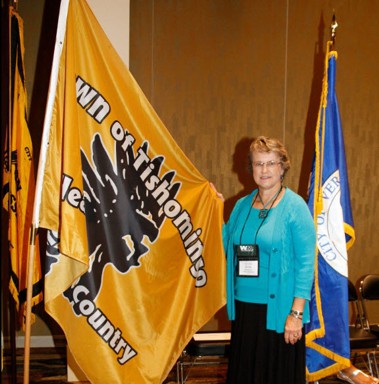 Tishomingo, Mississippi
Images from Masao Okazaki, 19 October 2022
I'm close to finishing two drawings of US city flags, but I can't make out some of the text. The flag of Dacula, Georgia (Gwinnett County) shows "...OF H..." beneath the seal. (source) The flag of Tishomingo, Mississippi (Tishomingo County) shows "...lea... Country." Tishomingo was a Chickasaw leader who was forced to move from Mississippi to western "Indian Territory." (source)
I've searched everywhere I could and emailed the towns, but, as usual, received on reply.
Masao Okazaki, 19 October 2022
---
22-61. Kaiserliche Marine Flag Identification Some Speculation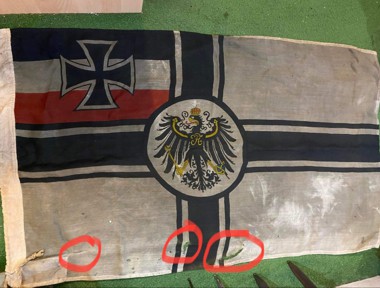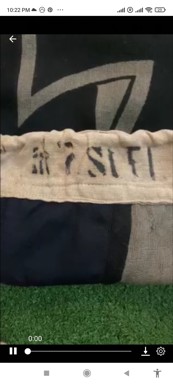 Image from Alessandro Rossi, 21 October 2022,
I own a very old flag from Kaiserliche Navy with a code written in the margin and would like to know if that code will help to identify the original vessel? (Screenshot Source)
Alessandro Rossi, 21 October 2022,
Most likely the code is for the manufacturer's bin number, but let's put it out there for the list members. I don't know if records still exist to link it to a particular ship.
Pete Loeser, 21 October 2022
---
22-62. Possible Ship Pilot Flag (Canada or U.K. or ??) Some Speculation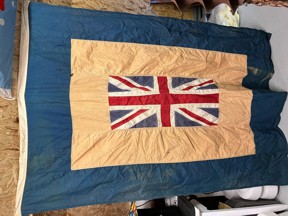 Image from William Garrison, 26 October 2022
Not sure which country this flag is from? Its source was on eBay, but maybe for a limited time. (source)
The only caption read: "Find many great new & used options and get the best deals for Rare Vintage Canada Ensign Flag banner Old Cloth Canadian Union Jack 79 x 58 at the best online prices at eBay Free shipping for many products!"
William Garrison, 26 October 2022
Any ideas on this flag? A pilot flag does not use the outer blue border.
Rob Raeside, 26 October 2022
Perhaps an "in service" flag? (only a suggestion)
Jaume Ollé, 26 October 2022
---
22-63. Unknown Flag Seen in Salou
Image from Jaume Ollé, 28 October 2022
Today near of my home, in the famous beach-city of Salou from where our King James I sailed to conquer the Balearic islands, my daugther saw this flag in a balcony that we could not identify. Anyone know it?
Jaume Ollé, 28 October 2022
---
22-64. Israeli Political Party UFE? Positive ID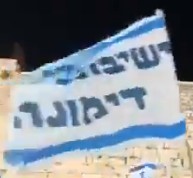 Image from William Garrison, 28 October 2022
Any idea as to which Israeli political party this flag might represent? (source: May 10, 2021 Twitter)
William Garrison, 28 October 2022
Regarding this flag, I have been informed that it reads: "Dimona Yeshiva" which is a Jewish religious school in Dimona, Israel.
So its caption should read: "Resembling the national flag of Israel, a white-white field flag with blue lettering reading "Dimona Yeshiva" - a Jewish religious school in Dimona, Israel; c. 2018. The school (yeshiva) contains both a 'hesder yeshiva' and 'Torah Seed Group.' A 'hesder yeshiva' is a Jewish educational program that combines Jewish Talmudic studies with military service in the Israeli Defense Forces (IDF). A 'Torah seed group' is a group of religious families which forms a community, to bring Torah and religious Jews to underpopulated areas. In addition to the 'hesder yeshiva', there is a Torah education center for women, a pre-military academy, and a youth club, which serve Dimona's community. Its founder, Rabbi Dovid Tugeman, stated that 'The Torah deserves to dwell in the most worthy place possible' (i.e., in a new temple atop the Temple Mount). This flag-image was taken from a May 2021 video during a demonstration near a wall of the Temple Mount in Jerusalem, So it seems that someone was parading with the flag to either advertise the school and/or promote the idea that the Jewish religious scroll, their Torah, should be returned in the future to a proposed Jewish 'Third Temple' rebuilt atop the 'Temple Mount' (al-Haram al-Sharif), where currently the Muslim 'Qubbat as-Sakhra' (Dome of the Rock) sits." (source)
William Garrison, 28 October 2022
---
22-65. Three Strange Ukrainian Flags Positive ID

#65

#65b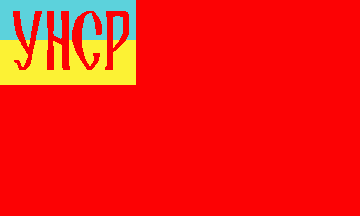 #65c
Images located by Klaus-Michael Schneider, 1 November 2022
Those images are in my files for years. Probably they have been sent by Viktor Lomantzow. I took a look and found them neither on our Russian nor on our Ukrainian nor on our Soviet pages.
Flag one: red with canton horizontally divided of white-green-black (ua_dkr.gif) , due to thename I had given probably Don Cossacks' Republik (Russian alphabet has no "C" but "K" instead).
Flag two: red with centon horizontally divided yellow-blue (ua_usr.gif) , probably Ukrainian Soviet Republic.
Flag three: red with canton horizontally divided blue-yellow with red inscription in Russian initials "UNSR", probably being Ukrainian Peoples' Soviet Republic. The "N" might be an "I" instead, but that is not very likely.
I have no context but the source is the following webpage and/or in Russian letters "flagi UkrSSR".
Can anybody assist?
Klaus-Michael Schneider, 1 November 2022
The page title is actually Флаги Советской Украины - i.e. "Flags of Soviet Ukraine".
Flag #65a and #65b are supposed flags of the Ukrainian People's Soviet Republic, which was proclaimed in Kharkiv in December 1917: but their existence is considered dubious. Regarding the inscription, Cyrillic letter N is shown in its ancient/original form (originally, its present form was used for the Cyrillic letter I, whose present form is И; these two letters are derived from Greek letters nu and eta respectively; in Ukrainian, there is another letter I, derived from Greek letter iota and now is identical with the Latin letter I; it had originally existed in Russian as well, but was dropped with the spelling reform of 1911
Flag #65c is the supposed flag of the Donetsk-Krivoy Rog Soviet Republic and is also considered dubious.
Tomislav Todorovic, 1 November 2022
Both red flags are fake reconstructions. In fact we have no information about any flags of Ukrainian People's Soviet Republic. In newspapers they wrote only about red flags. Maybe the prototype of these flags was the war flag of Ukrainian People's Republic (not soviet) - crimson with blue-yellow canton and trident.
Flag #65c, the supposed flag of the Donetsk-Krivoy Rog Soviet Republic, is also fake. They were published by the famous "fake-master" O. Tarnovsky .
Viktor Lomantsov, 1 November 2022
---
22-66. Unknown WP Yacht Club Flag? Some Speculation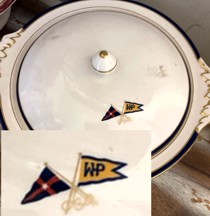 Image from Debbie A. Sheriff, 3 November 2022
I am looking for some insight on a china I purchased that bears what I assume is the New York Yacht Club burgee and the unknown flag depicting "WP." Do you have any insight on either of these flags, any help would be much appreciated.
Debbie A. Sheriff, 3 November 2022
This unknown flag - yellow swallowtail, blue edge, letters WP - is seen on lid of a soup tureen, crossed with a New York Yacht Club burgee.
Rob Raeside, 3 November 2022
It looks like it might be a private signal, but I have no idea about who the boat-owner is.
Jose C. Alegria, 3 November 2022
From our point of view: Any help and insight would start with any information about the china. Where does it say it was made? Does it have a time range? Is there a style that suggests a particular type of maker?
Not necessarily the exact questions, but give us something to work with. Is Rob correct in declaring it a soup tureen?
Peter Hans van den Muijzenberg, 3 November 2022
---
22-67. Unknown Ukraine Military Unit Flag Positive ID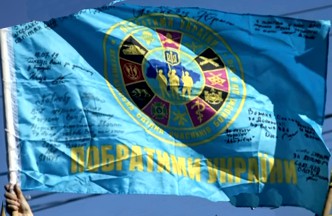 Image from William Garrison, 17 November 2022
This light-blue flag is of an unknown Ukrainian military unit (perhaps some central-command headquarters?) in recently liberated Kherson, Ukraine. It was seen in NBC "Nightly News" evening newscast on Nov. 14, 2022. Inside the main central logo there appears to be "branch insignia" of 11 different branches, such as: armor (tank), parachute, artillery, medical, etc. According to the news program, this flag was autographed by various foreign volunteers serving in the Ukrainian military.
William Garrison, 17 November 2022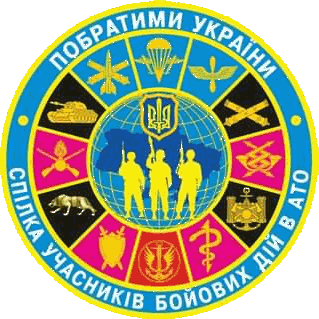 Image located by Zachary Harden, 20 November 2022 (source)
The badge and the flag belongs to the unit "All-Ukrainian Union of Combatants in ATO 'Brothers of Ukraine'" (Всеукраїнська спілка учасників бойових дій в АТО " Побратими України).
A larger flag can be seen here and the badge can be seen here.
Zachary Harden, 20 November 2022
Variant Brothers of Ukraine Veteran Organizational Flag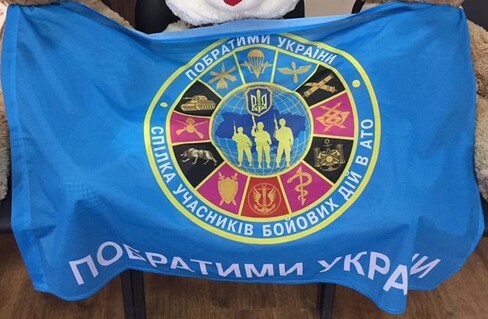 Image located by Esteban Rivera, 20 November 2022
This variant features the inscription ПОБРАТИМИ УКРАЇНИ in white capital letters below the unit's badge.
(cropped image) (source)
This is one of many veteran organizations that have appeared in the country, especially after the 2014 conflicts in Crimea and the Donbass Region, which was labeled "ATO" (АТО в Києві).
In this case, the ATO acronym refers to the "Anti Terrorist Operation" (антитерористична операція), the denomination for the military intervention of Ukrainian forces (both multi-service and volunteer) to defend themselves against the Russian invasion of the country. (source).
This formal denomination derives from measures adopted on January 27, 2015, when the Verkhovna Rada (Ukrainian Parliament) of Ukraine recognized the Russian Federation s the aggressor. On May 22, 2022, the Verkhovna Rada recognized the Russian Federation as a terrorist state with a totalitarian neo-Nazi regime and banned its propaganda, as well as the propaganda of Russia's act of aggression against Ukraine. (source)
The flag is a blue horizontal background with the logo in the middle. The logo, a set of three concentric circles, displays in the inner circle the silhouette of three standing armed soldiers fielding small arms in yellow, over the map of Ukraine in dark blue, with the CoA of the country above in an armorial fashion, all inside a globe featuring longitude and latitude vectors. In the second circle, the 12 Branches of the Armed Forces, starting clockwise with Paratroopers on top, each displaying its respective CoA and background. On the outermost circle, it features the inscription "ПОБРАТИМИ УКРАЇНИ" (Brothers of Ukraine) on top and "СПІЛКА УЧАСНИКІВ БОЙОВИХ ДІЙ В ATO" (Union Of Participants Of Combat Actions In ATO) on bottom, both in white capitals, separated by two solid yellow vignettes.
Esteban Rivera, 20 November 2022
---