This page is part of © FOTW Flags Of The World website
Unidentified Flags or Ensigns (2015) Page 4
flags submitted in 2015 - 4 of 4 pages
Last modified: 2023-04-15 by

zachary harden
Keywords: ufe | unidentified flags | 2015 |
Links: FOTW homepage | search | disclaimer and copyright | write us | mirrors

---
Please note our Policy for Submissions and Enquiries.
Below is a series of images of flags that have been provided to FOTW; some we have recognized, and some we have been unable to recognize. If you can help us identify any of these flags, please let us know! Contact the:

UFE Editor.
Identification Key:
= Positive ID (Positive Identification)
= Tentative ID (Tentative Identification)
= Some Speculation
Unidentified Flags on Page 1:
Unidentified Flags on Page 2:
Unidentified Flags on Page 3:

Unidentified Flags on This Page:

Unidentified Flags on other pages:
---
15-48. Unknown Japanese Kamikaze Unit Flag (WWII) Some Speculation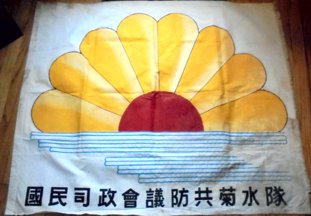 Image from Dr. J.J. Finnigan, 18 October 2015

[Editorial Note: This discussion included a great many Japanese characters, but I was unable to reproduce them in html code, so they were left out. Sorry, you must refer to the original postings if you wish to see them.]

Have you ever seen this flag before? My brother-in-law, who is Japanese, says the Kanji on the flag reads "National Defense Committee Kikusui Unit", which my brother says was a Kamikaze unit operating around Okinawa in 1944. Any additional information would be helpful.
Dr. J.J. Finnigan, 18 October 2015

I have not heard the organization as Kamikaze unit. The flag reads anti-communists Kikusui (= chrysanthemum and water) unit. It seems to be more right wing party rather than military unit. I am wondering why they fought against US in Okinawa.
Nozomi Kariyasu, 18 October 2-15

Looking up the word "Kikusui" through Wikipedia I found the following:
1. "The Kikusui (Floating Chrysanthemum) raids, a series of ten large Kamikaze suicide raids carried out by Imperial Japanese Navy and Imperial Japanese Army aircraft against Allied ships off Okinawa in 1945." [Source: Wikipedia article: Kikusui]
2. "On May 11, (1945) the Imperial Japanese Navy carried out a massive Kamikaze mission called Kikusui Rokugi Sakusen (Operation Kikusui "Floating Chrysanthemums" No. 6)." [Source: Wikipedia article: Kiyoshi Ogawa]
3. "The peak in Kamikaze attacks came during the period of April–June 1945, at the Battle of Okinawa. On 6 April 1945, waves of planes made hundreds of attacks in Operation Kikusui ("Floating Chrysanthemums")." [Source: Wikipedia article: Kamikaze]
So these leads me to think that there were several waves (and even possibly) several operations of the same sort, numbered (at least) 1 through 6 (most likely 10 overall).
Regarding the flag (pennant) this source does actually mentions one: "Tokioka's voyage was plagued by technical accidents from the start. To Admiral Owada's chagrin, the I-366 soon signaled she was returning to base – her short-wave antenna had a serious defect. Repairs began immediately and eight hours later the submarine again departed, a Kikusui (Floating Chrysanthemum) pennant flying proudly from her conning tower. The I-366 spent the night off Tateyama at the southern tip of the Boso Peninsula. At 0300 the next morning, Tokioka raised anchor and headed south. (the I-366 being a Japanese Submarine, Type D1)" [Sources: Combined Fleet 1)" and Combined Fleet 2]
Here are two additional sources:
1. Operation Flying Chrysanthemum 1
2. Operation Flying Chrysanthemum 2.
It also seems that several Japanese submarines were used in this all out operation (not only using planes but also ships, as the already mentioned sources cite). The submarines were fitted with manned suicide torpedoes Kaiten, "Kaiten (Return to the sky), commonly rendered as: "The turn toward heaven", or "The Heaven Shaker. [Source: Wikipedia article: Kaiten] and the list of these vessels that participated in such actions (to which the pennant attached and forwarded by Rob may belong to) is here [Wikipedia article: Kaiten Carriers].
Maybe by looking at the exact date (regarding the operational day, from this list we could probably find out to what ship it belonged to.
Esteban Rivera, 18 October 2015

Further research on Google Japan shows by typing keyword Kikusui) the following types of military hardware were used by this "special unit" [Source: Kamikaze images]. The Kamikaze (divine or spirit wind), officially Tokubetsu Kogekitai (Special Attack Units), abbreviated as Tokko Tai, and used as a verb as Tokko (special attack) [Source: Wikipedia article: Kamikaze), all of them showing the "Floating Chrysanthemum" logo/decal [Sources: Auctions on Yahoo.
See the following:
1. Ship - surface vessel
2. Japanese Plane - Observer/Dive bomber
3. Japanese plane - Fighter
3. Captured US plane - DC-3 and see also (photo here).
4. Kaiten - Manned suicide torpedo on the right
[Source: Blog on Yahoo] Several World War II docks, shipyards, monuments, museums and outdoor displays also feature the same logo in their exhibits (see this example, Source: (located here and here.) as homage and tribute to these men who sacrificed their lives in defense of their homeland.

Other graphic depictions show the following:
1. Small decal.
2. Logo with encryption.
3. Map of one of the attacks.
[Source: Yahoo Blog]

Regarding the naval component of the operation, the Kaiten Tokoutai (Tokoutai or Tokkotai, derived from the word Tokko, which means suicide) [Source]. The groups were:
1. Codename Kikusui.
2. Codename Kongo (Kongou).
3. Codename Chihaya.
4. Codename Shimbu (Sinmu).
5. Codename Tatara.
6. Codename Tembu (Tenmu).
7. Codename Shimbu (Sinbu).
8. Codename Todoroki group.
9. Codename Tamon.
[Sources: kuubaka, and Kaiten Deployments]

Here's an example of one of these Units, featuring Japanese submarines I-36, I-37, and I-47.

All in all, "Japanese Special Attack Units (tokubetsu kogeki tai, often abbreviated to tokkotai), also called shimbu-tai, were specialized units of the Imperial Japanese Navy and Imperial Japanese Army normally used for suicide missions. They included Kamikaze bombers, Fukuryu (Crouching Dragon, suicide scuba divers), and several types of suicide ships and submarines."
[Source: Wikipedia article.]
The Ministry of Defense of Japan even features the logo on one of its pages.
For additional reference go to:
- Tokkotai Commemoration Peace Memorial Association, Tokkou (Special Attack Forces) web site.
- http://www2s.biglobe.ne.jp/~k_yasuto/top.htm
- https://ja.wikipedia.org/wiki/ç?¹æ?»å??士のå?
- http://www.kamikazeimages.net/
- http://wgordon.web.wesleyan.edu/kamikaze/museums/kaiten/index.htm?sess=5578bb560612c030722a459e352bfa48
- http://combinedfleet.com/ships/kaiten
- http://www.geocities.jp/torikai007/1945/kaiten.html
- http://www.geocities.jp/kamikazes_site_e/index2.html
Esteban Rivera, 18 October 2015

There existed Kikusui Operation and Kikusui Unit as Kamikaze: They left head band as in this photo. However, the English translation as the "National Defence Committee Kikusui Unit" is wrong. A more accurate translation is the "National Administration Meeting Anti-Communist Kikusui Corp."
The flag in the photo does not look old and I think it was for a party formed after World War II as rightest organization.
Nozomi Kariyasu, 19 October 2015

On second thought, I have to agree with you that the flag provided for identification is not old indeed, but rather new, and that the meaning of a "National Anti Communist" movement (regardless of the formal name that it can actually have), would mean that there is a post War movement identified (or labeled) as National Defence Committee (maybe a far right organization/party/movement?).
As I mentioned earlier, the logo of the Floating Chrysanthemum has other current uses, so it is not exclusively WWII-era related... However, there were indeed Special Units (as research provided) that not only displayed this mark/logo, but actually flew a Pennant (you may call it flag also) on their conning tower, like the Japanese submarine I-366.
Could you provide further information on where you got the National Defence Committee Kikusui Unit name from (aside from the Forum documentation?)
Esteban Rivera, 19 October 2015

Could you provide further information on where you got the National Defence Committee Kikusui Unit name from (aside from the Forum you mention)?
Nozomi Kariyasu, 19 October 2015
---
15-49. Unidentified Shipping Ensign Positive ID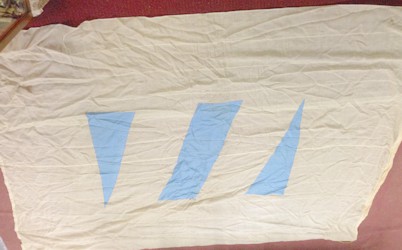 This flag is identified as a variant version of a Silver Line House Flag.
---
15-50. Unrecognized ISIS Flag Positive ID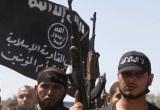 This has been identified as a flag of the Yarmouk Martyrs Brigade and moved.
---
15-51. Unknown Blue Ensign with White Cross Some Speculation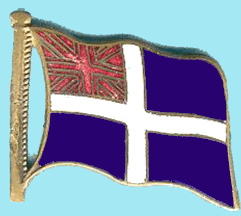 Image from Tim Burt, 7 November 2015
Can you please ID the attached brooch pin of a blue ensign. I think it is possibly a yacht club.
Tim Burt, 7 November 2015
New Zealand has a tradition of blue yacht ensigns with a white cross (see New Zealand yacht ensigns). Depending on how old the pin is, it could be related to the Auckland Sailing Club, which later became the Royal New Zealand Yacht Squadron (RNZYS), although that club is reported to have flown a badge in the lower hoist. If the pin is new, then it could be a rather simplified (showing a Union Flag rather than a New Zealand Flag in the upper hoist) form of the present RNZYS ensign. I suggest that you direct the question to the RNZYS.
Jeroen van Leeuwen, 13 January 2016
In addition to the above: I found Tasmania adopted on 9 November 1875 a state flag which was a British Blue Ensign (1875) quartered by a broad white cross, dividing a Southern Cross appearing on the fly. (The flag also shown on Ausflag) This flag was withdrawn after only a few weeks when it became known that the design did not conform to the British Admiralty's rules for Colonial Flags. Could it be that your pin is from Tasmania? And that the Southern Cross was omitted because it would have been to difficult to incorporate it on a pin? (Mark that the canton on the pin is also not very accurate).
To conclude what I indicated before: The pin could be a simplified presentation of the Tasmanian flag of 1875 or of the Auckland Sailing Club. In both cases the Southern Cross would be missing.
Jeroen van Leeuwen, 13 January 2016
---
15-52. US Marine Corps flag Positive ID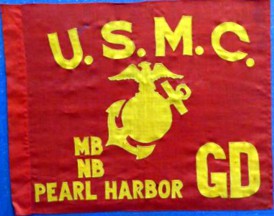 Image from Jasmen Caralos, 8 November 2015
We have this flag we picked up at a local sale. It measures about 22 x 28". Would you know what this might have been made for? We would appreciate any help.
Jasmen Caralos, 8 November 2015
This is a flag of the United States Marine Corps, and it carries the traditional badge of USMC. I'm afraid I don't know the meaning of the letters and words at the bottom
Rob Raeside, 8 November 2015
It is a guidon of the Guard Detail at the Marine and Naval Barracks in Pearl Harbor. Consult the USMC Flag Manual (available on line) for further information.
Jim Ferrigan, 8 November 2015
---
15-53. Ensigns from Bruges, Belgium Some Speculation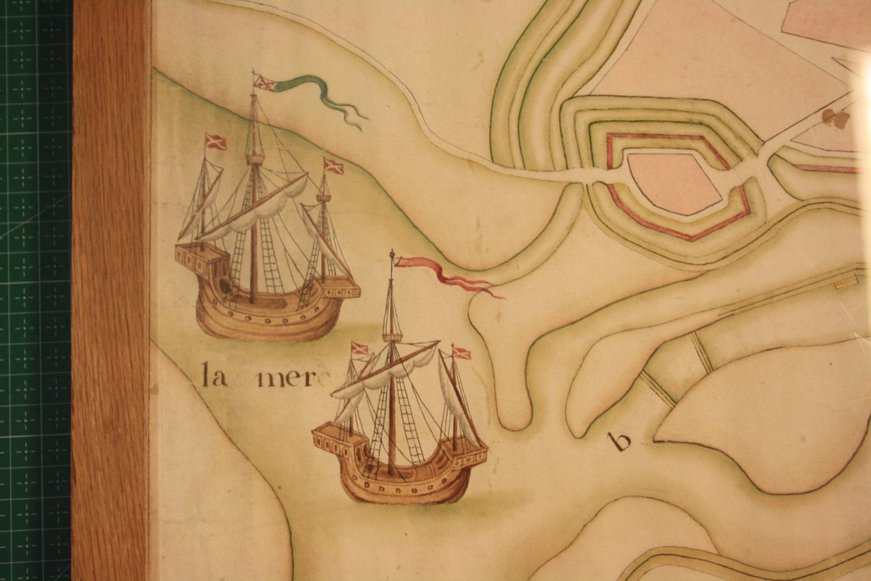 #1
#2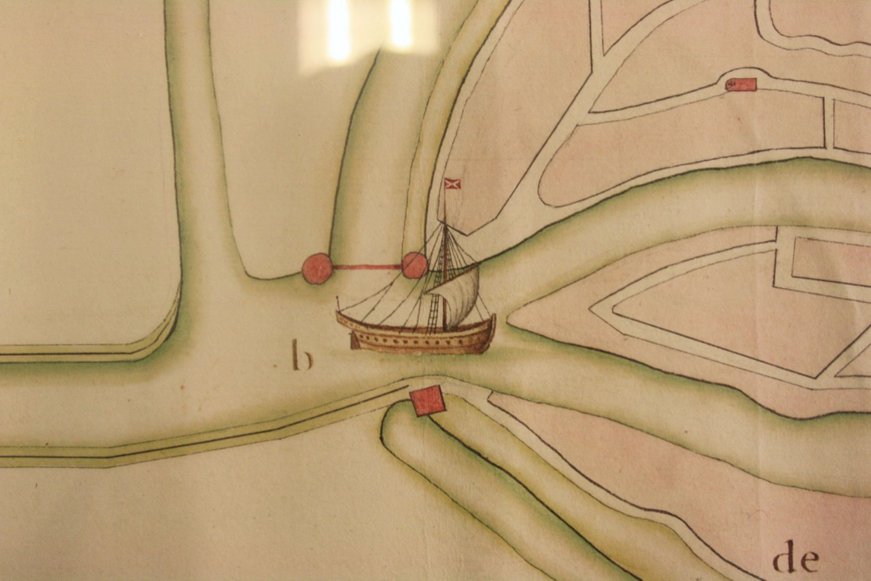 #3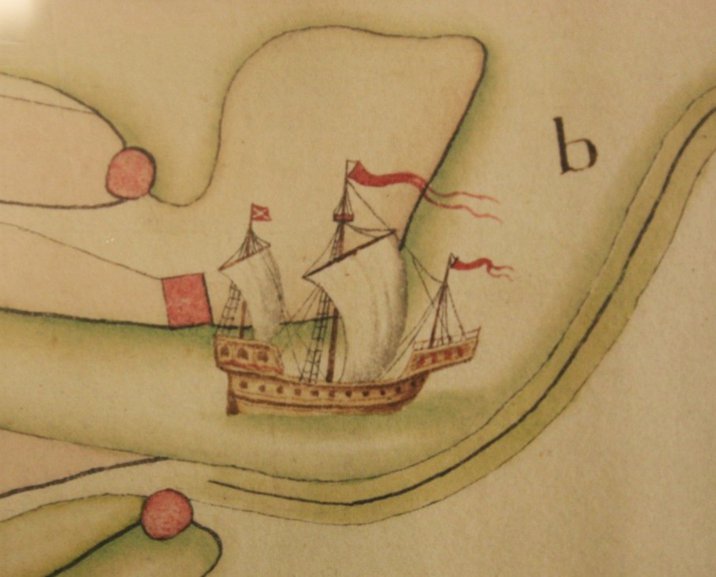 #4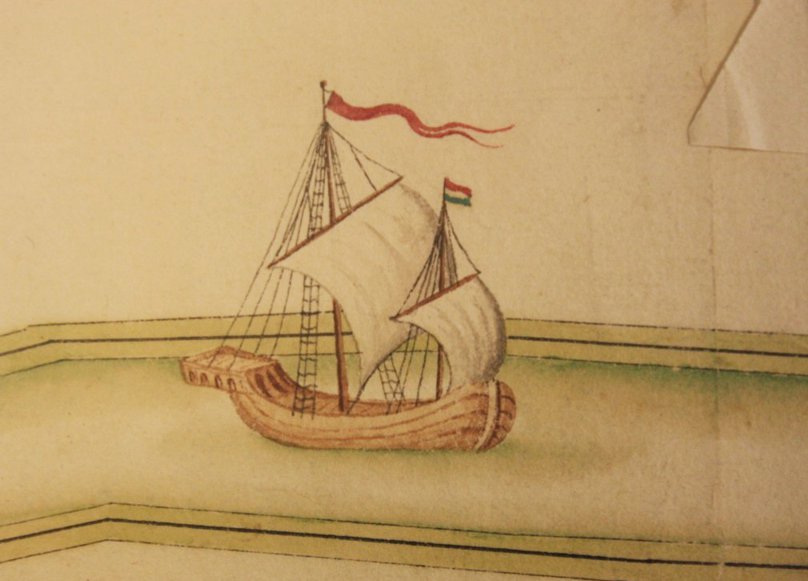 #5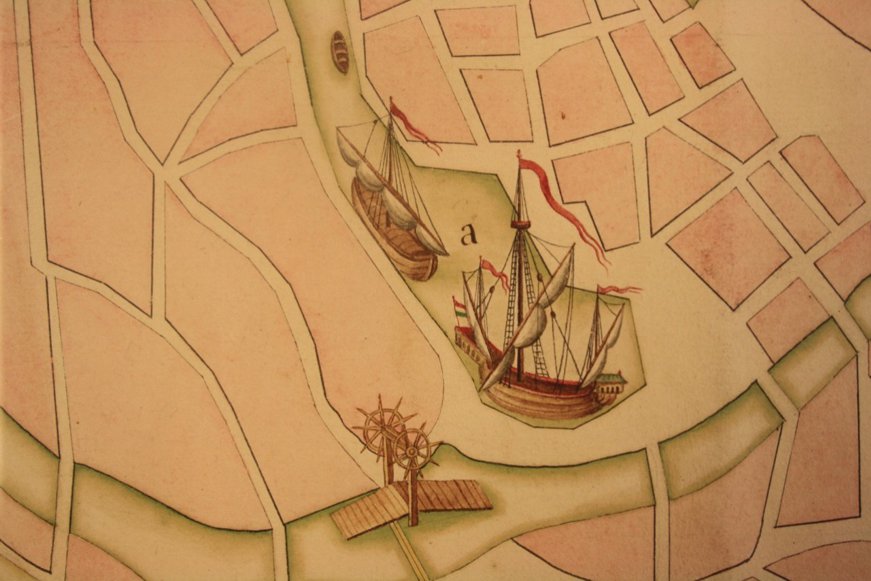 #6
Images from Alexander Linsingh, 13 November 2015
Currently I'm studying an early sixteenth-century painted map of Bruges (Belgium) for which different scholars have tried to formulate an hypothesis about a more precise dating or year in which the map would have been made. As a last-year history student I'm hoping to come as close as possible to resolve the mysterious dating of the map. To that end I'm following all different kind of leads, even those that seems highly unlikely to give results. My research so far has indeed confirmed what all historians have said, namely that it most likely dates somewhere in that sixteenth century. Several iconographic indications have shown that it probably dates from somewhere between 1536 and 1560.
Somewhere in time the right side (about a third) of the painting, depicting was separated from the rest of the painting and is now the only part that's left to us. Luckily, there are watercolour copies that show to full painting, but unfortunately to save time they have not copied every single detail in these watercolours. They can thus not be used to attempt and reconstruct what the whole painting would have looked like.
However, and now I'm nearing in on my reason for contacting you, the ships are about the only thing copied into detail. Just to be clear, it's a map that stresses trade and sea accessibility of Bruges, so the ships are all merchant vessels. Research shows that their appearance corresponds with a dating in the sixteenth century. I've become intrigued with the flags and banners on these ships, which no one has given attention to yet. To the best of my ability I've used literature, search engines etc. available to me, but I haven't been able to fully identify the flags with a sensible result.
All pictures in attachment are labeled 1 to 6, for easy reference. Most of these ships have a red pennant attached to the main mast, to my understanding it were usually the colors or flag of the landlord/king that were attached here. On picture 1, this pennant is green, however this might be an error of the copyist, since another copy shows this pennant in red. At the end of this pennant there is a Burgundy Cross Flag, using your website and several other sources I was able to identify it. I'm not sure how to interpret it being there, it doesn't seem to narrow my dating since it was used both by the Burgundian dukes as the Spanish kings thereafter. This flag features just once on the whole copy, the reverse version, however, is shown most often. Although it appears that it's a regular saltire in this case, and not a cross of Burgundy. Yet, it has to be noted that on the painting itself buildings are also represented quite simplified. That the cross is a regular saltire, might be a simplification of the painter, not the copyist.
I'm not at all an expert on flags, I even have to admit I don't know the slightest thing about them except from what I could find in literature. Therefore I was hoping to get your input on these flags. Maybe it's easier if I formulate some specific questions, but any other remarks are most welcome of course.
1. Picture 1: the green colour of the pennant left aside (since the other copy shows a red one), is the Flag of Burgundy depicted as a version you could see appearing also under Spanish rule? Or would you think merchant vessels would sail under a different flag?
2. Pictures 1-2-3-4: Would you think these flags should be interpreted as an inverse of the Flag of Burgundy? In picture 2 the pennant on the main mast also shows this flag, in contrast to the regular version in picture 1. On your website it is mentioned that other colors existed as well, but I couldn't find a source reference. Could this also be a regional flag, related to merchant nations? (Myself, I couldn't find any prove that Spanish merchant nations present in Bruges (Biscay, Castile, Catalan) have a flag that looked like this. (I was thinking in the lines of the Hanze cities who also sailed under their own flag)
3. Picture 5-6: There is a totally different flag visible here. I looks like the flag of the Netherlands, which came into use when the Dutch Republic was found in 1585. This year isn't consistent with the dating in the sixteenth century. A flag similar to this might have been in use for ships sailing from cities at the West Coast of the Northern Netherlands, before the year 1585. I'm quite at odds what to make of this. Would you think this could be the Flag of the Republic or perhaps a more regional flag related to merchant nations?
I understand these are really specific questions that perhaps aren't solvable. As you are listed as director of FOTW I decided to contact you. Of course I respect your agenda, and if you need time to look into this I gladly await your remarks. I would be glad though, if you could indicate whether you have received my e-mail.
Alexander Linsingh, 13 November 2015
We have tried to compile all known saltire designs, and you will see that the white saltire on red is surprisingly rarely used, both historically and in the modern context.
Spanish Cross of Burgundy flags were always red crosses on another colour, usually white, rarely yellow or blue, but they were sometimes simplified as saltires. I guess it's possible the artist got the colours reversed. The inverse colours, however, do not have any historical context known to me.
Then there are the two oddities - my thoughts when I see 16th C red-green flags immediately turn to Tudor flags in England. However, to my knowledge, no Tudor flags ever employed a white saltire on red – they continued to use versions of the St. George's cross (red upright cross on white). The final flag does indeed look like the red (orange)-white-blue of the Netherlands, but the earliest mention of the "oranje-blanje-bleu Prinsevlag" is 1572.
In conclusion, my opinion is that the flag is fictional, and may have been used specifically because it did not correspond to any known combination of colour and design.
Rob Raeside, 13 November 2015
A follow-up on a message from a few days ago concerning the white saltire on red. I recommend you view this image on this image - an amazing number of flags in this battle, with all sorts of combinations of cross of Burgundy and the Dutch princevlag.
Rob Raeside, 18 November 2015
Your remark on the flags being fictional and unidentifiable on purpose is quite interesting. Perhaps the Cross of Burgundy Flag being clearly depicted is a mere recognition of the Duke of Burgundy or King of Spain. With the other flags then being merely fictional, that's interesting itself.
On another note, I didn't believe the coincidence, but today I traveled to the Netherlands and visited the Zeeuws Museum in Middelburgh. They have several huge tapestries on display, which I wasn't aware off beforehand, displaying naval battles between Spanish and Dutch ships. The amount of flags on these tapestries is incredible. The Cross of Burgundy Flag features regularly on these ships, also in adapted form with a differently colored field. Then, on the very last tapestry something caught my eye. Certain ships here also have the mysterious flag with the white saltire on a red field, the inverse version of the Cross of Burgundy Flag! Maybe this is interesting information when looking at the flags I had send in the previous mail. Unfortunately I couldn't take pictures from the tapestries themselves and the museum couldn't provide high quality ones. What I send in attachment is a picture of a printed picture, so my apologies for the bad quality. It's less clear here that the flags in question are in fact the inverse ones, but I can assure you from seeing the tapestry the colors are in fact the red field and white saltire.
Not sure if this would aid FOTW in any way, but if you're interested in using the tapestries as a reference source. From one of them I could find a high resolution image, under this Link. If you Google Zeeuwse Wandtapijten you might find more useful material on these tapestries. To give some context, they depict the War in Zeeland (1572-1576) as part of the Eight Year War. However, the tapestries themselves were made during 1593-1604. I'd be willing to assist with more context if that would interest you.
Alexander Linsingh, 18 November 2015
These ensigns from Bruges, Belgium have gotten my interest. At first I was sure these drawings were of English ships, because there are three very recognizable English naval streamers shown in the drawings. Examples would be:
- Photo #1 shows a known long green-white Tudor pennant.
- Photo #2 shows one very similar to the Streamer flown by the H.M.S. Tiger.
- Photo #4 shows a plain red streamer similar to that shown as a Royal Navy Streamers flown by the H.M.S. Lion 1745.
However, the ensigns with the white Saltire on a red field (appearing in photos #1, #2, #3, and #4) were more puzzling, perhaps even religious in nature, I thought, perhaps Jacobian? They appear to be a kind of reversed Cross of Saint Patrick, but more likely they were simply examples of artistic license.
Now the red-white-blue horizontal tricolor (Photo #5) was interesting, because it looks very much like one of the former flags of Bruges. This reasoning continues to weaken the idea that these were English ships. At the moment, I'm stuck because I can't think of a historical time that the English would fly a flag of Bruges, can you? So in the end, I'm not sure the ships were English, and this brings us right back to where we began.
Any new thoughts out there?
Pete Loeser, 21 November 2015
I've nothing new to add I'm afraid, just a reminder, and that is that one shouldn't take the detail of such a painting too seriously. It is worth remembering that the tradition of accuracy in marine paintings didn't begin until many, years later (the Dutch Wars of the mid-17th Century and the van der Veldes spring to mind) so one has to be very careful. It could be that the artist exercised his imagination in creating this image, but we just don't know?
Christopher Southworth, 22 November 2015
---
15-54. Flag, ISIS, Iraq, Tikrit Positive ID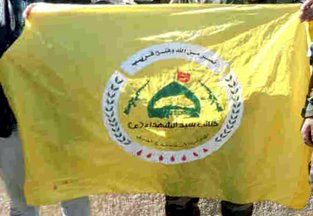 Image from Bill Garrison, 19 November 2015
I found this yellow, alleged ISIS related "Tikrit Iraq" flag - by searching "Christian Iraq Flag" on Goggle. As I don't read Arabic, I can't add any info regarding it. As to why Google linked to this as a "Christian ISIS-Tikrit flag", I don't know.
Bill Garrison, 19 November 2015
This flag and text has already been identified as that of the Battalion of the Sayyid's Martyrs.
Esteban Rivera, 22 November 2015
---
15-55. Unidentified New York State County Flag Positive ID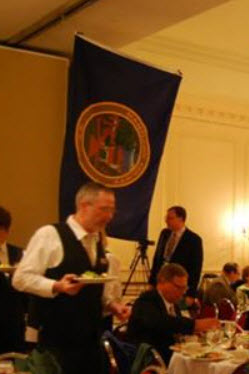 Images from Paul Bassinson, 17 November 2015
Can anyone identify this county flag hung from the ceiling at a New York State Association of Counties event, posted on the organization's official Facebook page? I'm thinking it's Madison County, but I'm not sure.
Paul Bassinson, 17 November 2015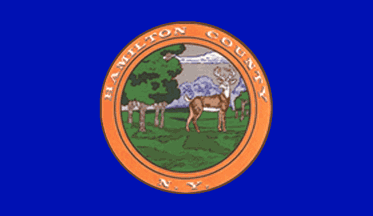 Image by Jens Pattke, 19 November 2015
I see what might be the reverted seal of the Hamilton County, New York. On the right, I see a deer and on the left a tree. I recognize no "American" shield. It is not Madison County.
Jens Pattke, 18 November 2015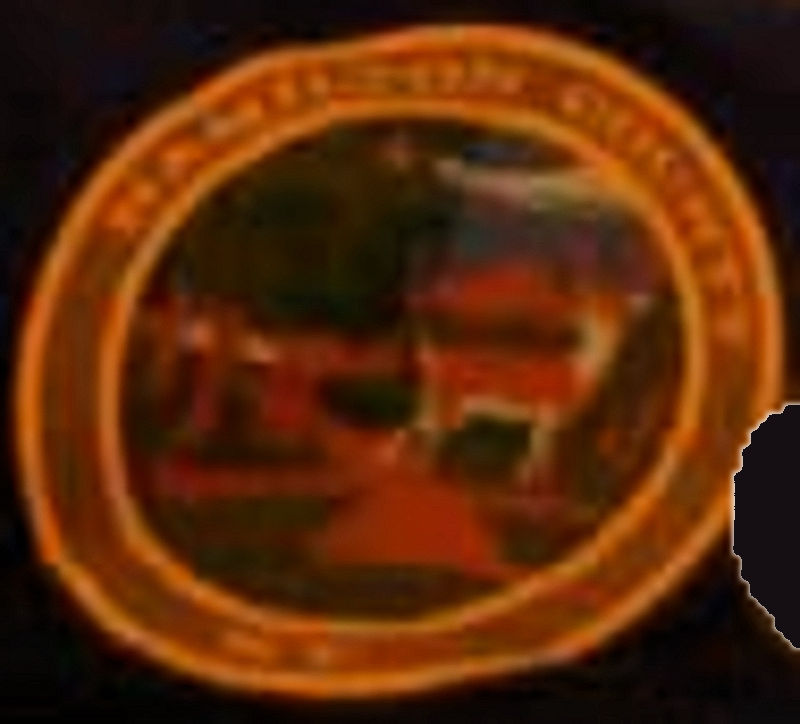 Image from Peter Hans van den Muijzenberg, 21 February 2016
I think this is the same flag. Taking just the photograph and ignoring the hall, and the field of the flag (which everybody probably will agree is a blue field), and rotating the emblem gives the attached . If you zoom in enough (600% does it for me), you'll find that along the top of the emblem, it says "Hamilton County". Checking our website shows there is indeed such a county in New York state, and we have a quite similar flag for it. It's not exactly the same, though. Most noticeably, the darker green ground that the animal stands on in our image is a brown in the flag on the photograph.
Do we have someone in New York who is close enough to go ask or write? They might also be willing to share a written description we could use.
Peter Hans van den Muijzenberg, 21 February 2016
Has anyone been able to find out yet why the colours on this flag differs from the colours we have at Hamilton County, New York (U.S.)? We could then add the UFE part to the correct place.
Peter Hans van den Muijzenberg, 2 April 2019
---
15-56. Japan - UFE (EA House flag)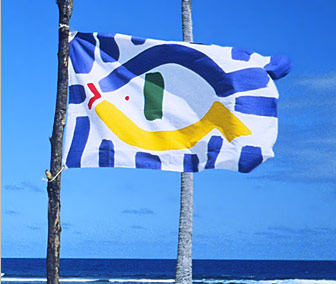 Image from Esteban Rivera, 18 November 2015
There's this flag (here) and (here) from the EA website. It seems to me that this EA (which, according to the same website, means "air") is a commercial company which designs and sells flags. They even have a portfolio" of own designs divided into three sections (which in turn, feature flags designed by them for various purposes):
- 1984-1985
- 1996-2001
- 2002-2006
Does anybody recognize the EA Flag shown above and its origin?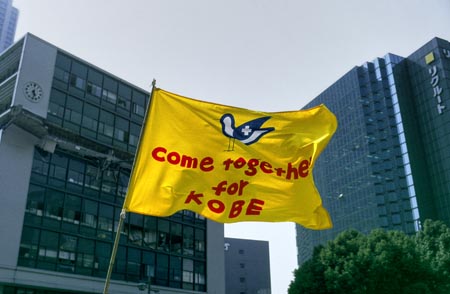 Image from Esteban Rivera, 18 November 2015
There was even a flag on the same website - Together for Kobe - intended for the relief work after the Great Hanshin earthquake (Hanshin Awaji daishinsai), or Kobe Earthquake, which occurred on January 17, 1995.
Esteban Rivera, 18 November 2015
---
15-57. Two Turkish UFEs Positive IDs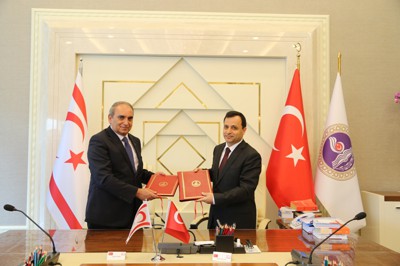 The two flags in question have been identified as the flag of the Constitutional Court of Turkey and that of the Justice Academy of Turkey.
---
15-58. Chinese UFE at the Shaolin Monastery Temple Some Speculation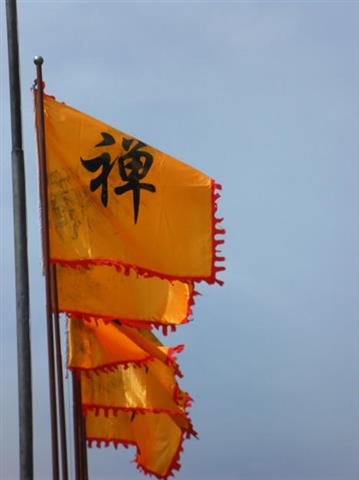 Image from Esteban Rivera, 22 December 2015
This image shows a row of UFEs. The picture was taken at the "Shaolin Monastery, or Shaolin Temple (Sháolín Sì), which is a Chan (Zen) Buddhist temple in Dengfeng county, Zhengzhou, Henan Province, China. The name refers to the forests (lín) on Shaoshi (Shao Shí) mountain, one of the seven peaks of Song mountains (Song Shan). Dating back 1,500 years it was established in 495 AD by Emperor Xiaowen of the Northern Wei Dynasty for the Indian monk Batuo (Buddhabhadra). Shaolin Temple remains the main temple of the Shaolin school of Buddhism to this day. Founded in the fifth century, the monastery has been long famous for its association with Chinese martial arts and particularly with Shaolin Kung Fu. (Additional source #1 and Additional Source #2) There's also another picture (copy protected) featuring the flag of the Shaolin Monastery on PhotoShelder. For additional information on the Shaolin Temple also see the Shaolin Official Website.
Esteban Rivera, 22 December 2015
The caption is "Flags outside the temple grounds". I'm not sure whether the writer meant to indicate they were unrelated to the temple. I expect the writer wouldn't have been interested in finding out the meaning of the flags, but do we have anyone who can at least read the writing on the front-most flag?
Peter Hans van den Muijzenberg, 29 January 2016
---
15-59. Unknown flag seen in Sydney Tentative ID

Image from Catherine Macfarlane, 25 December 2015
My name is Catherine Macfarlane. I'm from Sydney, Australia. I'm writing to you because one of my aunt's neighbours has some flags up & we are curious as to what they are. We have never seen this flag before. I've tried doing an online search and can't find anything. My aunt lives in a large multi-cultural area where many Muslim people live. We were wondering if the flag had anything to do with their religion although we don't know for sure if the neighbours are Muslim or not. Do you happen to know what flag this is? Is it a flag of a country or does it represent something else.
Catherine Macfarlane, 25 December 2015
May I ask where in Sydney did your aunt spot this flag?
Miles Li, 25 December 2015
I've forwarded this to the FaceBook group "I love the flags of Australia." Hopefully someone there might know.
James Dignan, 25 December 2015
It's on someone's balcony at Auburn.
Catherine Macfarlane, 26 December 2015
Although Auburn has a large ethnic Turkish population, the flags do not resemble any known Turkish regional or political emblem. Nor do the flags contain any obvious religious symbol, nor do they match any of the local sports team colours either. Therefore the flags are most probably just party decorations of some sort, made with three different fabric patterns sewn together.
Miles Li, 28 December 2015
More info about those flags I asked you about. I just got a email back from that local area's mosque. They say they don't recognise the flag either and it does not represent anything in Islamic religion or the Turkish culture. I had assumed that because it was in a very Islamic populated community it was probably something to do with Islam. Is really got me more curious now.
Catherine Macfarlane, 28 December 2015
I have been reading with interest your flag identification inquiring. May I suggest that you ask your aunt to knock on the neighbour's house, and ask them what the flags represents ? Hopefully the neighbour will be flattered that someone has taken notice of their flags.
I suspect that Miles Li's suggestion that they may be just decorative flags, is highly probable.
Ralph Bartlett, 28 December 2015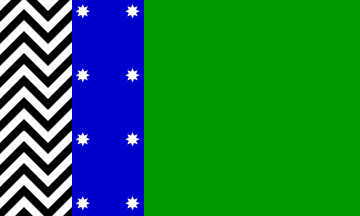 Image by António Martins-Tuválkin, 13 May 2015
Meanwhile I add this image to FotW-ws. It's around 3:5 with three unequal vertical areas: At the hoist a narrow area, roughly 1/3rd of the flag's height in width, in a black and white zigzag pattern with approximately 20 horizontal stripes, then a dark blue area of approximately the same width, with eight white stars set regularly in two rows very close to the edges (and maybe three smaller ones interspersed along the vertical midline), and at the fly a plain green area, roughly square.
No idea of what this flag is, but a black and white stripped area along the hoist makes me think of the Maldives - the pre-1968 and pre-1949 flags shared this unusual feature.
António Martins-Tuválkin, 13 May 2015
I accidentally solved the mystery about one of your flags, this flag is a flag from a Pakistani Muslim missionary group called Dawat-e-Islami.
Ayrton Trajano de Oliveira, 25 April 2020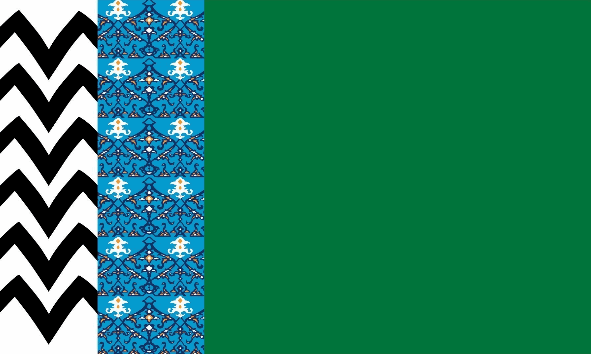 Image from Maklaba Tul Madina, 13 May 2015
We don't show the Dawat-e-Islami flag on FOTW, but it can be seen at Maklaba Tul Madina
Rob Raeside, 25 April 2020
---
15-60. Unidentified Cambodian Flag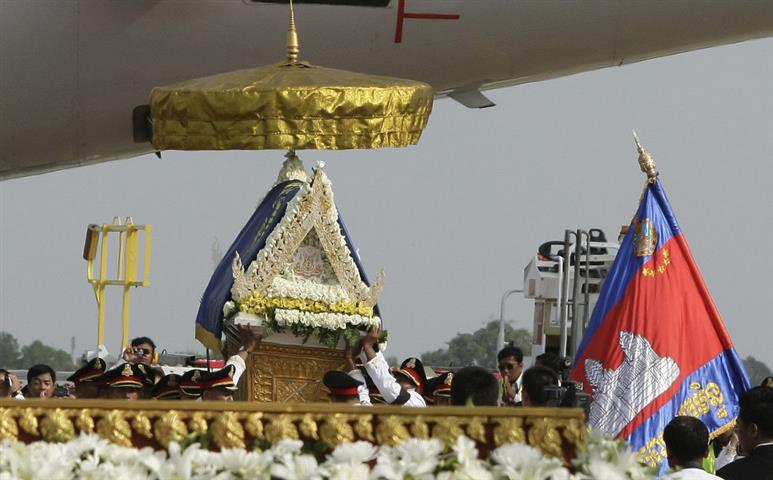 Image from Esteban Rivera, 29 December 2015
We already have a section titled "Unidentified Cambodian Flags". So here's another to add to the collection. It comes from a picture of King Norodom Sihanouk funeral ceremonies. The picture credits read: "Police officers carry a casket carrying the body of Cambodia's late King Norodom Sihanouk upon arrival at Phnom Penh International Airport in Phnom Penh, Cambodia, Wednesday, Oct. 17, 2012. AP/Heng Sinith". This flag follows the same pattern as two flags already reported (here) and (here) where there's a basic Cambodian flag pattern established, followed by golden fringes on the edges, a badge (Coat-of-Arms) of the official institution on the hoist (usually Police and Military Coat-of-Arms).
It is my conclusion then, that Police and Military Unit flags are the UFEs we are trying to identify on this Cambodian UFE page.
Esteban Rivera, 29 December 2015
---