This page is part of © FOTW Flags Of The World website
Unidentified Flags or Ensigns (2015) Page 3
flags submitted in 2015 - 3 of 4 pages
Last modified: 2023-04-15 by

zachary harden
Keywords: ufe | unidentified flags | 2015 |
Links: FOTW homepage | search | disclaimer and copyright | write us | mirrors

---
Please note our Policy for Submissions and Enquiries.
Below is a series of images of flags that have been provided to FOTW; some we have recognized, and some we have been unable to recognize. If you can help us identify any of these flags, please let us know! Contact the:

UFE Editor.
Identification Key:
= Positive ID (Positive Identification)
= Tentative ID (Tentative Identification)
= Some Speculation
Unidentified Flags on Page 1:

Unidentified Flags on Page 2:

Unidentified Flags on This Page;

Unidentified Flags on Page 4:

Unidentified Flags on other pages:
---
15-33. Revolutionary Battle Flag, "Resistance to Tyrants is Obedience to God," 1776 Positive ID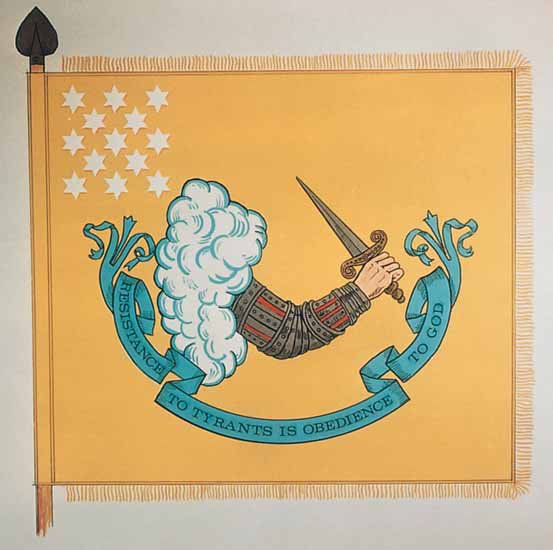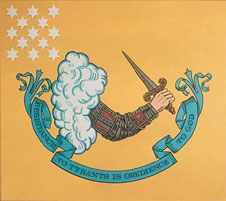 Images from Pete Loeser, 17 July 2015
Does anybody have any information of this Revolutionary "Resistance to Tyrants is Obedience to God" Flag. I could not find it on our database. Apparent it is found in the Library of Congress collection. Image Sources: George Washington: A National Treasure and Foundation Truths.
Pete Loeser, 17 July 2015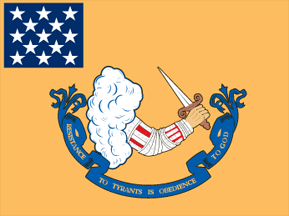 Corrected image by Rick Wyatt, 17 July 2015

That is the Gostelowe Standard No. 10. - Major Jonathan Gostelowe listed 13 standards in an inventory conducted in 1778 for the Continental Army, and this is one of them. In 2005, the actual flag was sold, as one of four, by Sotheby's auction. They came from the private estate of the heirs of Lt. Col. Banastre Tarleton, a Revolutionary War era British officer. It was discovered that the stars and union was different from those originally illustrated by Major Gostelowe.
Rick Wyatt, 17 July 2015

This flag is similar to the Bedford Massachusetts Militia flag. They both have the "emblem, an arm holding aloft a sword, which is a common one in European heraldry during the sixteenth and seventeenth centuries and is certainly not unique to the Bedford Flag." Is there a name for said emblem in heraldry? This might be useful given that we now have on record two flags using said emblem. I also report [below] a third related flag with the same emblem.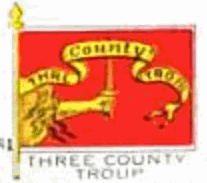 Image from Steve Shumaker, 19 July 2015
On page 339 of the 1917 National Geographic Society's Flags of the World shows the image (#381) of the Three Company Troop. The flag has a red background with yellow streamer like scroll with "Three County Troop" with an arm coming out of a cloud holding a sword aloft. On Page 345, the same book indicated that the Three County Troop was a cavalry company (troop) raised from three Counties (Middlesex, Essex, Suffolk) in Massachusetts Bay Colony in 1659. The Troops operated for 20 or more years and most likely served in King Philip's War in 1675 & 1676. The source for this flag is a drawing in which Troop is misspelled as "Trom") and original bill at the British Museum.
According to our Bedford Militia Flag page, the flag was granted in 1661-1662 "Similarity to sketches of a flag made soon after 1660 for another Massachusetts cavalry, the Three County Troop,...."
Steve Shumaker, 19 July 2015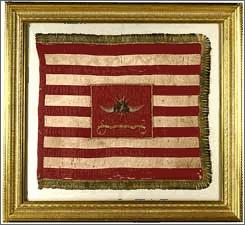 Images from Don Allen, 21 October 2016
I would like to correct an error regarding your notes on this flag. It was not one of the four flags captured by Lt. Col. Banastre Tarleton and auctioned by Sotheby's in 2006. I have attached pictures of the 4 flags and you can see none of them match the "Resistance to Tyrants" flag.
I was able to view the 4 flags before they were auctioned and they were magnificent. Unfortunately I did not have a spare 20 million dollars to make a competing bid.
Don Allen, 21 October 2016
---
15-34. Unknown flag, ISIS (Iraq) Positive ID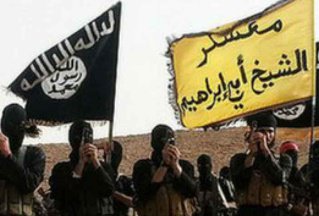 This flag has been identified as an ISIS Camp Flag and is now located in its permanent location.
---
15-35. UFE Seen in Hungary Some Speculation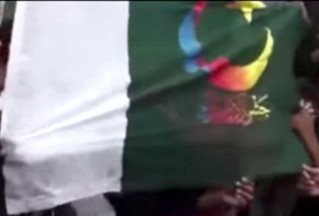 Image from Neven Duic, 6 August 2015
What is this flag?
Source: YouTube Video (best seen around 3:20 on the video.)
Neven Duic, 6 August 2015
I have not seen this flag before. It appears to be based on the Pakistan flag, but with a rainbow coloured crescent, and text below. The caption seems to be in Slovak, and states "Invasion of Muslim soldiers in Hungarian Debrecen".
Rob Raeside, 6 August 2015
---
15-36. Unknown American Indian Movement Flag Positive ID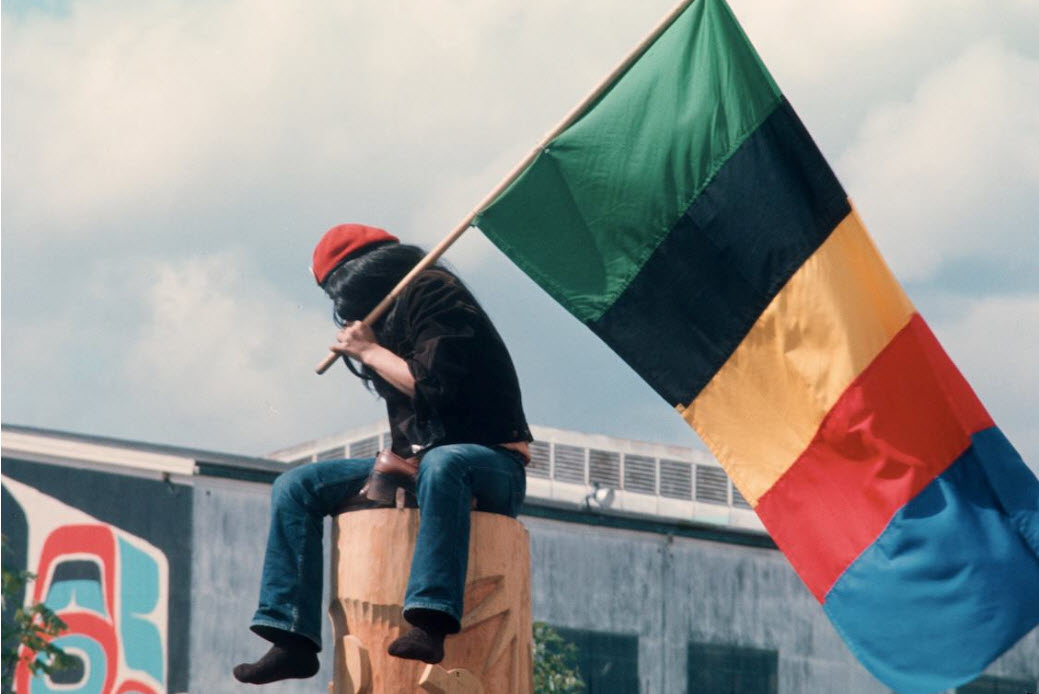 Image from Becky MacKenzie, 13 August 2015
The flag I need help identifying was sent to us by a group called Habitat Forum 1976, whom we've worked with before. They have an old photograph from the 1970's (below) that features a blue, black, yellow, red, and green flag, with the colours divided in equal sections.
The photo came with this caption: "Still unable to identify this flag. The man on the post is with AIM, the American Indian Movement. The drum circle was protesting the imprisonment of aboriginal [sic] activists, to which list had just been added Leonard Peltier who was being held in Oakalla prison at the time. Anyone know the meaning of this flag? None of my First Nations friends recognizes it." Hopefully the flag will be familiar to one of you, I would really appreciate any feedback you could give me.
Rebecca (Becky) MacKenzie, 13 August 2015
The flag is remarkably similar to a flag I saw a Native American Indian/First Nations Rally/Protest at the Peace Arch between the communities of Blaine, Washington and Surrey, British Columbia. This was some time ago, 12 October 2002, it was the U.S. Columbus Day/Canadian Thanksgiving weekend. I took my son (age 9) & nephew (age 6) on a day trip to Canada to get them out of the house so as not to disturb all the football aficionados.
There was a gathering under the Peace Arch, a combination demonstration-rally-protest the themes of which seemed to be the Native American Indian/First Nations common plight and causes; among them demanding freedom for the convicted and imprisoned Leonard Peltier; protesting the US Columbus Day-Canadian Thanksgiving holiday and promoting tribal sovereignty on what they were calling National Indigenous Peoples Day.
There were numerous inverted U.S. and Canadian flags, as well as two flag and a banner under the arch in the general area of the speakers, there was no podium the flags were mounted on staffs and held, grounded while there was a speaker. The flags I noticed were the so-called Earth Flag; royal blue with a full Earth, the image from the Apollo mission photograph, and a second flag was a vertically striped flag. The third, a banner, was a red background with a stylized, upright turtle, centered, head up, in white, yellow with black outline & details.
The Earth flag was professionally made, and referred to as the flag of "Turtle Island" a native term for the Earth. The other two were likely made at home.
I had been long familiar with the so-called Four Directions Flags of black, red, white and gold stripes in both horizontal and vertical orientations, but I was very curious about this six stripe flag because we had made the four stripe flags to stock at the Flag Store in San Francisco, and that this six stripe flag was clearly not one of the Pride/Rainbow Flags.
I asked the Indian gentleman holding the flags staff and he related that the flag was the "flag from Wounded Knee", which he said as if I would recognize it. From hoist to fly the vertical stripes were Green, Red, Yellow, Black, and White & Royal Blue.
As I was speaking with him a young woman approached and referred to the flag as the "Six Directions Flag" and explained that the green stripe stood for the earth below and the blue represented the sky above. I queried young man farther, and was told that the flag had been made by a relative, and aunt named Dorothy, as I recall, who lived in the Pacific Northwest.
The flag was marked "1975 D. (Dorothy Ackerman) Ackerman" on the green stripe near the hoist. I was told she was the maker of the flag. Unexplained was the date for the flag, for if it was from Wounded Knee, that confrontation with the U.S. government was in 1973 not 1975. Perhaps it was made after the event, and just associated with that day? In any event it was prominently displayed, and seemed to be known among the crowd.
After I returned home, I contacted Mrs. Ackerman by phone and she related that the flag was indeed inspired by the Oglala Lakota Chief Black Elk's childhood vision in which the Six Grandfathers, the spirit guides for the six directions, appeared to him and imparted their wisdom and prophecy, as recounted in the Nebraska poet laureate John G. Neihardt's 1932 best known work Black Elk Speaks, wherein the details of the Six Grandfathers vision were explained. She explained the six stripes stood for the Six Directions, the four traditional ones of North = White; East = Red; South = Yellow and West = Black, to which had been added blue = sky (up) and green = Earth (down).
I think this current flag is a variant of the flag I observed. Perhaps we can eventually learn the significance of the five colors, the vertical orientation of the stripes and the manner of use for this "five grandfathers" infrequent, possibly unique variant.
Jim Ferrigan, 13 August 2015
The mystery has been solved thanks to James Ferrigan. He believes the flag to be an altered version of another flag that was used at American Indian protests in the 1970s. The flag that he has experience with, a 6 colour flag, was made by a First Nations woman named Dorothy. She had crafted a flag from the colours of the four powers: white for north, yellow for south, red for east and black for west. Additionally, she added the green and the blue to represent the powers of sky and earth, as outlined in the book, "Black Elk Speaks," as the remaining two of the six grandfathers. This flag here appears to be a version of that flag and for whatever reason has left out the white colour panel.
Rebecca (Becky) MacKenzie, 13 August 2015
So apparently we have two new versions of the Four Directions Flag?

Image from Pete Loeser, 15 August 2015
Six Directions Flag
On the Six Directions Flag the green stripe stands for the earth below, the red is the east, the yellow is the south, the white is the north, the black is the west and the blue represented the sky above. The speculative order shown on this variant is based on the existing "four directions" color pattern.

Image from Pete Loeser, 15 August 2015
Five Grandfathers Flag
The Five Grandfathers Flag has five vertical stripes and seems a variant of the Six Directions flag with the white stripe of the north missing. Identified as an American Indian Movement (AIM) flag little more is known about it at this time.
Pete Loeser, 15 August 2015
Can you recall the approximate ratio of the flag?
Tomislav Todorovic, 15 August 2015
A home-made six directions flag made from a compromised Belgian flag instead of the four directions flag? [In the photo]...the stripes of the Belgian flag are clearly less wide than the ends that were added to it. They aren't equal sections. I wonder whether they were made from flag material as well, from another flag, or whether it's just cloth that happened to be at hand?
Peter Hans van den Muijzenberg, 15 August 2015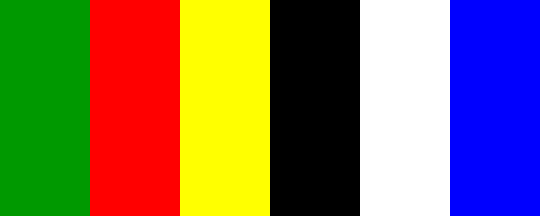 Image from Tomislav Todorovic, 15 August 2015
Six Directions Flag (Color Corrected)
Also note that blue stripe is visibly wider than green one, which is also wider than the other three, but not as much.
Attached is a FOTW-sized GIF image of the Six Directions Flag, with corrected order of colors (approximated with Web-safe shades), to match the one given by Jim Ferrigan. Note that now, with black and white swapping places, the colors of four directions are arranged in an order which corresponds to the apparent motion of celestial bodies - something that might be expected for a flag based on the Native American traditions.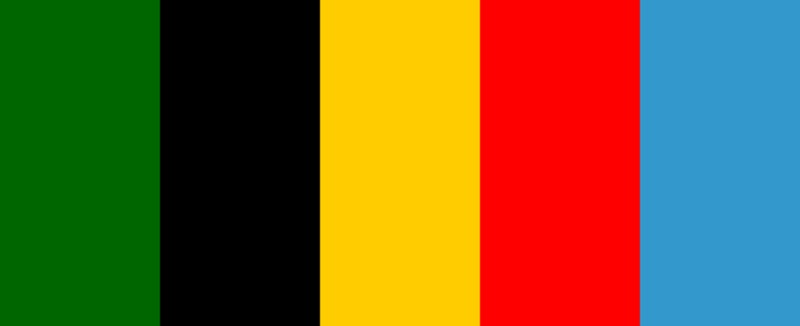 Image from Tomislav Todorovic, 15 August 2015
Five Grandfathers Flag (Color Corrected)
Also attached is the FOTW-sized version of the Five Grandfathers Flag, the colors approximated with the closest Web-safe shades.
Tomislav Todorovic, 16 August 2015
Since we are discussing this topic, and the color of this Native American flag, I noticed that it is very similar to UFE12-25 (Native American UFE seen in Music Video). Do they have something in common?
Esteban Rivera, 18 August 2015

Image from António Martins-Tuválkin, 7 October 2017
This prompted some interesting discussion, most of it veering from the subject into another Native American flag design (six colors for six directions), and some of it kept on subject
Several images were contributed, but not a rendering of the originally reported flag, with its asymmetrical, homemade flavor, having apparently been created by adding cloth to a preexisting Belgian ensign: Green at the hoist and light blue at the fly. The wider lengths of these additions could be due to an attempt at preemptively keeping the stripes equal, compensating for later wind tear (at the fly) and sleave/grometting mishaps (at the hoist). This flag design, as photographed in the 1970s, is attached.
António Martins-Tuválkin, 7 October 2017
---
15-37. Unidentified Defaced Blue Ensign (UK) Some Speculation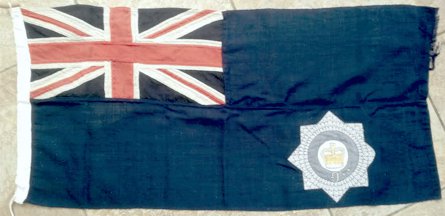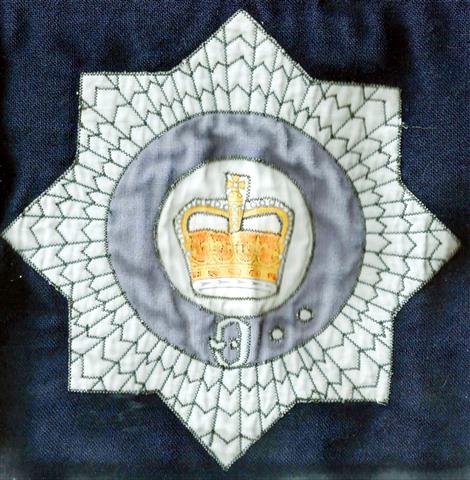 Images from Ray Battersby, 17 August 2015
I was hopeful of identifying my late father's sailing club from his defaced blue ensign. I have searched high and low without success. Now what Club or Association would have a CROWN surrounded by a thick leather BELT all within an EIGHT-POINTED STAR?
The crown surely signifies a royal connection? The surrounding belt implies protection...er...doesn't it? The eight-pointed star? Looks a bit police-ish to me. My father worked in the city of London as a broker - maybe that provides a hint to somebody?
This ensign was in use up to 1990 on my father's yacht so the design is at least 25 years old. Needless to say, Rob, anything will be helpful.
Ray Battersby, 17 August 2015
I suggest this is an ensign from the Household Division Yacht Club. It doesn't have a belt, and does have text in the ring instead. Might this be an older (or a homemade) flag?
Rob Raeside, 17 August 2015
The badge was perhaps altered when the Household Brigade Yacht Club, formed in 1932, changed its name to Household Division Yacht Club, in 1970. The Brigade badge did include a Latin motto in yellow on a red circle.

HO 144/18452 - 1933 - Household Brigade Yacht Club Badge.
Brigadier-General R.McCalmont to Admiralty. Asked if permission was needed for use of Household Brigade badge on burgee of recently formed yacht club.
8 Feb 1933. Admiralty reply. Concerned only with ensigns. Would need to be agreed with Home Secretary, as badge included a crown. Permission of HM required.
1 Mar 1933. HM approved use of crown.
2 Mar 1933. War Office to Home Office. No objection to use of badge of Brigade of Guards as badge on yacht club burgee.
Home Office Minute. Crown should not appear on burgee of a yacht club that is not royal.
27 Feb 1933. Old Home Office ruling that grant of title 'royal' has been held to convey the right to use the crown in the burgee. No yacht club other than a Royal one has permission to use the crown in that way.
The defaced ensign was granted in 1934.
David Prothero, 17 August 2015

I think it might have been one owned by the Household Division Yacht Club. This is the ensign provided by the club which looks almost identical. I hope this helps. Happy Sailing!
Karen, 18 August 2015, Household Division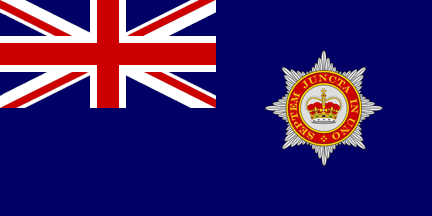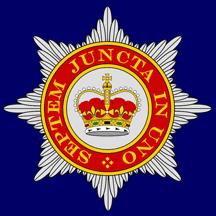 Images from Rob Raeside, 18 August 2015
The info@householddivision.org.uk has confirmed the identity of the flag. It's now a mystery why the FOTW version has a Latin motto in a ring, not an unadorned belt.
Rob Raeside, 18 August 2015
Now it seems they've solved the mystery with a photo of what appears to be a brand new (ie current) ensign of a design that is identical to my "mystery" ensign. My only query is why do all the graphics - on the web and in books - of their defaced blue ensign show a somewhat different ensign design (mainly concerning the Garter on their official ensign being displaced by a ring bearing the Division's Latin motto?
Ray Battersby, 18 August 2015
---
15-38. Three Pieces of China Positive ID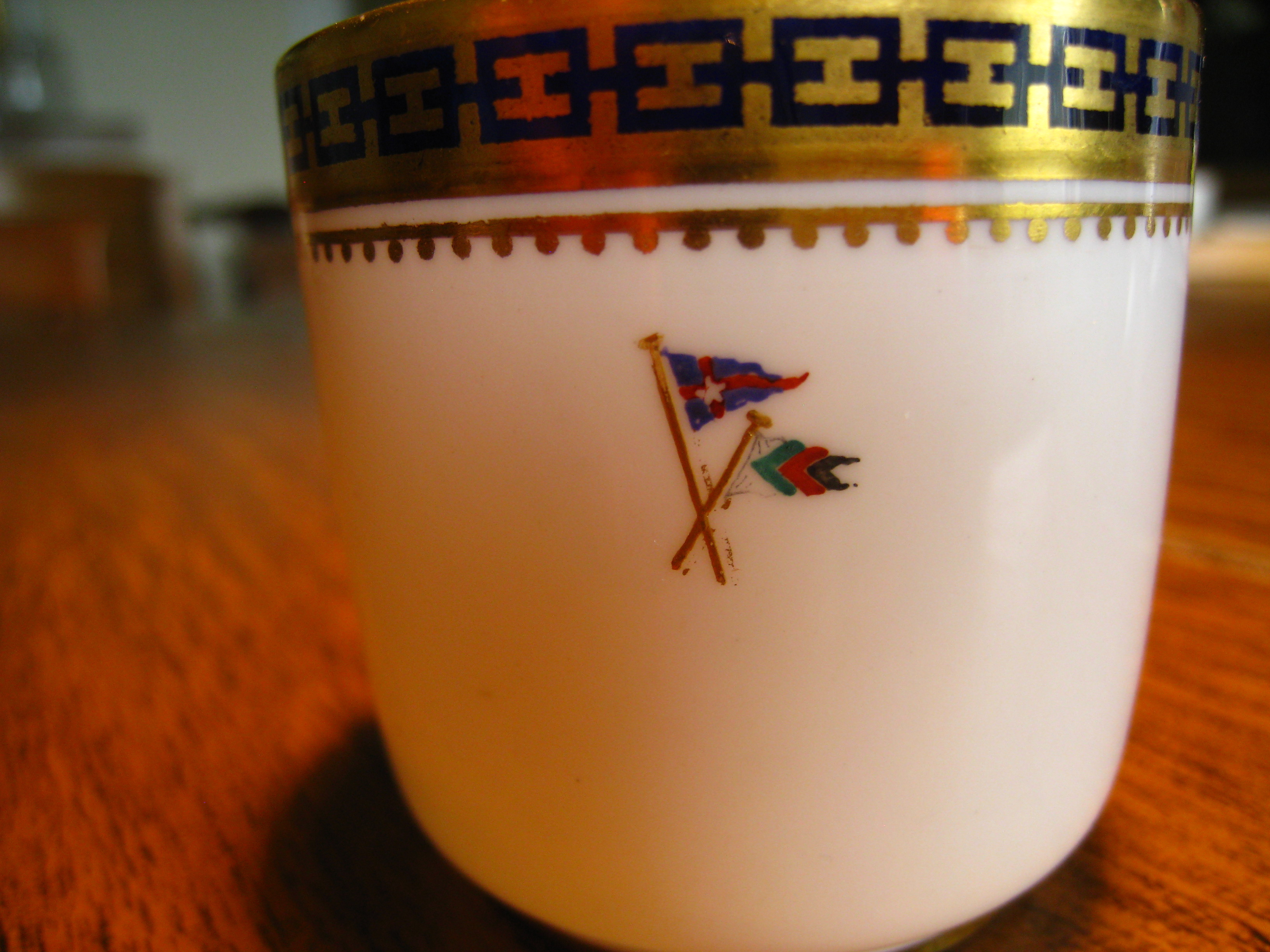 Demitasse Cup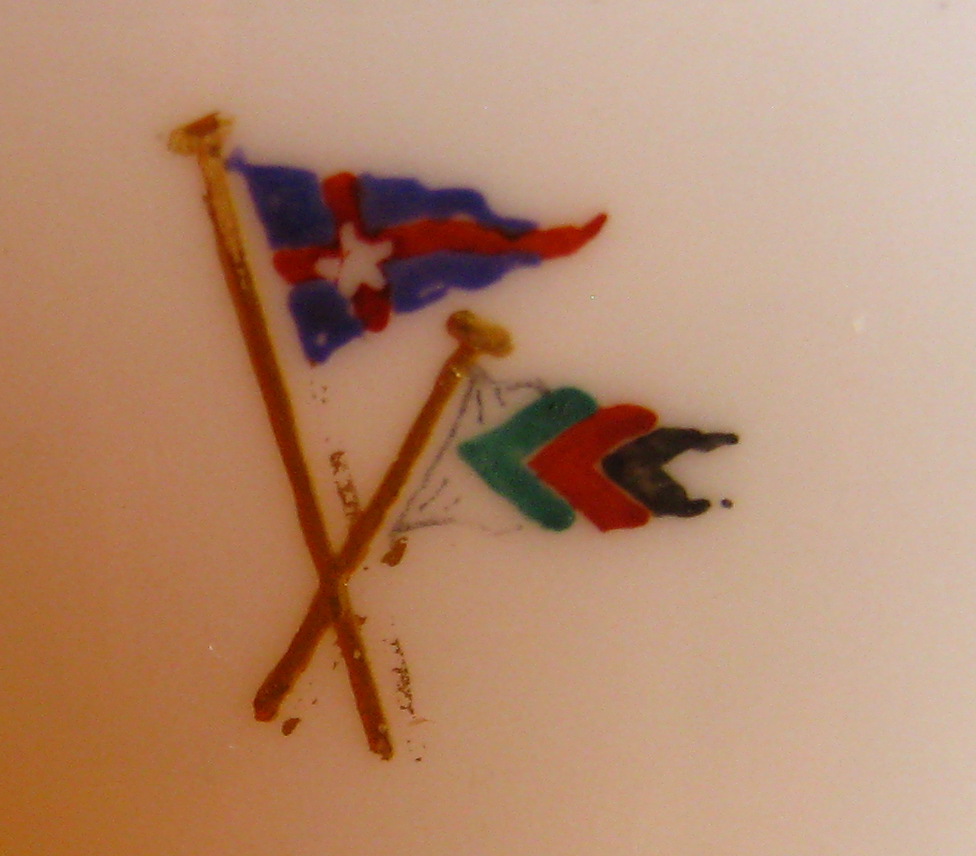 Flag Detail
Images from Jim E. Kampe, 18 August 2015
I am trying to identify three pieces of china consisting of a small side plate, demitasse cup, and saucer. I've attached two photographs of the demitasse cup. The china is embellished with a design composed of two flags. I know the upper flag is the burgee of the New York Yacht Club. Can you help me identify the lower flag which consists of bent stripes of white, green, red, and blue? The back-stamps on the china indicate they were manufactured in England by Spode Copeland between 1910 and 1920 and were retailed by the upscale firm of Davis Collamore & Co of New York City. The shape of the china suggests they were used aboard ship. The depressed center of the saucer would serve to keep the demitasse cup stable when the ship was in motion.
Jim E. Kampe, 18 August 2015

Image from Lloyd's 1917

Excellent description; makes the identification very easy. This flag is listed in Lloyd's Register of American Yachts of 1917 as the private signal of C. Ledyard Blair. that is Clinton Ledyard Blair. Mister Blair was a banker and became Vice-Commodore of the New York in 1909. In 1910-1911 he served as Commodore of the club, with his steam yacht Diana as the flag ship of the club. Also, in 1913, his daughter honeymooned aboard the Diana. The Diana was sold for military use, possibly in 1917. She was used by the Russians, then the French, and eventually was in use in Morocco for the military governor. She was sunk in WWII.
I imagine the pieces of china were part of some of these events, and depending on their exact age maybe also some of C. Ledyard Blair's exploits with the Diana before his time as Commodore.
I don't know whether the flag was listed in Lloyd's after 1917, but I've checked the 1912 and 1914 edition, and the flag was listed in each of these as well. In the 1906 edition I didn't find the flag, but since in that edition C. Ledyard Blair isn't listed at all, it doesn't necessarily mean he didn't use this flag as his private signal before then.
Peter Hans van den Muijzenberg, 19 August 2015
---
15-39. Unknown Korean flag (Ya Dong) Positive ID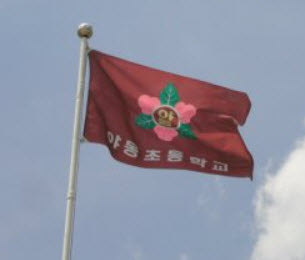 #39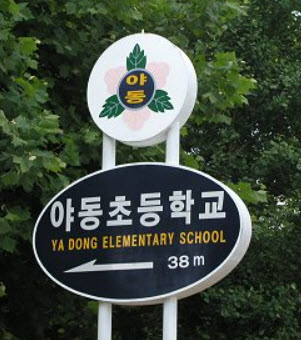 #39a
Images from Esteban Rivera, 24 August 2015
I've found this flag (#39) and I can't identify what it is, or what it stands for: (source: http://puzzlet.org/personal/wiki.php/UploadFile). There's an inscription on the flag but unfortunately I can't read Korean. There's also this sign, showing what seems to be the CoA of Ya Dong (#39a) (source: http://puzzlet.org/personal/wiki.php/UploadFile).
Now, the file is labeled "YadongFlag", but be careful, because when I was looking for information on this word, I found that Yadong is actually a slang term for porn. Hopefully someone can actually read the writing on the image and help identify the flag.
Esteban Rivera, 24 August 2015
The inscription on the bottom of the flag translates on Google for me as "Erotic Movie Elementary School." Taking that with a grain of salt and remembering that there is a town in Gyeonggi Province named Yadong-ni, I wonder if this is the flag for Yadong Elementary School. Anyone have any additional insight?
In fact, now that I take another look at the second photo that Esteban linked, it's a sign pointing to Ya Dong Elementary School, with the exact same Korean inscription on the sign as on the flag. I think we have a winner!
Randy Young, 27 August 2015
---
15-40. UFE in Rosario, Argentina Positive ID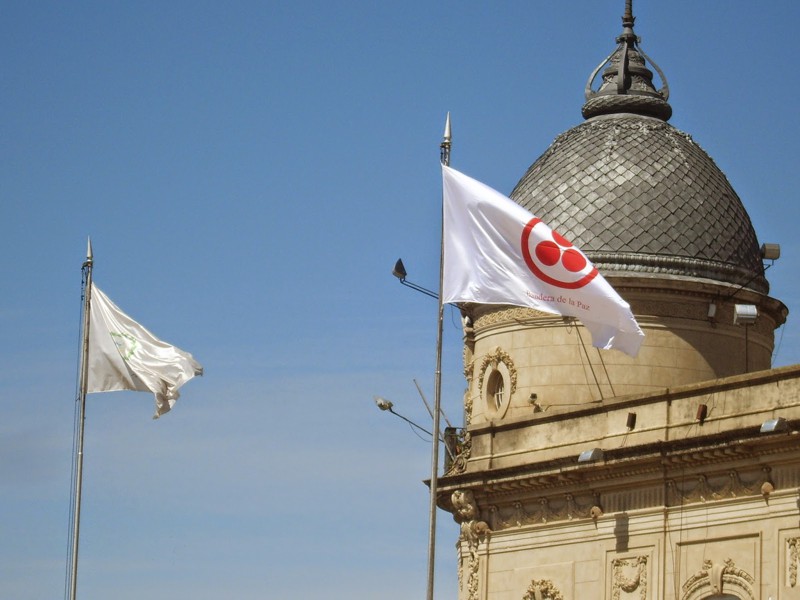 Image from Esteban Rivera, 24 August 2015
Outside the Palacio Vasallo, which is the seat of the legislative branch of the municipal government of Rosario, Argentina, there's a flag (first flag on the left) which I cannot identify. It might actually be the flag of Rosario, but I am not sure. The source of this picture is from this blogspot, but I cannot clearly identify the flag from the picture. If anybody can help, I'd really appreciate it.
Esteban Rivera, 24 August 2015
We can see the top of the wreath, the blue of the Argentine flag, the yellow of the sun, and even the bow holding the wreath together. In all, I'd say it's indeed the flag of Rosario.
Peter Hans van den Muijzenberg, 4 October 2015
[The known flag on the right side of the picture is the Roerich International Banner of Peace. - Ed.]
---
15-41. Ship Flag on Plate Positive ID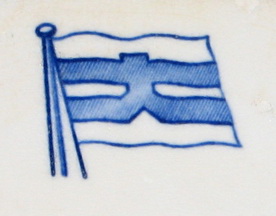 Image from Trent Condellone, 12 September 2015
I got a very old plate recently, with a shipping logo flag on it. It was Ironstone China - it has a maker's mark that appears to be from "NK Japan", probably after 1894 and before 1920. The company that made the plate is a bit hard to figure out, perhaps Nikko. In doing some searches, I found a plate like this found on a beach in the Philippines washed up and buried from long ago. The logo on the plate is a blue flag - looks a lot like 1920's flags by OSK, as I see on postcards, except they are red. I could not find this flag on your site.
Trent Condellone, 12 September 2015
Are we sure this is Chinese? We do have a similar flag for the Japanese line Osaka Shosen Kaisha. We also have an old image (here) that is even more like it, but don't have any source for that image - likely it was redrawn as the image for Osaka Shosen Kaisha. I wonder if the blue colour is just the colour used for the plate, and if the pattern is what is important?
Rob Raeside, 12 September 2015
There is a misunderstanding due to almost the same spelling of China and china. Ironstone china, not Ironstone China, according to Wikipedia, was developed in the 19th century by potters in Staffordshire, England as a cheaper, mass-produced alternative for porcelain.
Trent Condellone said "It has a maker's mark that appears to be from 'NK Japan'", but "NK" is abbreviation of Nippon Kaiji Kyokai, which means "Japan Maritime Association" in English. Thus, this flag indeed belonged to Osaka Shosen Kaisha, which means "Osaka Merchant Ship Corporation" in English. The reason why it was drawn in blue probably is the tech of producing ironstone china. Ironstone usually is monochromatic, especially in blue or black.
Akira Oyo, 12 September 2015
It's more proper to revise "Osaka Merchant Ship Corporation" into "Osaka Merchant Ship Co." "Osaka" is written in Kanji (or Chinese Characters) with a stylized character on the white field.
Akira Oyo, 12 September 2015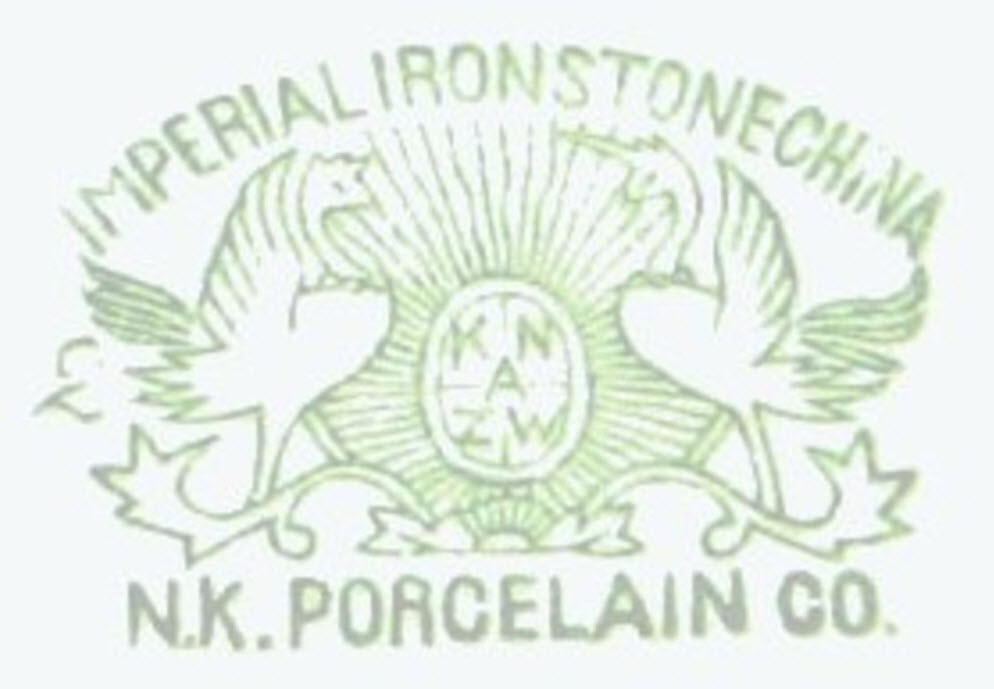 Image from Trent Condellone, 12 September 2015
The makers mark - which I have now included, as I should have originally - is completely separate from the flag logo. It appears on other china, including ironstone, of many different designs, 99.9% of which don't have the flag logo and were clearly for export from Japan. This particular "NK" mark (there are many marks bearing "NK", by many unknown companies) may be Nikko Porcelain, as they used a similar mark (among many); or it may be a knock off, by the "Nippon Kaiji Kyokai". This mark is unusual since it doesn't say "Made in Japan"; the majority of these marks have that underneath. It was almost certainly made in Japan. Since it doesn't say so, it was either not for export, a custom order (like for a shipping line), or most likely pre dates the 1920-1930's when they started adding that. The other letters "K N A Z W" in the circle mean something that would ID the maker. That's the real key to the maker.
Trent Condellone, 12 September 2015
---
15-42. Burgee from 1892 Some Speculation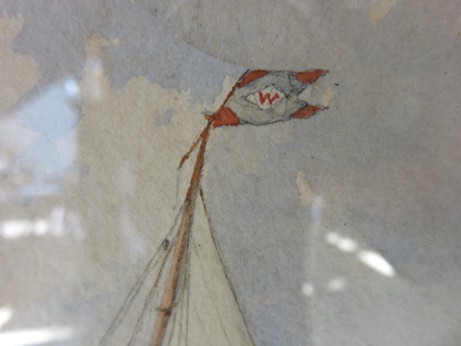 Image from Philip Foster, 22 September 2015
Can you identify this burgee from 1892?
Philip Foster, 22 September 2015
Probably not, at least not without a bit more context. Does the painting have a title/what else is in it/what is its history?
Yet, it does seem familiar. Does anyone recall seeing something like this before?
Peter Hans van den Muijzenberg, 4 October 2015
[This would be a good place to remind folks about our "Policy for submissions and enquiries." See what information you should send in with enquiries. - Ed]
---
15-43. Unknown Guidon (US) Some Speculation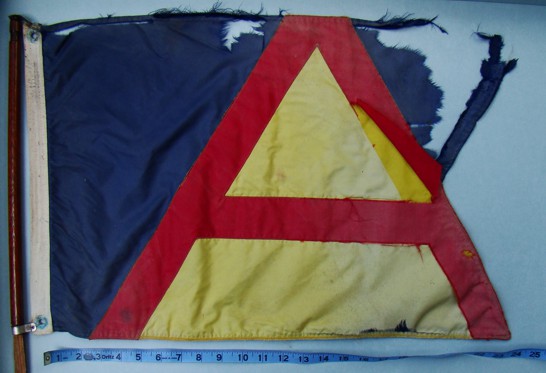 Image from Vernon G. Weckbacher, 23 September 2015
I ran across your website while trying to identify a flag which has been donated to our museum, and saw that one could post a picture of an unidentified flag to see whether anyone might recognize it. It came from the estate of a woman (b. 1902, d. 1991) who originally lived here in south Texas, but lived most of her adult life in Lexington, Ky. Her husband was a cavalry officer in the 1910s and 20s. An extensive search of the Internet has turned up nothing, so far. It appears to have been commercially made, as the dimensions are stamped on the hoist edge.
Vernon G. Weckbacher, Archivist/Curator, Mission Historical Museum, 23 September 2015
I'm not sure the dimensions would make it commercial, but they do suggest the flag was made in quantity and at least the model was made in different sizes.
Is there anything that can be said about the material (except that the yellow isn't light-proof [English term?])? Any other text on it? Something like: A blue 7:10 guidon, with a 120° split; along the split's lower edge the leg of a three-line capital red A, hoistwise throughout, all its lines 1/10th of the height of the guidon, with the other leg starting from the lower edge of the guidon 1/8th of the hoist away from the hoist, the two fields enclosed by the A yellow.
Now, where have we seen something similar to this before? And why does it use yellow?
Peter Hans van den Muijzenberg, 4 October 2015
---
15-44. Possible Lithuanian Heritage Flag (US) Some Speculation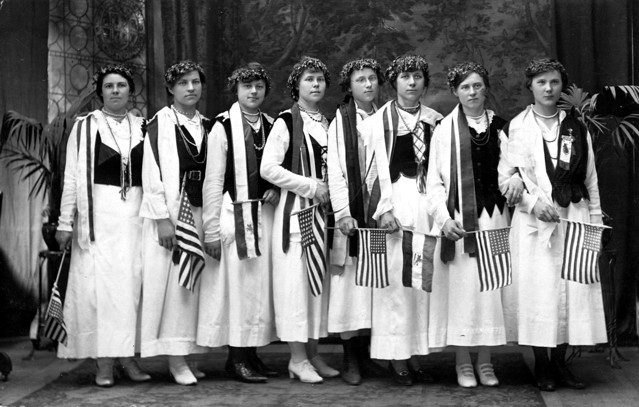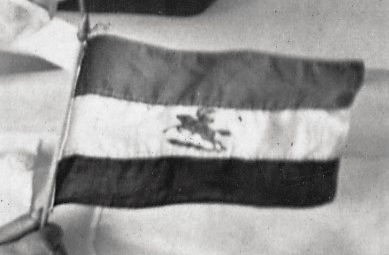 Image from Al Cavalari, 2 October 2015
[Rotated detail added by UFE Editor]
A friend of mine wants to identify the flag the ladies in this image are holding. When I go in close on it I see a rider sitting on a rearing horse. The rider looks like he is holding a saber in his outstretched hand. On Flags of the World there is an image of the Lithuania State Flag. There the rider and horse have a similar pose to the one on our subject flag. Temptingly, Lithuania does have a tricolor flag so I was wondering if the flag in the image could be some earlier version of a Lithuanian flag. Yet I find no Lithuania tricolor with such an image on the center stripe.
Al Cavalari, 2 October 2015
Whilst I don't recognize the flag, but I doubt it has any links to Lithuania. I suggest it may be a commemorative flag related to Paul Revere's ride. The image on the flag has a galloping horse and an arm raised - typical of the images of Paul Revere.
Ralph Kelly, 2 October 2015
If Ralph is correct, we are most likely looking for a red, white, and blue horizontal striped tricolor flag.
Pete Loeser, 3 October 2015
What is the source of this photo?
Jim Ferrigan, 3 October 2015
I believe that the girl wears the flag of Lithuania Minor (Lithuanian: Lietuva Mažoji; German: Klein-Litauen; Polish: Litwa Mniejsza); Prussian Lithuania: Lietuva Prusu; German: Preußisch-Litauen, Polish: Litwa Pruska). The flag is horizontally divided green, white, and red, with the figure of Vytis (in Belorus: Pahonia) in the center. The costumes of the ladies have Baltic or Polish character. A Georgian version of a flag with St.George you can discard.
Jens Pattke, 4 October 2015
I think Ralph is right. In 1901 there was a big celebration of Paul Revere's Ride in Massachusetts (1901 was the 125th Anniversary of the Ride), although I have never heard of or seen any flag associated with it before. And many images of a riding Revere show him with a riding crop held high.
Anyway, the rider carries no shield with the double-barred cross and the color sequence seems wrong for Lithuanian stripes, so that connection seems unlikely to me. At any rate, "The Pursuit" is ALWAYS shown on a solid red background and apparently always has been.
Wish I could read the seal in the stained glass window or see the badge the woman on the right is wearing better.
David Martucci, 4 October 2015

Image from Pete Loeser, 23 September 2015
If Jens is right, then it would be a green-white-red striped flag with a version of this horseman logo on the white stripe. The angle of the rider seems different however.
Pete Loeser, 23 October 2015
Some more information about Lithuania Minor is located at Victor's Website (in Russian) or (in English).
Jens Pattke, 24 October 2015
---
15-45. Unknown German(?) Flag Some Speculation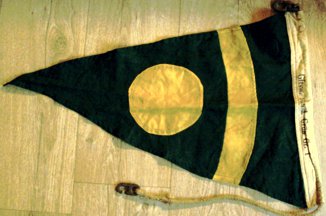 Images from Johan Langelo, 3 October 2015
Searching I was unable to find this German flag. Can you help me
Johan Langelo, 3 October 2015
I assume this is a German or Dutch yachting burgee. The print on the edge appears to say "Gftsw. Stand. Grün Gr. 1." The original filename on the image was "Seinvlag.jpg"
Rob Raeside, 3 October 2015
---
15-46. Ahrar al-Sham? (Syria-Iraq) Positive ID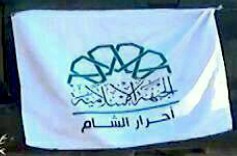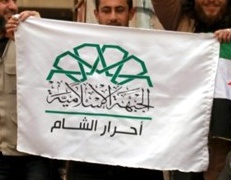 Images from William Garrison, 5 October 2015 and 13 January 2017
Unknown flag seen hung on rear of pickup truck. (cSept. 2015)
William Garrison, 5 October 2015
The same flag structure (with different inscriptions below) is seen on FOTW as that of the Syrian Islamic Front. Since the Ahrar al-Sham is part of this coalition it is possible that the flag submitted by Bill is the flag of this faction within the coalition.
Since the organization's logo as shown on Wikipedia: Ahrar ash Sham, their own flag (as a faction, and not as part of the coalition) can be seen (image here) and the (source here).
There is another picture (better resolution) of the flag sent by Bill - image (shown here) and the (source here).
They used to have an official website, now defunct, which is accessible through Web Archive here.On their new website, they also feature the flag submitted by Bill. See (image here) and the (source here).
A variant of the flag (as a unit inside the coalition) is this one (image here) and the (source here). Another variant with the same design as Bill's flag, with an inscription on top: can be located (image here) and the (source here).
And yet another variant of the same group's flag, with the logo in inverted colors is (image seen here) from here (the flag being on the right), showing the logo in green with white outline, encircled in black with inscription below, probably a mixture of these two on FOTW: Example #1 and Example #2.
Esteban Rivera, 6 October 2015
This is probably a flag of the Islamic Front (al-Jabhat al-Islamiyyah), a Sunni Islamist rebel group formed by the merger of seven separate groups on 22 November 2013. See more information here.
Olivier Touzeau, 14 January 2017
If Olivier is correct on this one, we do have (Syrian) Islamic Front already identified.
To me, the green attached flag with Shahada is the same as the one already reported (see message # 212439, December 31, 2016) with the sword and inscription below. It is not a particular Shiite protest flag (as Sunnis also use the Shahada) but it is more associated with Shiite protests recently.
Esteban Rivera, 14 January 2017
---
15-47. Cabinda [AO] UFE Positive ID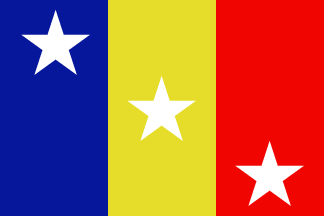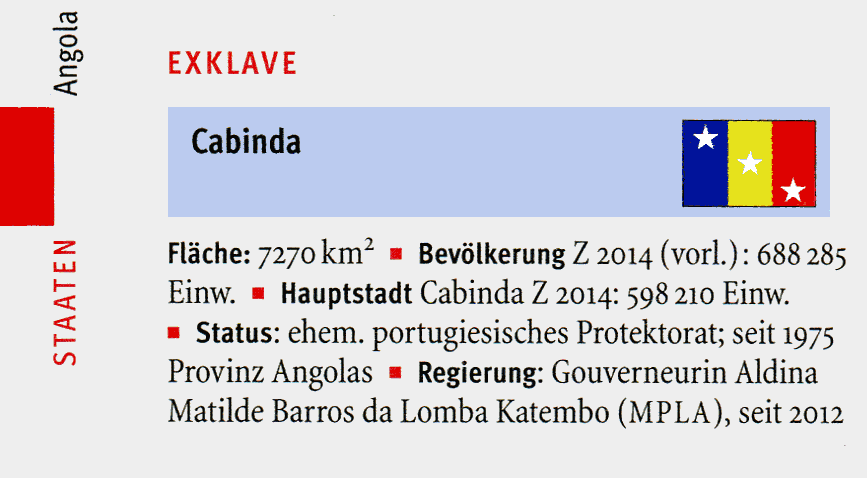 [Click to Enlarge Image]
Images from Jens Pattke, 4 October 2015
The German World Factbook "Fischer's Weltalmanach 2016" published a flag for the exclave Cabinda in Angola. This flag is unknown to me. It is not a flag of the Cabinda's liberation organizations (p.ex. FLEC etc.). Can anyone identify the flag?
Jens Pattke, 4 October 2015
The website also shows several variants of the FLEC flag in use:
The last of these sources shows another flag which seems not to have been seen elsewhere: blue-white-red vertical tricolor with three black "Stars of David" arranged 1 and 2. The same flag is also visible here: as well as a plain blue-yellow-red or black-yellow-red tricolor (the top color is not easy to recognize).
Tomislav Todorovic, 4 October 2015

I have been able to track it, but identification is not straightforward. This appears to be the flag of a "Republic of Cabinda", also styled "Republic of Kabindan", supported by the FLEC. The government of the Republic was formed on 22 February 2012. The Republic claims to have an embassy in UK, with a postal address in Leeds. The Republic does not recognize the government of Angola and the ruling party MPLA. (Official website) So, the flag seems to be the flag of a Republic of Cabinda (there seems to be different factions of the FLEC claiming to be the government of Cabinda in exile) to be established after secession from Angola.
The flag appears to be derived from the FLEC flag. The Republic's website shows the flag, as well as doctored photos of an official airplane, a warship and other military vehicles with the livery of the Republic.
Ivan Sache, 4 October 2015
---